Five Books Making News This Week: Autofiction, Aliens, and Alternate Timelines
Rachel Cusk, Ottessa Moshfegh, Paul Auster, and More
This year's T.S. Eliot Award goes to Jacob Polley for his fourth poetry collection, Jackself, which judges called "a firework of a book; inventive, exciting and outstanding in its imaginative range and depth of feeling." Edgar Award nominees include Alafair Burke's The Ex, Noah Hawley's Before the Fall, Heather Young's The Lost Girls, Flynn Berry's Under the Harrow, and  Ruth Franklin's Shirley Jackson. The second in Rachel Cusk's post-divorce trilogy draws high praise, Otessa Moshfegh's short story collection appeals through her focus on marginal characters, Paul Auster intrigues with four-lives-in-one, Brad Gooch's eight-year deep dive into Rumi  bears fruit, and Kevin Wilson is back with another offbeat family structure.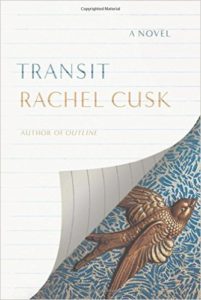 The second novel in Cusk's projected post-divorce trilogy follows Outline. Critical response is ecstatic.
"Increasingly, I'm more interested in getting my hands on the final installment in Ms. Cusk's series than I am the last of Karl Ove Knausgaard's 'My Struggle' books," writes Dwight Garner (New York Times). "Ms. Cusk is perhaps more profitably compared to writers like J. M. Coetzee and Mr. Roth . . . Her writing offers the iron-rich pleasures of voice instead of style. Each sentence is drilled down, as with an auger."
Anthony Domestico (Boston Globe) sums it up:
It's only January, but I doubt that I'll read a better novel this year than Rachel Cusk's Transit. Cusk writes in a cut-glass style that is elegant, austere, and disciplined—an important word in a novel about gaining control over the self and fate. Yet this cool, balanced style is used to describe the hottest of feelings and the most destabilizing of experiences: moments of transit—getting divorced, renovating a house—the movement from one life to another.
"Cusk gives us engrossing, probing conversations between her narrator—a writer named Faye unmoored by the breakup of her marriage—and various people she encounters as she goes about her business in her bewildered, post-parted state," writes Heller McAlpin (NPR). "Confounded by the unexpected trajectory of her life, Faye makes it her mission to really listen to others' stories and extract what wisdom she can from them. We're the lucky eavesdroppers."
Jamie Fisher (Washington Post) invokes Chaucer:
Writer returns to old neighborhood and renovates flat while negotiating relationship with her two children (with recently divorced husband) and looking, a little, for love. But the meat of the novel isn't the narrator's story so much as the stories that strangers feel compelled to tell her.
As a structure, this is as old as Chaucer, but it feels, for this generation, very new. At a time when many literary bestsellers are introspective and self-focused, Cusk has created a novel in which every chapter begins with other people: "The trees were a mixed blessing, Lauren said"; "Gerard was instantly recognisable"; "The student's name was Jane." The narrator reduces herself to a vehicle for others' stories. There's a daring in this method congruent with its modesty.
What results is implicitly, and often explicitly, a story about storytelling. Cusk's theme here, excellently timed for the new year, is the near impossibility of transformation.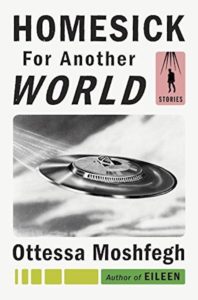 Ottessa Moshfegh, Homesick for Another World
Moshfegh's novel, Eileen, was a finalist for the National Book Critics Circle and Booker awards. Her story collection continues her focus on marginal characters, winning critics.
"That sound you hear? Packs of barking dogs, screaming sirens echoing through the hallowed halls of the literary patriarchy? That's Ottessa Moshfegh and her debut collection of stories, Homesick for Another World, setting off the alarm," writes Elissa Schappell (Los Angeles Times). "Unrepentantly ambitious female author! Unsympathetic female characters! Ghastly hygiene!" She continues:
Moshfegh's characters, male and female alike, are hungry. Hungry to get high, to get famous, to sexually dominate a lover; hungry for respect and adulation; hungry to fill their bodies with Big Macs and liquor; and hungry for the ecstasy of emptying themselves out, purging and more. They are hungry for happiness, which in Moshfegh's world is simply the absence of misery.
"As with Eileen, Moshfegh's focus is on characters living on the edge of society or sanity," writes Malcolm Forbes (Minneapolis Star-Tribune), "and she digs deep into the human psyche to explore oddities, frailties, warped agendas and reckless desires. A discernible cruel streak runs wild, but so, too, does a toxic trail of black humor."
Joe Fassler (The Atlantic) writes, "The protagonists of Homesick for Another World are alienated outsiders, desperate to find home somehow but not sure how to get there. (Maybe the child narrator of "A Better Place" says it best: "Earth is the wrong place for me, always was and will be until I die.") As her characters—a motley assortment of weirdos and grotesques—seek solace in romantic infatuation and sexual debasement, Moshfegh's frightening, funny, and oddly tender portraits explore the ways some people come to love the things that most disgust them.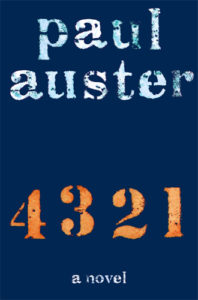 Auster's new novel chronicles one life lived four times, through four separate "Archie Fergusons," birth to death. Critics are intrigued, occasionally baffled. 
"When I finished the novel, I had a thicket of John Nash–looking notes, a persistent twitch in my left eyelid, and little sense of whether I had just experienced a monumental work of art or a very long con," writes Lydia Kiesling (Slate). She concludes, "This novel is rich and detailed. It's about accidents of fate, and the people and works of art and experiences that shape our lives even before our birth—what reader doesn't vibrate at that frequency? Despite the sad things that happen, however, it did not move me—the way it is structured makes it more of a math problem, and I was too busy making charts to fall in love. As a formal exercise, it's impeccable, each life weighing as much as the other despite the accidents that shorten or prolong it. But when there are four possible versions of each life, how do you know which one to celebrate, and which to mourn?"
Anna Russell (Wall Street Journal) notes, "Sharply observed, with long, winding sentences that move the story along at a fast clip, 4321 follows one Archie Ferguson from childhood to death four separate times. The book is divided into numbered chapters that help distinguish the Fergusons: 1.2, for instance, will be different than 2.2. Each version begins with a childhood in New Jersey and diverges from there . . . It's a significant shift for Mr. Auster, whose previous works hover around 200 to 300 pages. Beyond the unusual premise, the book reads like a sprawling, 19th-century novel, steeped in family detail and written with a strong authorial voice."
"At times, history lessons threaten to overwhelm the narrative, and Ferguson's story/stories lose the texture and particularity that have made them so compelling," points out Erica Wagner (The New Statesman). "And its ending is abrupt, a tying-up of loose ends that fragments on the final page. But then lives—real lives—have strange, abrupt endings, too. This is a rich, imperfect book, often rewarding, occasionally maddening. Again, like life, or at least if we're lucky."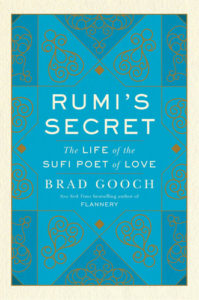 Brad Gooch, Rumi's Secret
Jalal ad-Din Muhammad Rumi, the medieval Persian poet and Sufi master, is still a best-selling poet today. Novelist, poet and biographer (Frank O'Hara, Flannery O'Connor) Gooch traces Rumi's steps as his family migrated from Vakhsh, in present day Tajikistan, where he was born in 1207, to Samarkand and to Syria, and to Konya, in Turkey, where Rumi spent the last 50 years of his life. His effort bears fruit.
"Rumi, like Omar Khayyam, has become the warm and fuzzy ecumenical poet of choice for weddings, coming-of-age ceremonies and funerals," writes Alexander C. Kafka (Washington Post). "A benign mist dews our lens on a golden-age Islam. Edward Said would rap our bourgeois knuckles for the way we idealize classical Persia. Now, to rescue Rumi from this inane Orientalizing comes the poet, novelist and biographer Brad Gooch with Rumi's Secret. A dazzling feat of scholarship, but a pedestrian read, the book restores Rumi to the glories and hardships of his momentous age. Gooch spent nearly eight years on the project, learning Persian and traveling to Rumi-relevant lands including Tajikistan, Uzbekistan, Iran, Syria and Turkey, co-translating the verse he quotes, steeping himself in scores of books, and interviewing Rumi luminaries and acolytes."
"Centuries after his death, the Sufi poet Rumi is still a phenomenon," writes Bridey Heing (Paste). "Rumi's Secret: The Life of the Sufi Poet of Love offers historical context and illuminates the ways in which Rumi's otherworldly work was shaped by remarkable reality."
"Gooch's biography brings the political and intellectual tumult of the early medieval era to life, producing vivid characters out of the reigning Seljuk sultans and memorable portraits of urban experience," writes Azadeh Moaveni (New York Times Book Review). She continues:
But against this rich backdrop, he constructs a Rumi who has been simplified for our secular age. Gooch quotes Coleman Barks, the poet from Tennessee who in recent years has popularized Rumi in the United States primarily by riffing off extant English translations, as saying that Rumi had 'no use for dividing up into the different names of Christian and Jew and Muslim.
It is true that Rumi preached and lived by a stance of tolerance, for which he was greatly loved. He identified that all religions were fundamentally in pursuit of oneness with God. But his openness to other creeds did not mean he believed Islam was subsumable into some monotheistic mystical soup. His "Masnavi" is called "the Quran in the Persian tongue," and is rife with references to Hadith, Quranic sayings and devotion to the Prophet Muhammad. If Rumi arrived at a place of tolerance, it was from within his Islamic tradition, not beyond it.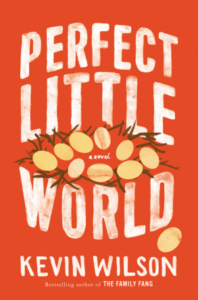 Kevin Wilson, Perfect Little World
The author of The Family Fang is back with another "offbeat" novel describing another memorable family structure. He charms critics.
Marion Winik (Newsday) writes, "If you've read The Family Fang, a bizarre and charming novel about the private life of a family of performance artists, you won't be surprised to hear that Kevin Wilson's second book has a premise so offbeat and complicated that it's difficult to explain but seems completely natural when you're in the midst of it. The sheer energy of imagination in Wilson's work makes other writers of realistic fiction look lazy."
Alyson Ward (Houston Chronicle) notes, "To the last page, Perfect Little World is a rumination on families—what they can look like, why we need them and how they should be defined. Family is far more than a biological bond; that's not a groundbreaking idea. But Wilson has found a lovely new way of telling readers something they know by heart."
"Perfect Little World finds its bliss in the vast disconnect between people's best intentions and where they land—and all the spectacular ways they manage to sabotage and misdirect themselves in between," writes Leah Greenblatt (Entertainment Weekly).
---