Five Books Making News: The Great Le Guin (and Everyone Else)
Awards Season Ramps Up (Nell Zink Still Not Nominated...)
National Book Awards finalists include Colson Whitehead's The Underground Railroad and Jacqueline Woodson's Another Brooklyn on the fiction list, Andrés Reséndez's The Other Slavery: The Uncovered Story of Indian Enslavement in America and Heather Ann Thompson's Blood in the Water: The Attica Prison Uprising of  1971 and Its Legacy in nonfiction, Rita Dove's Collected Poems and Solmaz Sharif's Look  in poetry, and John Lewis, Andrew Aydin, and Nate Powell's  March: Book Three in Young People's Literature. The Whiting Awards expand to include creative nonfiction, with the first $35,000 grants going to manuscripts in progress by Deborah Baker, Sarah M. Broom, Timothy M. Golden, Joshua Roebke, Sarah Elizabeth Ruden, and John Jeremiah Sullivan. Critics celebrate Ursula K. Le Guin, a new biography of Ulysses S. Grant reveals the "uptick" in his reputation insights, novelist Caroline Leavitt returns with a 1960s-era novel about two vulnerable sisters, Nell Zink's third novel keeps her readers off-balance, and critics praise the originality of Melanie Finn's second novel.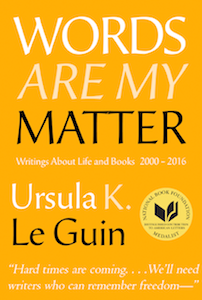 Ursula K. Le Guin, Words Are My Matter: Writings About Life and Books, 2000-2016
At 86, Le Guin is a literary treasure. Her new collection of essays (in tandem with the Library of America volume of her early work, The Complete Orsinia) make this fall a LeGuin celebration.
In an overview of Le Guin's writing life, Zoë Carpenter (The Nation) notes, "The collection articulates Le Guin's belief in the social and political value of storytelling, as well as her fear that corporatization has made the publishing landscape increasingly inhospitable to risk-takers, to those who insist on other ways. This is a real problem, particularly if we can't count on fresh water from the well of Le Guin's imagination. In a year stalked by the long shadows of authoritarianism, ecological collapse, and perpetual war, her writing feels more urgent than ever."
Michael Dirda (Washington Post) points out that the first title in the Washington Post Book World online book club was Le Guin's 1969 novel The Left Hand of Darkness. Words Are My Matter, he writes, "spills over with insight, outrage and humor." And he adds a trivia question oddity: "She and Philip K. Dick were both in the 1947 graduating class of Berkeley High School—and didn't know each other."
Julie Phillips points out in her New Yorker profile, "By breaking down the walls of genre, Le Guin handed new tools to twenty-first-century writers working in what Chabon calls the 'borderlands,' the place where the fantastic enters literature. A group of writers as unlike as Chabon, Molly Gloss, Kelly Link, Karen Joy Fowler, Junot Díaz, Jonathan Lethem, Victor LaValle, Zadie Smith, and David Mitchell began to explore what's possible when they combine elements of realism and fantasy."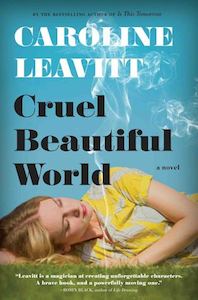 Caroline Leavitt, Cruel, Beautiful World
Childhood memories inform Leavitt's new novel, which is set during the Manson era and follows a teenager who takes off with her high school teacher, only to become his hostage.
Colette Bancroft (Tampa Bay Times) writes:
Leavitt builds her story around characters who are warm and engaging but very much flawed. The 1960s setting provides a few unsettling details that murmur in the background—the Manson murders, the Kent State shootings—but this is essentially the timeless story of a family, one that's unorthodox and fractured but rings emotionally true.
Ginny Greene (Minneapolis Star-Tribune) concludes:
Leavitt paints her characters with deep flaws and yet hugely redeeming qualities. The writing is rich and real and provocative, with scenes that bring tears of sadness and of joy as we watch America struggle with its growing pains and wonder if our young protagonist will make it through her own. This is the 11th novel for Leavitt, author of the 2011 bestseller Pictures of You, and her literary momentum shows no signs of slowing.
Elfrieda Abbe (Milwaukee Journal Sentinel) writes, "Leavitt is on to something here—the vulnerability of young girls, sexually advanced, perhaps, but naïve when it comes to human nature. The novel reminds us, too, of our own peril. Oh, how thin the line between good fortune and tragedy; how tenuous our hold on a safe haven from life's calamities."
Ronald C. White, American Ulysses
The biographer of Abraham Lincoln takes on Ulysses S. Grant, adding perspective and factual detail that alter the historic perception of the Civil War general who became president.
"The greatest general in American history remains a mystery to most of us," writes Kevin O'Kelly (Christian Science Monitor). He calls American Ulysses "a thorough and nuanced biography of one of the most consequential figures in American history," pointing out Grant "saved the Union" and "championed civil rights for African-Americans a century before Selma."
"Recent years have seen an uptick in Grant's reputation," notes Matthew Price (Newsday). American Ulysses, he writes, is a "major contribution to the effort. In this sympathetic, rigorously sourced biography, White—a noted Lincoln scholar—conveys the essence of Grant the man and Grant the warrior. The author's sharp reassessment of Grant's political career doesn't quite pack the oomph of the sections on the war years, but he reveals Grant's profound commitment to the rights of African-Americans."
Jordan Michael Smith (Boston Globe) also notes that Grant has "gained in stature among present-day scholars for his forward-looking policies on civil rights. Grant was admirably opposed to the Ku Klux Klan and to the introduction of Jim Crow laws in the South. But, as "American Ulysses concedes, Grant failed in his efforts to have the rights of blacks recognized nationwide."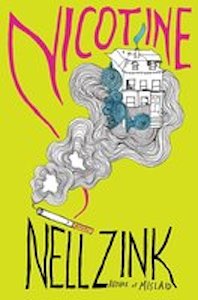 Nell Zink, Nicotine
Zink's third novel in 18 months follows a millennial as she takes over her late father's estate and finds herself embedded with a group of anarchist squatters who champion tobacco. Zink's idiosyncratic style, first touted by Jonathan Franzen, appeals to critics.
Dwight Garner (New York Times) is ambivalent, yet won over by Nicotine:
…like her previous books, it's a mess: anarchic in its plot machinations, scrambled in its themes, mostly shallow in its emotions. You want her novels to be so much finer than they are. They're like meals someone fussed over but forgot to put in the oven.
The strange thing is that you're never tempted to put Ms. Zink's novels aside. They contain so much backspin and topspin that you're kept alert by the leaping motion. "If you can make the reader laugh," the novelist Henry Green said, "he is apt to get careless and go on reading." When I am reading Ms. Zink, my carelessness gets the better of me.
Laura Pearson (Chicago Tribune) praises the chapterless novel as "fast, smart and often very funny," but not necessarily satirical. "Even while Zink skewers bohemian stereotypes—the affluent squatter, the chain-smoking environmentalist—she cares for her characters, imbuing them with complicated personalities, causes and sexual proclivities. Rich sensory detail, earnest dialogue and raw emotion make these flawed but searching weirdos if not relatable, then at the very least real."
"By turns dark and funny, the drama inspires a careless, off-the-cuff response: OMG, or maybe LOL," writes Juliet Lapidos (The Atlantic). "Yet beneath the froth runs the same rich theme that has informed her distinctive satiric perspective from the start: the slippery nature of our public identities and loyalties. Zink takes a special interest in how we present ourselves socially—how we navigate the mutable relation between private reality and appearance, between insider and outsider status. In prose that deploys social theory and delivers one-liners with equal antic verve, Zink makes sure that her role-shifting characters keep her readers off-balance."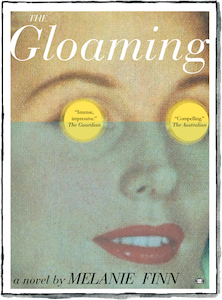 Melanie Finn, The Gloaming
Kenyan-born Finn, who spent time filming the 2008 nature documentary The Crimson Wing: Mystery of the Flamingos in Tanzania with her filmmaker husband, Matt Aeberhard, turns to Africa for her second novel, and wins over critics with her knowledge of Africa and her originality. Kirkus Reviews gives The Gloaming a star: "Remarkably well-paced and well-written, this novel ends with an existentially astute finale. Don't expect to be able to set this book down or forget its haunted characters."
"Melanie Finn's second novel… sends prosperous Westerners to eerie, treacherous Africa," writes Lisa Zeidner (New York Times Book Review).  "Miraculously, Finn avoids every cliché about first- versus third-world problems. In this richly textured, intricately plotted novel, she assures us that heartbreak has the same shape everywhere—especially if it involves the grief of losing a child."
Mark Sampson (Numéro Cinq) writes, "The Gloaming, in the end, defies convention and carves a new and innovative path for itself in the canon of expat literature. Finn has fashioned a book that is rich, dark, engrossing and infinitely complex—much like the continent it spends many of its wonderful pages portraying."
The Gloaming "deserves major attention," concludes John Williams (New York Times).
---