Finding the Lit in Dystopian Literature
A Reading List from Greenlight Bookstore
Greenlight Bookstore recently hosted a panel discussion titled "Book(less) Dystopias and Linguistic Armageddons." The three featured authors—Alena Graedon, Jonah Kruvant, and Jeffrey Rotter—all have recent novels set in the near future, in which literature and language (or the lack thereof) play a strong role in defining the imagined landscape. As the panelists discussed their literary influences, we started thinking about writers who create stories of other worlds—future, fantastical, or alternate—and how they engage with the question of story itself. How might our relationship to language, words, and books themselves be different in a different context, and what might that tell us about our own world?
The books here engage these questions on the level of plot, structure, or language, offering insights about possible futures and addressing how language and literature define our humanity. And, as the panelists pointed out, for those who love genre fiction and also love books, they're all irresistibly geeky fun.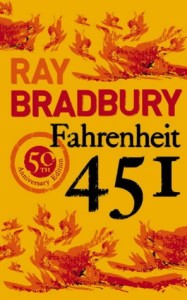 Fahrenheit 451 (1953), Ray Bradbury
Obviously the founding text of the genre and one that has spawned a thousand imitators, Bradbury's novel has weathered inclusion in middle school curriculums and conversion into shorthand and remains both enjoyable and thought provoking. As the protagonist transforms from "fireman" responsible for torching illegal books into a reluctant outlaw joining a gang of exiled book lovers, he co-exists with both mindless socialites watching wall-to-wall TV and other secret literati, from high schoolers to former professors. In the wake of World War II book burnings and at the height of the McCarthy era, Bradbury's vision of books being incinerated "for our own good" must have seemed even more frightening than it does today. (Ironically, a censored version of the text was published by Ballantine, until Bradbury objected; the novel still encounters regular censoring and banning threats.)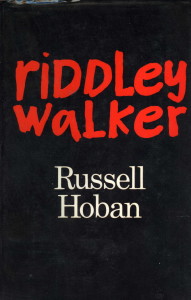 Riddley Walker (1980), Russell Hoban
A cult classic cited by contemporary writers from David Mitchell to John Wray and Jeffrey Rotter, this mind-bending novel was written by the same author who created the children's classics Bread and Jam for Frances and others. Set in the ruins of a far future England, the narrator's language is outrageously post-literate, using phonetic spellings and cryptic accents and abbreviations, to the degree that reading it is like reading Old English. An explicit inspiration for the central section of Mitchell's Cloud Atlas (and also possibly for Mad Max Beyond Thunderdome), the novel won every possible sci fi award and remains a life-changing read.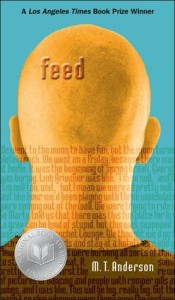 Feed (2002), M.T. Anderson
Anderson's YA novel envisions a world where the internet is hooked up on a live feed straight into our brains—problematic, as it can still be hacked, and even when it's not, the barrage of advertisements and short attention span entertainment keeps everyone at the lowest common denominator. Though the hero of the book is a rebellious teen girl who refuses to upgrade her feed and disrupts its automatic customization by purposely thinking about random things she has no interest in (Facebook ads, anyone?), the novel is unique in that its narrator is fully compliant with the post-literate, tech-only world, his equilibrium only slightly disturbed by a vision of another way.
The Flame Alphabet (2012), Ben Marcus
Marcus, known more for experimental fiction than as a genre writer, goes full horror novel with his story of a world where children's speech has become lethal: adults literally die from the sound of the screams of their offspring. Betrayal, love, family, and language run deep in this eerie post-linguistic apocalypse, which has been compared to Philip K. Dick and David Cronenburg and praised by Michael Chabon and George Saunders.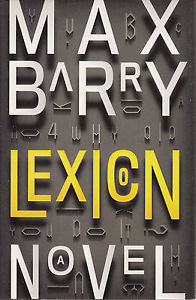 Lexicon (2013), Max Barry
What sounds like a variation on the "killing joke" sketch from Monty Python becomes a powerful and thoughtful thriller in the hands of Max Barry. A secret society known as the Poets has the power to kill with words, when wielded properly, and their determination to hold on to power drives a breathless plot. As much about privacy concerns in an internet era as about the power of language, one of the novel's pleasures is the literary names of the villainous Poets.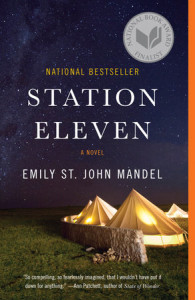 Station Eleven (2014),Emily St. John Mandel
The epigram of Mandel's book could well be "Survival is not enough," the motto of the traveling Shakespeare company in her post-pandemic, post-industrial world—though it's actually a quote from a Star Trek episode rather than from the Bard, it illustrates the persistence of print (and live performance) after all electronic forms of communication and culture have died out with global civilization. A self-published comic book gives the novel its name, and the narrative balances iconic struggles for survival against both the elements and the forces of fanaticism with intimate narratives of lives before, during and after the plague, for a meditation on culture, community and civilization that delves far deeper than the average end-of-the-world story (which is probably why it's been on so many best-of lists in the last couple of years).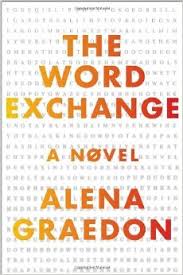 The Word Exchange (2014), Alena Graedon
In Graedon's near-future the threats to literature are multiple: print culture has been almost entirely supplanted by digital; a massive corporation charges users for word definitions, monetizing verbal laziness; and a mysterious "word flu" has rendered many incapable of speaking or writing anything but gibberish. It's a great setting for a thriller, as the heroine races to find her missing publisher dad and get to the bottom of the word flu disease/virus/conspiracy (before it gets to her)—a thought-provoking read as well as an exciting one.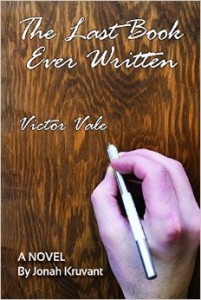 The Last Book Ever Written (2015), Jonah Kruvant
Kruvant's narrative hearkens back specifically to Bradbury, with a narrator invested in the anti-book system—in this case, a police detective investigating illegal Creators—who ends up switching sides to become of a part of the literary underground. Going undercover as a Creator for the corporate-run government, our hero finds that the book he's pretending to write becomes one he's actually writing, in the midst of an all-too-familiar culture of homeless poor amidst glittering highrises and video games much more appealing than the real thing.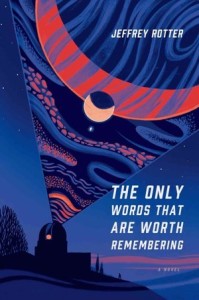 The Only Words That Are Worth Remembering (2015), Jeffrey Rotter
Books are entirely beside the point in the decaying post-American landscape of Rotter's dysfunctional family saga, where it's all anyone can do to hold on to language itself. In mutated English, characters denigrate history's "gunts" (governments) while working subsistence jobs for one of two corporations, until some higher-ups get the idea to reactivate one of the last surviving spacecraft and recruit a hapless semi-criminal family for the job of exploring a galaxy they barely believe in. Among the chief pleasures of the book are deciphering place names and expressions used by the characters, and the melancholy loveliness of Rotter's set pieces.
---