Finding Resonance in the Unreal: A Conversation Between Sam Knight and Sarah Krasnostein
On Crafting Narrative Nonfiction, Surrendering to the Lure of the Archive, and Reclaiming "Quirky"
As Sam Knight says in the interview you're about to read, "Even though I now write narrative nonfiction for a living, I think of myself as more of a reader than a writer." The New Yorker has been one of my holy texts for as long as I can remember. It was where I first read Joseph Mitchell, Janet Malcolm, John McPhee, Jamaica Kincaid, John Hersey, Susan Sheehan, and James Baldwin. These are the writers who have inspired my own books—most recently, The Believer: Encounters with the Beginning, the End, and Our Place in the Middle (Tin House Books) which braids together the stories of very different "extraordinary ordinary" people to show how we are united in the vulnerabilities which drive us into the beliefs that separate us.
The New Yorker is how I came to know about Sam, his journalism generally and the article that would go on to become his new book specifically. I devoured The Premonitions Bureau. It is the astounding true story of British psychiatrist John Barker's efforts to collect and utilize the dreams and forebodings of ordinary people in the hope of preventing future calamities. It will, I hope, rightfully take its place amongst the greats of our genre because its finely observed factual integrity takes nothing away from its human tenderness, and vice versa.
*
Sarah Krasnostein: In answer to writing students' fears (perhaps my own as well) that finding an incredible story is simply a matter of sheer luck, I've always said that story is a way of looking at the world, and that there are more stories out there than there are people. At the same time, I know from my own experience that luck does play some part in the process. Can you explain how you first came across the story of The Premonitions Bureau?
Sam Knight: I always find it hard to remember the actual starting point of an idea, the true genesis. This one certainly involved some luck. But then, I always think you have to be open—available—for luck to strike and to be ready to respond. It was a long time ago, February 2013, I think, and for some reason I became interested in what it would feel like to know about something before it occurred, to have inexplicable knowledge.
I guess because I am a nonfiction person I ended up in the British Library, in London, where I start most of my stories, with a stack of 19th-century books about precognition and ESP and telepathy. I now can't remember in which one I first came across a mention of the "British Premonitions Bureau," a couple of paragraphs, nothing more. The name, the very idea of such an agency, immediately caught me.
SK: At what point did you know it was a book?
Knight: It took a long time! In that first phase of research, I came across some pages about the bureau written in a book called Riddle of the Future by Andrew Mackenzie, a paranormal investigator, which was published in 1974. The pages sketched out how the records of the bureau survived in a house in south London, in the care of a woman called Jennifer Preston, and also made a fleeting, tantalizing reference to the fact that the prime mover in the bureau, a psychiatrist named John Barker, died in his forties after being given premonitions about his own death. At that point, I knew there was the outline of a book: a zany experiment that turned dark. But it took me a lot of digging, of looking in archives and public records, to trace the people involved—their children and surviving friends. It was only after The New Yorker commissioned me to write a magazine article about the bureau in November 2018 that I actually had the time (and some travel expenses) to get into the research proper—and that is when I got hold of some crucial witnesses and documents that made me feel like a book was possible.
"The name, the very idea of such an agency, immediately caught me."
SK: One of the most powerful things about this story is the accumulation of those finely observed, heartbreaking details. You discuss the original remit of the fascinating British sociological study—"Mass Observation"—which set out to study and preserve the details of daily life. As factual writers, an archive like that is the dream. At the same time, though, it does necessarily require selectivity under the stress of deadline. Could you share a bit about the research process? Any unexpected seams of gold in either the primary or secondary sources? And how did you decide where your focus was best directed?
Knight: I could talk about this all day. … I suppose I am used to working to magazine deadlines, where it is a huge luxury to spend a few months on a story. The good part of that, I guess, is that I didn't go completely mad doing the research, which I could have done, because there was so much to explore, so many potential avenues to go down. The pandemic also helped, by closing archives slightly before I was ready to write. My wife was also pregnant with twins, so there were a lot of forces telling me to stop idly enjoying books about the supernatural and the workings of time and to focus on material that I was at least possibly going to use.
I was very conscious of the stages on which the story unfolded. I thought about these as their own worlds: Shelton Hospital, where Barker worked, and Shrewsbury and Yockleton, where he lived; the Evening Standard newspaper, where the Premonitions Bureau was based; the house of Miss Middleton, one of the main characters, in north London. I actively researched the details of those places in the mid-60s, to try and bring them to life as well as I could, which involved tracking down former staffers and writers at the Evening Standard and several trips to the Shropshire archives, in western England, to look at very sensitive records from the mental hospital. There was a terrible fire at Shelton in 1968, which features in the book, and the official investigation contained a list of witnesses who were called to give evidence, so that gave me an invaluable list of former nurses and doctors. A lot of the real legwork in the research was going through public records and trying to trace people who might still be alive and could talk to me about the places and events that I wanted to evoke. I didn't find many, but the few that I did were invaluable.
In terms of the broader research for the themes of the book—precognition, the nocebo effect, coincidence, prophecy—I set a rule for myself that I wanted more or less everything to be contained within the time period of the bureau from 1966 to 1968. So it was about recreating the intellectual atmosphere around the occult, science, and psychiatry in mid-century Britain and not stepping too far beyond that.
But, in answer to your question, sometimes you do just have to give in to the lure of the archive and follow the seams where they go. All of the material in the opening of the book—about the Blitz, the Mass Observation archive, the random distribution of V2 rockets in London in 1944 and 1945, and Miss Middleton's notes and family history—comes from a very loose, multi-stage, digressing collection of trips to the library and rereading of material (and rewritings). And how you describe or rationalize that process, I do not really know.
"Sometimes you do just have to give in to the lure of the archive and follow the seams where they go."
SK: I do know what you're describing­­—I feel like that tension between focus and "openness" is the glory and the tragedy of the process of writing longform narrative nonfiction. We approach a topic with a sense of what it is and why it's interesting, but the research is its own adventure, and if we're doing it properly, we will discover in the material itself deeper significances, and even ideas about form, which weren't at all clear at the outset.
Can you share a few of your influences—generally, and for this book in particular?
Knight: I definitely identify more as a reader than as a writer, so this is my favorite and the worst kind of question because it's so hard to separate out influences and remember important pieces of writing when you need to.
But, deep breath, really important writers for this book: Annie Dillard, no question, For the Time Being, John Berger, A Fortunate Man. I find Hilary Mantel's treatment of the uncanny basically word perfect, especially in her memoir, Giving Up the Ghost. (I banned myself from reading anything by Mantel while I was writing and editing the book.) Am I allowed to say Maggie Nelson, for the way she structures and perceives her books in what seems like real-time but isn't? There were also specific texts about British mental hospitals in the 60s that were really important: Adventures in Psychiatry, by a doctor called Denis Martin, from 1962, and Barbara Robb's Sans Everything from 1967, which I write about in the book.
I think what's hard for me about understanding influences and being honest about them is that there are books and writers that I read a long time ago that have stayed with me very intently—like Joan Didion or Janet Malcolm or Berger or Sebald or Thomas Bernhard—and then the major part of you has to forget about them while you are writing, because it's ridiculous to even contemplate trying to do the same activity as these people, and yet they are also acting on your choices all the time. I found myself reading a bunch of medical biographies while researching the book (unsurprisingly), and Bulgakov's A Country Doctor's Notebook is hilarious and amazing. Oliver Sacks's tenderness and humanity in his books about the mind and John Gray's book The Immortalisation Commission about people entranced by the occult in England and the USSR were also constant touchstones.
"I love the way that unreal phenomena, like premonitions, can merge and elide with very basic and human ways of making sense of our day-to-day experience."
SK: I like (particularly given the themes of your book) the synchronicity of the fact that we've both written about events that fell on October 21 (the Aberfan Disaster in 1966 for you, and the disappearance of the young pilot Frederick Valentich in 1978 for me); scientists with interests that fall outside the ambit of the scientific method; the concept of apophenia and how the urge to "only connect" seemingly unrelated things is a characteristic of mental illness, rational thought, and artistic endeavor. Given that, I was very moved by your book because in tracing the trajectories of so many lives that intersected in unexpected ways, you've shown that—regardless of whether one believes in the scientific validity of premonitions or dreams—we are all inexorably connected in vital ways. Did spending so much time with the stories change any preconceptions you might have had?
Knight: I have two responses to that. The first is that I wanted to make the effect of reading the book a little like the feeling of seeing signs and connections everywhere, to approach the state of mind of Barker and Miss Middleton and the other characters in the story. I was very taken with Martin Martin's description of second sight in the Western Isles of Scotland in the last years of the 17th century, and his observation of how the phenomenon was at least partly social and a condition of living in that environment at that time. When I was writing the book, I sometimes thought about the Premonitions Bureau as a remote Hebridean island, with a small population who came to think that it was possible to have glimpses of the future, and I wanted to evoke what it might feel like to be part of that community.
In terms of my own preconceptions, I was very gratified, while researching the book, to find that the people who I was really scared to talk to—neuroscientists and neurologists and psychologists—were much more open and serious than I was expecting. I love the way that unreal phenomena, like premonitions, can merge and elide with very basic and human ways of making sense of our day-to-day experience. My least favorite word in journalism (which is unfortunate, because it is often applied to the kind of stories that I like to work on) is quirky because I feel that it is often used to belittle and marginalize people or subjects that are by their nature on the edge of things: society or mainstream thinking. But I find (or hope) that by taking these subjects and people seriously and patiently, you can find yourself closer to universal questions that perhaps you might imagine.
I was always asking myself: why am I working on this? Isn't it terribly niche and in the past and even kind of unseemly? And just when I was giving up hope or feeling down about it, there would be some fragment of research or insight that seemed to steer the story away from irrelevance and towards something that, I hope, has a broader resonance.
____________________________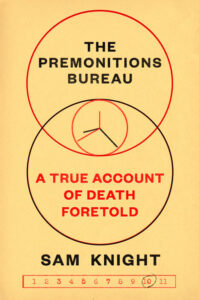 Sam Knight's The Premonitions Bureau is out now from Penguin Press.
---