Finding My Voice Through the Rage of Punk Music
Amy Lee Lillard on the Acceptance and Creativity-Instilling Energy of the Punk Scene
It's October of 2005, and I'm in a packed, expectant crowd at The Metro in Chicago. Sleater-Kinney—the trio of Corin Tucker, Carrie Brownstein, and Janet Weiss—takes the stage to a giant roar. Then, the crunch of discordant guitars and military drum, along with soul-rending wails, are fed through the walls of speakers and drive into our chests and skulls.
For two hours I thrash and dance and sweat and spill vodka and spew cigarette smoke into the cloud above us. This is what I do. What I love. This is how I expel my repressed anger so it doesn't eat me alive.
There's a moment during the show when I think about writing again. I abandoned my first novel, realizing it wasn't the beautiful thing I'd imagined in my head. But the sounds Sleater-Kinney makes, the broken noise that shouldn't be melodic, and the way they look playing, powerful and terrible; there's something stirring in my head, a desire to capture a story that's as dark and beautiful as what they do. Along with an idea about how to do it.
But the impulse and the idea go away with the vodka and the noise. I won't return to writing stories for many more years. And in a few months, Sleater-Kinney will break up. But not tonight. Tonight, they're magic. Like I wish I could be.
*
Punk and indie music has long been my soundtrack for the turmoil inside. I grew up in a working-class neighborhood in Des Moines, Iowa, in the 80s and 90s: a place where people got married out of high school, and had kids when they themselves were kids, and worked jobs they didn't like, and that was life. Where women were told to be small, to live within limits.
I wanted nothing to do with any of that. Punk songs welcomed me, as they've long welcomed other misfits. And punk shows gave me a place to exorcise my anger through noise and dance.
There's a moment during the show when I think about writing again. I abandoned my first novel, realizing it wasn't the beautiful thing I'd imagined.
While I've always been obsessed with music, I've never desired to make it. Instead, I wanted to live loud by writing stories on the page. But for years I struggled, and I could never understand why. I had so much fueling me: Anger at the world that demanded I breed, while I knew I never wanted to be a mother. Anger at people who demanded I marry, while I never wanted to be owned. Anger at a culture that told me I was too queer or not enough, too young or too old, too loud or too quiet. I was unnatural, repulsive, deviant. And angry about it.
Despite that anger and passion, the stories I wrote as a young woman, and the novel I wrote in my twenties, they all felt empty and hollow, a poor mimic of the books I loved, a bland echo of the music that drove me. There was some sort of magic that I couldn't access.
I took this on as a failure. I was a failure. I couldn't do the one thing I always wanted to do. Which only made me more angry.
*
Why punk? Starting in the 1970s, punk music has always been about anger. Primarily, male anger.
But there were many girls and women, like myself, livid and longing for a home in punk. In the early 1990s, a group of women's punk bands pushed their way to the male-dominated stage with raging sounds and razor-sharp lyrics. Bikini Kill, Bratmobile, Heavens to Betsy, and later Sleater-Kinney; their music was loud, brash, and powerful. This punk had songs for and about girls, full of anger about sex, bodies, and the rules we're given.
This Riot Grrrl scene was more than music, too. Girls and young women went to shows, wrote fanzines, came together in consciousness-raising groups, and got political and active. They called for a revolution, girl style now.
I was the ideal demographic, a teen during this movement for young women. But I wasn't cool enough or connected enough to be aware of it, not in landlocked pre-internet Iowa. My boombox pulsed with male punks from Seattle and Georgia. I was a loner, raised to view other women as competition, and an undiagnosed autistic, who found social situations baffling.
So I didn't find Riot Grrrl until the moment was past, as a young college grad in a new city, working at a titan of capitalism by day, raging at shows or in my studio by night. I found Riot Grrrl when I was no longer a girl, yet still seethed with the rage of what our world does to girls.
*
For over a decade I silenced myself as a creative writer. I focused on my career as an advertising and communications writer, while feeling disconnected and disillusioned. I tried to fix an abusive relationship, until I finally ran. I burned out, and broke down, and blew up my life, moving from Chicago back to Iowa to find family.
I felt both empty and full of rage.
But in my reading life, I found the rage of punk. I discovered the fury of Sarai Walker in Dietland, an explosion of a book about diet culture, rape culture, beauty culture. I found the ferocity of Chris Kraus in I Love Dick, embracing raw desire as an antithesis to male-dominated art. I found the transgressive brilliance of Alissa Nutting in Tampa, pinpointing the lines that are drawn around women's sexuality and behavior (and the hypocrisy when compared to men). I found the destruction of gender in Andrea Lawlor's Paul Takes the Form of a Mortal Girl.
Punk songs welcomed me, as they've long welcomed other misfits. And punk shows gave me a place to exorcise my anger through noise and dance.
All of them, modeling anger as a right, a need. All of them, using traditional and experimental craft to tell stories of anger. All of them giving me ideas.
And around that time, I went to another show.
*
It's February of 2015, and I'm in The Slowdown in Omaha. The impossible has happened: Sleater-Kinney has reunited after nearly ten years. Three women, now in their forties, assuming their rightful place on stage.
Over two hours, they play new songs and old, and blast their inner turmoil out into the ether. And I'm desperate to receive it, so I dance, and scream, and drink, and cry, and laugh.
As I expel the dust of a decade, I know I want to write again. I need to write again. And I've survived much, so much. I have stories to tell with the benefit of aged anger.
When Sleater-Kinney play "Dig Me Out" at the end of their encore, I feel as if the song tears from my chest, as if it's been there all this time, waiting for me to sing it at the top of my lungs, waiting for this moment where I see them and they hear me.
When Carrie and Corin and Janet leave the stage, I'm drenched in sweat. My throat hurts. My feet hurt. But I feel like I leave with a little of their magic.
*
Hearing Sleater-Kinney live again, it sparked something. I came home and wrote. And I realized that my previous writing hid my anger and frustration behind a wall of artifice. I was writing splashy stories of singular women, the standard roles of ugly ducklings turned swans and misfits turned saviors. I was trying to be other writers, trying to tell stories that weren't mine to tell.
But after that concert, where I expelled my anger and felt free, I thought about what happens with women and anger. If we don't exorcise our rage, it eats us alive. And if we do?
I turned to short stories, the ideal place to work for controlled experiments. I wrote a story about a woman letting her anger out through extreme violence. Another about a woman whose anger turns magic. Another with anger transformed into revolution. And another who unlocks the key to happiness via rage.
And when I read my work this time, I felt the spirit of punk alive and well. Women who were deeply angry, genre-busting and deviant, and part of a vast collective and community of women telling their stories.
When I let my characters refuse to smile on demand, that's when I found my voice.
*
It's October of 2021, and I'm in my house. I'm watching video of Sleater-Kinney performing their new album. It's just Carrie and Corin now, with a rotating cast of other players. Their music is slightly mellower, but still ferocious.
It's not a smoky club, and it's not a drowning-in-drink evening. It's just me, 44, living through a pandemic and panic attacks. But still: when they begin to play, I dance, and scream, and sing, and cry, and smile.
I think of my debut book, coming out this month. Named for Sleater-Kinney's album and song. A collection of stories about angry women, with songs of rage and terror and joy tearing from their chests. All of them, digging out from holes of their and society's making. Just like me.
And I also think of a slate of books with angry women that have come out over the last year. I'm not the only one tapping into a vein; there's the violence of Chelsea G. Summers' A Certain Hunger, the animalistic desires of Lisa Taddeo's Animal, the ferality of Rachel Yoder's Nightbitch. It's a collective, a community, of women writing anger.
When Sleater-Kinney leave the stage and I log off, nothing hurts and everything hurts. And I'm finally magic.
_______________________________________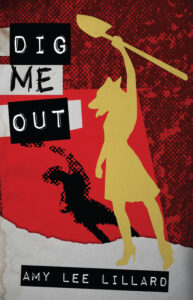 Dig Me Out by Amy Lee Lillard is available now from Atelier26 Books. 
---