Let me tell you about a little film I watched the other night: a 2009 flick lost to the annals of history called Love Happens. It stars Jennifer Aniston as an unlucky-in-love florist. Judy Greer reprises her lifetime role as the tough-love best friend, but this time she is also an erotic slam poet. (The best moment in this film is quite possibly the one in which Judy Greer is assisting an elderly woman at the flower shop and starts reciting a poem that ends on "battery-operated sex.") There's also Martin Sheen as a grieving father who has begrudgingly become the caretaker of his deceased daughter's annoying parrot.
I suppose the "main character" is Aaron Eckhart (who?), a man whose wife died in a car crash. He writes a bestselling self-help book called A-Okay, which is all about coping with the loss of a loved one. The movie opens with his voiceover; he's reading a chapter of his book (oh, joy!) which contains such original insights as: "When life gives you lemons, make lemonade." The first scene is just Aaron Eckhart making lemonade (well, lemonade + vodka). He then boards a plane and flies to Seattle, where he's giving a seminar.
Of course, there is a meet-cute. Jennifer Aniston is the Hyatt's florist, so she's there fussing over flowers. The pair quite literally bump into each other. She runs away, frazzled for some reason. (I mean, I too find surprise human interaction very startling.) "Wait! You dropped your pen!" he yells after her, but it's too late. It's Cinderella's slipper all over again. But wait! There's more. He notices the generic oil painting in the corridor is slightly slanted. He moves the piece and realizes she has written a word in hot pink ink, there on the wall: quidnunc.
Quidnunc! He treks to the closest bookstore and looks it up in the dictionary. (I would just like to point out, once again, that this movie came out in 2009; there was such a thing as the Internet. I bet the Hyatt had computers. I'm all for supporting bookstores, but this man doesn't even buy the damn dictionary! How do I know? Because he keeps going back to look up words as he finds them on the walls of the hotel.) Anyway, quidnunc.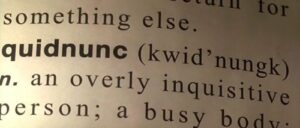 I'm inserting this image here because they really do dramatically pan to the dictionary like this in the movie. See also: poppysmic.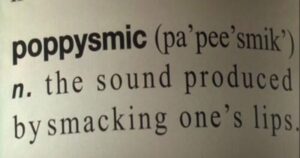 Poppysmic! I mean, it's a delightful word. It's a fun concept. Go ahead. Do poppysmic. Make the sound. Aaron Eckhart does, in the bookstore, much to the annoyance and confusion of the booksellers.
Look, a lot of other things happen in this movie. (It's really more drama than romance.) Spoiler alert: There's a second date betwixt Jennifer Aniston and Aaron Eckhart that involves a telephone line repair truck and a Rogue Wave (???) concert. There's a terribly emotional scene in a Home Depot with the self-help seminar. There's a hookah bar where we get the tail end of another Judy Greer original. (Show us a whole poem, you cowards!) There's a tense confrontation between Martin Sheen and Aaron Eckhart in which Martin Sheen calls the man out for profiting off of his daughter's death. (Super warranted!) There's the kidnapping of the aforementioned parrot. There's the realization that this man was actually the one driving the car that night (shock!), that he didn't even go to his wife's funeral, that he has never healthily processed his own grief. It all culminates in Martin Sheen hugging him on stage at the Hyatt.
Point being: the big words are actually sort of a small part of the movie, but one that I can't get over! We only get those two totally random SAT words. They're doing a lot of work here, though. From that, I think we are to gather that Jennifer Aniston is intelligent and, more importantly, desirably quirky. It's also the words we come back to, in the end. Yes, the big "I want you" gesture is him leaving a single word on the door of her floral shop: sesquipedalianist.