The 52 Best Draculas, Ranked
There's a lot at *stake* when it comes to picking pop culture's best Dracula. *Count* them down with us.
This list was originally published in 2020, and has been updated since, to reflect new Dracula adaptations.
The real immortality of the ancient vampire Dracula, the villain who finally meets his demise in the last chapter of Bram Stoker's 1897 novel of the same name, resides less in the difficulty of killing him and more in how, once you kill him, he doesn't stay dead for long before springing up—robust, red-blooded, and thirsty—in another new version of the story.
There have been hundreds of Dracula adaptations since the first one—a play, adapted by Stoker himself, that had a reading eight days before the release of his novel on May 26th, 1897. They've taken the form of plays, films, comics, and other pieces of art. But Dracula, the vampire, is also one of the most iconic roles that any performer can take on, and so today, we're going to rank the top fifty most iconic performances of the character. That's right. Fifty.
Thank you for joining me. I've been waiting to do this all year. It's October and therefore a fine month to reflect on Dracula but also… I love Dracula in all seasons. Now, I'm not one of those people who loves vampires, generally. I was not an especially enormous fan of Twilight or True Blood. I didn't spend my teen years tuning into The Vampire Diaries and I was too young to grow up with Buffy. I never read any Anne Rice. Salem's Lot would have traumatized me, if I had known what it was. But I love Dracula—the novel, its legacy, all of it. Dracula is everything.
And I love Dracula movies, though very rarely does an adaptation emulate the novel and deliver a satisfactory retelling (there are complicated reasons for why this has been the case). The number of times Mina and Lucy get switched, or one of them turns out to be the reincarnation of Dracula's dead wife (or the number of derivatives that are based on the insipid Hamilton Deane/John Balderstone theatrical rewrite instead of the actual book) is going to drive me to an early grave (only me, no one else cares). But today, specifically, we're on the search for the most satisfying portrayal of everyone's favorite vampire. My only regret is that my list appears too early to include the Dracula performance by my Croatian countryman Goran Višnjić, who, it has announced, will play Dracula in an upcoming ABC TV series (it's extremely rare that someone from the Balkans gets to play the Carpathian Count—I guess we'll just have to add him in later).
The rules:
Although there have been many memorable theatrical incarnations of the Count (I'm looking at you two, Raul Julia and Jeremy Brett, having played Dracula on stage but without having been captured on footage while doing so), we're only going to rank ones that appeared on film, television, or in other recordings, because that levels the playing field. Vampires by nature don't always appear on film, but we're very fortunate that all of these guys were able to. But these performances must be of Dracula, specifically; for example, sitcom characters wearing Dracula Halloween costumes (like Darryl on The Office) don't count. I also regret to inform you that there are no "animal" Draculas on this list: no Count Duckula, Quacula, Bunnicula, or Zoltan: Hound of Dracula.
And, folks, we are ranking performances/interpretations of Dracula the figure, not ranking Dracula movies overall, even if our explanations do discuss the overall film.
Well, without further ado, let's get started. To paraphrase the Count's first words to Jonathan Harker… welcome to my house!
52.
David Niven, Old Dracula (1974)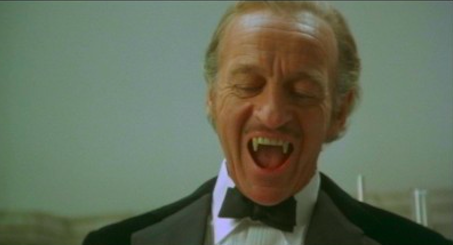 David Niven is a weird casting choice to play Dracula, even an old one, but that's not the weirdest thing about this movie I didn't watch all of, a film about how Dracula wants to revive his bride with the blood taken from supermodels, but in doing so turns her into a Black woman. Also, apparently, David Niven appears in blackface at the end. So there's really no reason to watch it.
51.
Gerard Butler, Dracula 2000 (2000)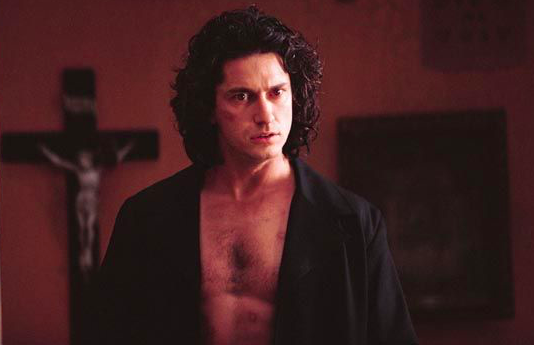 Gerard Butler (who seems like a very nice man in real life) plays the Count in this stupefyingly bad adaptation. The story is: a bunch of bank robbers break into a super secret vault in London and find a coffin inside. It seems valuable, so they take it with them and board a flight to New Orleans. Guess who's inside the casket? Gerard Butler. He's Dracula, but he's also Judas Iscariot. So, he starts wreaking havoc all over Louisiana, seducing and biting lots of beautiful women with 90s haircuts in tank tops. Meanwhile, Matthew Van Helsing (Christopher Plummer, why is he in this movie?), Abraham Van Helsing's descendant, is trying to track down the robbers. Turns out, his ancestor couldn't actually figure out how to kill Dracula, so he just kept him drained (with leeches) for decades until someone could figure out how to do it. But it's really amazing that Dracula's in the Big Easy now, because that's where Mary Van Helsing, another descendant, lives, and he wants to kill her. So, it works out. The plot is a disaster, but it might be improved if Butler's Dracula had any charisma. But he just kind of sadly mumbles about how undeath is worse than actual death, and bites women in a very slow way that also seems very wet. He might just be very sleepy? It's just like jet lag from being exsanguinated by bugs and sleeping underground for a hundred years? And then taking a plane to another time zone?
50.
Thomas Kretschmann, Dracula 3D (2012)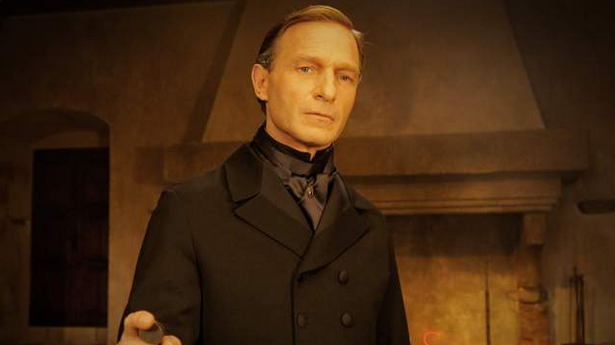 Thomas Kretschmann does his creepy-best to help lift up this corny, absolutely batty adaptation, directed by Dario Argento, but nothing can save it. It debuted at the Cannes Film Festival, along with many other probably good films. Also, someone must have tricked Rutger Hauer into co-starring in this thing.
49. 

Langley Kirkwood, Dracula 3000 (2004)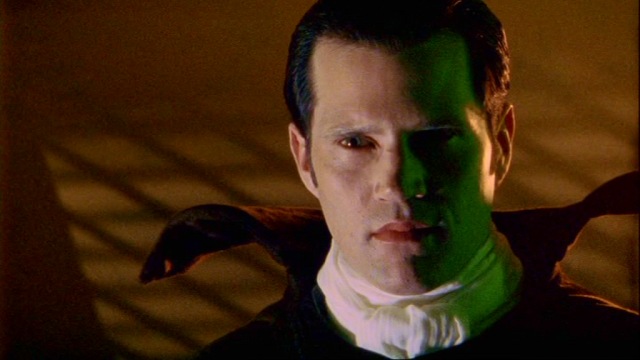 Casper Van Dien and Coolio (YES) star in this clotted mess of a movie about how Dracula winds up onboard a spaceship, and picks off the crew members. It's just like Alien, if Alien were a terrible movie and also had Dracula in it. I barely noticed Langley Kirkwood's performance, in light of everything else going on. I don't know what that says.
48.
Dominic Purcell, Blade III: Trinity (2004)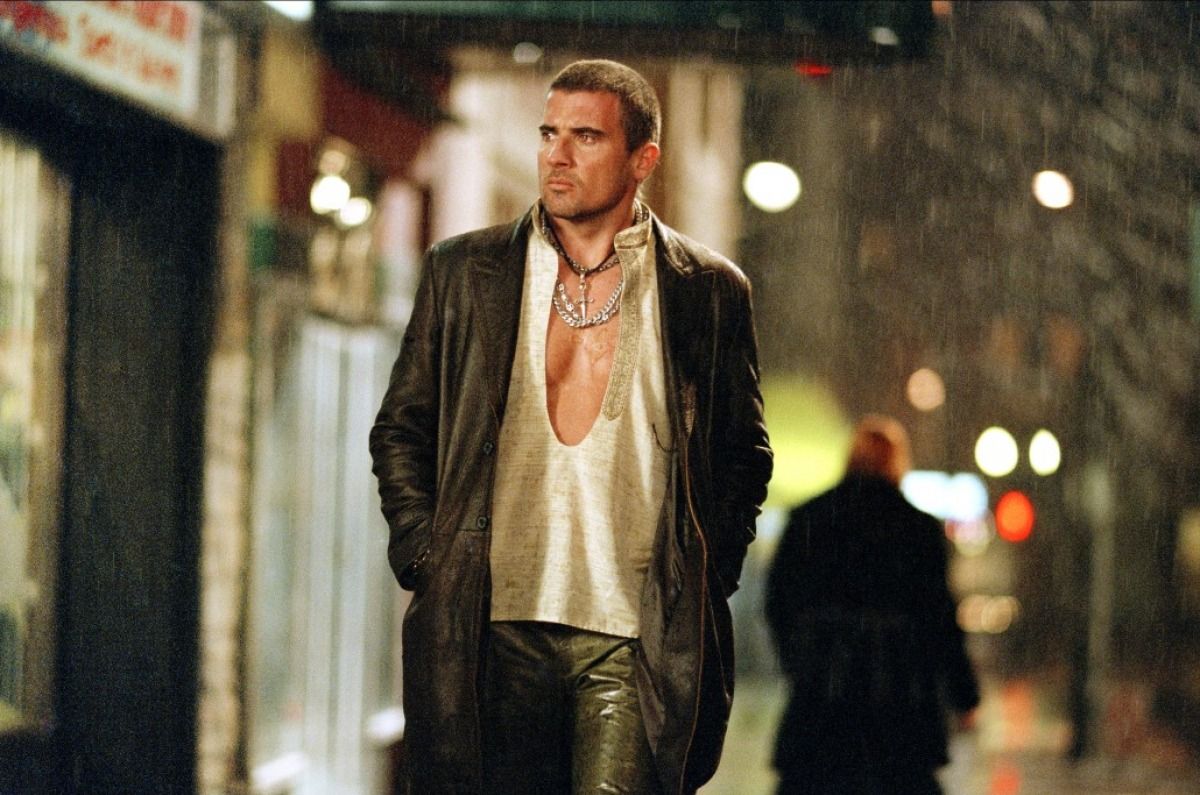 In this third Blade movie, our hero must face off against Dracula, also known as Drake, played with linebacker-menace and in leather pants by Dominic Purcell. But more important than that (more important than anything) is that mockumentary queen PARKER POSEY plays the vampire leader who has been framing Blade for dozens of murders, so that he'll get nailed by the FBI. What a pain in the neck for Blade, but what a treat for the rest of us.
47.
Rutger Hauer, Dracula III (2005)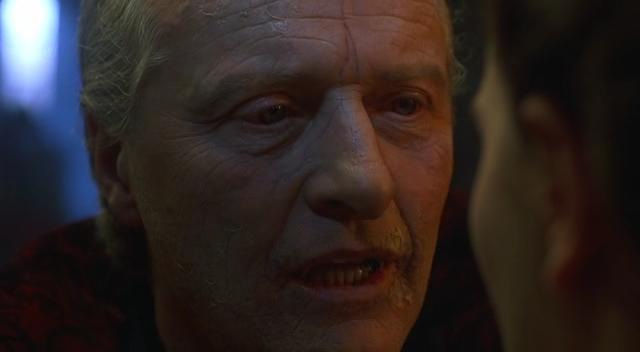 This is the first terrible Dracula film that bills Rutger Hauer, and in this one, he stars as the vampire Dracula III. This is a loud music video of a movie, and I don't understand anything that happens in it. It's so bad, it's draining. I felt as confused and tired as Rutger Hauer looks, the whole time.
46. 

Jason Isaacs, Monster Family (2017)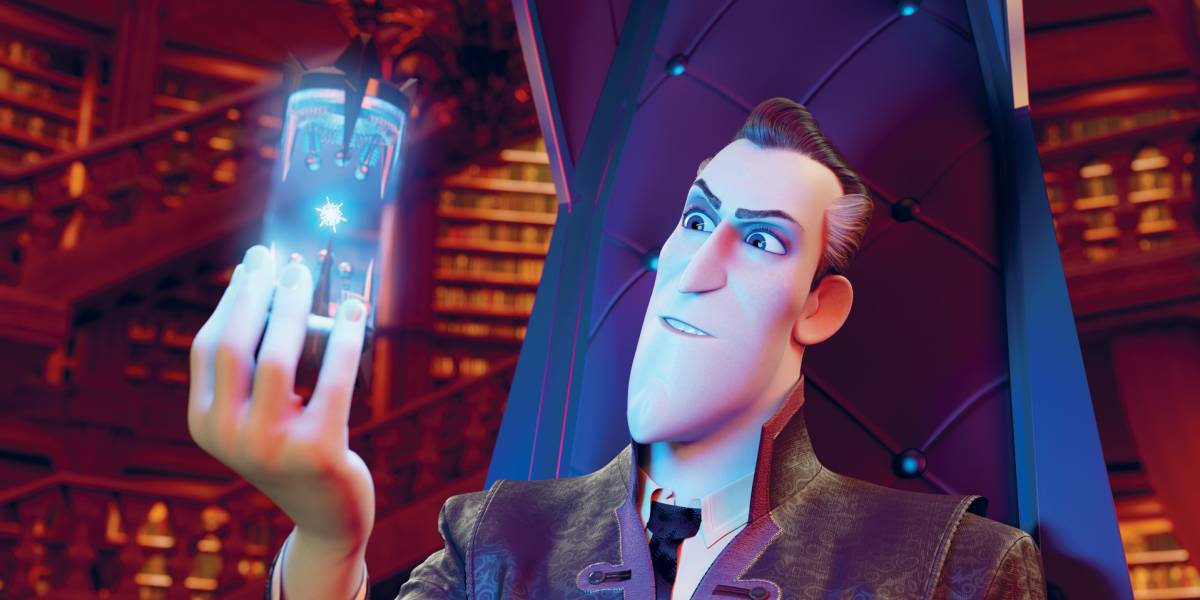 I think we can all agree that Jason Isaacs would be an excellent Dracula, so…. what's going on here? He tries, I think. Maybe. He does a campy Count-Chocula-y accent that at least seems fun. But it's honestly hard to know if he's doing a good job, because everything about the film is a bloody disaster. Considered one of the poorest animated movies ever made (it's got a 10% on Rotten Tomatoes), the computer effects are underdone, the plot is ludicrous, the voice acting doesn't always sync up, and the cast, which includes Emily Watson, Nick Frost, Jessica Brown Findlay, Celia Imrie, and Catherine Tate, seems to have been hypnotized into participating, in the first place. This Dracula is a lonely vampire who falls in love with a suburban mom who has been turned into a vampire (because, in an ill-advised group therapy tactic, a witch thinks that turning the family into a bunch of Munster-style monsters will fix their inability to connect with one another).
45.
Jonathan Rhys-Meyers, Dracula (2013-2014)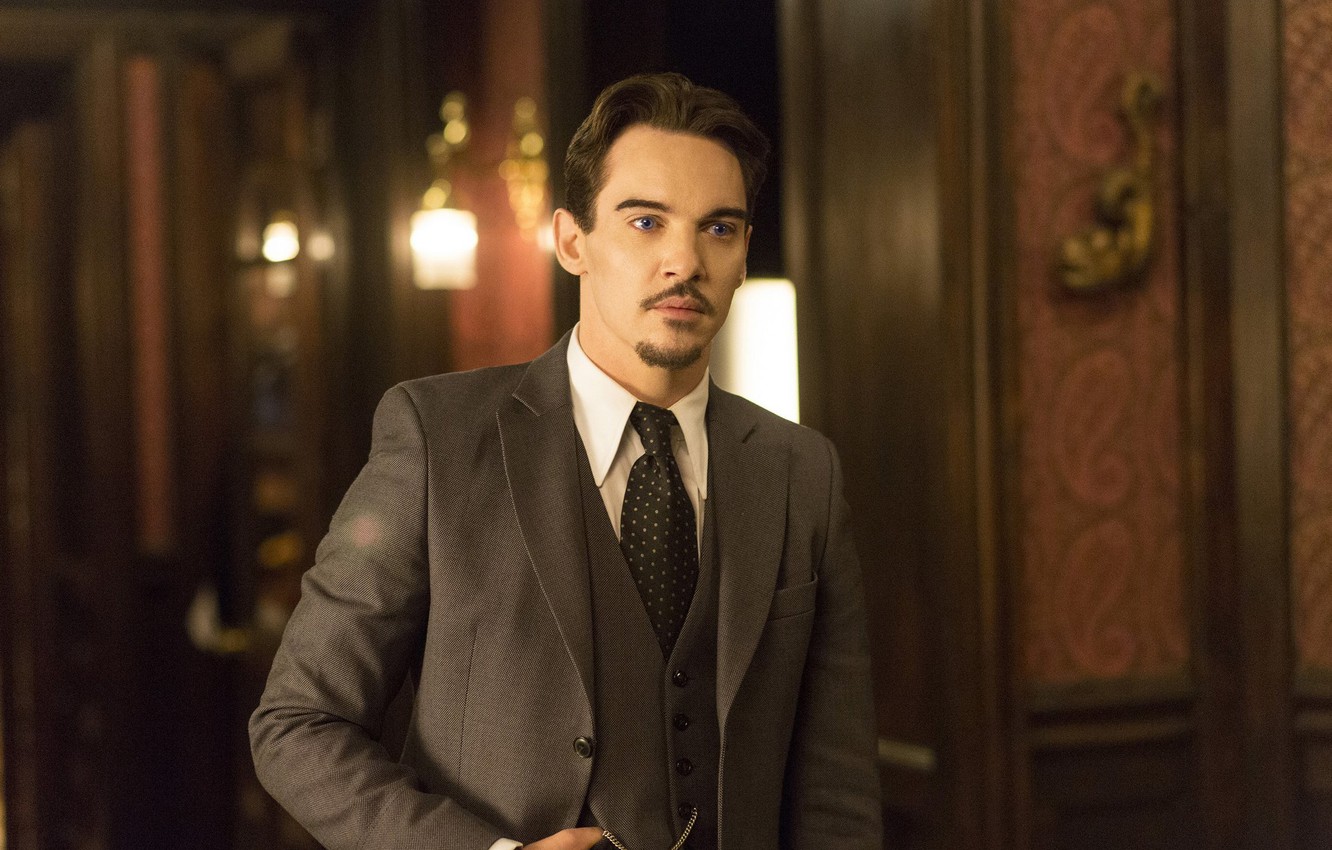 Fresh off The Tudors, Jonathan Rhys-Meyers stars as Dracula in this reboot from the producers of The Tudors. One of the more supercilious adaptations on this list, it's about how the Transylvanian count is revived from death and then travels to London to exact revenge on the descendants of his former enemies, but does so incognito—disguised as an American businessman named Alexander Grayson. BUT WHY? WHY IS THIS NECESSARY? DRACULA, ALL YOUR ENEMIES ARE DEAD, IT'S NOT LIKE THEIR GREAT GRANDKIDS ARE GOING TO RECOGNIZE YOU. I mean, I assume it's because Rhys-Meyers was better at an American accent than a Romanian one. But anyway, he arrives in London, and he promises to bring science (?) to Victorian London (?). (He quotes a lot from Darwin, so I guess he knows that some science is already there?) HE'S BEEN DEAD FOR CENTURIES, AND BEFORE THAT, HE WAS A FEUDAL LORD, WHAT THE HELL DOES HE KNOW ABOUT SCIENCE? But in London, he runs into Mina Murray, the reincarnation of his dead wife (this schlock again) and they kind of fall in love. But he also wants to destroy London, too. Either way, it's a project that knows too little and still tries to do way too much. On a serious note, though, I was also a bit dumbfounded by the show's casting; watching it (for as long as I could) I was really appalled that the only Black actor in the show plays Renfield (a character originally written as Dracula's loyal slave). The show just makes him a friend who seems to work for him, but he's still ride-or-die for the Count. It's a thoughtless turn that makes an otherwise stupid adaptation seem especially vapid.
44.
Harry Nilsson, Son of Dracula (1973)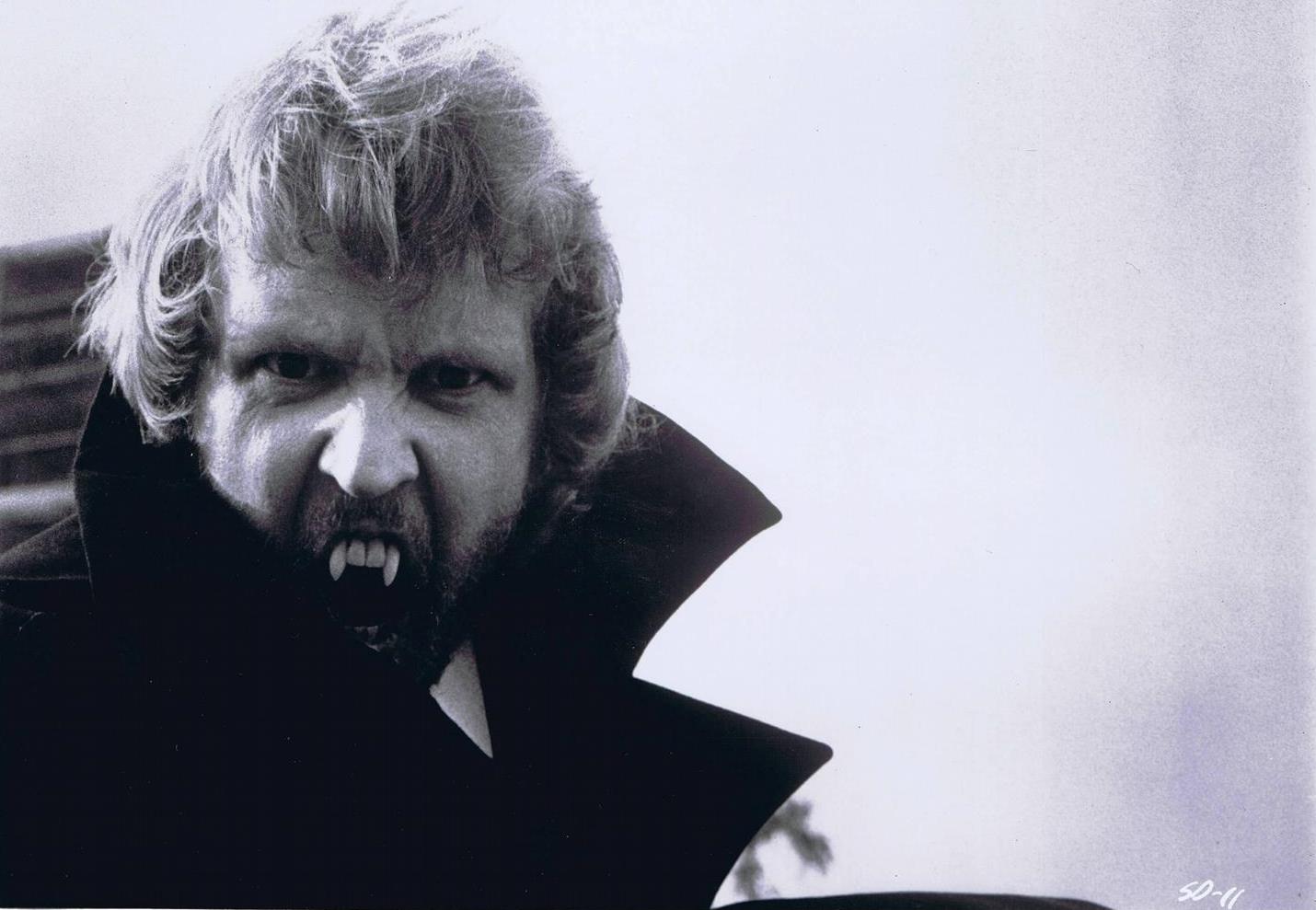 The singer Harry Nilsson plays Count Downe (the son of Count Dracula) in this stupendously all-over-the-place film. Is he literally Dracula? No, but that's fine because he's fulfilling that function. I think. I'm not really sure what this film is about. I'm not sure that anyone who made it does. When the film begins, he Harry Nilsson about to be crowned King of the Netherworld by his mentor Merlin the Magician. And do you know who plays Merlin? Ringo Starr.
43.
Duncan Regehr, The Monster Squad (1987)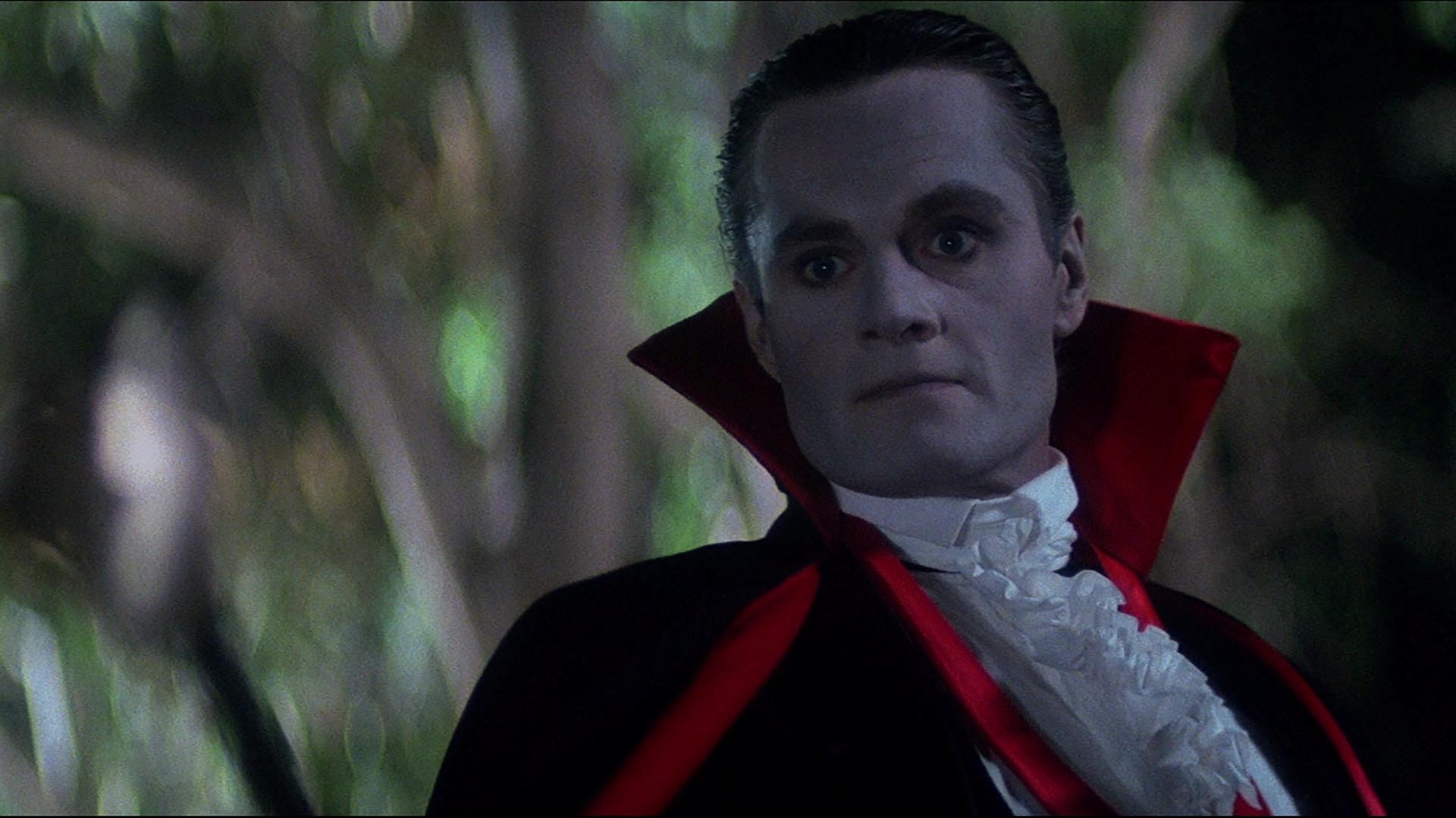 Ah, The Monster Squad. It's the story of a group of nerdy children who band together to save their hometown from Dracula and the other monsters, assembling in a plot to take over the world. Dracula has the air of "mean elementary school principal" or "coach of the rich kids' little league team" more than diabolical villain, but it's a vibe that definitely matches the rest of what's going on, which is all very Losers-Club-meets-the-Little-Rascals.
42.
George Hamilton, Love at First Bite (1979)
Love at First Bite is not a great movie (its title could tell you that) and I'm not really sure why any anyone would watch it. But I guess I did, so, here goes. George Hamilton is a charming, friendly Dracula who falls in love with a modern woman when he arrives in '70s New York City, and gets to live it up a little. If you want a fish-out-of-water-creature-feature-set-in-New-York-City, Splash is a million times better, but Love at First Bite definitely has its cute moments, including, really, any scene in which George Hamilton hams up his terrible accent, and all the times Richard Benjamin attempts to kill the Count with the wrong equipment.
41.
Charles Macaulay, Blacula (1972)
Charles Macaulay's Dracula is a crazy-eyed, racist psychopath with the kind of English accent that involves rolling "r" sounds a lot, in this classic Blaxploitation horror film from director William Crain. He's the vampire (and a real white supremacist one at that) who turns our hero, Prince Mamuwalde, into the vampire Blacula. Even though Macaulay's Dracula is really there for exposition and thematic work, he's on this list. (Though if you're wondering where Blacula, himself, is on this list… don't worry! Keep scrolling!)
40.
Thomas Doherty, The Invitation (2022)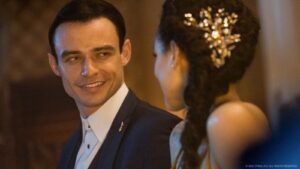 Former Disney-channel star Thomas Doherty, famous for playing Captain Hook's son Harry Hook in the Descendants movies, is the romantic love interest/bad guy in 2022's (barely) erotic vampire thriller about a young woman who discovers via DNA test that she has family in England and winds up going to a wedding at an estate there. She meets the lord of the manor Walter De Ville (Doherty), who has this very intense stare and a charming English accent and they kind of fall in love, but psych, turns out he's Dracula. It's very hard to meet a nice guy, these days!
39.
Luke Evans, Dracula Untold (2014)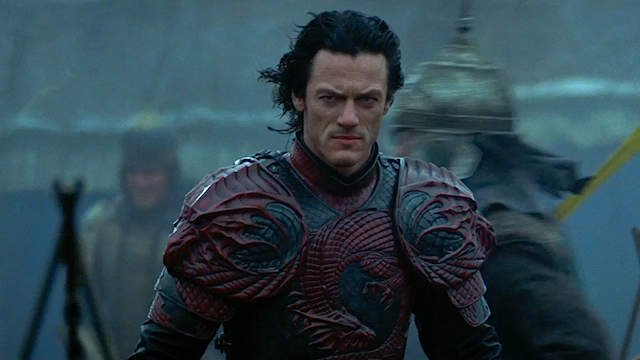 I don't understand the point of this movie, a very boring origin story about how Vlad III came to be Dracula. It's basically just a full-length version of the exposition scene from Bram Stoker's Dracula, only it makes a lot less sense. Luke Evans spends the movie being either angry or sad; he's just a really melancholy Medieval Romanian general who at some point is like, guess I'm Dracula now. No one has ever, or will ever, better evaluate this movie than Danny Lavery did via a bulleted list in The Toast six years ago. SO if I may just paste a section of it below…:
So the basic premise is that Charles Dance would give his Dracula-ing powers to Dracula for three days to fight off the Turks, and if he could resist drinking human blood for that time, he'd go back to his normal self; if not, Charles Dance would finally be allowed to leave his cave and was going to exact revenge upon the demon(?) who turned him into a vampire.
So Dracula ends up drinking blood, obviously, and Charles Dance leaves the cave, and then nothing else happens.
BUT THEN, flash forward 500 years and Dracula runs into the reincarnation of his dead wife in a flower market and they stroll off happily together, and Charles Dance (who looks better now, like he has a human face and is wearing a suit, and why does he look healthier now 500 years after looking like a melted candle) follows them off-screen, muttering "Let the games begin."
WHAT GAMES
38.
Lorne Greene, The Hardy Boys/Nancy Drew Mysteries (1977)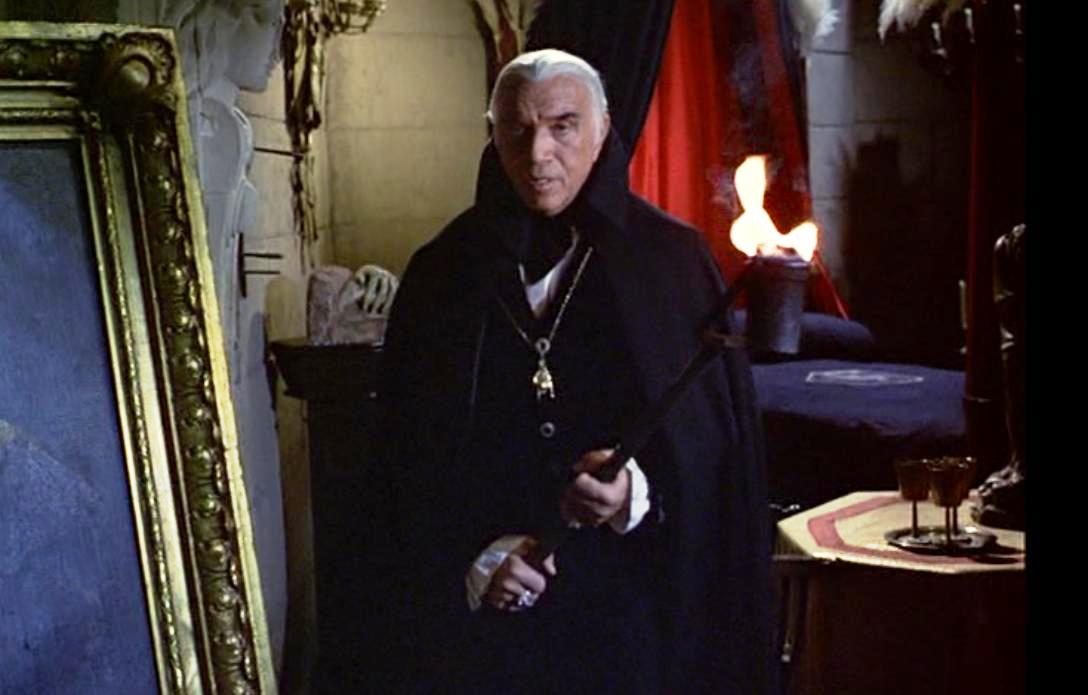 If you're wondering what the hell Lorne Greene from Bonanza is doing playing Count Dracula in two-part super episode of The Hardy Boys/Nancy Drew Mysteries, you're not alone. There is no reasonable explanation as to why Lorne Greene, the dad on all 430 episodes of Bonanza, would be playing Count Dracula in anything, let alone a show about a bunch of cool, crime-solving teens. But he is. He's actually in disguise… he pretends to be an INTERPOL agent named Hans Stavlin when he rendezvouses with Frank, Joe, and Nancy in Transylvania (where the Hardy Boys have tracked down their missing father, I know, I know), but then he turns out to be Dracula. Because OF COURSE HE DOES. I watched this episode one day when I was home sick in the eighth grade (on DVD, from the Hardy Boys/Nancy Drew DVD box set my mom had bought), and I swear I thought I hallucinated this whole thing until I found it while writing this list.
37.
Bruce Davison, The Librarian III: Curse of the Judas Chalice (2008)
I have to give this movie props for making its Dracula a tenured, old-guard history professor. This Dracula, played by Academy Award nominee Bruce Davison, runs with the name Professor Emil Lazlo now, and he teaches at the University of Bucharest, though he's actually Vlad Dracula, the first vampire created by Judas Iscariot. This is actually a huge spoiler, so I'm sorry, but if you watched the film and couldn't see this coming… I don't know what to say. I'm sorry. On the bright side, all those kids at U-Bucharest who definitely complained about how their Romanian history professor was evil WERE RIGHT.
36.
Lon Chaney Jr., Son of Dracula (1943)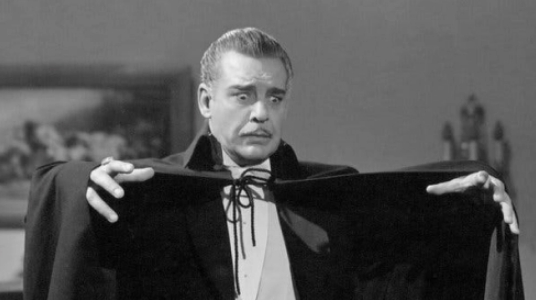 Lon Chaney Jr. mostly played the Wolf Man (and the Wolf Man's alter-ego, nice guy Lawrence Talbot) for Universal Studios, but then in 1943 for some reason, they cast him as the lead in this Dracula movie. Is he Dracula, or is he Dracula's son? It's never specified and doesn't seem important. His fast-talking American accent, see, kind of throws the vibe of this picture. I vastly prefer him playing a hirsute werewolf.
35.
John Carradine, House of Frankenstein (1944) etc.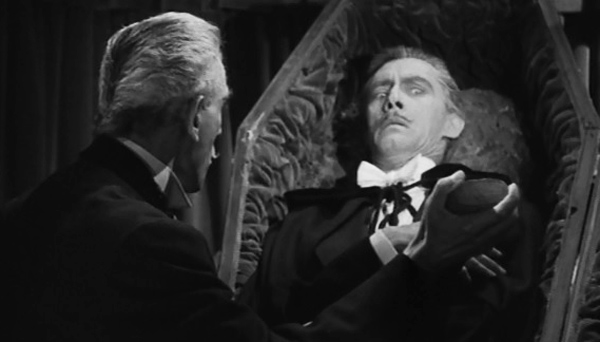 The dignified early-film actor John Carradine had seven (seven!) turns as Dracula, beginning with Universal's monster rally flick House of Frankenstein. Why Universal didn't ask their resident Dracula Bela Lugosi to do it is beyond me, but Carradine isn't bad, though he's probably too dignified. He also keeps his British accent, and his stiff but polite demeanor would be better suited in a movie about the Roman Empire or Thomas Beckett. Apparently, Carradine had originally wanted to make the role as much like Stoker's text as possible. This is a valiant effort, but it could only go so far in a movie in which Dracula and Frankenstein hang out together. And in its decades-later sequel, in which Dracula winds up in the Old West, fighting Billy the Kid.
34.
Richard Roxburgh, Van Helsing (2004)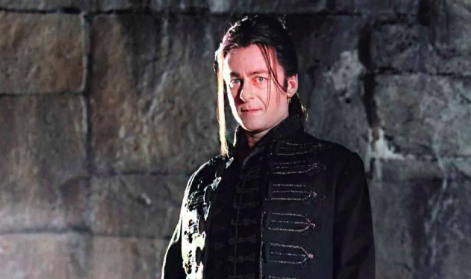 This movie offers an interesting remix of the Dracula story; even though it's set in roughly the same Victorian era as the book, instead of being an elderly Dutch super-professor with a curious grasp on English, this Van Helsing (Hugh Jackman) is young and gritty, and Richard Roxburgh (whom you may remember better as the Duke in Moulin Rouge) is a very guttural Dracula with a long, dark ponytail and a bunch of earrings. His spitty, snakelike Dracula sounds a bit like a Russian gangster at times, but he gets points for trying something new. And no Dracula on this list makes a happier-looking surprised face. Sometimes he looks genuinely delighted.
33.
Michael Antonakos, Chilling Adventures of Sabrina (2020)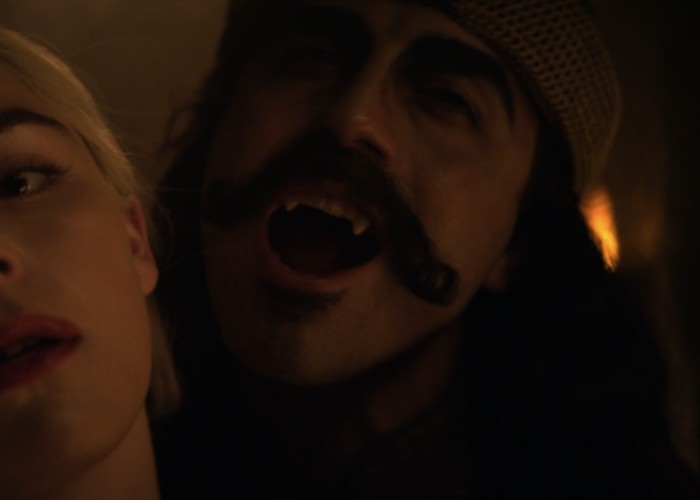 In a Season 3 episode of Chilling Adventures, Sabrina winds up having to go to this place called the Fields of Blood at the instructions of Judas (long story) and take some silver coins from Dracula's tomb. In this series, he's Vlad the Impaler (no, seriously… he looks exactly like that one painting of Vlad the Impaler) and he's Judas's son, and he tries to hypnotize her (to his credit, Antonakos has a very rich speaking voice, so her trance is kind of believable). But it doesn't work because she actually has angel's blood, so he starts foaming at the mouth and writhing on the floor, and she, now un-hypnotized, kicks him because "Also, consent. It's real." (It's a subtle show.) And, yeah, that's basically the end of Vlad's arc on the show. It's three minutes long.
32.
Leslie Nielsen, Dracula, Dead and Loving It (1995)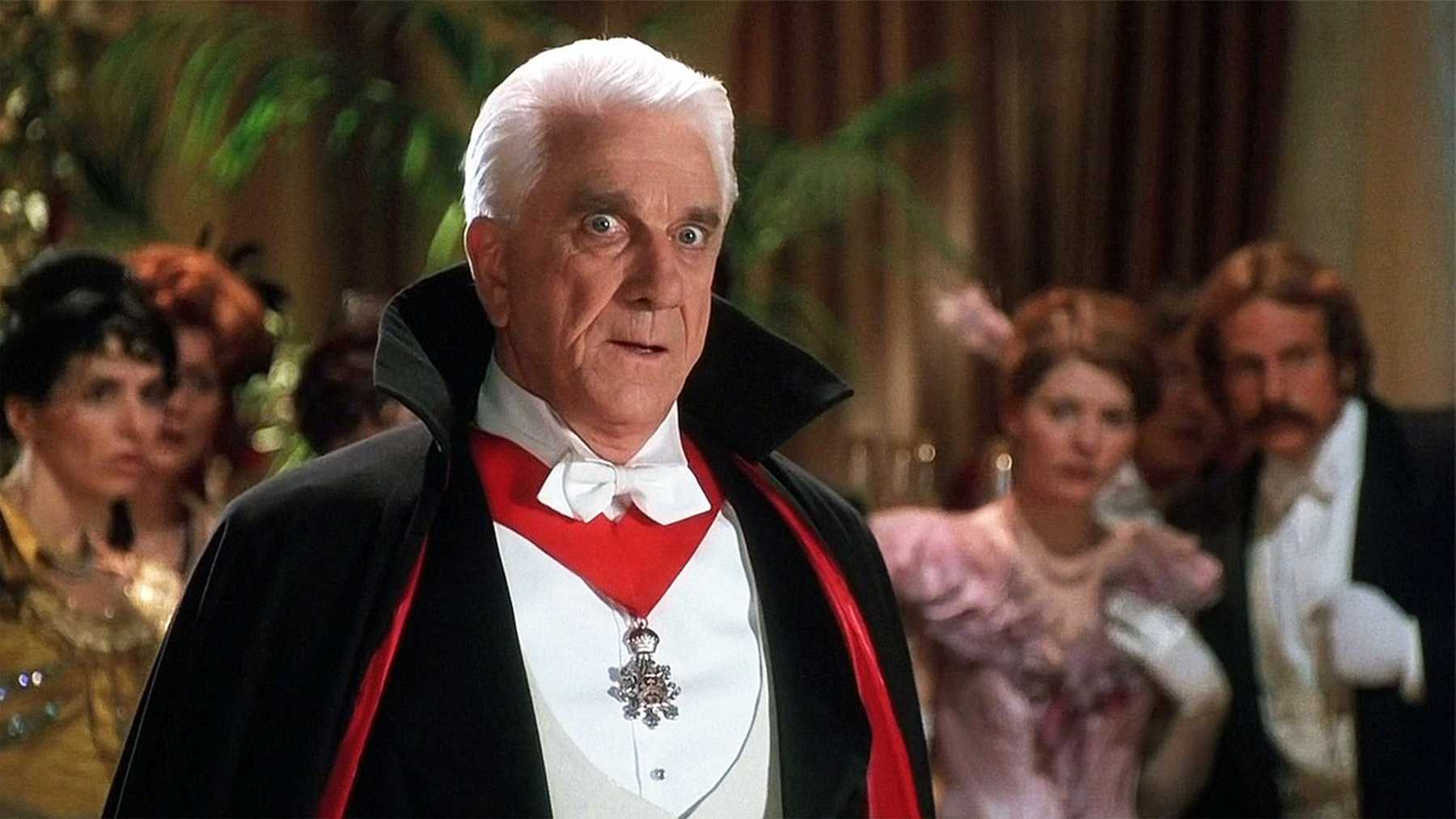 I have to say, it's a very bad movie, but Mel Brooks's schlocky 1995 Dracula adaptation never fails to crack me up. It's incredibly goofy, and often just stupid. More so than his other spoofs, although nowhere near the level of quality of his other horror-movie parody, Young Frankenstein. But it doesn't have to be, because the particular tradition it plays with (Tod Browning and Bela Lugosi's Dracula), is rather low-budget, itself (lots of bats on strings, which Dracula, Dead and Loving It is happy to reproduce). This is an adaptation that knows it does not have to do anything fancy to capture the spirit of the original. It'd be nice if it tried, sure. But it really does know its source material—it's a perfect riff on the Lugosi version, with some inside jokes about the Langella and Oldman characterizations thrown in. Leslie Nielsen is the very silly, ditzy, fuddy-duddy vampire you might expect, banging his head on things and hypnotizing people incorrectly, and whatnot. (I laughed. Should this be lower on this list? Probably, but it really makes me laugh.) But the real star of this movie is Peter MacNicol (unsung as a comedian even with his recent plaudits for Veep), who plays a sensational Renfield, in the tradition of Dwight Frye. Never has a man given himself more, ahem, committedly to an inane, insane role than this. Fun fact: I first watched this movie on TV one summer while I was in Croatia because it was the only thing on in English. Its placement this high on my list is fueled by nostalgia.
31.
Christian Camargo, Penny Dreadful (2016)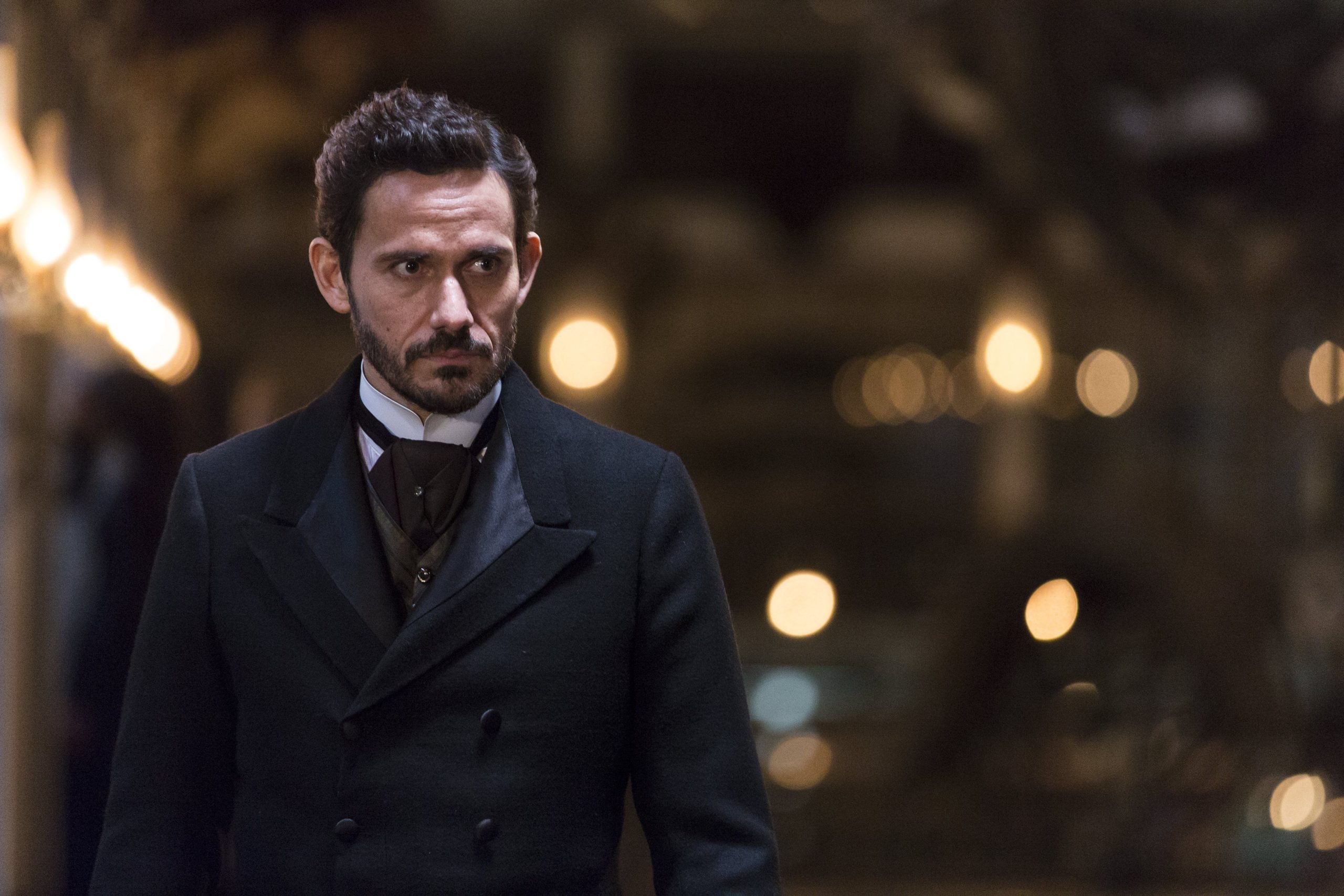 For a show that siphons so much direct Dracula content, Penny Dreadful takes forever in making that guy actually show up; Dracula doesn't appear until Season 3. And even then, he's incognito (or really, he's got some hocus pocus afoot that allows him to hang out in sunlight; that's really the disguise); his alter-ego is a zoologist named Alexander Sweet, and he seems to have a thing for our protagonist, the medium Vanessa (Eva Green). But the thing about Dracula is that he's even more of an authority of evil than Lucifer (which is kind of cool). So when he shows up, the stakes get a lot higher.
30.
Gary Oldman, Bram Stoker's Dracula (1992)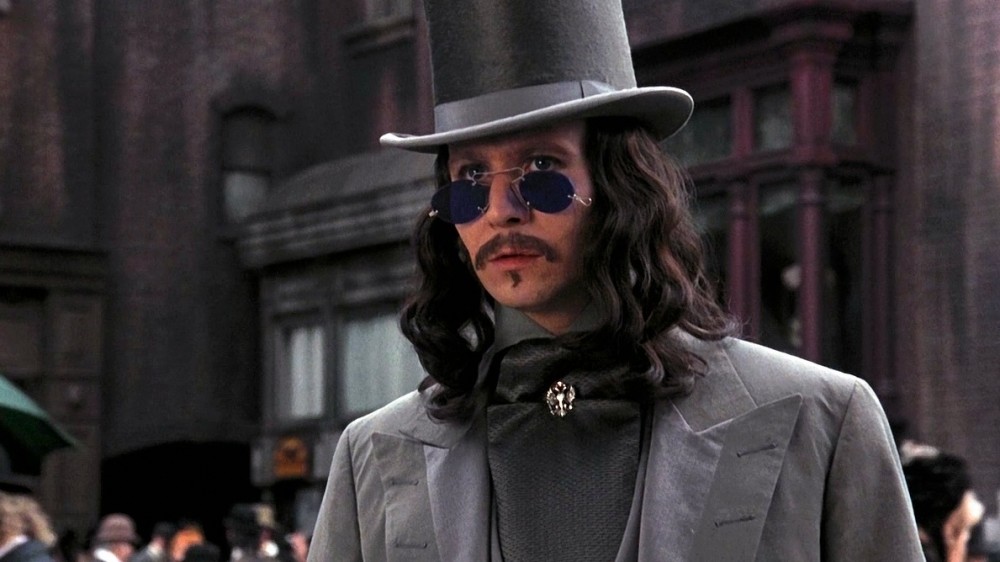 Oldman's Dracula arrives in London sporting a pair of dark sunglasses, which is a confusing thing for someone to wear after they've just landed in England. But that's not the most baffling thing about this movie, directed by Francis Ford Coppola. No, everything else is tied for being the most baffling thing about this movie. (I know my ranking it so low is going to be controversial… but come on…) For starters, it bills itself as an adaptation close to the source text, which for the most part it is, retaining all the novel's characters and general plot structure—but it completely invents a Vlad III/Wallachian Medieval military backstory and makes Mina the reincarnation of Dracula's dead wife (you'll see this idea floating around this list a bunch). So she wants him to drink her blood and make her immortal so she can live a miserable undead life with him.
Like the Langella version, Bram Stoker's Dracula becomes a really sad story about two people who are in love and the world just won't leave them alone. Probably because, yeah, Dracula's killing everybody and streaking all across London as a large, naked-werewolf, and all that. Oldman's casting kind of confuses me; he puts his heart into it, but he's not commanding or terrifying as the vampire, or particularly sultry as a lover with (apparently) unbeatable charisma (though kudos to him for dealing with those painful contact lenses). His long, wavy hair is in his face a lot, and maybe this is why Mina seems to be into him? For his hair?
Anyway, for all that I find this film cumbersome and deficient, I do like the casting of Keanu Reeves as sweet, innocent Jonathan Harker (and the movie's weird textual fidelity to the part about how his hair turns prematurely white, after his shocking experiences in Castle Dracula). I also love Eiko Ishioka's beautiful costumes, though I don't understand how that bright red, jackal-shaped, striated armor looks remotely historically appropriate. I also don't understand how anyone likes this movie, which is two and a half hours long. My favorite celebrity of all time, Cary Elwes, is in the movie and that isn't enough to save it for me.
29.
Denholm Elliott, "Dracula," Mystery and Imagination (1968)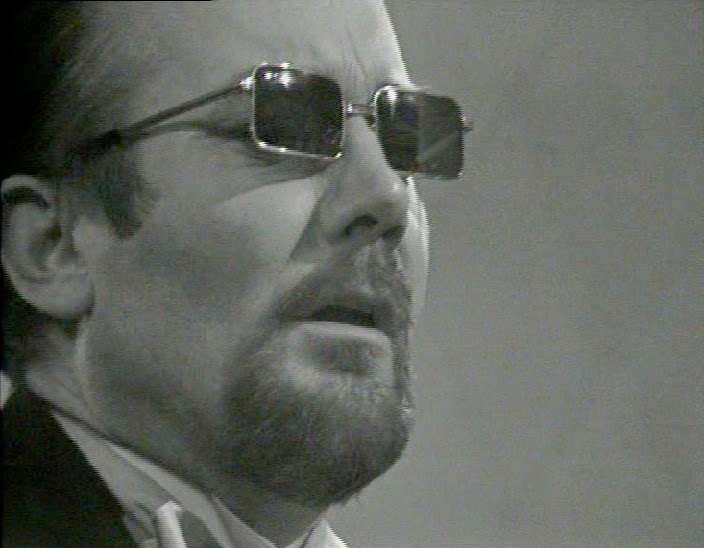 You may know him as the doddering old museum curator Marcus Brody from the Indiana Jones movies, but Denholm Elliott had a long and illustrious career before all that, and in one stint, he played Dracula in a TV movie. I think he might be a little too benevolent-looking (he has a very sweet face) to really pull off the sinister stuff, but his Dracula is quite memorable for the strange spot of cheerfulness about him. And visually notable in this generally swarthy canon for his blond goatee, and dark sunglasses. Again with the sunglasses in England, though!
28.
Jack Palance, Bram Stoker's Dracula (1974)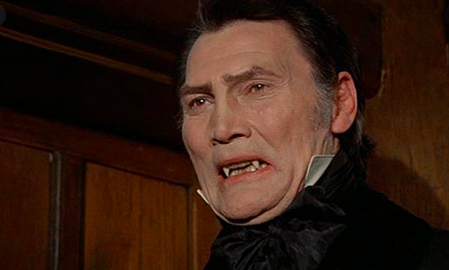 You wouldn't think that Jack Palance, who made a career of playing bad cowboys, would be a good Dracula. But he kind of… is? Or at least, he's interesting. His enormous cheekbones make his giant fangs look like they're going to pop out of his mouth. And he keeps his American accent, even though the movie has him living in the Carpathians, playing the character like he's working on anger management—like he's always holding himself back from really losing it. Every time when I find myself not being convinced (like the scene in which he screams at the heavens because his beloved Lucy is dead, but it's just him slowly moaning at the sky) is followed by another scene that makes up for it (after the moaning, he flips out and starts to tear her whole tomb apart). I find it weirdly believable. This whole thing could have been set in the American West and it wouldn't have made a drop of difference.
27.
Marc Warren, Dracula (2006)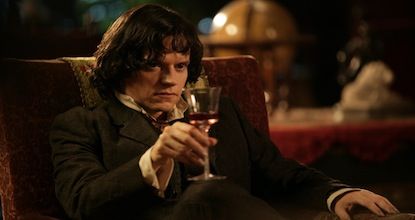 Dan Stevens stars as Arthur Holmwood in this bonkers BBC production that aired in the US on Masterpiece Mystery. If you don't know who Arthur Holmwood is, it's because he's a minor Dracula character who frequently gets written out of adapted scripts. But now he's the star! Okay! This adaptation really, really rewrites Stoker's novel, which isn't bad, because it streamlines some aspects and honestly helps it make a bit more sense, at times. But Marc Warren, as a very disaffected, silkily-voiced Dracula, really steals the show here. I think he looks like an evil Frodo. Purring rather than talking, he always sounds bored and unamused. It's effective.
26.
Louis Jourdan, Count Dracula (1977)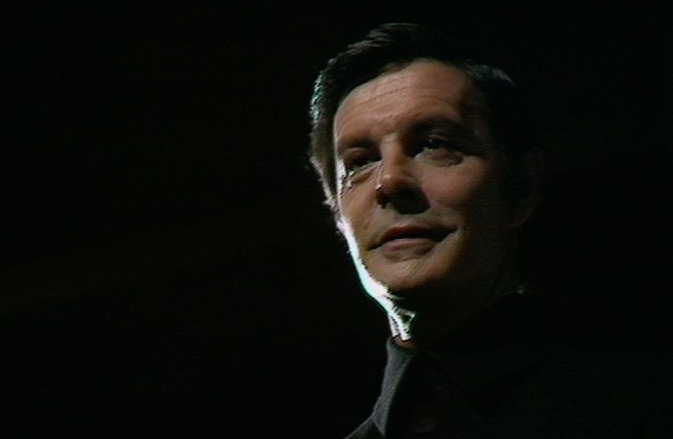 This is a super by-the-book adaptation, produced by the BBC and with a runtime of 150 minutes. I don't know if I fully buy debonair, middle-aged Louis Jourdan as the Prince of Darkness, because he's kind of… French? (He's doing a Transylvanian accent, but still.) Making Dracula appear more Western-European than Eastern is an interesting choice, since vampires are always supposed to represent a kind of perpetually-oppressive landed gentry (wealthy, bloodsucking landlords, if you will), and making him an extremely well-mannered, chivalric, and old-moneyed Frenchman goes a long way in this department. But Dracula also despises his non-Western identity (he's obsessed with England), so Jourdan's Occidentalism kind of challenges the moments when Dracula is worried about, say, blending in on the streets of London. But Jourdan is a very creepy vampire, even if he isn't a self-loathing or even a lusty one. He's not un-compelling, but everything else around him is kind of deadweight.
25.
Graham McTavish, Castlevania (2017—present)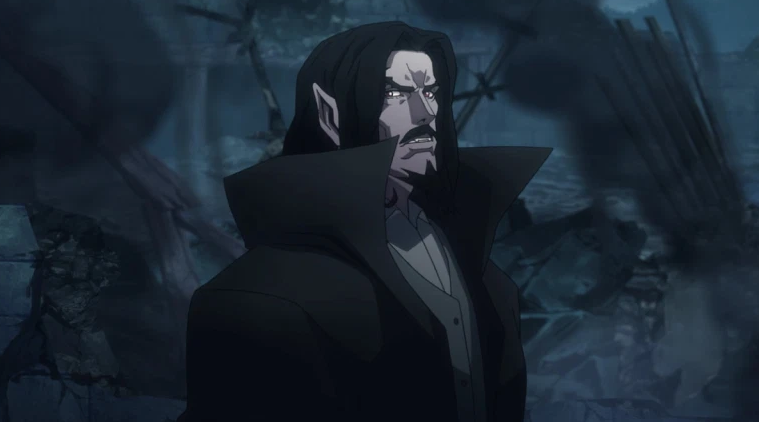 Scottish actor Graham McTavish provides the villainous voiceover of the Count in this anime series, based on a popular Japanese video game franchise of the same name. In it, a monster hunter named Trevor Belmont (Richard Armitage) must save Wallachia from the demonic dominion of Dracula, and to do it, he needs the help of Dracula's half-human son Alucard, and a magician named Sypha Belnades. I really like the idea of Dracula having a semi-human offspring he's in conflict with. McTavish's Dracula is especially growly, and as expected, he does this quite well.
24.
Keith Lee-Castle, Young Dracula (2006-2014)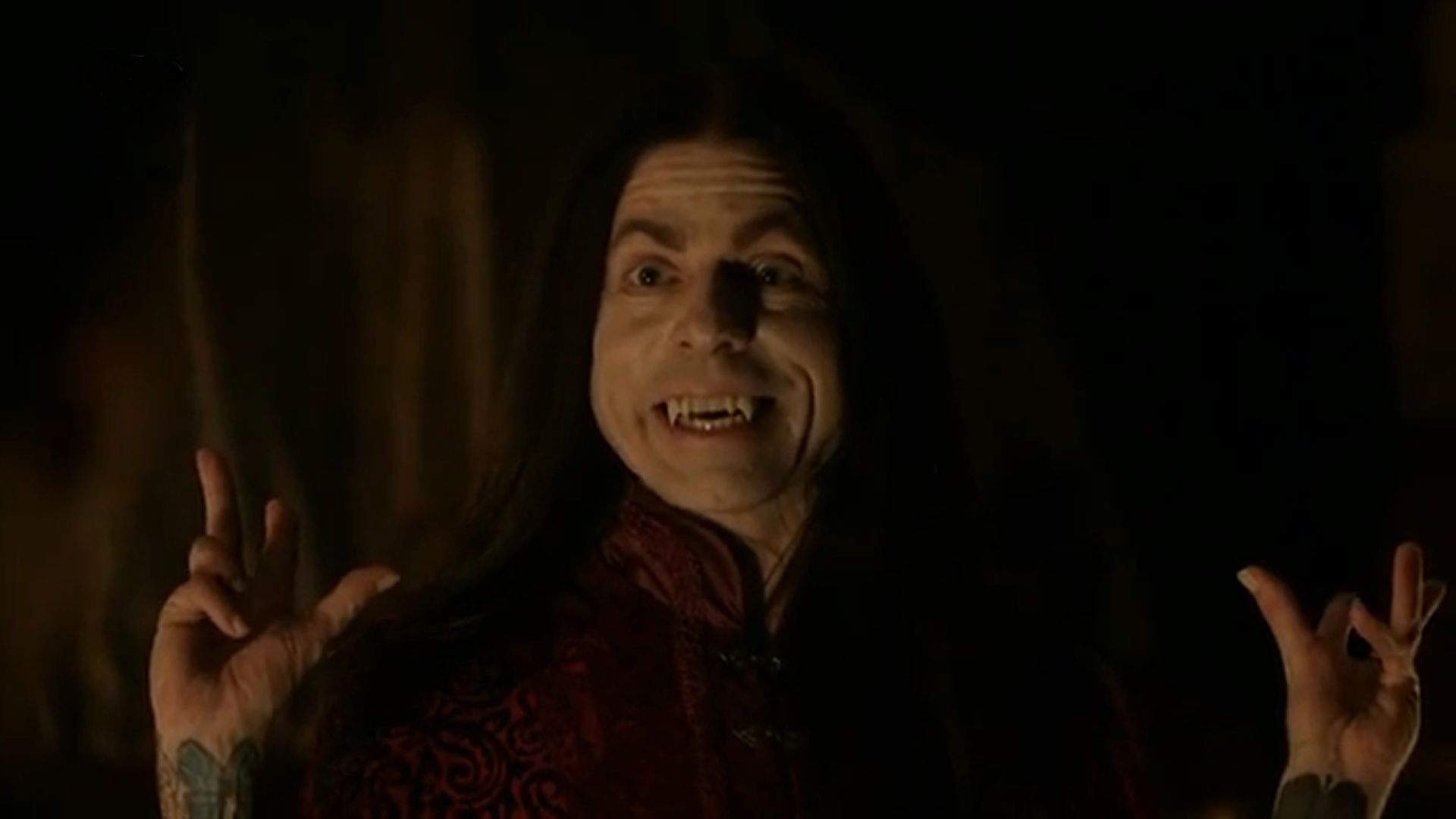 Keith Lee-Castle plays a hardworking dad of a Dracula in this comic UK television show about a family of vampires who move to Wales. BAFTA-nominated, it is a kid's show, but it doesn't stray away from some darker plotlines; Dracula's son Vlad (the show's protagonist), who is half-human, is conflicted about the more murdery parts of his identity. Lee-Castle's Dracula is a daffy, jovial middle-aged goth, which is a very, very nice take on the character.
23.
Adam Sandler, Hotel Transylvania (2012), etc.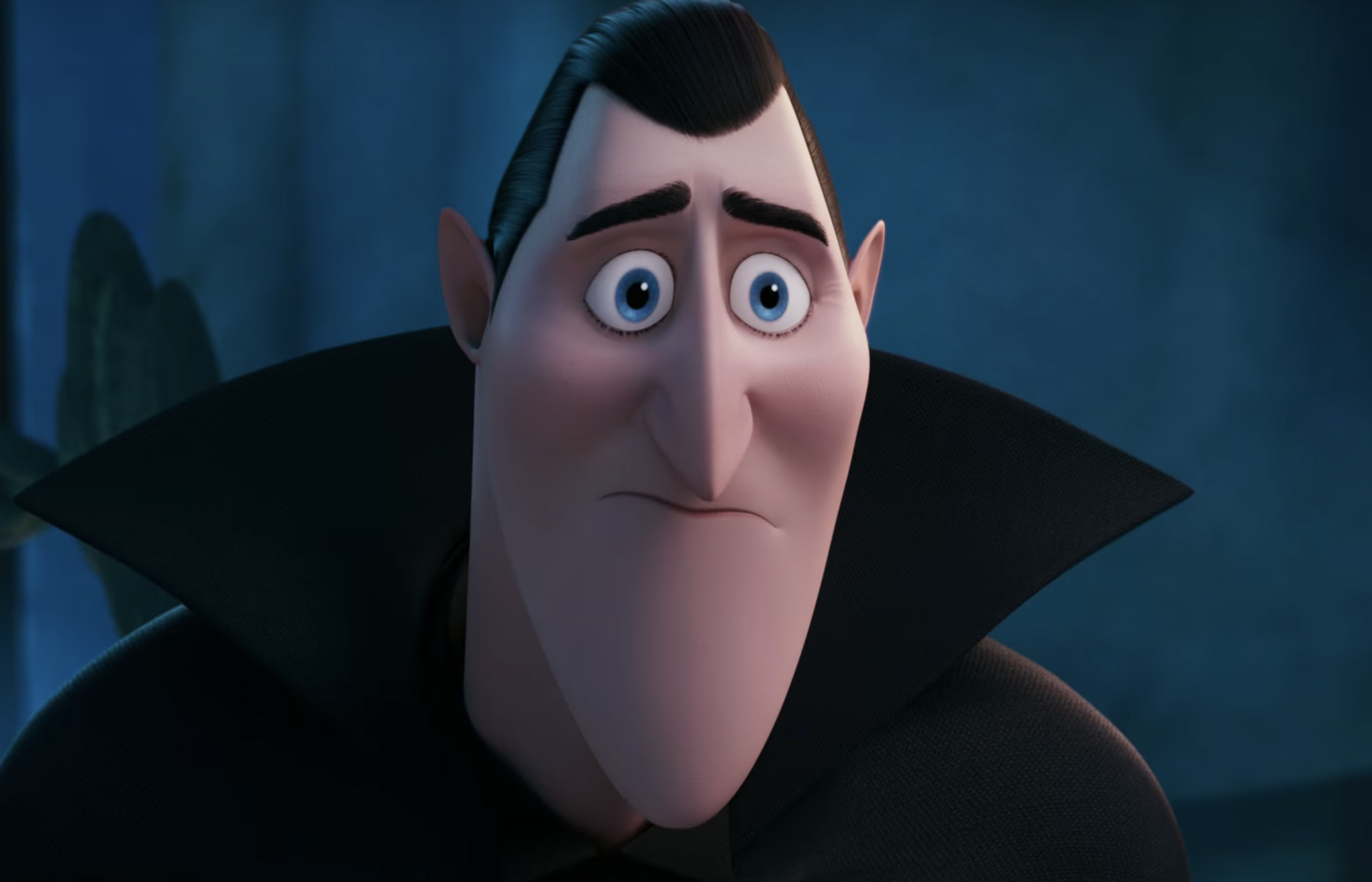 I'll admit that I hadn't actually seen Hotel Transylvania until I started to put together this list. Adam Sandler's Drac is an overprotective father, who is worried humankind will jeopardize the safety of the monster community (including his daughter Selena Gomez). So he builds a resort where they all can live—Frankenstein, the Wolf Man, and a bunch of other creatures (a cute thing in a movie that stars all of Sandler's own pals). But his teenage daughter Mavis really wants out and tries to escape. And then backpacking American (Andy Samberg) stumbles in and falls in love with Mavis, determined to give life in Romania a try, much to the ire of her dad. Dracula's undead-ness is interpreted here, through computer animation, as a kind of Looney-Tunes-esque elasticity, and that's a very, enjoyable, creative take. Sure, Sandler's Transylvanian accent winds up sounding a little like Yakov Smirnoff, but it works. Romania (read: Transylvania) is rarely this fun, in movies. What a country!
22.
Jason Segel/Puppet Dracula, Forgetting Sarah Marshall (2008)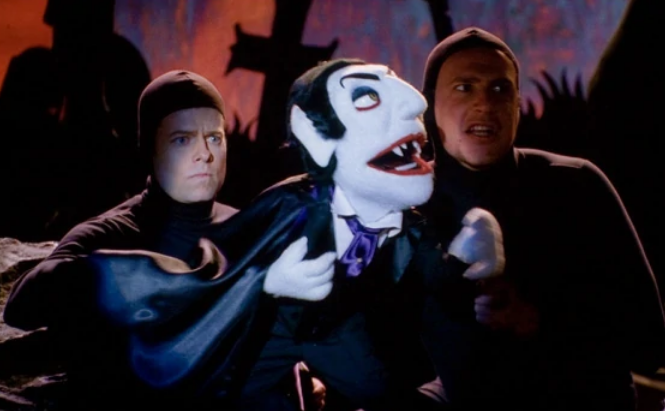 It will surprise no one reading this list that the author of this list's favorite scene in the breakup comedy Forgetting Sarah Marshall is the Dracula puppet musical which our the lovelorn musical composer protagonist Peter (Jason Segel) finally gets to produce at the end. It doesn't seem to be maintaining total textual fidelity to the book (not just because of the puppets, but because it seems to be about yet another love story between Dracula and Mina), and this purple felt puppet also seems to rip off of the Count from Sesame Street, slightly? But I would absolutely watch the heck out of it, if it were a real, standalone thing. There are lots of ventures that experiment with making Dracula a little softer, and nothing accomplishes this better than plush.
21.
Rudolf Martin, Buffy the Vampire Slayer (2000)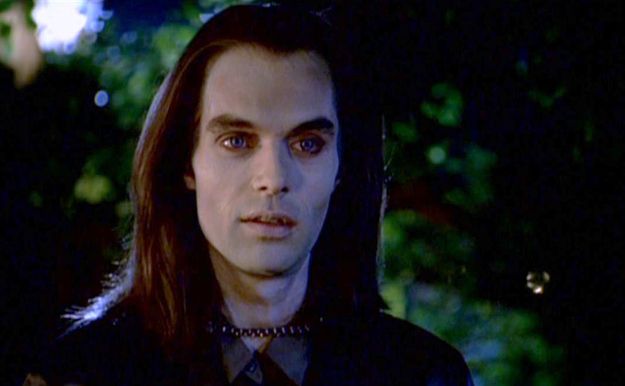 Martin's long-haired, young-looking Dracula isn't the most memorable of all the supernatural jerks Buffy has to face off with, but he still makes a big impact in Sunnyvale when he pops over at the start of Season 5, hypnotizing everybody, biting Buffy on the neck, and turning Xander into his slave. Still, it's a clever way to integrate a retelling of the popular Dracula story (the Hamilton Deane theatrical rewrite that got turned into the Lugosi movie) into a show that's already up to its neck in vampire drama.
20.
Nicolas Cage, Renfield (2023)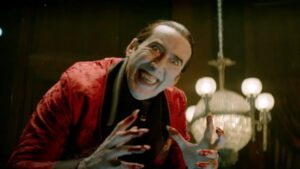 I am so, so glad that Nicolas Cage finally got a chance to play Dracula. If anyone deserves it, it's him. I've said it before, but "you're going to want your Dracula not to merely chew the scenery, but suck it all dry" and no one is capable of this more than Nicolas Cage. Not only does he utter every line with gusto (savoring, sucking on every syllable of each word), but he also looks amazing. The makeup of Renfield is excellent; Cage's Dracula is a very demanding, manipulative, and utterly co-dependent vampire, whose normal neediness is exacerbated by his delicate condition: he is recovering after being exposed to sunlight, and he appears in various stages of a mushy, gloopy reverse-decomposing process throughout the film. For most of the film, he's a bit disgusting, but when he's back to his old self again, he's a resplendent, suave, and polished monster, in blazers with sequined lapels and fantastic capes. An absolute diva.
19.
Peter Stormare, The Batman vs. Dracula (2005)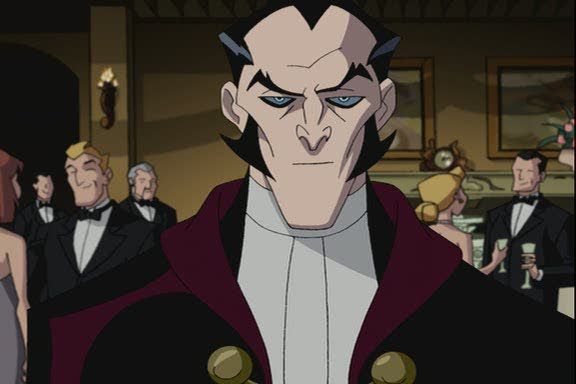 This direct-to-video, full-length-animated feature, compellingly subtitled "The Dark Knight meets the Prince of Darkness" (and with lines of dialogue like "a break in at the bank!? A blood bank!") features some very spooky voice-acting from Peter Stormare, whose own husky, ambiguously-European voice doesn't need much transformation to make it passable as the voice of Dracula. I was not unimpressed.
18.
Tricia Helfer, Van Helsing (2019-2020)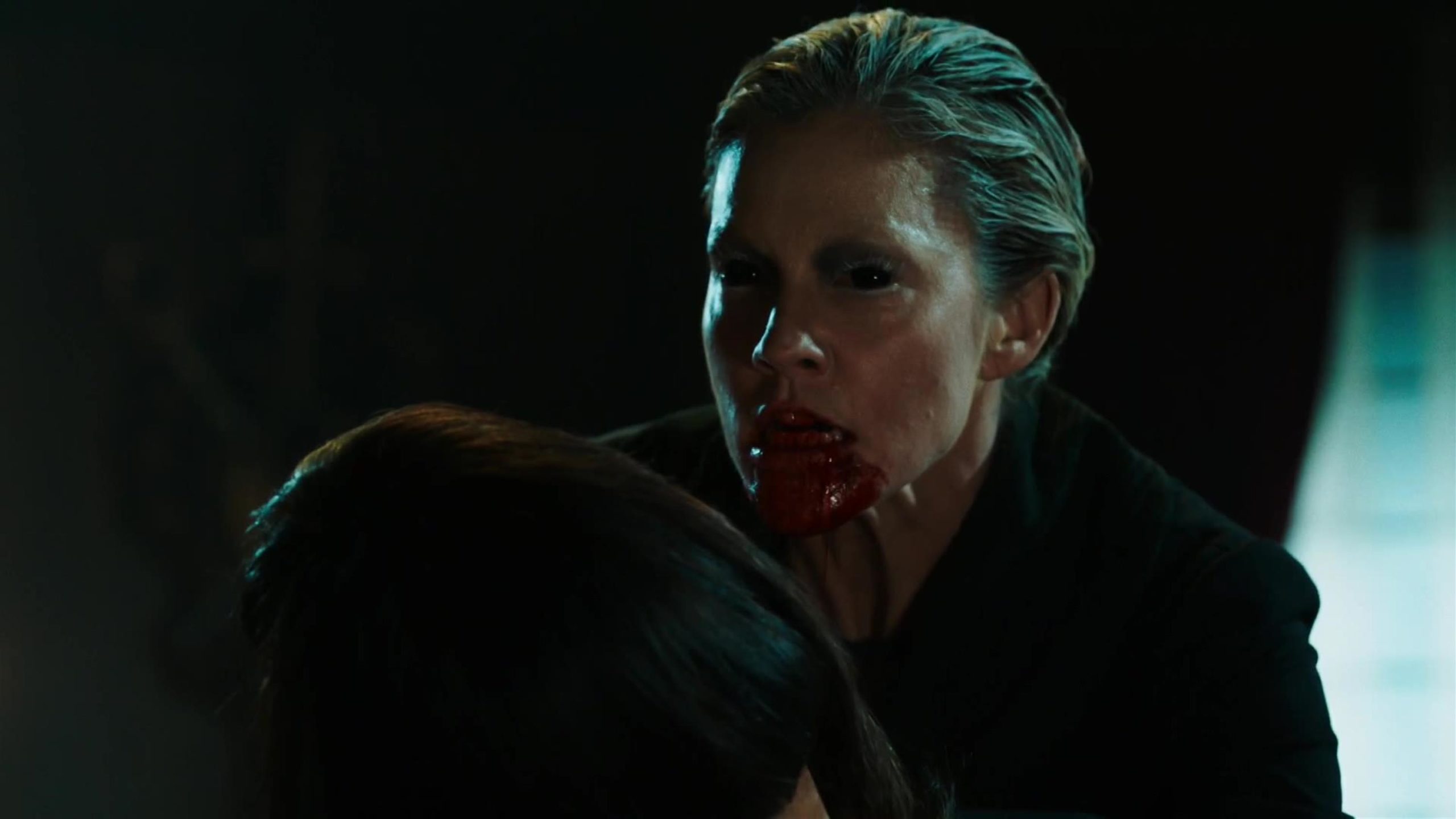 SyFy and Netflix's very female, very modern reboot of the Dracula story (in which Vanessa Van Helsing, a descendant of both the Van Helsings and the Sewards, has the rare ability to turn vampires back to humans) gives us the only lady Dracula on this list: Tricia Helfer, who gives a commanding, slithery performance (lots of deadly-sounding loud whispering). She is made all the more chilling by her totally-black eyes and bright white eyelashes. Van Helsing could do a lot more with her than it does, but she's nothing if not memorable.
17.
Morgan Freeman, The Electric Company (1971-1977)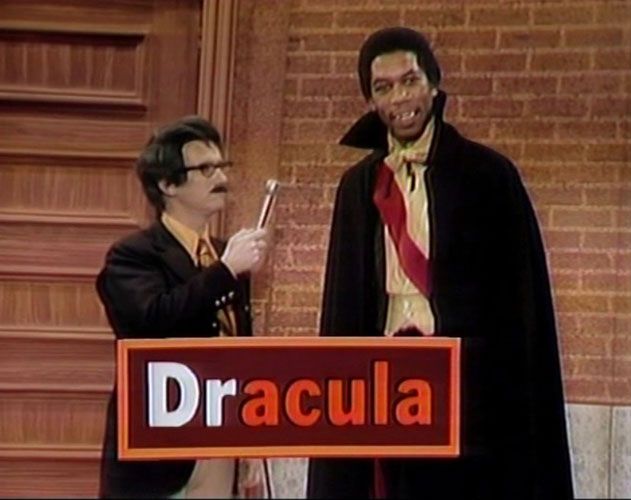 Back when he was a regular cast member on the children's show The Electric Company in the 1970s, Morgan Freeman had a recurring role in sketches as Count Dracula (sometimes known as "Vincent the Vampire"), who sometimes took baths in his casket, and enjoyed eating vegetables. It's adorable. Also, Morgan Freeman has a lovely singing voice!
16.
Carlos Villarías, Drácula (1931)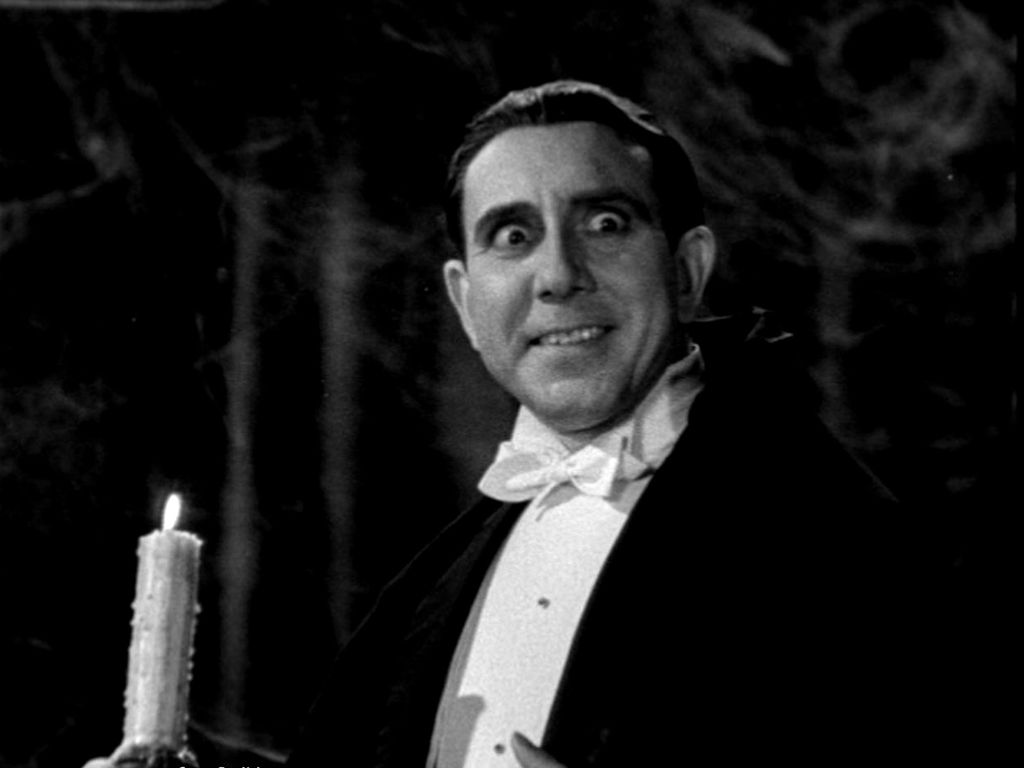 The story behind this Dracula film is one of my favorites; it's the Spanish-language version of the original Universal Studios movie starring Bela Lugosi, filmed on the exact same sets using the same materials, but at night, after Browning and his crew wrapped production for the day. Villarías' job was basically to just do Bela Lugosi's performance but in another language (as Conde Dracula), but he seems to have more fun with the role than Lugosi does (he's a lot bouncier). And it's a lot of fun to watch. I might actually like it better than the English-language original, but saying this out loud might be the kind of heresy that makes all the villagers hush and stare at me.
15.
Atif Kaptan, Dracula in Istambul (1953)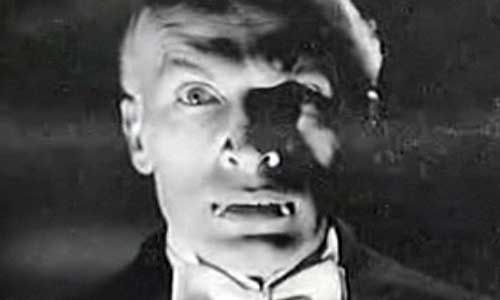 In this often-forgotten Turkish adaptation of Dracula, entitled Drakula İstanbul'da, Atif Kaptan plays a sinister, stern, bald Count with ramrod posture, upturned eyebrows, and enormous fangs. His is a fascinating, intense performance in a film that is generally faithful to its literary predecessor, except for a few structural changes, including making the Mina character a showgirl and insisting that Drakula is Vlad the Impaler. But everyone's doing that, these days.
14.
Udo Kier, Blood for Dracula (1974)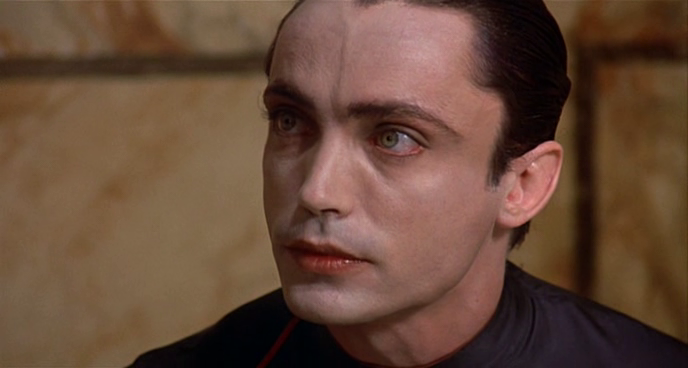 It's high time we got to a super weird, extra erotic Dracula and this Paul Morrissey-directed production from the Warhol Factory really delivers there. Also known as Andy Warhol's Dracula (though he really didn't have anything to do with the making of it), it stars Udo Kier as a gaunt, sickly, enfeebled Dracula (rumor has it that Kier starved himself so much for the part that he could barely walk when he arrived to set) who needs to drink virgin blood if he wants to stay alive (well, you know what I mean). So he heads to Italy to find one, and bumps into a man (the Neorealist director Vittorio di Sica! Of all people!) with four daughters he's only too happy to marry off to this wealthy-seeming, highborn foreigner. Only… the two daughters Dracula pursues are not virgins, thanks to Mario (underground sex symbol Joe Dallesandro), the hot, young handyman on the estate (he's also, in a fun bit of symbolism, a communist!). And when their non-virginal blood makes Dracula weaker, Mario begins to suspect something's going on. Stay for the socialist themes, but beware of all the blood. There is… so much blood.
13.
Al Lewis, The Munsters (1964-1966)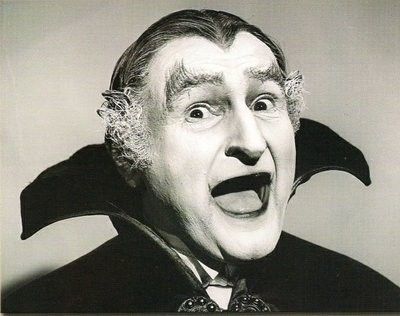 Despite his thick New York Jewish accent, Al Lewis's Grandpa Munster is descended from the tough Transylvanian crowd you'll find elsewhere on this list; his name is Sam Dracula, and there's no more damning a patronym than that. But he's a lot friendlier, a lot cuter, and a lot more disposed to harebrained schemes than you might expect from a Dracula (even one so obviously styled after Lugosi, pale-faced and perpetually tuxedoed. What's that medal for? No one knows!). If you're looking for something fun to watch this Halloween, I heartily recommend this sanguine primetime television show about a family of monsters trying to integrate into regular American society.
12.
Jouji Nakata/Crispin Freeman, Hellsing, (2001-2002; 2006-2012)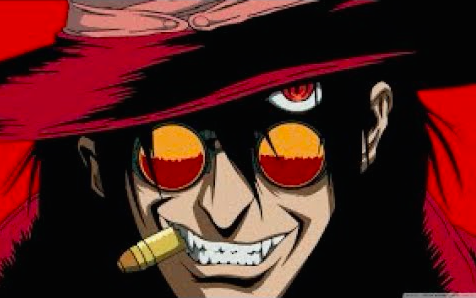 I think the scariest vampire ever is Kurt Barlow from the 1979 Salem's Lot miniseries, but Alucard is a close second for me. If I saw him emerge out of the fog and walk towards me, I think I might just drop dead on the spot. Jouju Nakata and Crispin Freeman provide the original Japanese and English voiceovers to Alucard, an ancient and extraordinarily evil vampire in a very slick red suit and fedora, who serves as the antagonist of this anime series based on Kouta Hrano's Hellsing manga. Turns out, evil Alucard is the vampire Dracula (it's the same name spelled backwards… I… did not notice this), and, I'll just reiterate, he's absolutely terrifying. Freeman's slow, well-enunciated voiceover makes him sound like a movie trailer announcer from hell. It's one of the most clever, and effective, reimaginings of Dracula I've ever seen. The small price to pay for knowing that is that I see his face when I close my eyes.
11.
Willem Dafoe, Shadow of the Vampire (2000)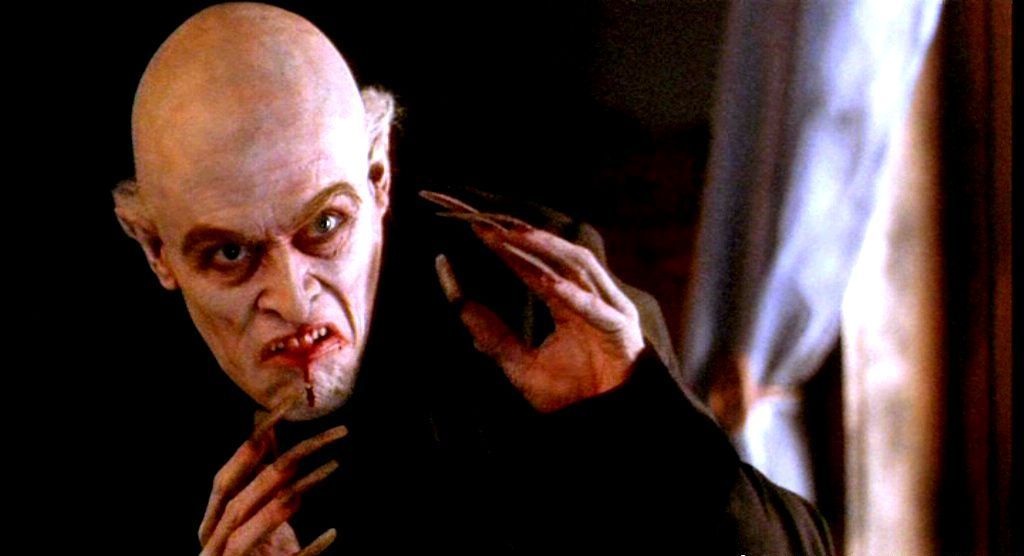 I adore Willem Dafoe in Shadow of the Vampire, a clever little meta-film that offers an alternate history of the filming of the original 1922 Nosferatu movie. Directed by E. Elias Merhige, it stars John Malkovich as the testy director F.W. Murnau and Willem Dafoe as Max Schreck, the creepy leading actor who, it turns out, isn't just pretending to be a vampire for the camera. Murnau knows (he's got everyone believing that Schreck is just really method) and is trying to eke a masterpiece out of it. It's a fantastic allegory of exploitation done with the excuse of genius. Dafoe's performance earned him an Oscar nomination, and scared the daylights out of my dad.
10.
William Marshall, Blacula (1972), etc.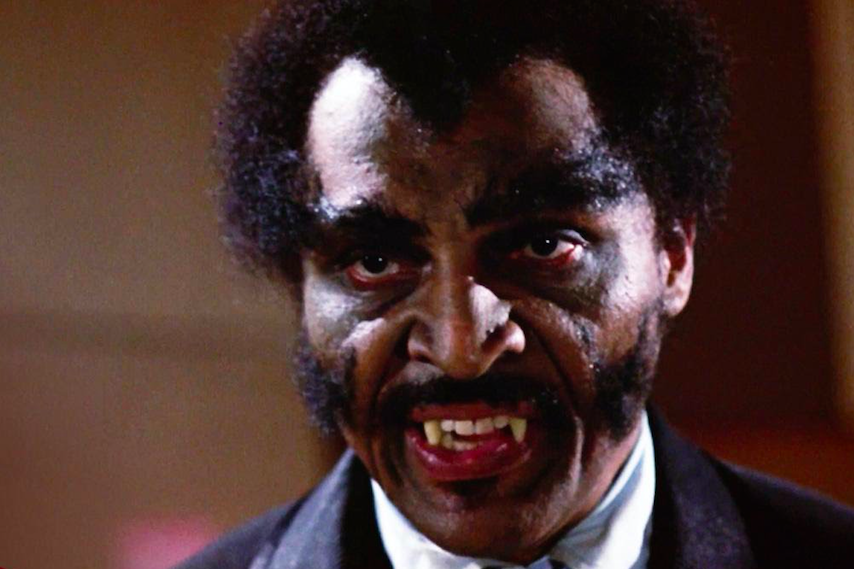 Okay, so, there are technically two Draculas in this classic Blaxploitation horror comedy: the actual vampire Dracula (scroll up a ways), and the African prince Mamuwalde he bites, turning him into his undead heir, Blacula. But Blacula pisses off Dracula by trying to enlist him in ending the slave trade, so Dracula nails him in a coffin (where he hopes he'll stay for centuries). But Blacula gets out and, hungry and vengeful, winds up in modern-day Los Angeles. I'd be really, really interested in a reading of this film's astute racial politics; Dracula's biting and then entombing Blacula both read as acts of white supremacist violence against a progressive Black man whose work threatens to end white, aristocratic hegemony. William Marshall's Blacula, who meets a modern woman who looks to be a reincarnation of his beloved, deceased wife, is incredibly charismatic and fun, and it's impossible not to root for him.
9.
Zhang Wei-Qiang, Dracula: Pages from a Virgin's Diary (2002)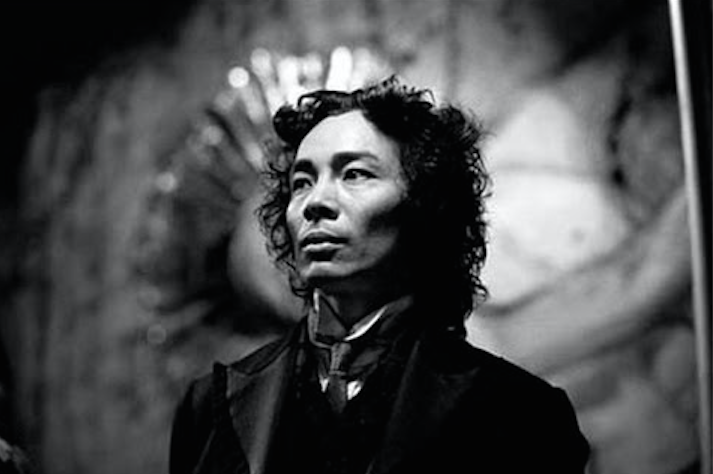 The dancer Zhang Wei-Qiang is stunning as Count Dracula in this beautiful, unnerving, filmed ballet adaptation of the story, directed by Guy Maddin. This film is gorgeously styled like a silent movie, visually emulating the nightmarish, surrealist iconography of German Expressionist classics like The Cabinet of Dr. Caligari (and even the original Nosferatu). Thematically, the film offers an elegant reading of Dracula as a story about Orientalism and xenophobia. This Dracula is feared because he is an outsider (though, it kind of sinks the adaptation's criticism of xenophobia that the Western Europeans who fear him were kind of right about him all along?).
8.
The Count, Sesame Street (1972-present)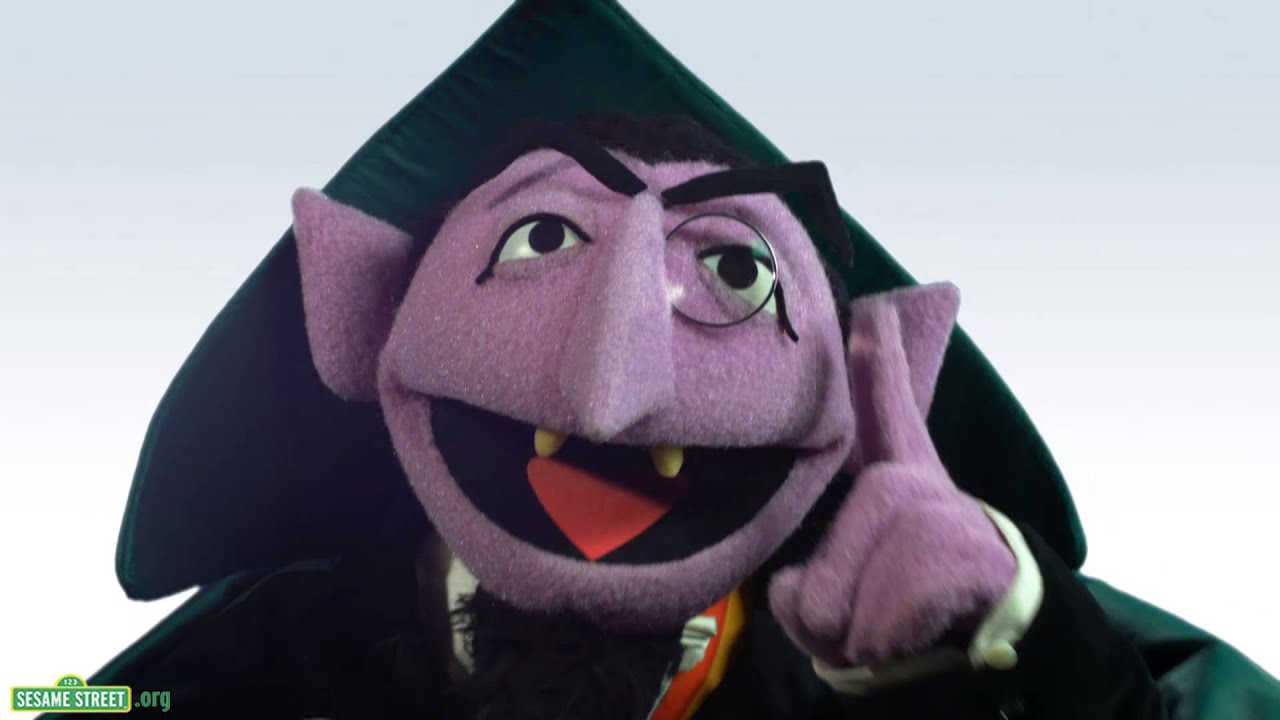 Count Von Count, the friendly plush vampire who premiered in Sesame Street's fourth season, is one of the greatest creations to have come out of Bram Stoker's novel (though he owes more to Lugosi's visage than anything else. There's that medal, again!). Created by Norman Stiles and voiced by Jerry L. Nelson and subsequently Matt Vogel, our guy is just a Count who loves to count. He will count anything! It's hilarious!
7.
Claes Bang, Dracula (2020-present)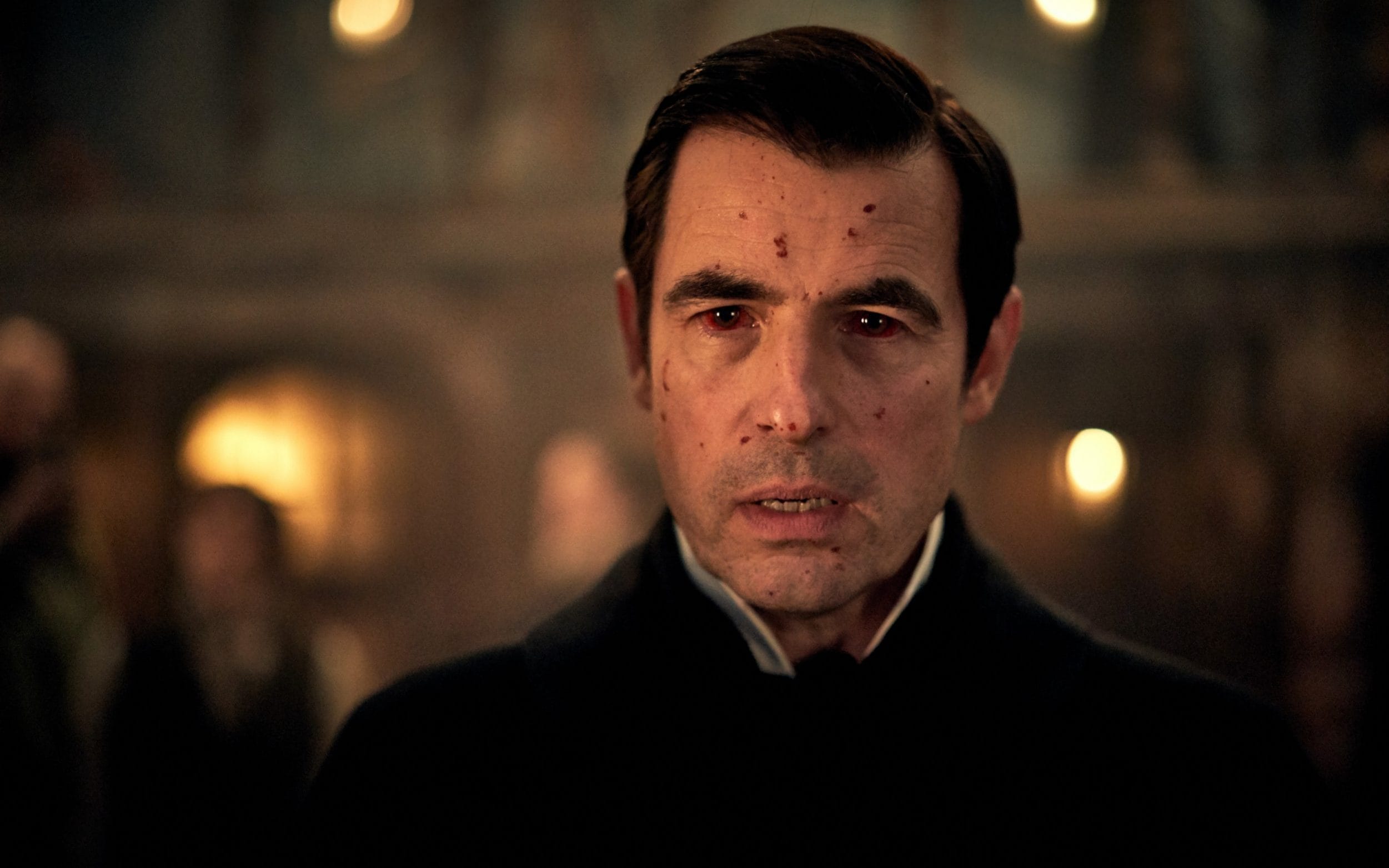 I confess that I have not finished Mark Gatiss and Steven Moffat's recent BBC Dracula series yet, because it's far too grisly and disturbing to sit through by myself, so I have to wait for whenever my partner can join me. I'm not squeamish, but there is so much body horror! Jesus Christ! The thing with the fingernail nearly cost me sleep for a month! Anyway, Claes Bang is an incredibly creepy Count, but he's also kind of funny, sometimes? He's a little sarcastic, a little playful, quite charming. This approach offers a clever way to build on Dracula's affability in the original text (he and Jonathan really hit it off in the first four chapters, before Jonathan realizes that he wants to eat him—and this adaptation builds on that friendship, and its related homoeroticism). But Bang does have incredibly black eyes, and a very steely, aristocratic face, and these features go a long way towards making him look both contemptuous and evil.
The thing about this production is that it represents its vampire as definitely, literally Satan (this series really emphasizes the religious stuff—I mean, it's just absolutely full of nuns), and there are incredibly disgusting and terrifying scenes that convey how he's super evil. Bang walks these lines extremely well. But if this adaptation excels at only one thing, it's representing Dracula as being super, super dead. He's so incredibly dead. I also do like that Bang's fangs are actually just a full mouth of jagged shark teeth. That's good. Very scary. Definitely not funny, even if you first see them while he's smiling really big.
6.
Frank Langella, Dracula (1979)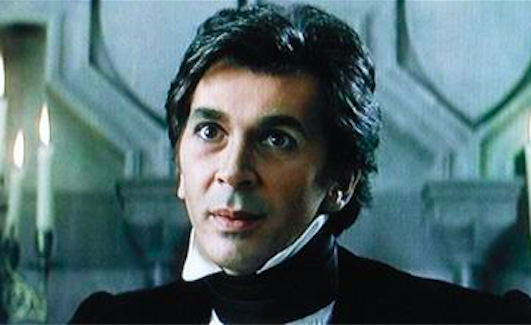 Frank Langella is good at playing monsters, but he's not my favorite Dracula (though he is my favorite Richard Nixon). In this film version, which followed his stint playing the same role in the 1977 Broadway production (for which Edward Gorey did the sets), Langella is a very tortured, very Byronic vampire. He's sexy (lots of open, flowy shirts). He's tender. He's sensitive, and when he decides he wants to seduce Lucy, the main character, she's absolutely fine with it. And after a very psychedelic, very '70s sex scene, they fall madly in love and try to run away together.
5.
Martin Landau, Ed Wood (1994)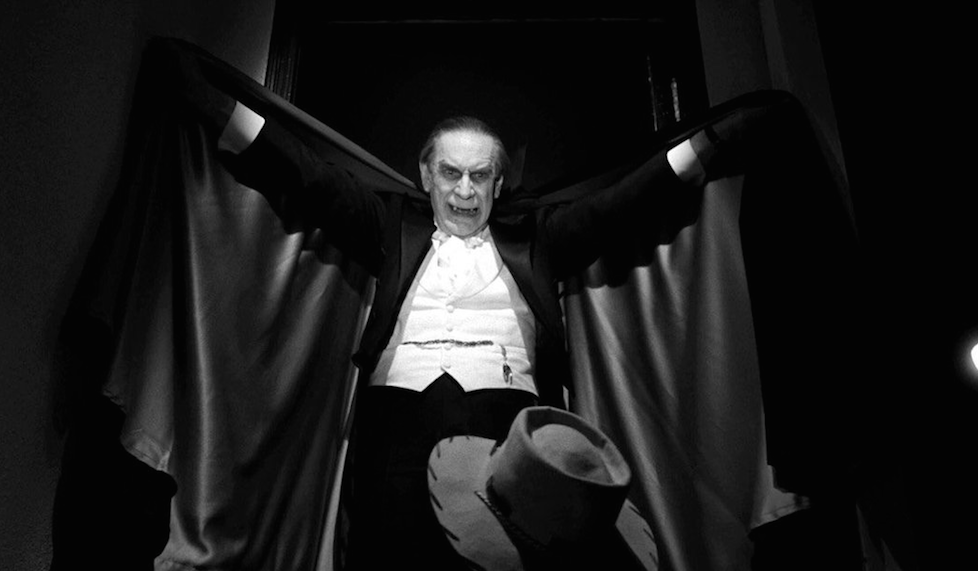 The inclusion of this performance might raise some eyebrows, but it definitely counts. Ed Wood is Tim Burton's tale of the unconventional filmmaker behind some of the worst and most low-budget 1950s horror movies ever made. And in it, Martin Landau plays an elderly Bela Lugosi, who kind of lives his daily life in the shadow of his most famous character, from two-and-a-half decades before. Befriended and convinced to star in movies by the young wannabe filmmaker, the old, drug-addicted Lugosi is haunted by his former glory as Dracula. Not always able to separate his own identity from his most famous role, he wears the cape, scares kids on Halloween, rewatches the old reels again and again. Martin Landau (who looks nothing like Lugosi, by the way), earned an Oscar for Best Supporting Actor for a performance so spot-on it could only have been a séance. Not only does he capture Lugosi's voice perfectly, but he also beautifully embodies the tragedy of Lugosi's particular immortality—rather like Dracula's, Lugosi's legacy comes with a catch. He'll live forever this way, but it's not really a life, at all.
4.
Klaus Kinski, Nosferatu the Vampyre (1979), etc.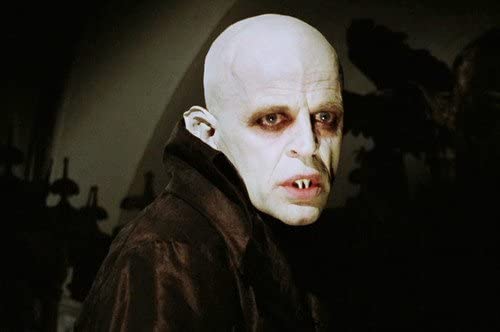 Klaus Kinski delivers a penetrating performance in this masterful adaptation of F.W. Murnau's Nosferatu written and directed by Werner Herzog (the best Dracula film on this list). Kinski's Dracula (though the film is named after, and pays visual homage to, Murnau's Nosferatu, his name in this film is "Dracula" rather than "Orlok") is gloriously pitiful as a sniffly, sickly, wistful vampire, stuck in a dank castle. The film, and Kinski's performance, read Dracula as pestilential—his bulbous head, gray skin, and pincers make him resemble an engorged tick, and his clammy, stuffy-nosed voice makes him sound consumptive (for the record, I've never seen a film that looks so freezing and damp). Kinski and Herzog allow vampirism to appear contagious—it's a disease. It's because the vampire is infected that he can be an infector.
3.
Max Schreck, Nosferatu: A Symphony of Horror (1922)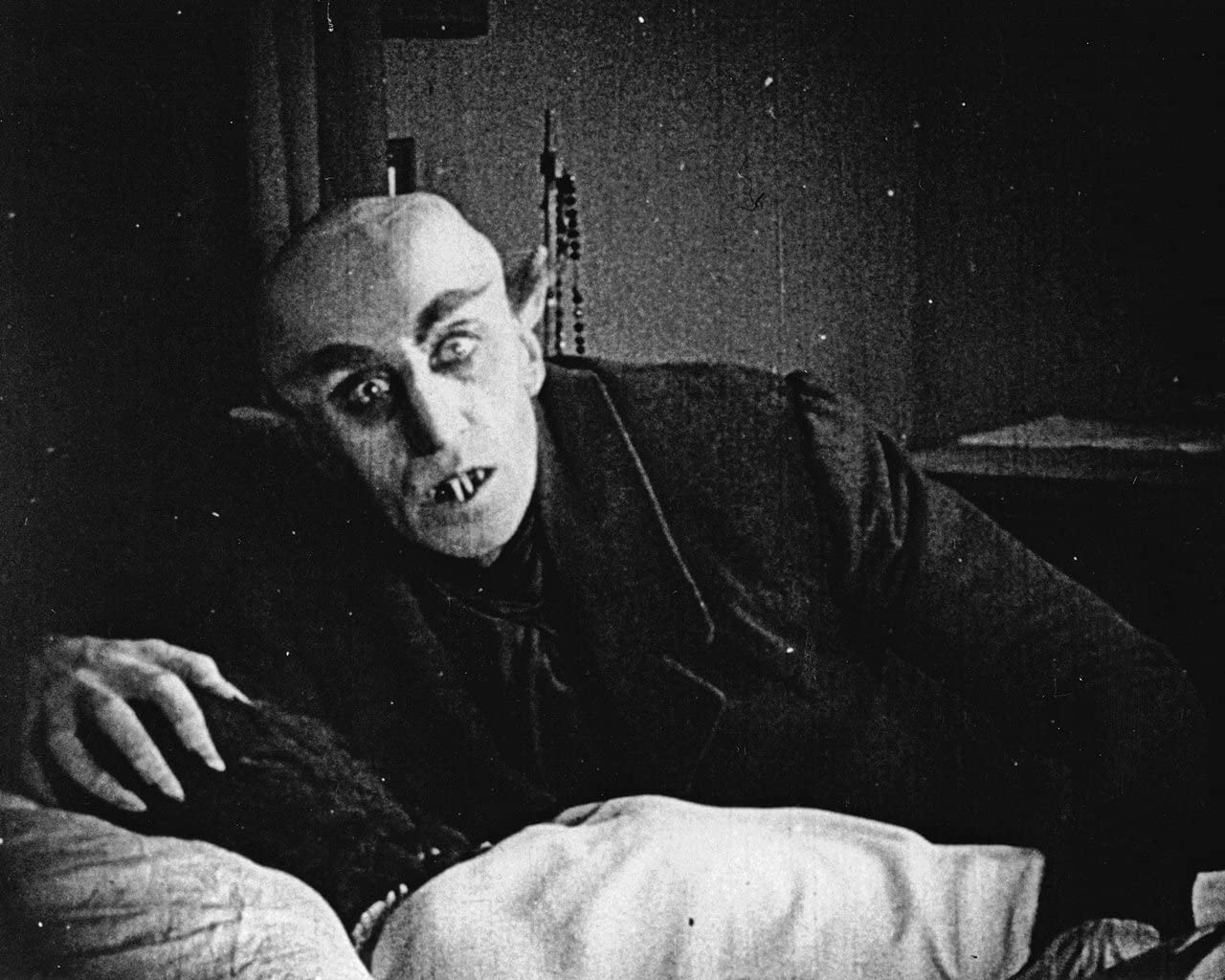 That time Spongebob Squarepants made him smile NOTWITHSTANDING, there are few goblins more terrifying than Count Orlok in F.W. Murnau's original, illegally-adapted German Expressionist Dracula film. Alternatingly alienlike and batlike, Max Schreck's Orlock leers in doorways, wide-eyed and hungry. Orlok's scariness comes partially because he's a perfect pairing for the era's film technology—gaping cuts in between intertitles show him drawing closer to the viewer, all of a sudden. Several times, he flashes onto the screen as a horrible still-image, which allows his ghoulish face and long claws to appear even more striking. A nightmare.
2.
Bela Lugosi, Dracula (1931), etc.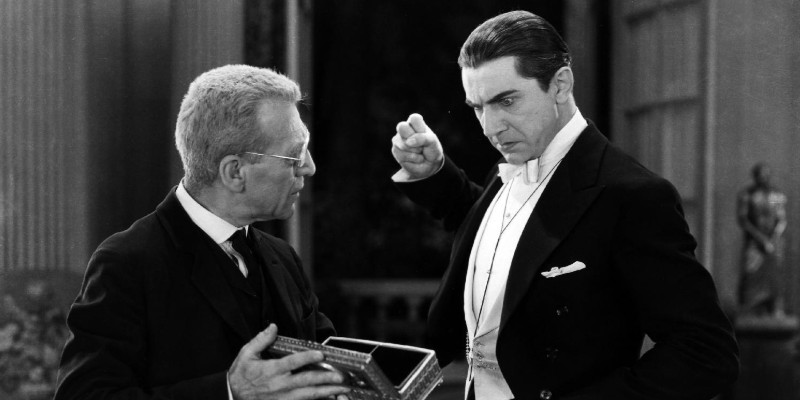 The vast majority of the Draculas in the last century of adaptation are indebted to Bela Lugosi's thickly-accented, slick-haired, tuxedoed Count, who debuted first on Broadway in 1927, and then in Tod Browning's film version in 1931. He's the gold standard of Draculas, even though his adaptations (theatrical and cinematic) are a tad daffy. Lugosi seems to take the role seriously, despite the ludicrousness, and he hurls himself so dramatically into the character that his body seems to pop and strain during his performance.
1.
Christopher Lee, Horror of Dracula (1958), etc.
This might be a controversial first-place spot, since Lugosi is the King of the Draculas. But for me, there's no beating Christopher Lee in the original Hammer Horror Dracula movie, directed by Terence Fisher and starring Peter Cushing as Van Helsing. It might be that I like the story of Horror of Dracula better than the story of Browning's Dracula; it makes up its own story entirely rather than simply reproduce a playscript which in turn awkwardly interprets the novel. There's something so gloriously scary about Lee's Dracula—incredibly imposing and his mouth frequently dripping with blood. He's handsome but not in a way that distracts from his monstrousness; he's elegant and well-spoken but not in a way that's particularly sensitive. In the later Hammer movies (there are seven more), his few character traits and even his ability to speak almost entirely fade away; he's just the world's tallest pair of fangs in a cape, with an unconscious woman draped in his arms. But in Horror of Dracula, he's perfect—just dashing enough to be exciting, just terrifying enough to keep you up all night.
---