February's Best Sci-Fi and Fantasy Books
Alternate-Universe Road Trips, Haunted Spaceships, Pulpy Gunslingers, and More!

Between the plummeting temperatures and the rise of Omicron, staying indoors this winter is your best bet, if you're able to do so. Thankfully there are a bevy of new SFF releases to transport you to epic fantasy worlds out of myth, or to cross over into a much-needed parallel timeline.
Hibernate through the last of the frigid season with a surreal short fiction collection, horror set on the most remote mountain peak and among the stars, plus the second installment in Marlon James' Dark Star trilogy, and a new standalone urban fantasy from Max Gladstone!
*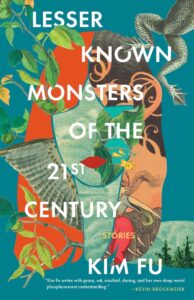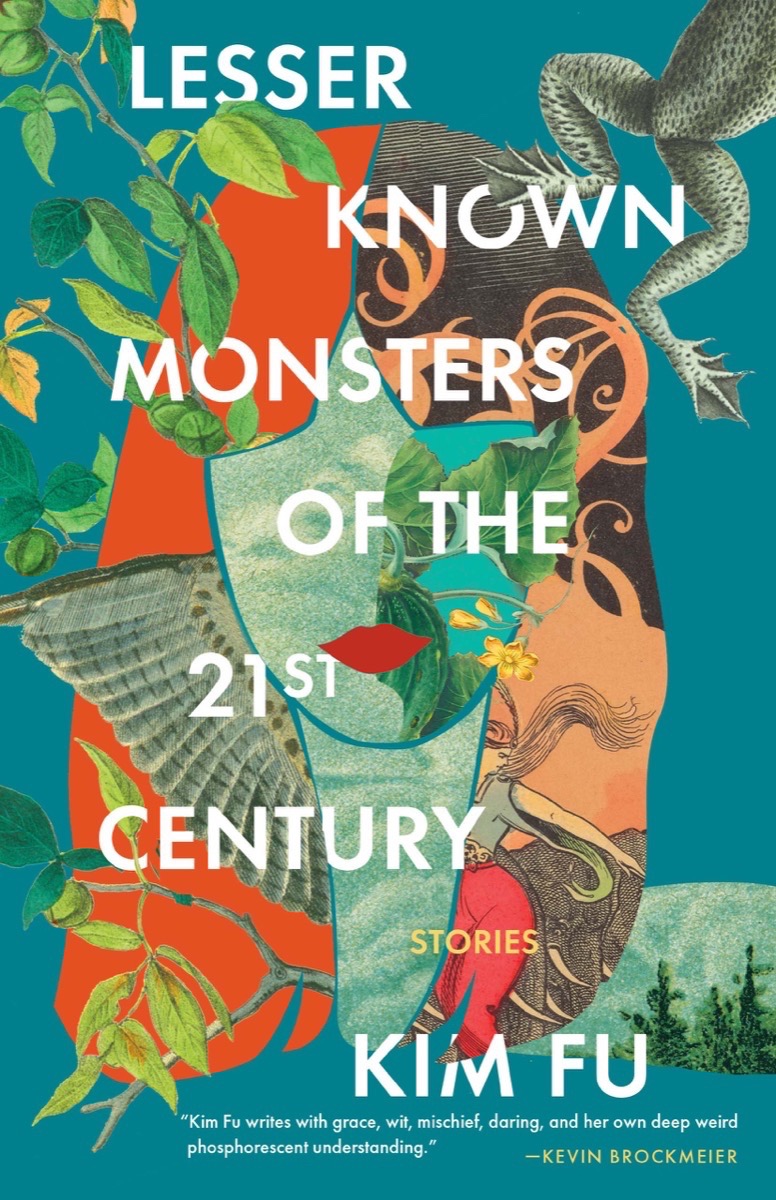 Lesser Known Monsters of the 21st Century by Kim Fu
(Tin House Books, Feb 1)
Poet and novelist Fu's collection of speculative stories has drawn comparisons to Karen Russell for how she uses the monstrous or surreal to explore liminal spaces, from insomniac sexual encounters to a simulation that draws from memories but is forbidden to resurrect the dead. What makes these dozen stories really pop—like the pre-pubescent pimples that give way to feathers in "Liddy, First to Fly"—are the people around whom they are centered. "Sandman" brings the dream man himself to a sleepless woman's bedside, while "Pre-Simulation Consultation XF007867" is told entirely through a customer-service exchange taking place before the actual fantasy can be activated.
Other stories center on objects, like a haunted doll that cursed a family to a tragic fate, or a "Time Cube" sold at a mall kiosk that tracks the life cycles of animals and plants. But it's not just about the cube, or the doll, but who possessed these devices, and who they pass on to next. Fu's collection may start with monsters (including a sea monster and a lot of bugs), but ultimately it catalogues human nature.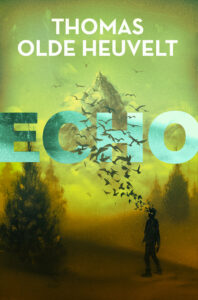 Echo by Thomas Olde Heuvelt
(Tor Nightfire, Feb 8)
This winter we are blessed with another creepy tale from Dutch horror writer Heuvelt, whose previous novel HEXexplored how an ancient witch haunted a modern town. His next work in translation pivots to the remote, centering on Le Maudit: a mountain in the Swiss Alps that similarly holds its local villagers in check. But not so for two foreign mountaineers, Nick and Augustin, who seek the bragging rights of ascending its little-climbed peak.
But though two climb up, only one makes it back down: Nick wakes up from a coma to confront his own disfigured face and the news that Augustin is missing, presumed dead. As he grapples with the loss of his climbing partner and his new reality with his romantic partner Sam—not to mention the suspicious deaths both in the hospital and after his discharge—Nick fears that something evil might have hitchhiked its way down from Le Maudit with him. Similarly to how Heuvelt explored horror via app in HEX, Echo is told through varying and intimate perspectives including Sam's notes and Nick's diary entries, with the slow-burn story revealed through letters and a five-part confession.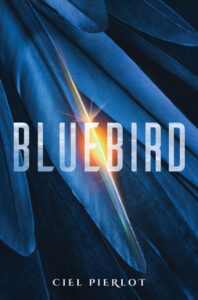 Bluebird by Ciel Pierlot
(Angry Robot Books, February 8)
Pierlot's queer space opera debut is pulpy fun starring gunslinger Rig, a rebel formerly without a cause… until one of the three ruling factions she gave the middle finger threatens the life of her twin sister. Now firmly saddled with a dire cause, Rig must call upon her resistance contacts—including a bounty hunter with their own agenda—in order to mount a rescue mission that will take her across the galaxy and back into the fray of the warring factions. Yet she's also torn between a vendetta and the life she's built with her "taser-wielding librarian girlfriend" (say no more)—wondering if it's worth giving that up to bring the whole system down.
In addition to what sounds like an engaging ensemble cast, Pierlot addresses issues of colonialism and religion via the factions' contradictory takes on a shared mythology. Ambitious worldbuilding, spycraft, and the aforementioned gunslinging promises a space romp that's both thrilling and thoughtful.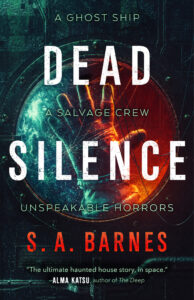 Dead Silence by S.A. Barnes
(Tor Nightfire, Feb 8)
They had me at "Titanic meets The Shining"—who doesn't love a haunted spaceship story? Even moreso when it's a luxury space liner that disappeared on its maiden voyage a generation prior, only for its wreckage to be discovered by a salvage crew that are themselves about to fall victim to cutthroat space capitalism.
Facing down unemployment, Team Leader Claire Kovalik and her crew seem to have a second chance at keeping their jobs when they stumble upon the Aurora, missing for twenty years. But what should have been a simple salvage of a shipwreck turns nightmarish as they unearth ominous messages scrawled in blood… and is that movement in the once-grand ship's shadowy halls? What could still live on after the lights went out? I can already hear the first haunting notes of the space remix of "My Heart Will Go On"…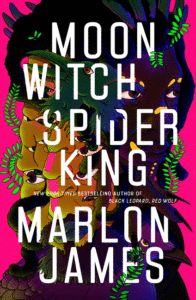 Moon Witch, Spider King by Marlon James
(Riverhead Books, Feb 15)
When James' Dark Star trilogy launched in 2019 with Black Leopard, Red Wolf, it was initially described as "African Game of Thrones." Yet the series, an epic fantasy drawing from the African diaspora, has more in common with Rashomon, Akira Kurosawa's classic of multiple contradictory perspectives. "The series is three different versions of the same story," James told The New Yorker, "and I'm not going to tell people which they should believe."
To wit, the middle installment of the trilogy provides a different take on the events of the labyrinthine first book. Whereas Black Leopard, Red Wolf was narrated by Tracker, a man whose ability to sniff out the intimate details of anyone's life puts him on the path to find a missing boy, the sequel settles behind the eyes of the eponymous Moon Witch: Sogolon, nearly two centuries old and therefore concerned with much more than one lost child. Such as her long-standing rivalry with the Aesi, a terrifying chancellor to the formidable king, who together resemble a malevolent spider. Perhaps their many eyes will be the next POV for the final installment…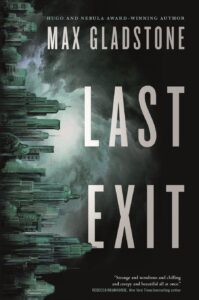 Last Exit by Max Gladstone
(Tor Books, Feb 22)
Gladstone's take on the "portal fantasy kids after the adventure" subgenre follows a cohort of college students from the early 2000s who figured out they all possess the "knack," as they call it, for tapping into alternate realities. But instead of finding a utopian parallel universe where all of humanity's mistakes branched out into more positive outcomes, they unleash a destructive force called the rot—and lose leader Zelda's lover Sal.
Ten years later in 2019, Zelda is the only member still roadtripping around the country, attempting to eradicate rot, when a visit to an "alt" reveals that Sal—or a version of her—is crossing back over. So ensues a reunion of sorts, as the gang gets back together, with the new addition of Sal's 17-year-old cousin June, who possesses a knack none of them have seen before.
Revising this novel got Gladstone through the first year of covid, but the fact that it's set in 2019 will likely be a comfort to readers in need of an escapist adventure. Fans of Neil Gaiman's American Gods will appreciate the ode to muscle cars, cowboys, and other relics of Americana.
*
Natalie Zutter is a Brooklyn-based playwright and pop culture critic whose work has appeared on Tor.com, NPR Books, Den of Geek, and elsewhere. Find her on Twitter @nataliezutter.
---