Feast Upon These 7 Sumptuous SF and Fantasy Books This November
Anthologies from Rebecca Roanhorse, Dahlia Adler, and Cassandra Khaw, plus Sequels from Chuck Wendig and N.K. Jemisin

I can't be the only one excited to feast twice on Thanksgiving, right? Obviously the food spread, complete with your own personal traditions and specific dishes, but also the time to catch up on reading! This month's TBR is a cornucopia of delights in the form of several SFF collections, ranging from individual authors' bodies of work to anthologies looking back on 2022 and reexamining fairy tales through queer and otherwise diverse lenses. But of course, there are also plenty of wonderful novels coming out this month. And if you're hankering for the personal accomplishment of finishing a series, N.K. Jemisin has got you covered…
*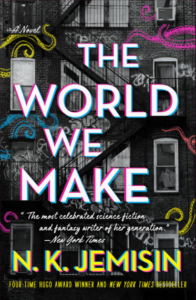 The World We Make by N.K. Jemisin
(Orbit Books, November 1)
The Great Cities duology concludes with New York City's human avatars (each representing a borough made flesh) mounting a stand against the Woman in White, who represents the encroaching Lovecraftian interdimensional city of R'lyeh. But as the avatars face deportation (because they are still only human) or the temptation to become the avatar for another great city (Chicago is knocking), they must figure out the best way to save the Big Apple from getting literally wiped off the map.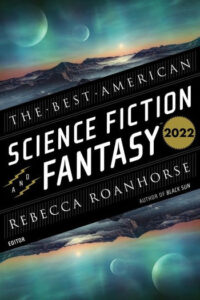 The Best American Science Fiction and Fantasy 2022 edited by Rebecca Roanhorse
(Mariner Books, November 1)
As guest editor Rebecca Roanhorse shares in her introduction, she selected many of this year's 20 SFF stories for how they depict human connection, albeit in speculative ways, during the physical and figurative isolation of covid. But what's even better is that these moments and stakes don't have to be fate-of-humanity levels. Kel Coleman's "Delete Your First Memory for Free" teases how utterly freeing our existence would be if we weren't weighing ourselves down with reliving cringey moments. Karen Russell conjures a mythical creature on Garbage Thursday, of all days, in "The Cloud Lake Unicorn." And in Maria Dong's "The Frankly Impossible Weight of Han," the ineffable contagion racing from person to person is grief. The collection also includes works by P. Djèli Clark, Nalo Hopkinson, José Pablo Iriarte, Stephen Graham Jones, and many more.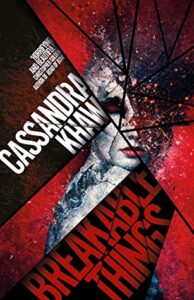 Breakable Things by Cassandra Khaw
(Undertow Publications, November 8)
Chances are you keep hearing about author and game writer Cassandra Khaw's work, with recent novels in the sci-fi (The All-Consuming World) and horror (Nothing But Blackened Teeth) realms, and a dark fantasy out next year (The Salt Grows Heavy). If you're not sure which of their books to pick up first, start with this debut short fiction collection: The 23 selections are all short but in a taut, lush way; Khaw establishes motifs of water and foxes, eldritch realms and folkloric weavings, all with more than a touch of the macabre and hooks that get under readers' skin.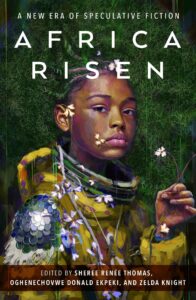 Africa Risen: A New Era of Speculative Fiction edited by Sheree Renée Thomas, Oghenechovwe Donald Ekpeki, and Zelda Knight
(Tordotcom Publishing, November 15)
This superb collection of stories connects SFF writers from Africa and the African Diaspora, from greats like Tananarive Due, Stephen Barnes, and Maurice Broaddus to newer voices like Wole Talabi, Chinelo Onwualu, and Dilman Dila. (This excellent review from Lightspeed contextualizes these many voices and stories better than I can.) Among the 32 tales are an android having an existential crisis over whether she's technically dead or alive; a deceased grandmother's mysterious cookbook and the magic it imparts; and a supercomputer that collects all of the memories and lore of the ancestors.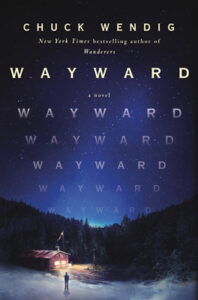 Wayward by Chuck Wendig
(Del Rey, November 15)
Chuck Wendig's Wanderers predicted a global crisis which would come to be known, in the world it reshapes, as the White Mask pandemic. The first book in this series also came out in summer 2019. Now, several years into our time with covid, the sequel Wayward examines the past five years in its own reality through the eyes of survivors in the town of Ouray, Colorado: The people who were compelled by a sleepwalking epidemic to leave their homes; the shepherds, or loved ones, who made sure they arrived without harm; and Black Swan, the AI that both predicted White Mask and initiated the slumber to bring these strangers together. When Black Swan makes another executive decision without clueing in the humans, they will trek from the CDC to the Rock'n'Roll Hall of Fame, and cross paths with the brutal, bigoted President Ed Creel.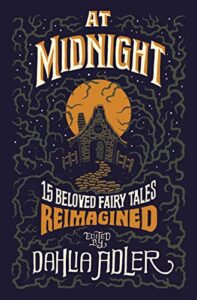 At Midnight: 15 Beloved Fairy Tales Reimagined edited by Dahlia Adler
(Flatiron Books, November 22)
This young adult anthology brings on acclaimed authors including Melissa Albert, Tracy Deonn, Malinda Lo, Darcie Little Badger, and many more to retell fairy tales in clever new fashions that tap into that familiar magic. There's a Native American take on "Puss in Boots" in  "Coyote in High-Top Sneakers"; "Mother's Mirror," or Snow White with a trans teenage protagonist pushing back against their parent's vision of them; and an update to Rumpelstiltskin by way of coding in "Say My Name."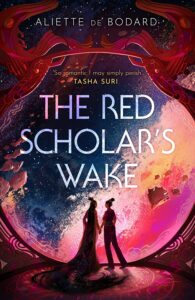 The Red Scholar's Wake by Aliette de Bodard
(Gollancz, November 24)
The latest installment in Aliette de Bodard's Xuya series of space opera adventures takes the familiar romance trope of the marriage of convenience… but in this case, it's between a scavenger and a recently widowed sentient spaceship, matchmade by way of space pirates! When the Red Banner fleet picks up Xích Si, she expects to be thrown into indentured servitude—until she receives a fascinating business proposition from the pirates' leader, Rice Fish. A mindship grieving the recent loss (or murder?!) of her wife, Red Scholar, Rice Fish proposes that Xích Si become her new wife so that she can help investigate her suspicions of foul play. There's been a bunch of excellent fantasy romance this year, but I am jazzed to see a sci-fi romance with such a fascinating premise.
*
Natalie Zutter is a Brooklyn-based playwright and pop culture critic whose work has appeared on Tor.com, NPR Books, Den of Geek, and elsewhere. Find her on Twitter @nataliezutter.
---