Fatima Bhutto on Bollywood's 'Most Unlikely Hero'
Deciphering Shah Rukh Khan
"As salam alaikum," Shah Rukh Khan, India's most famous film actor, greeted me one afternoon at Dubai's Palazzo Versace in 2017. A thick plaster of cakey foundation was airbrushed over Khan's face and pink blush swept across his cheeks. He wore a denim jacket with a pale blue hoodie attached over a white cotton shirt and black jeans, the kind of casually athletic uniform a millennial pop star might wear. Bollywood's "most unlikely hero," as Khan calls himself, radiates a sunny boyishness rather than matinee idol hunkiness.
He is not as imposingly tall as Bollywood's previous superstar, Amitabh Bachchan, and has bulked up in recent years; obliged by Bollywood's new ideals of masculinity to take his shirt off for work, Khan now sports a tight, sinewy musculature. His impressively black hair flops, when not slicked back into his standard quiff, over his forehead and across his dark brown eyes. He smiles often but shyly, checking first to see if you're smiling too. If you are, the hero's full lips widen and dimples appear in his cheeks.
*
For the uninitiated, Bollywood films are epic extravaganzas, often lasting as much as three hours long. They are lush, unadulterated fantasies. Bollywood plot lines introduced in the first half-hour can be abandoned midway through the film with no explanation. No matter the level of violence, there is only ever mild profanity, no sex, and, only very recently, some kissing (Khan has only kissed in two of his 90 odd films).
In the films of the 1980s and 90s, in lieu of snogging, there was a lot of deep exhaling, chest throbbing, and moaning. Without fail, regardless of the season, a monsoon shower would break out, and the frustrated couple would splash about in the rain wearing their tightest, most see-through clothing. When sex was to be implied, the camera would leave the amorous couple and turn instead to roses blooming, birds nuzzling (swans, parrots), and things exploding (pillows, light bulbs).
There is always a villain who never sings, and a vamp who performs what is known as an "item number," a sexy song and dance that, once upon a time, the love interest, a pure and chaste woman, would never do. (In the early days of Bollywood, mainly Anglo-Indians performed item numbers.) The hero's characteristics change through the decades, evolving as a mirror of contemporary politics, but even if he's just a college student or chartered accountant, the hero can singlehandedly beat up a gang of armed thugs.
Audiences understand this as normal; he simply has better karma. The nation is beloved and beyond question. If there is snow, preferably situated in Switzerland or Kashmir, it will be danced upon by the heroine wearing as little clothing as possible, while the hero is snug in a down parka. In his nearly 30-year long career, Khan has played military bomb diffusers, angels, stalkers and superheroes, all lightly crafted versions of the same, recurrent character—the lovable yet conservative boy next door, modern enough to display a fluency with the consumer accoutrements of the West, but traditional enough to touch his mother's feet every morning and be guided by familial values as he negotiates the tensions of a globalized world.
Today, Khan, though still little known in the West, is one of the icons of a vast cultural movement emerging from the Global South, including Turkish soap operas and Korean pop music. Truly global in its range and allure, it is the biggest challenge yet to America's monopoly of soft power since the end of World War II. These new arbiters of mass culture arising from the East, including Turkish soap operas or Dizi as they are locally known, and Korean pop music, carefully package not-always-secular modernity with traditional values in urbanized settings. They have created a new global pop culture that can be easily consumed, especially by the many millions coming late to the modern world and still negotiating its overwhelming challenges
*
When we meet, Khan is in The Emirates to shoot an episode for an Egyptian prank show. Mithun, a 29-year-old chauffeur from Kerala, is on duty for Khan during his stay. The small built chauffeur with curly black hair, tells me everything. What time Khan's flight is (tomorrow afternoon), what time he had dinner reservations last night (1am), when he came home (6am). It's not that he's star struck, Mithun is keen for me to understand, after all, he's driven just about everyone—including Kim Qadir-shee-an, some sort of model who was being filmed the entire time she was in his car—it was simply that no one is as wonderful Khan.
"He started from jero. He had nothing. When I am born, that time also he was an actor. He looks the same," Mithun sighed, "no changing, no different…"
This is the response to Khan, no matter who I approach in Dubai. The Nepali girl working at the nail salon, the Bangladeshi cleaner at the mall, the Pakistani taxi driver, were all promised the riches of globalization. With migration would come wealth, security, and endless, stratospheric possibilities. They were assured that they would be captains of the new global economy, only to find that, at best, they are human mine sweepers. Dislocated from home, displaced and dispossessed as they toil invisibly towards maintaining wealth that will never be their own, relegated to the periphery of the city, they are lifted from some of the strain of their lives for the three hours that they watch Khan dance and sing.
Khan's declining presence at the Bollywood box office, especially compared to his rivals' climbing, stratospheric success—Aamir Khan, who began acting around the same time and Khan and is seen as Bollywood's intellectual, artistic powerhouse, is so widely adored in China since the success of his 2016 film, Dangal, about a father raising two female wrestlers,  that he has been awarded a national medal and is known as "Uncle Aamir"—his apolitical stance at a time of growing intolerance in India (a timidity he shares with the Bollywood fraternity), none of it matters.
The promise of Bollywood and Khan in particular is singular: escape to a world that offers no abiding fairness or opportunity but is marked by one stable constant: the guiding light of time honoured, family approved values.
The Nepali girl working at the nail salon, the Bangladeshi cleaner at the mall, the Pakistani taxi driver, were all promised the riches of globalization.
Khan's international fan club, Shah Rukh Khan Universe, which has more than four million members across its various platforms, with 35 chapters staffed by over 90 unpaid volunteers, stretching from Indonesia to Switzerland, is run by a devoted fan out of the Maldives. Muhammad Ashraf was working at a receptionist in The Maldives as a teenager when he first came across a Shah Rukh Khan film. The Maldives is made up of 1,190 coral islands spread out over almost 100,000 kilometers and when Ashraf was seven years old he left his native island and travelled to the capital, Male, to study. He was alone and homesick for a long time. He was 16 or so when he saw Kabhi Khushi Kabhi Ghamfor the first time—the movie's tag line is "It's all about loving your parents"—and found himself crying. He missed his mother, his family, so much and the film connected powerfully to the repository of sorrow in the young boy.
That was almost 20 years ago. When he couldn't find Shah Rukh Khan films showing in Male, which at the time didn't screen that much Bollywood, Ashraf saved up money, flew to Trivandrum in India, watched the film there, and came back home. His passport was full of Trivandrum entry stamps. Now in his thirties, Ashraf is married with two children. Recently, he left his job as an HR manager at an idyllic resort to focus more on web development, part of which includes overseeing and running his life's passion: Shah Rukh Khan Universe, more a global conglomerate than a fan club and a labor of love that Ashraf has poured his life savings into.
After Khan's shoot, which has taken us from Dubai to Abu Dhabi and beyond to a resort in the middle of the Arabian Sea, reachable only by helicopter, we find ourselves finally back on dry land. The cameras have stopped rolling and the star is on his way back to Dubai where he will spend what remains of the night before hopping on a plane to Vancouver to deliver a Ted Talk on his life as a global superstar.
We climb into Mithun's luxury car but Mithun drives incredibly slowly towards the gate, his foot barely grazing the accelerator. I wonder if we are waiting for some sort of security escort and look behind us, but there are no other cars on the thin trip of tarmac. Have we forgotten something?
But then, just as Mithun crawls towards the gate, under a dim spotlight I see them: a thin Indian couple, husband and wife, him in a dress shirt and trousers and her in a creased shalwar kameez, her dupatta hanging listlessly from her slender shoulders. She is holding a small notebook, a plastic bangle large on her wrist, and he has a camera phone in hand, ready to click. They are an almost ghostly presence, though they seem like they have been standing there a long time, not once do they shout Khan's name or wave at him. They just stand there, clutching each other, a slight tension in their bodies—holding notebook and phone for dear life—and hope to be seen.
If it is physically possible, Mithun slows down even more, we cannot be moving more than 15km an hour, and Khan turns his head, noticing the pair from his window. "Hang on," he says, tapping the leather of Mithun's seat. In one fluid motion that seems near balletic, Khan exits the car, walks up to the couple, almost wordlessly shakes hands, turns around, places an arm around the husband's shoulder, looks straight to camera for a selfie, flicks an autograph into the wife's notebook, turns back to the car and gets in. In the driver's seat, Mithun's eyes are suspiciously fixed on the road ahead.
Khan betrays no surprise or annoyance when he hops out of the car to sign autographs after a nine-hour work day. Rather, he moved through the entire process reflexively, almost automatically, muscle memory moving him all the way. "I want to meet everyone," Khan confesses tiredly when I mentioned this, "because I know somewhere I'm a part of their lives."
I keep asking questions about culture, globalization and migration and how it connects to Khan's vast celebrity. Does he speak to the hundreds of millions left out of the dream of globalization? Those who found no place for themselves in the cutthroat, competitive, modern world and remain bound by an older currency of values, traditions, and time? But I never get any real answers. Raj, Khan's young hairstylist, tells me about being at a birthday party in a Berlin nightclub and seeing "so many white skinned people" dancing to Chaiya Chaiya, a song from one of Khan's films.  What are they doing here? He asked himself, stunned. After Mahatma Gandhi, Arun, his makeup artist, thinks Khan is definitely the most famous Indian in the world.
*
Is it timing? Kismet? The accidental symmetry of aligning himself with India's neoliberal transformation?  "To be honest," Khan reflects in the car, "I kind of stand for love in the Indian film industry."
Does that mean that India is a nation of romantics?
"Hopefuls," Khan corrects me. "Indians are hopeful of everything that happens. We are always hopeful. Urdu mein, hain na? Umeed pe duniya kayam hai' (It's in Urdu no? Hope is what keeps the world alive.) "I think every Indian is in hope for making it better. One day, being richer, one day, falling in love. All the stories of rags to riches, also me being one, convince you more and more that this can happen. That hope will overcome everything."
If love and hope are the messages of his films and those films are popular all over the globe, then does it follow that the world is a hopeful place? "Absolutely," Khan insists. "Cinema is about hope. And classically, any film that will be commercially big, we can undermine by saying 'god, this is so unreal.'' He laughs. "Hope is unreal. Life is unreal And I'm not being cynical. Three fourths of my life is over and I've seen it. I live in the most beautiful, hopeful world possible."
_____________________________________________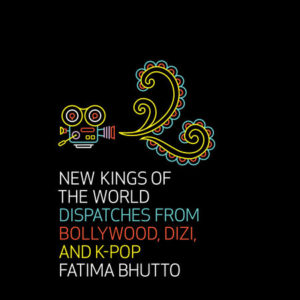 This essay is adapted from Fatima Bhutto's new book, New Kings of the World: Dispatches from Bollywood, Dizi, and K-Pop, just published by Columbia Global Reports.
---