Exploring the Gulf Between History and National Myth
in Israel
Haim Bresheeth-Zabner on His Father's Refusal to Serve in
the Israel Defense Force
The projection of their own evil impulses into demons is only one portion of a system which constituted the Weltanschauung [World View] of primitive people, and which we shall come to know as "animism."
–Sigmund Freud, "Taboo and Emotional Ambivalence," Origins of Religion
I am the son of two Holocaust survivors from southern Poland who, like most Polish Jews before 1939, shunned the Zionist call, supporting instead the socialist Jewish Labour Bund; like most other Jews, both considered Polish and Yiddish their languages and cultures. Both my parents were forcibly taken from the Nazi-controlled ghetto in Ostrowiec Świętokrzyski to the nearby Auschwitz extermination camp in June 1944, after the rest of their families were destroyed in Treblinka during 1943. Reduced to horrifying skeletons, they were forcibly marched to other camps in January 1945, as the Red Army approached Auschwitz. My mother was liberated from Bergen-Belsen by the British in April 1945; her weight at the time was recorded as thirty-four kilograms and she suffered from advanced typhoid. My father was liberated by the US Army from Gusen II, a subcamp of Mauthausen, on May 8, 1945. His recorded weight was thirty-two kilograms. They were married in a Torino Displaced Persons camp in October 1945. I was born, stateless, a year later in Rome.
Having failed to secure passage elsewhere, my parents decided to emigrate to Israel in May 1948, not a choice they would have otherwise considered. On the boat my father refused to undertake weapons training. After what he had experienced, he was not prepared to shed blood, his own or anyone else's. He was promptly arrested on arrival in Haifa as a draft resistor; he may have been the first, or one of the very first, conscientious objectors.
My mother and I were incarcerated in Athlit, a prison camp built by the Mandate authorities, then used to house immigrants. My father resisted for some weeks, but after realizing that he might spend years in prison, agreed to serve as an unarmed medic and was sent to one of the worst battles of 1948, in the Latrun area, at which almost 2,000 Israelis, mostly Holocaust survivors, perished; so too did a large number of Jordanian troops. Many were buried in mass graves; having just arrived, their identities were unknown.
How my father survived this hell I will never know. He never spoke to me about it or admitted that he had refused to serve in the army; later, when I became an officer in the Israel Defense Forces (IDF), he was ashamed to tell me about it. I only know this part of his story because his communist brother, who admired him for his stand, told me about it; he wanted me to appreciate my father's courage. This revelation affected me deeply.
Jebaliya, and Jaffa itself, were hardly parts of Israel proper then—they existed in a twilight zone where Holocaust survivors were living cheek by jowl with Nakba survivors
I grew up in Jebaliya, a small modern town adjoining Jaffa, that was forcibly cleared of its Arab inhabitants by the Etzel (Irgun, the rightwing Zionist militia) even before the Mandate expired. Only a few Arabs managed to remain, becoming the unwilling and unequal captives of the Jewish State. The neighborhood was exclusively populated by Holocaust survivors in their twenties and thirties, and none of the many children had grandparents. We lived, like everyone else, in a flat that had been the home of a Palestinian family. Yosefa Loshitzky accurately describes this process:
Many Holocaust survivors were, as a matter of government policy, settled in evacuated Palestinian homes in Arab towns like Jaffa, Haifa, Lod and Ramla, thus forcibly grafting the memory of the Holocaust onto Palestinian national memory, and symbolically linking the Holocaust of the Jewish people (mostly Polish Jews) to the Palestinian Nakba.
This aptly describes our own situation. Jebaliya, and Jaffa itself, were hardly parts of Israel proper then—they existed in a twilight zone where Holocaust survivors were living cheek by jowl with Nakba survivors, their children studying in the same school, Al-Ahmadiyya, a green modern Bauhaus building within a copse of sycamore trees, renamed Dov Hoz after a Zionist apparatchik. We studied in Hebrew but also learned Arabic, and when later I was transferred to a religious school, I found that the Arab boys had to stay in for the Hebrew daily prayers—an odd punishment for the crime of being Other.
My parents, like so many other Holocaust survivors who came to Palestine/Israel after WWII, were hardly willing colonialists. But living as part of the colonial project, they were normalized into its ranks, and later also accepted its rationale and methods. When faced with such massive injustice, one either rises in opposition or, willingly or otherwise, joins in. By the time I was drafted at eighteen, in 1964, my parents had changed their relationship to military power; it had become the symbol of survival for them, as for most other survivors. I, on the other hand, was disinclined to join the IDF, having developed a naïve, instinctive gut pacifism but lacking the courage to follow in the footsteps of Giora Neuman, two years my senior, one of the famous draft resisters of Israel. He spent some years in prison for his principled stand, but I was not strong enough to emulate him or my own father (about whose courage I only learned later). I was selected for officer training, which I tried unsuccessfully to get out of or postpone.
I was placed in one of the few regular fighting units, the Golani infantry brigade, as a young second lieutenant, a role I held during the 1967 war. As part of the brigade command staff, I did not partake personally in the horrific battle in the Golan Heights, taking place a few hundred yards from us; I followed the battle through the communications system. When the battle was over, I heard the dazed voice of one of the battalion commanders asking the commanding officer standing next to me, a shaky voice emanating from the metal speakers: "I have 200 prisoners of war. What shall I do with them?"
He received no answer from the commanding officer, who snarled at us, "The idiot, doesn't he know what to do with them? Do I have to tell him? No one answer this idiot, do you hear?!"
After some further requests, the transmissions stopped. The penny dropped.
I was told that Golani had to earn its glory, like the paratroopers did in 1956, and that glory is only earned through battle and bloodshed.
I was deeply shocked; throughout the officer training program we were told that the IDF was the most moral army; that we never harm civilians; that we never shoot prisoners of war. So, what was this officer, one I intensely disliked, trying to tell us? Deep bitterness grew inside me.
In the debriefing session after the war, it became clear to me that the battle fought by Golani had no real military objective: The men who had died like rats in a barrel had not represented a threat: their positions were isolated, their retreat was blocked, and the main force was getting around through other routes. I asked the commanding officer about the purpose of the attack. I was told that Golani had to earn its glory, like the paratroopers did in 1956, and that glory is only earned through battle and bloodshed.
For the first time in my young life I started to comprehend the deep gulf between reality and propaganda. I also grasped that as a young, white male of European origin, there may be some duties I am morally bound by and need to be committed to, as a past refugee indebted to the refugees in whose home I grew up. What could I do for them? I needed to find out. I also needed to get out of the Jewish State.
On arrival in Britain I was ready for a change. I studied for a graduate degree at the Royal College of Art, a progressive institution in the early 1970s, and soon enough met members of Matzpen, the radical organization of Middle Eastern radical anti-Zionists, mainly Israelis but also some from Arab countries, led by Moshe Machover, who by then had left Israel for London. In Israel it was at its zenith, with almost 2,000 members, while in London there were only ten of us at the weekly meeting, sometimes less. What followed was an intensive, political group study lasting months if not years. We read and discussed Zionist history and radical literature. Ironically, then as now, the main readers of key Zionist texts are anti-Zionists. At last, I started to understand the nature of Zionism and Israel. It was a painful experience of inner transformation. It allowed me to resolve my identity and beliefs and freed me from the all-powerful, stifling collectivities of Zionism.
__________________________________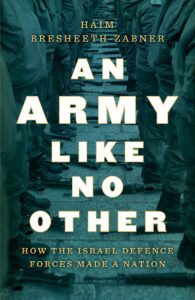 From An Army Like No Other: How the Israel Defense Force Made a Nation by Haim Bresheeth-Zabner. Used with permission of the publisher, Verso Books. Copyright © 2020 by Haim Bresheeth-Zabner.
---