Existence as Resistance: How Josephine Baker Challenged Misogynoir
Terri Simone Francis on Agency, Black Womanhood, and Representation in Film
At first, actor Lynn Whitfield was reluctant about the partial nudity required to play the role of Josephine Baker in the 1991 HBO historical drama The Josephine Baker Story. She said, "When we shot it I thought 'OMG! I'm from Louisiana and I'm going to be topless and half naked. I hope my parents don't judge me.' And then in between takes I didn't want to put my robe on. It felt so good to be living through her experience. She wasn't like in the strip club! She was more like Eve, she didn't even know she was naked… like a beautiful tease. At the time she had to find the beauty."
Whitfield, a winner of multiple NAACP Image Awards, reflected further on what it meant for her to embody Baker: "I think people think of me as the older Josephine because she was seemingly so touching near the end of the movie. I wish they would remember more of the banana dance." For Black women, public visibility, especially with sexual references, carries risk with harsh consequences, and this led Whitfield to approach playing Baker with understandable caution.
Was Baker herself initially hesitant to adapt to the Parisians' ease with performing bare-breasted in music hall performances? Jean-Claude Baker, biographer (and restaurateur who created Chez Josephine in homage to the Parisian sensation), quotes Jacques Charles, one of the producers of La revue nègre, as saying, "I had already noticed her beautiful body, but to be honest, Josephine rejected my suggestion that she dance almost nude." Yet this story is contradicted on the same page by fellow dancer Lydia Jones, who said of Josephine, "You know, she was always naked at the hotel, laughing and posing in front of the mirrors." Such divergent accounts speak to the complexity of Baker's story.
As Whitfield reflected on her experiences starring as Baker, she grappled with how her dancing expressed Baker's (and her own) unique talent and exuberance, while it was, at the same time, haunted by what cultural critic bell hooks, in her classic essay "Selling Hot Pussy," termed "the white European fascination with the bodies of black people, particularly black female bodies." Whitfield's concern about what her parents might think perhaps suggests her fear of the broad social consequences of broaching "the traditional black pornographic imagination" for Black women.
However, poet and essayist Audre Lorde, in her conception of "the erotic as power," offers a spiritual, even liberating, view of nudity and, by association, sexualized representation generally. Lorde writes, "When I speak of the erotic,… I speak of it as an assertion of the lifeforce of women; of that creative energy empowered, the knowledge and use of which we are now reclaiming in our language, our history, our dancing, our work, our lives." Lorde goes on to unpack the ways that women's sexuality has been co-opted by the pornographic, which, in her formulation, is the opposite of the erotic. From different vantage points, then, Lorde and hooks both grapple with the long-standing concern that representations of sexuality are themselves oppressive tools, particularly with regard to Black women's images.
Professor of feminist studies Mireille Miller-Young delves into the tension Black women sex workers experience between their agency and the derisive commentary and unfair practices they face within the porn industry, using her frameworks of "illicit eroticism" and the "illicit erotic economy." In her research, Miller-Young implicitly challenges the protective notions of respectable Black womanhood articulated by hooks (and others) as she shines empowering light on the persistence of women's subjectivity under hostile conditions. The so-called strip club Whitfield referred to above can, in Miller-Young's view, at times, serve women "in their attempts at survival, mobility, self-authorship, and self-care." The following question arises: "Where are black women workers not exploited by advanced capitalism?" What Whitfield fears when she evokes her parents' disapproval is the social death that can come in the form of banishment, scorn, or ridicule as well as the particular misogynistic name-calling that occurs when one traverses the razor-like boundaries of what is considered normal and dignified behavior for Black women.
The process of writing about Baker brought me face-to-face with my own vulnerability within the academy, as my body and my work is linked to Baker's banana dancing and what others thought of that—or, more precisely, what they thought about me when they thought of that. I found myself immobilized under the weight of what theorist of Black feminism Patricia Hill Collins terms "controlling images" about Black women. I did not want to be Jezebel, the beguiling and exotic other useful only as a representational face of diversity within the institution, nor the mammy consigned to the endless servitude of managing white feelings.
Communications scholar Cerise L. Glenn explains that in the workplace, "African American women learn that we will have to deal with stereotypes formulated by members of dominant social groups." And it is these stereotypes that oppress us from the outside and repress us from within, undermining the full expression of our ideas, feelings, and, ultimately, our intellectual authority, on the very matters in which we are experts—where we are most powerful and, therefore, most threatening to the status quo.
Over time, I have realized that although Baker operated in a very different era and professional sphere than mine, I would have to claim, define, and defend my own agency, as I believe she did, largely within my own quietude and through insisting on driving the narrative of my own story. On my own, even when in community, I would have to figure out how to see myself clearly, how to right myself with the "crooked room" of race and gender misrepresentations.
It is these stereotypes that oppress us from the outside and repress us from within.
Among the insidious effects of having been brought up in America is that, as sociologist and author Crystal Fleming put it, "like most people in the US, I was not socialized to take Black women's knowledge seriously—which of course means that I was not socialized to take my own knowledge seriously." Reading her words, I gasped in recognition and had to nod in agreement. As Baker would unsettle Whitfield, so too did she disturb me as a young professional academic finding my way. But in our quietude together, Josephine and me, I decided to guide my research and writing with a simple but profound ethic: treat Baker with care and seriousness as a producer of knowledge rather than as merely the subject of my analysis. Scene by scene, gesture by gesture, I worked on providing the attention and context Baker's career deserves. Baker's own words, her actions, gestures, and presence, provided the direction for my work; her knowledge grounded my own.
I hear over and over again that Baker had to go to Paris. No, Baker wanted to go to Paris. There is a difference of agency and of self-visioning between the two. In a video apparently recorded October 3, 1950, and labeled "not for broadcast" but now uploaded to YouTube, reporter Jack Mangan interviews Baker as she is boarding the SS Liberté. After flattering her as "the toast of the continent," Mangan asks Baker what had prompted her to go "out on a limb" to Paris, France, all those years ago in 1925. Baker replies, "I thought by going to Paris—and then of course because everybody loves Paris and knows about it. It's the city of art. And I thought that I would probably get the possibility of doing something in my [inaudible; Mangan interrupts]."
Baker wanted to go. In her first coauthored memoir, published when she was just 20 years old, she writes, "Before meeting Mrs. [Caroline Dudley] Reagan, I already wanted to go to Europe." About leaving St. Louis, Baker writes, succinctly, "I cut my hair. I left my family." Baker's migration to Paris was an experiment, a venture "out on a limb" as that reporter put it. She took off on her own "directionless search for a free territory," not knowing how it would turn out. Although she became the toast of Paris and, indeed, admired around the world, I imagine Baker as a young woman among the early 20th-century Black American women of the 1920s, known and unknown, whom Saidiya Hartman lauds as "wayward" and "radical thinkers who tirelessly imagined other ways to live and never failed to consider how the world might be otherwise." Baker was an adventuress and an artist who took major risks—and in doing so opened up possibilities for thinking through performance in film history, which I will explore in this book.
Baker's preparation to go on stage, or before the cameras, was thorough and meticulous, but she took big leaps of faith as well. Rather than avoiding the perils of racial-sexual representation, she danced in to them, laughing as she drifted between respectability and "waywardness"—in Hartman's usage of the word, a yearning, "the avid longing for a world not ruled by master, man or police… not the master's tools, but the ex-slave's fugitive gestures, her traveling shoes."
I look at Baker's career as wayward in this sense, with her few but sparkling exploratory films containing shadow and light but also embodying on the whole, gestures of her own "practice(s) of possibility" and her own "ongoing exploration of what might be." I have hoped that my writing about her would feel like a duet, a collaboration between Baker and me; as an author of her film history, we frame one another, waywardly, faithfully, and tenderly while, naturally, retaining our pleasures in opacity.
__________________________________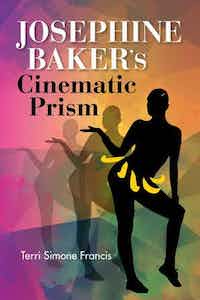 Excerpted from Josephine Baker's Cinematic Prism. Used with the permission of the publisher, Indiana University Press. Copyright © 2021 by Terri Simone Francis.
---