Literary Hub is pleased to reveal the cover for Morgan Talty's debut novel, Fire Exit, which will be published by Tin House in June. Here's a bit about the book from the publisher:
From the porch of his home, Charles Lamosway has watched the life he might have had unfold across the river on Maine's Penobscot Reservation. On the far bank, he caught brief moments of Roger and Mary raising their only child, Elizabeth–from the day she came home from the hospital to her early twenties. But there's always been something deeper and more dangerous than the river that divides him from this family and the rest of the tribal community. It's the secret that Elizabeth is his daughter, a secret Charles is no longer willing to keep.
Now it's been weeks since he's seen Elizabeth and Charles is worried. As he attempts to hold on and care for what he can: his home and property, his alcoholic, quick-tempered and big-hearted friend Bobby, and his mother, Louise, who is slipping ever-deeper into dementia–he becomes increasingly haunted by his past. Forced to confront a lost childhood on the reservation, a love affair cut short, and the death of his beloved stepfather, Fredrick, in a hunting accident–a death that he and Louise cannot agree where to lay the blame–Charles contends with questions he's long been afraid to ask. Is it his secret to share? And would his daughter want to know the truth?
From award-winning author of Night of the Living Rez, Morgan Talty's debut novel, Fire Exit, is a masterful and unforgettable story of family, legacy, bloodlines, culture and inheritance, and what, if anything, we owe one another.
And here's the cover, which was designed by Beth Steidle, Tin House Director of Design and Production: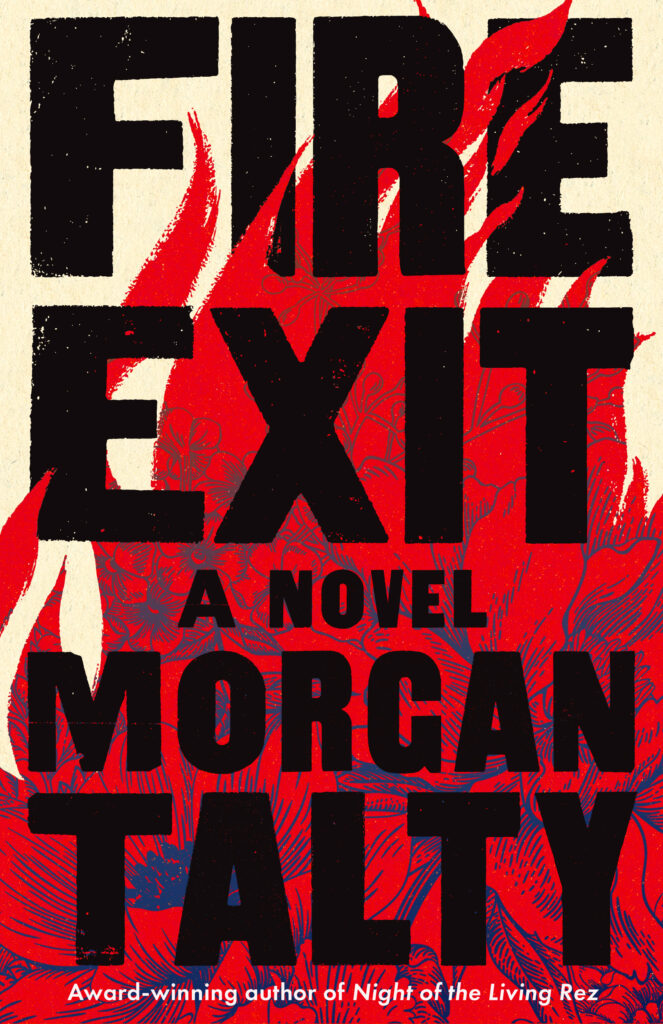 "Because Fire Exit is Morgan Talty's debut novel, following his bestselling short story collection Night of the Living Rez, we wanted this cover to have a big literary look—bold and unmistakable, leaping off the shelf," Steidle told Lit Hub.
To achieve this, I used large type, bright colors, and strong imagery. It is rare for a title to have only two short words, with the two being somewhat symmetrical in the shapes and width of the letterforms. This makes them perfect for stacking and filling the space, which was incredibly satisfying.
As an image, fire is an important element of the book and the bright red flames help to reinforce the title. To balance the overall design, I added the outline of flowers within the flames. This element tempers the aggressiveness of the fire and big type, and allows the cover to also reflect the book's quieter features, its remarkable landscape and moving lyricism.
"I loved my cover for Night of the Living Rez," said Talty.
This time around, the cover was being designed by a different art director, Beth Steidle. I don't mean to suggest I worried, because I didn't, but I was curious to see her aesthetic, the way she read the book, and how she internalized my words into art. I waited anxiously to see what kind of magic she would do.
At first glance, the cover for Fire Exit certainly pops, but the longer I looked at it, the more I realized it radiates, glows. I noticed the intricate detail—there's a gentle yet ruggedness to the art: dots of color are missing here and there, the flames, in parts, look soft like feathers, and the purple-blue backdrop of flowers made me feel simultaneously safe and alert, like how could plants survive a fire? How could we?
So, what did I think when I first saw this cover? I felt the heat, not too hot—just right.
Fire Exit will be published by Tin House on June 4, 2024. You can preorder it here.