Literary Hub is pleased to reveal the cover of E. Lily Yu's collection Jewel Box, 22 stories in which "the strange, the sublime, and the monstrous confront one another with astonishing consequences," forthcoming from Erewhon Books this fall.
Here's some more about the book from the publisher:
In the village of Yiwei, a fallen wasp nest unfurls into a beautifully accurate map. In a field in Louisiana, birdwatchers forge an indelible connection over a shared glimpse of a Vermilion Flycatcher, and fall. In Nineveh, a judge who prides himself on impartiality finds himself questioned by a mysterious god. On a nameless shore, a small monster searches for refuge and finds unexpected courage.
At turns bittersweet and boundary-breaking, poignant and profound, these twenty-two stories sing, as the oldest fables do, of what it means to be alive in this strange, terrible, beautiful world. For readers who loved the intelligence and compassion in Kim Fu's Lesser Known Monsters of the 21st Century and the dreamlike prose of Kelly Link's Magic for Beginners, this collection introduces the short fiction of E. Lily Yu, winner of the Astounding Award for Best New Writer and author of the Washington Book Award–winning novel On Fragile Waves, praised by the New York Times Book Review as "devastating and perfect."
And here's the cover, which was designed by Samira Iravani, based on artwork by Christine Kim: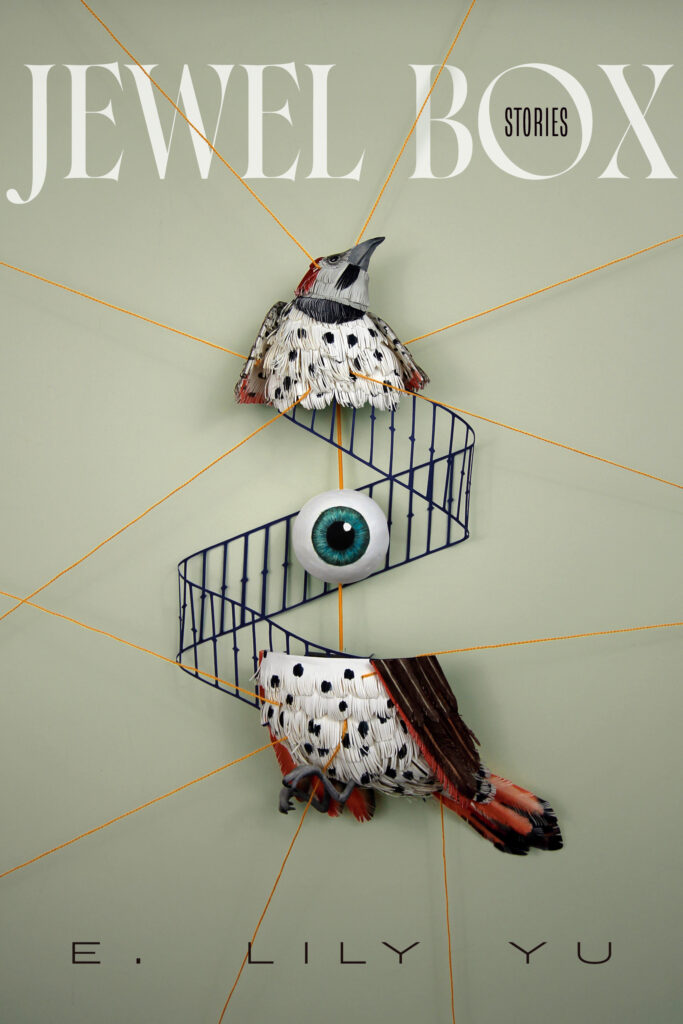 "I was overjoyed to learn that my editor, Sarah Guan, would be asking the talented paper artist Christine Kim to create a sculpture for the cover," author E. Lily Yu told Lit Hub. "It was a privilege to watch the artist's work process and see the wide scatter of ideas and the one seed that took root and bloomed. I know few writers lucky enough to witness their book covers coming together, much less writers who are asked now and then for their thoughts on bird species or that bird's tailfeathers. At the very end, designer Samira Iravani realized the book cover would be richer with color, and laid out all the elements beautifully. I am grateful to Christine and Samira for their imagination and creativity."
"When I read the brief for this project, I made one phrase my guiding light: 'a strange, terrible, beautiful world,'" artist Christine Kim told Lit Hub. "From there, I knew I would choose a single image, making it surreal or unfamiliar in the process. From the moment I learned the collection's title, Jewel Box, I always had this idea of something opening up, with small treasures inside. The final design was inspired by taxidermied animals and cabinets of curiosities. I wanted the cover to be clinical and haunting—a beautiful bird that is dissected, re-arranged and suspended, showcasing little glimpses of what readers can expect from these engaging, lovely stories."
So you can get a better sense of the cover, Kim also shared a few process shots with us:
Jewel Box will be published by Erewhon Books on October 24, 2023. You can preorder it here.