Literary Hub is pleased to reveal the cover for Amy Lin's debut memoir Here After, which will be published by Zibby Books in March. Here's a bit more about the book from the publisher:
Here After is an intimate story of deep love followed by dizzying loss; a stunning, taut memoir from debut author Amy Lin so finely etched and powerful that it will alter readers' hearts.
"When he dies, I fall out of time."
Amy Lin never expected to find a love like the one she shares with her husband, Kurtis, a gifted young architect who pulls her toward joy, adventure, and greater self-acceptance. But on a sweltering August morning, only a few months shy of the newlyweds' move to Vancouver, thirty-two-year-old Kurtis heads out to run a half-marathon with Amy's family. It is the last time she sees her husband alive.
Ten days after this seismic loss, Amy is in the hospital, navigating her own shocking medical crisis and making life-or-death decisions about her treatment.
What follows is a rich and unflinchingly honest accounting of her life with Kurtis, the vortex created by his death, and the ongoing struggle Amy faces as she attempts to understand her own experience in the context of commonly held "truths" about what the grieving process looks like.
Here After is a love story and a meditation on the ways in which Kurtis' death shatters any set ideas Amy ever held about grief, strength, and memory. Its power will last with you long after the final page.
And here's the cover, which was designed by Anna Morrison: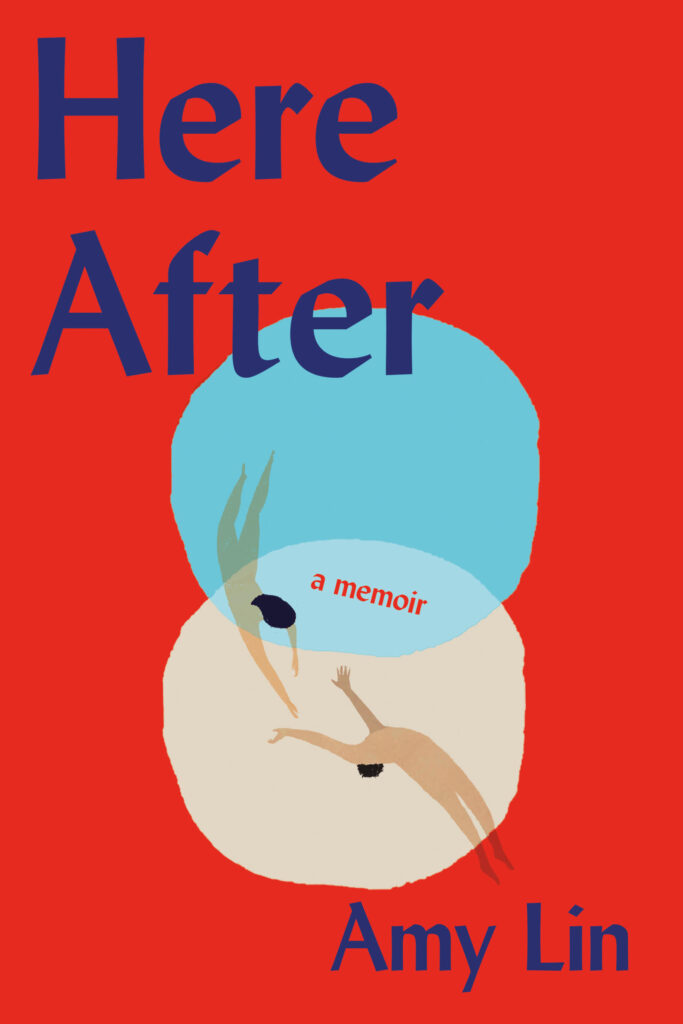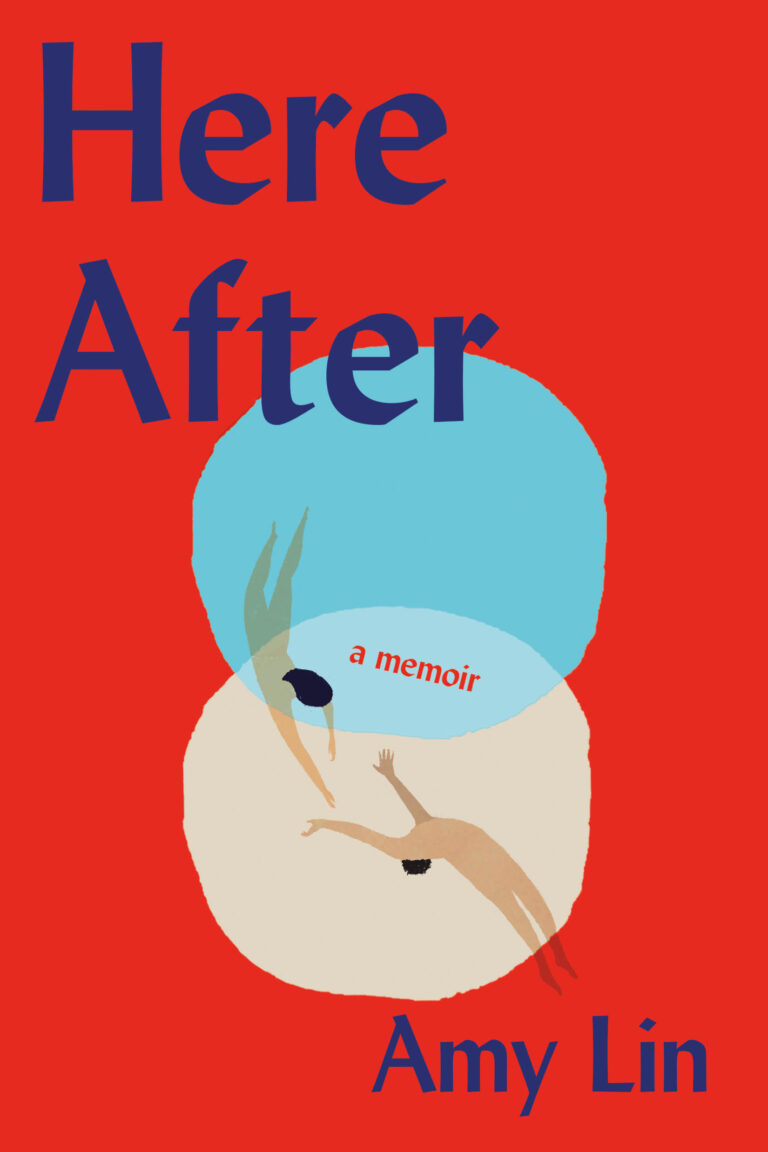 "Our only time is the body," Lin told Lit Hub.
I learn this twice: first, when my husband Kurtis suddenly dies, and then, when I almost die, ten days after Kurtis' death. His body ending, my body stuttering, the seemingly limitless pain of all of it, this is what Here After reckons with. It is a book as tender as it is raw, as natural as it is unnatural, as gripping as it is disorienting. As such, I envisioned a cover that was organic in shape, striking in colour, and commanding in presence; a cover that reflects the intensity, longing, and fragmentation so inherent to my grief.
I was most pleased to have Anna Morrison on board with this project as I have admired her work for some time. She has created a cover that elegantly realizes my hopes. In Anna's cover, we feel first the sensation of it: there is the intensity of the red, as well as the red's sharp contrast with the blue, all beautifully reflective of grief as a landscape of extremity: the heat of pain, the blues of loss. Then, the body: two of them, both stretching in a gesture of longing that is forever fixed—each diver is just beyond the other, him ever falling away into the realm of the beyond, her ever held to the realm of reaching.
I also really admire the ways in which Anna shows, in the different shading of the divers, how grief collides with life, with death, with memory—each touches the other in a way that leaves traces. This collision is, of course, an imperfect process, subtly shown by the softly misshapen circles. Finally, in Anna's tilting of 'a memoir,' I find a fitting gesture to the ways in which grief-memory is always bent by its own making: the pain that renders memoir possible is also the very thing that ensures it is impossible to perfectly capture."
"Creating the cover for Here After was very much a collaborative project between the author, myself and Zibby Books," Morrison added. "Amy's memoir is extremely personal and moving so it felt very important to have her on board within the design process. I loved Amy's suggestion of using diving bodies (I had gone for a more abstract approach initially). We played around with the interaction between the divers, we wanted them to have a feel of reaching towards each other to give that sense of longing and grace."
Here After will be published by Zibby Books on March 5, 2024. You can preorder it here.