Lit Hub is pleased to reveal the cover for Tomás Morín's latest poetry collection, Machete, which will be published by Knopf this October.
Knopf describes Machete as "a lyrical, dynamic, insightful collection, at once delicate and fierce, touching on climate, family, racism, growth, and life itself. Morín hails from the coastal plains of Texas and, in his poems, explores a world where identity and place shift like sand in the wind. Deeply serious, Morín rambles through the terrors of being stopped by police and wonders about the safety and beauty of his son—and just as easily, jumps up in tone and shows his deliciously funny side, too, jabbing at picky eaters, strangers on the street, and poets themselves, poking fun at how often they admire the light as it shifts in the evening. He is an exciting, powerful voice—a rising new force in the poetry world."
Here is the awesome cover, designed by Bráulio Amado: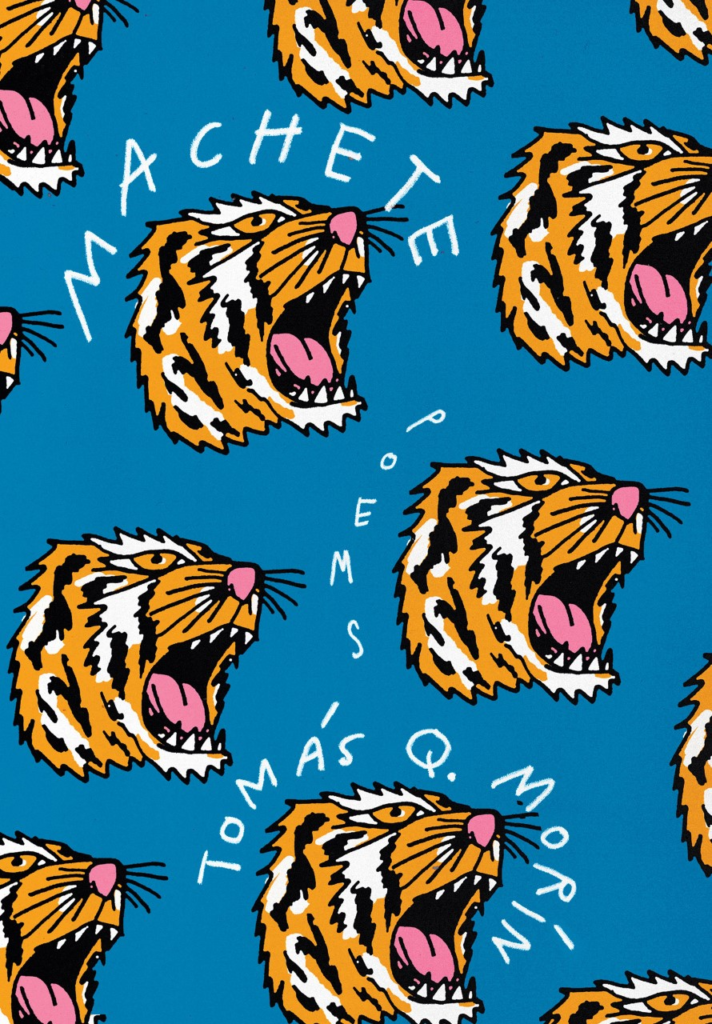 "While there's not a single tiger in my collection Machete (although there is a cougar!), Bráulio's cover couldn't be more perfect," Tomás Morín told Lit Hub.
A tiger is a living machete, just as much instrument of life as death. When my editor Deborah Garrison asked if I had anything on my wish list to pass along to the design team at Knopf, I had nada, zip, zilch. That had never happened before with my other books. In the end I sent her a picture of a tiger sweater that I said I planned to wear for new author photos. I love that Bráulio ran with it and transformed the pattern in such a way that it perfectly captures the sometimes ferocious, sometimes zany spirit of these poems.
Amado agrees. "The cover illustration was inspired by a piece of clothing the author has," he said. "When I think of a "machete" I think about the wilderness, jungle, cutting your way through something, and a tool that can also be used as a weapon. Having the tiger as a pattern felt like a smart way to evoke these keywords without being too obvious."
Machete will be published by Knopf on October 12, 2021. You can preorder it now.