Lit Hub is pleased to reveal the cover for Talia Lakshmi Kolluri's debut story collection What We Fed to the Manticore, which will be published by Tin House this September.
Tin House describes What We Fed to the Manticore as a collection that "takes readers inside the minds of a full cast of animal narrators to understand the triumphs, heartbreaks, and complexities of the creatures that share our world."
In Kolluri's pages, a faithful hound mourns the loss of the endangered rhino he swore to protect. Vultures seek meaning as they attend to the antelope that perished in Central Asia. A beloved donkey's loyalty to a zookeeper in Gaza is put to the ultimate test. And a wounded pigeon in Delhi finds an unlikely friend. In striking, immersive detail against the backdrop of an ever-changing international landscape, What We Fed to the Manticore speaks to the fears and joys of the creatures we share our world with, and ultimately places the reader under the rich canopy of the tree of life.
Here is the dazzling cover, designed by Diane Chonette: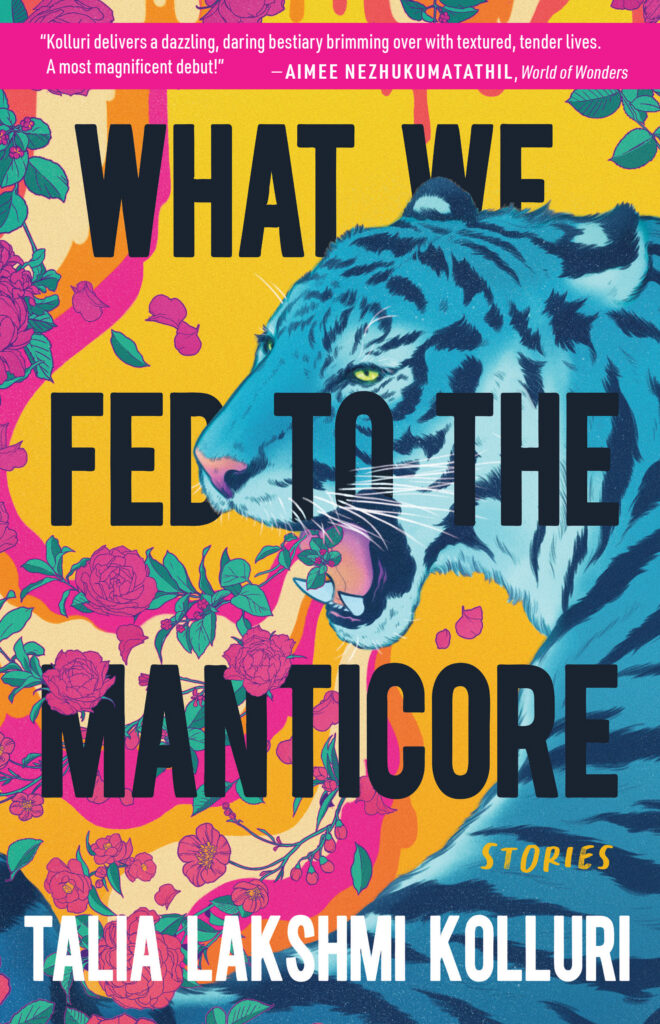 "I read What We Fed to the Manticore in one long burst," Chonette told Lit Hub, "Each story propelled me to the next. The animals and their situations and perspectives truly moved me and it was in those moments after my first read that I came across Jen Bartel's striking Spring Tiger illustration. I couldn't imagine a more fitting illustration—I was determined to make it work for the cover. I absolutely love the result. It conveys all the emotion, color, and boldness that Talia's stories exude."
Kolluri described falling instantly in love with the cover: "It's hard for me to describe exactly how I felt when I first saw this cover except to say that it felt like my heart leapt out of my body. It was quite a thing to live a series of imaginary lives as I wrote this collection and then suddenly to be faced with a cover that feels like it captures so many things I was trying to write about. I am thrilled that the tiger on the cover is blue, which transforms a familiar animal into something otherworldly yet recognizable. When I look at this I see a tiger who could be either exhaling the flowers or consuming them, and in this way is engaging in an act of destruction and an act of creation simultaneously. Having the clean, sharp lines of a bold sans serif typeface being encroached upon by the tiger and overtaken by flowers feels to me like the perfect way to show the interplay between wildness and tameness. These tensions: creation and destruction; wildness and tameness, were so important to my stories, and I love to see how they are represented here. I'm so enchanted by this cover and I hope readers are too."
What We Fed to the Manticore will be published by Tin House on September 6, 2022.