Literary Hub is pleased to reveal the cover for Nishanth Injam's debut short story collection, The Best Possible Experience, which Pantheon calls an "astonishingly assured debut from an award-winning writer, an emotionally rich portrait of contemporary India and its diaspora and a yearning rendering of the people and places we call home."
Here's some more from the publisher about the book, which will be published on July 11:
Vivid, vibrant, and unwaveringly affecting, The Best Possible Experience brings us intimate, impeccably realized accounts of individuals living in one of the most populous countries in the world, and its American diaspora, all haunted, in every sense of the word, by a loss of home.
Classically elegant in prose and consistently modern in outlook, Injam's stories question what it means to have a home, to return home, and show, above all, that home is not a place so much as a people ready to accept you as you are. We see a young man trapped on a bus to visit his parents as his fellow passengers vanish into the restroom. A family, newly in America, determined to host a perfect luncheon for their son's white classmate, with no idea what to serve him. A woman who returns to a small village in India every summer to visit the grandfather who raised her, who lives with the ghosts of his son and wife. And a man preparing for his Green Card interview with the American woman he's paid to marry him.
A sui generis talent, Injam first started writing after coming to America from India in his twenties. The Best Possible Experience, his profoundly personal debut collection, delivers a universal inquiry into the idea of belonging and preserves in writing a home he left behind before it was lost to him forever.
And here's the cover, which was designed by Ariel Harari: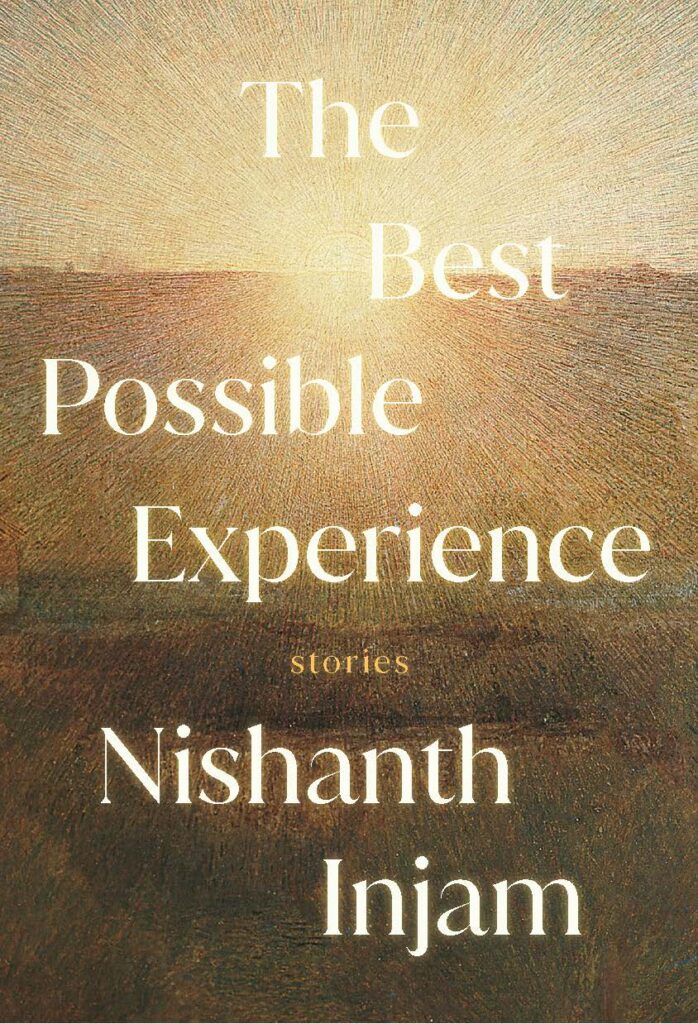 "Nishanth paints these vibrant, emotional portraits of his characters as they move along their solitary journeys toward a light that will hopefully feel like home," Harari told Lit Hub. "When I read 'A treasure hunt for the brightest lamp in the world,' I knew I wanted the cover to radiate this level of yearning. Nishanth and Naomi both had such a clear vision for the cover as well, which guided the process and ultimately led me to discover this beautiful painting. The manuscript and this painting shared a similar torturous kind of hope. There is a pull in the cover, drawing you to the peak of the hill where the light is, a height that seems impossible to get to and yet so close you can almost reach out and touch it. The glow and layout of the type offered the balance of modernity and unpredictability I was hoping for in contrast with the painting."
"This cover is a beautiful representation of the book's philosophy," Injam said. "I wanted a cover with a journey toward light, a sense of epiphany, but I could have never imagined this cover. Ariel Harari's design is luminescent and full of depth. I love the painterly aesthetic, the warm tone, and the feeling of being airborne. And of course, the light—resembling a spider-web. It reminded me of something Henry James wrote (The Art of Fiction). "Experience is never limited and it is never complete; it is an immense sensibility, a kind of huge spider-web, of the finest silken threads, suspended in the chambers of consciousness and catching every air-borne particle in its tissue." How fitting that Ariel's design lands on this ethos for a book titled The Best Possible Experience."
"When I first read Nishanth's incredible debut on submission, I was struck by the vivid humanity of the characters, the classically elegant prose, the decidedly modern outlook, and the sense that no matter how dark a moment might be, light will come through," said Naomi Gibbs, the book's editor. "New York Times-bestselling author of Friday Black, and the forthcoming Chain-Gang All-Stars, Nana Kwame Adjei-Brenyah, has called the book "full-hearted, brilliant," and I think that describes Ariel's cover perfectly as well. Literally brilliant, it captures the spirit, the gleaming heart, of this impeccable collection, the first book by a writer I feel certain we'll be reading for years to come."