Literary Hub is pleased to reveal the cover for Ed Park's long awaited second novel Same Bed Different Dreams, which will be published by Random House this fall. Here's a bit about the novel from the publisher:
March, 1919. Far-flung Korean patriots establish the Korean Provisional Government to protest the Japanese occupation of their country. This government-in-exile proves mostly symbolic, though, and after Japan's defeat in World War II, the KPG dissolves and civil war erupts, resulting in the North-South split that remains today.
But what if the KPG still existed now, today—working toward a unified Korea, secretly harnessing the might of a giant tech company to further its aims? That's the outrageous premise of Same Bed Different Dreams, which weaves together three distinct narrative voices and an archive of mysterious images and twists reality like a kaleidoscope, spinning Korean history, American pop culture, and our tech-fraught lives into an extraordinary and unforgettable novel.
Early on we meet Soon Sheen, who works at the sprawling international technology company GLOAT, and comes into possession of an unfinished book authored by the KPG. The manuscript is a mysterious, revisionist history, tying famous names and obscure bit players to the KPG's grand project. This strange manuscript links together figures from architect-poet Yi Sang to Jack London to Marilyn Monroe. M*A*S*H is in here, too, and the Moonies, and a history of violence extending from the assassination of President McKinley to the Soviet downing of Korean Air Lines Flight 007.
Just as foreign countries have imposed their desires on Korea, so too has Park tucked different dreamers into this sprawling bed of a novel. Among them: Parker Jotter, Korean War vet and appliance-store owner, who saw something—a UFO?—while flying over North Korea; Nora You, nail salon magnate; and Monk Zingapan, game designer turned writing guru. Their links are revealed over time, even as the dreamers remain in the dark as to their own interconnectedness. A thrilling feat of imagination and a step forward from an award-winning author, Same Bed Different Dreams begins as a comic novel and gradually pulls readers into another dimension—one in which utopia is possible.
And here's the cover, which was designed by Will Staehle: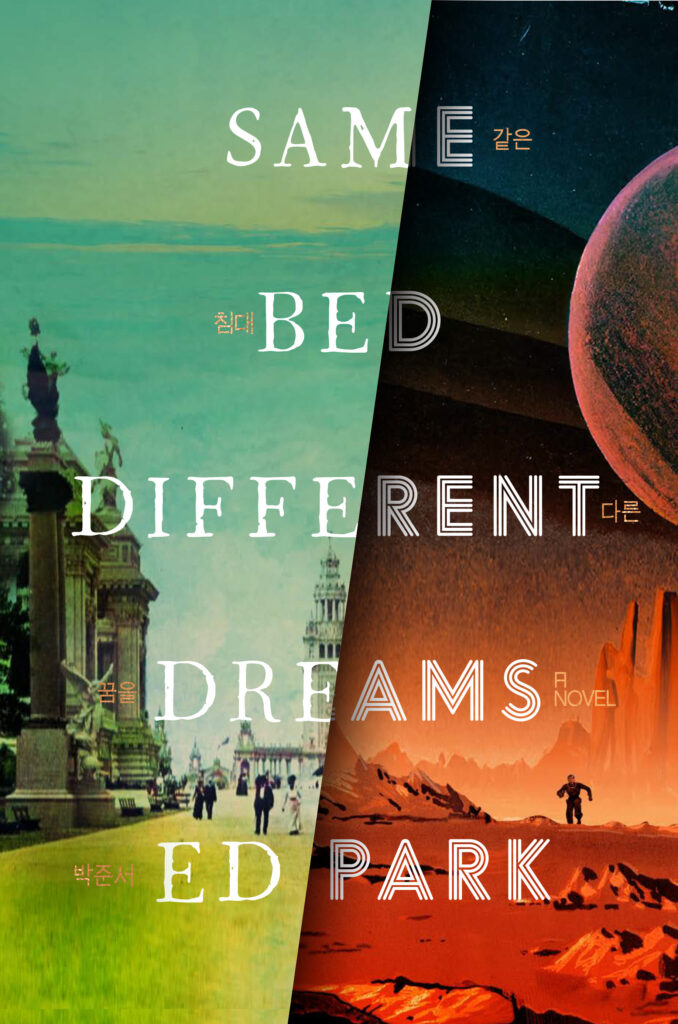 "Different dreams led me to this book, which took nine years to write, though the title had been with me for even longer, and there are strands within that have lain on my loom at least twenty years (including one character's contention that the Korean War, like the 1999 Stanley Cup Finals, never ended)," Ed Park told Literary Hub.
The novel imagines that the rogue Korean Provisional Government not only still exists but is secretly in power. And more, that the KPG has authored a book of revisionist history that drives its readers mad. At some point, I realized I had to write that book within this book, as well. Did I tear my hair out? A bit. But once I figured out how to make complexity the book's main engine, things got super fun again.
I love how Will Staehle's cover instantly conveys two of the novel's dreams—on the left, a ghostly vision of forgotten history (a scene from the 1901 Pan-American Exposition in Buffalo), on the right, a glimpse of fevered possibility (one of my characters is a science fictioneer). The fonts rock. Subtly threaded in gold is the title, translated into the language of my ancestors—Korean—something I never would have dreamed to suggest, but which ties it all together. I asked if my Korean name could be woven in as well, and there it is, three syllables only my family knows. I actually still can't look at this without crying.
Ed Park's Same Bed Different Dreams will be available November 7, 2023. You can preorder it here.