Lit Hub is pleased to reveal the cover for Ross Gay's new essay collection Inciting Joy, which will be published by Algonquin Books in October.
Algonquin describes the book as an "intimate and electrifying collection."
In these gorgeously written and timely pieces, prize-winning poet and author Ross Gay considers the joy we incite when we care for each other, especially during life's inevitable hardships. Throughout Inciting Joy, he explores how we can practice recognizing that connection, and also, crucially, how we expand it.
In an era when divisive voices take up so much air space, Inciting Joy offers a vital alternative: What might be possible if we turn our attention to what brings us together, to what we love? Full of energy, curiosity, and compassion, Inciting Joy is essential reading from one of our most brilliant writers.
Here's the striking cover, which was designed by Algonquin creative director Christopher Moisan: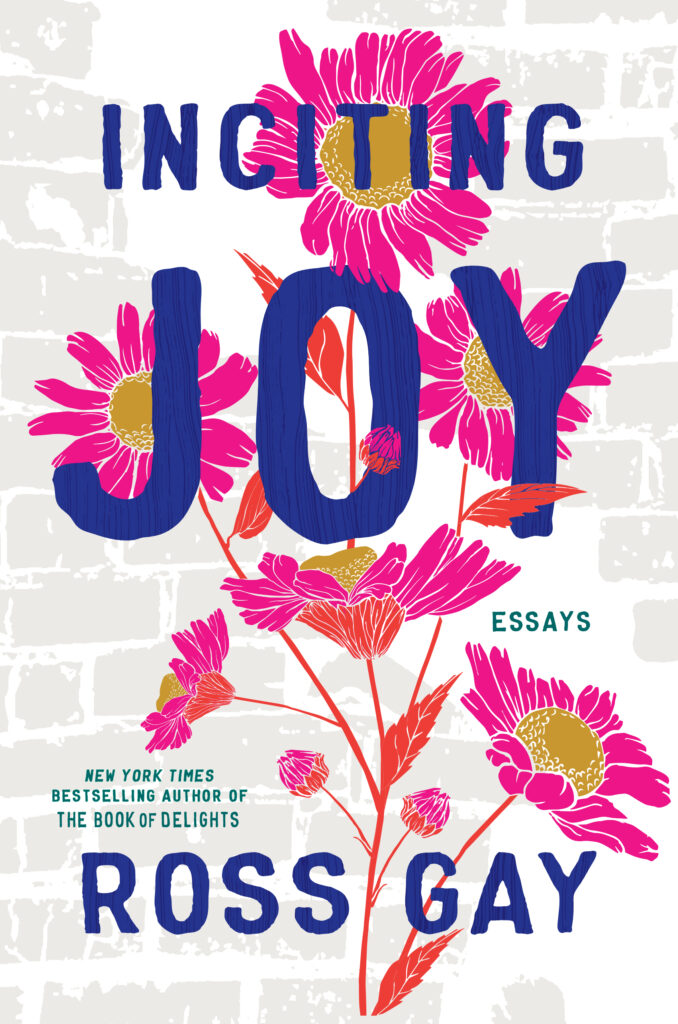 Moisan spoke to Lit Hub about his personal connection to Gay's work, and the inspiration behind the cover:
Ross's previous collection of essays, The Book of Delights, was a life-improving read for me: as the pandemic hit in New York, it reminded me to pause, to look out the window, to appreciate and contemplate the little things both happy and troubling in the world. Inciting Joy manages to unearth deep pain and grief, both personal and shared, and push it into the sunlight where it can (with love and community) blossom into joy. In Ross's books, the blossoming is also literal:  gardening is life.
That is the very simple visual that inspired the book cover. I loved the energy of the original Book of Delights hardcover jacket, with its unusual use of color and a sense of hand in the drawing and type, and I tried to keep a family resemblance. Nothing slick, overly trendy, or unfriendly. But a happy, sunshine-y, purely pretty cover didn't seem right either. The short word "Joy" with the long word "Inciting" is such a challenge, but the only possible solution here was to make "Joy" as LARGE as possible—which somehow seems apt. It's a big promise, but Ross's writing manages to deliver hope, reflection, and JOY.
For Gay's part, he knew immediately that this design was the right one.
I think this was the second effort at this cover, which, for me, was a breeze—for The Book of Delights I think we went through twenty or thirty, might've been fifty; enough that the publisher I think was getting kind of undelighted with me (I was getting annoyed with me too!). Anyway, when this cover came in, it was basically this, the colors were maybe a little different, I had a minor suggestion or two, and then boom, they nailed it.  I mean, the flower with this book makes sense—there is one essay about gardening, and one about orcharding.  But I really love the precise look of the flower—some blend of tithonia, zinnia and sunflower—but in some intense colors, on the cusp of clashing, definitely kind of clanging. And with the wall in the background, in addition to a kind of life amidst the ruins (a definite current of this book: also, see Anna Tsing's brilliant Mushroom at the End of the World, that's one of the books Inciting Joy riffs with, by which I really mean relies on) it reminds me of those flowers you see growing out of cracks in the sidewalk—I just saw one today, some kind of impossible blue crown of a flower, a spray of them where they should not be.  And there's some comfrey growing in between the wall and sidewalk outside this house, just now putting on its purple flowers.  Wait, I went out again: there's a fleabane growing from a crack in the alley, which makes me think the photo on the cover might be fleabane.  Neon fleabane.  Whatever it is, it's really pretty!  And I love it.  All this to say if you're lucky, you'll have occasion to read from, and therefore look at, your book a few times.  So it's a good thing, a lucky thing, when the book you're reading from you love to look at.  Like you're looking into your garden or something.
Inciting Joy will be published on October 25, 2022. You can preorder it here.