Literary Hub is pleased to share the book cover for Richie Hofmann's latest poetry collection, A Hundred Lovers, which will be published by Knopf in February 2022.
The publisher describes the book like this:
A Hundred Lovers is a catalog of encounters: sublime, steamy, and frank. Inspired by French autofiction, the poems feel both sharp and diaristic.
Bringing us both the carefully knotted silk ties of the wedding pair and their undress in a series of Hockney-like interiors where passion colors every object, Hofmann speaks plainly of the saliva, tears, and guts of the carnal, just as he does of the sublime in works of art. A Hundred Lovers invites us to consider our own memories of pleasure and pain, which fill the generous white space the poet leaves open to us between his ravishing lines.
Here's the gorgeous cover, which was designed by Chip Kidd: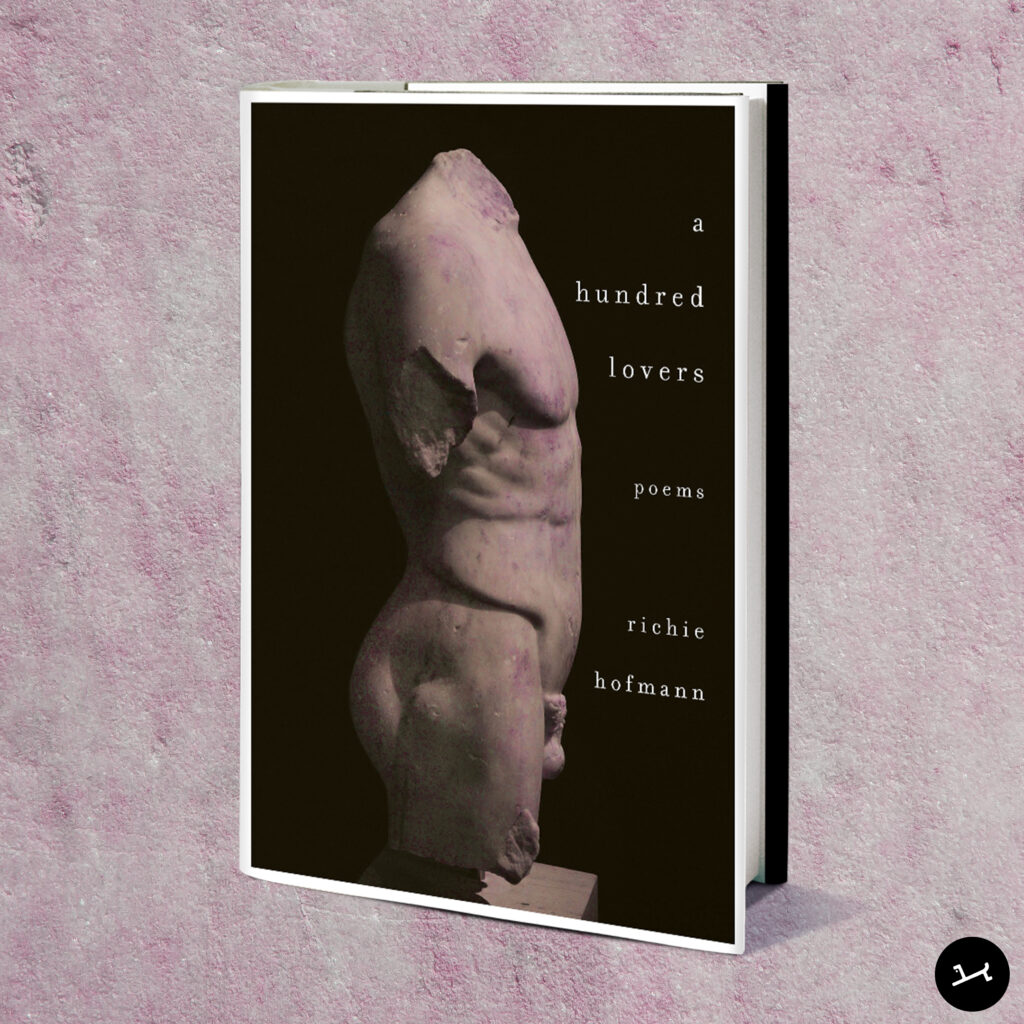 "Of course I was thrilled when I learned Chip Kidd would be designing the jacket for A Hundred Lovers," Hofmann told Lit Hub. "His designs for the collected works of my hero James Merrill (literally) stare at me while I work at my desk. Chip's remarkable designs wrap the covers of books my own would be impossible without."
Chip's design wonderfully reflects the book's interests in sex, antiquity, and male beauty, ruin and perfection. The cover is wry: even today, the headless torso is one of desire's currencies. And it's poignant at the same time: so many of the poems are about being broken and remade by love.
Look at the gorgeous purple in the marble! The way the text seductively wraps around the contours of the body! I'm so grateful that readers will have this sensual and complex cover in their minds as they encounter my poems.
As for Kidd, he had this to say about the book:
Richie Hofmann's stunning, sensual, deliciously romantic poems draw their inspirations from the classical world. Yet they place that milieu within our own, contemporary sensibility. And so, here is an ancient Greek idealized statue of a male torso, but very much as it appears today: ultimately devastated by its experiences over the millennia; but still shockingly beautiful nonetheless. It is a survivor. It will always be admired—not despite whatever flaws it has, but because of them.
A Hundred Lovers will be published by Knopf on February 8, 2022.