Lit Hub is pleased to reveal the cover for Morgan Talty's debut story collection, Night of the Living Rez, which will be published by Tin House Books in summer 2022.
Talty noted that he "wanted to write a collection that corrects or revises ideas about indigeneity while also highlighting my tribe, the Penobscot, who have been ignored just like many of the 570+ federally recognized tribes and the many unrecognized ones."
"I revised keeping in mind what Indigenous scholar and fiction writer Louis Owens wrote once, that non-Native readers of Native fiction or those who consume popular culture find 'a comfortable, easy tour of colorful Indian Country,' which problematically reinforces false knowledge," he said.
Here is the cover, designed by Diane Chonette: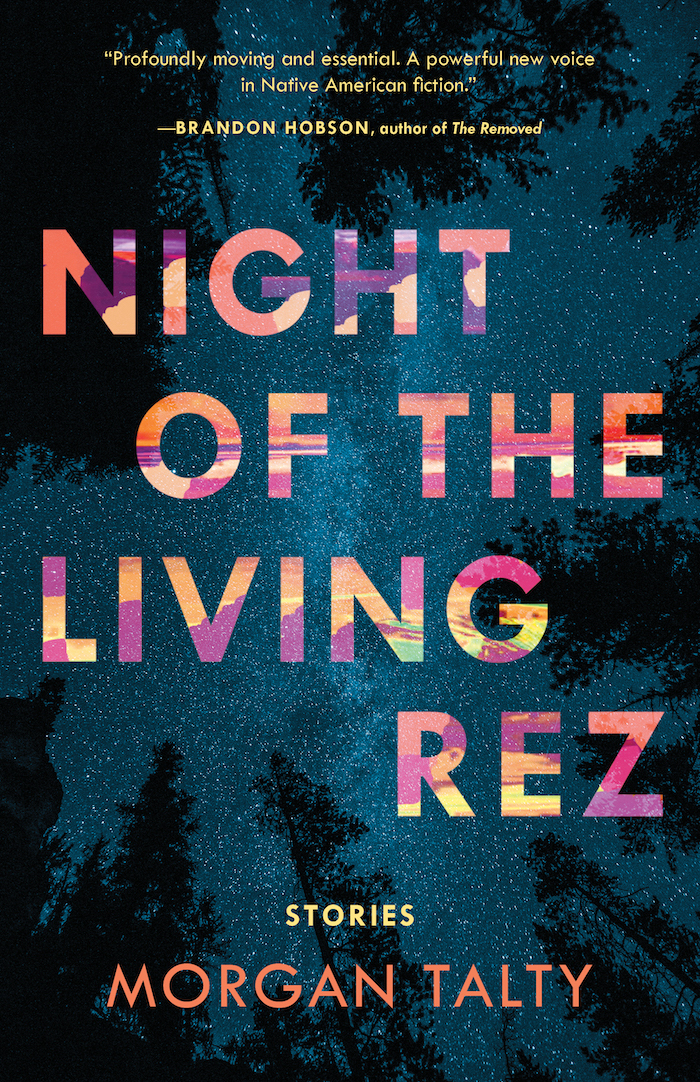 Chonette described her design process: "Early on Morgan talked about how important the night sky was to him and his characters within Night of the Living Rez. The stories are dark, too, and they are full of a long hard history. Still, there is hope and resiliency and humor in these characters. I wanted to show this contrast by incorporating a bright, almost psychedelic background in the type with elements of sunrise. The design also punctuates the concept of liminal spaces which is very strong in this collection—thin barriers between the living and the dead, light and darkness, coldness and warmth, today and tomorrow."
Morgan Talty recalled receiving the cover from Chonette for the first time. "The email's subject line read, 'COVER: Night of the Living Rez.' I was on campus in my office, in between classes, and I couldn't bring myself to open the email. I don't quite know why. Maybe I was afraid I wouldn't like it? Maybe I was afraid that seeing it would make the reality of having a book coming out that much more real, which sounds odd, but I'm a writer full of doubt and was and still am in disbelief that I have an actual book being published.
When I came back from my walk and finally opened the email, I could not have been more stunned. The backdrop of the night sky with the colors of a setting sun filling the spaces of the letters in the title appeared so perfect to me, seemed to capture the tone of the collection so well. The collection focuses on Dee and David. Dee is an older version of David, and the stories bounce back and forth between the two in two different time periods, ultimately building to a final moment that brings the stories together. The contrasting images of night and a colorful setting sun felt like a great representation of the book's structure, the way it moves between two times that chronicle this character's life."
Night of the Living Rez will be published in July 2022 by Tin House Books.