Melissa Febos, whose essay collection Girlhood was called "exquisite [and] ferocious," is publishing a new craft book with Catapult in March 2022—and Lit Hub is pleased to reveal the cover for that book, Body Work.
Catapult describes Body Work as "a brilliant exploration of how we think and write about intimate experiences. Febos tackles the emotional, psychological and physical work of writing intimately while offering an utterly fresh examination of the storyteller's life and the questions which run through it. How might we go about capturing on the page the relationships that have formed us? How do we write about our bodies, their desires and traumas? What does it mean for an author's way of writing, or living, to be dismissed as "navel-gazing"—or else hailed as "so brave, so raw"? And to whom, in the end, do our most intimate stories belong? Drawing from her own path from aspiring writer to acclaimed author and writing professor—via addiction and recovery, sex work and Harvard night school—Melissa Febos has created a captivating guide to the writing life, and a brilliantly unusual exploration of subjectivity, privacy, and the power of divulgence. Candid and inspiring, Body Work will empower readers and writers alike, offering ideas—and occasional notes of caution—to anyone who has ever hoped to see themselves in a story."
Here's the striking cover, designed by Nicole Caputo, the Creative Director of Catapult and Counterpoint Press: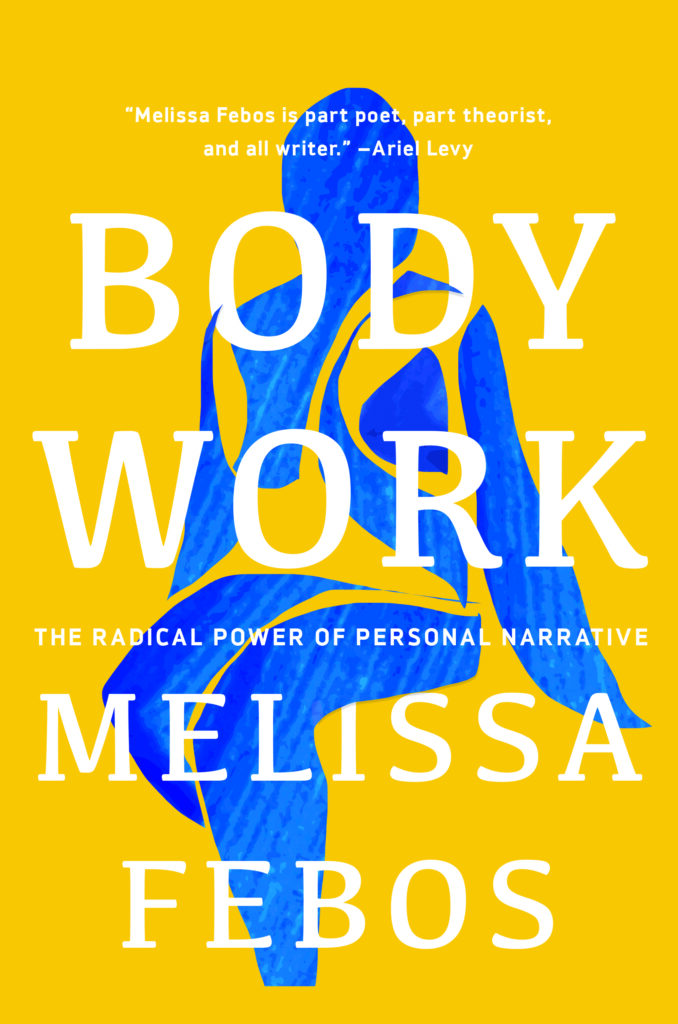 Caputo writes, "I was truly honored for the opportunity to work on this brilliant book by Melissa which crosses personal memoir with craft. My goal was to create something bold, to use the forms of the body but in an abstract and less literal way and also in a way where the sex of the figure is not so easily identifiable and more neutral. All of the designs created had this in common but I particularly like how the forms and negative spaces of the illustration I created for the chosen design could embody the trauma and experiences that can inform art and writing; this figure which is sort of cracked apart or open but very much held together. The palette feels striking, powerful but soothing at the same time which I thought was important when we have an author who is so generously sharing these incredibly relatable things and when we are reading about trauma and physicality."
And Melissa Febos writes, "I wanted something striking for this book and admired everything that Nicole drafted, but the yellow and blue struck me particularly and felt right for this book. I love the figure—how powerful and grounded it feels without being too literal."
Body Work will be published on Catapult on March 15, 2022.