Literary Hub is pleased to reveal the cover of Lidia Yuknavitch's Thrust, her first major novel since 2017's The Book of Joan, which will be published by Riverhead in June 2022. Here's how the publisher describes the book:
As rising waters—and an encroaching police state—endanger her life and family, a girl with the gifts of a "carrier" travels through water and time to rescue vulnerable figures from the margins of history
Lidia Yuknavitch has an unmatched gift for capturing stories of people on the margins—vulnerable humans leading lives of challenge and transcendence. Now, Yuknavitch offers an imaginative masterpiece: the story of Laisvė, a motherless girl from the late 21st century who is learning her power as a carrier, a person who can harness the power of meaningful objects to carry her through time. Sifting through the detritus of a fallen city known as the Brook, she discovers a talisman that will mysteriously connect her with a series of characters from the past two centuries: a French sculptor; a woman of the American underworld; a dictator's daughter; an accused murderer; and a squad of laborers at work on a national monument. Through intricately braided storylines, Laisvė must dodge enforcement raids and find her way to the present day, and then, finally, to the early days of her imperfect country, to forge a connection that might save their lives–and their shared dream of freedom. A dazzling novel of body, spirit, and survival, Thrust will leave no reader unchanged.
And here is the magnificent cover, which was designed by Lauren Peters-Collaer, Associate Director of Art & Design: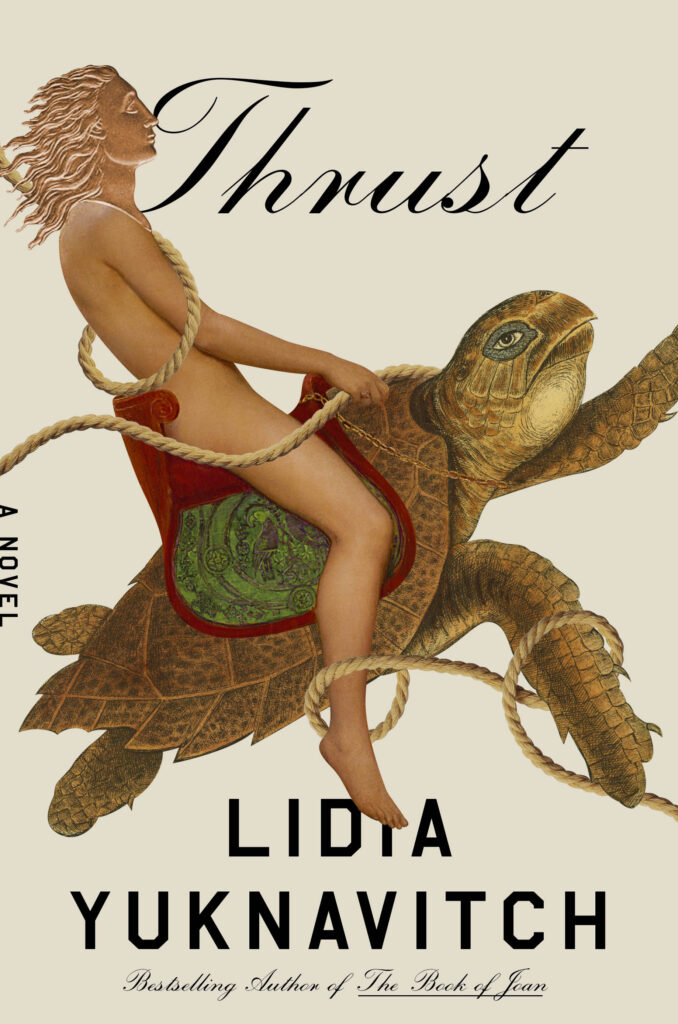 "I was truly, wholly engulfed by Thrust," Lauren Peters-Collaer told Lit Hub. "The ferocity and tenderness of Lidia's writing, the brilliance of the world she invites us into, and the questions she poses are electrifying and deeply stirring. Thrust is a reservoir of incredible imagery and I was particularly affected by its articulation of the force and resilience of human body and spirit. With this cover, I was hoping to speak to that through an image that felt outside of time, and both magical and corporeal, strange and elegant. With a plethora of meaningful objects and unforgettable characters to draw on, Lidia provided everything and more. I imagine this unfettered heroine leading readers into a new world, a new way, as only Lidia can."
"I find Lauren Peters-Collaer's design for Thrust dazzling, brilliant, mysterious, and wickedly playful," said Lidia Yuknavitch. "This curation of images carries with it the central question of the novel, that is, how do we put a new story of ourselves together from the pieces of the past? And what new creatures might we become from the ruins of our choices? What adaptations must evolve, where will the magic come from that might heal our broken hearts and sustain a storyline into the future? The turtle, the rope, the body, the copper head with flowing hair, the hint of water and the push and pull of history all signify a vital portal through which a reader is dared to enter. If you want to know what this unusual cover story is hiding, if you are wondering what in the world is going on with these images, no way through but through. The cover asks you to delight in opening a book like you are entering another world. For me there is not better treasure. No deeper experience. I am honored and humbled and filled with awe and respect."
Thrust will be published on June 28, 2022. You can preorder it here.