Lit Hub is pleased to reveal the cover for Laura Warrell's debut novel Sweet, Soft, Plenty Rhythm, which will be published by Pantheon in fall 2022.
Sweet, Soft, Plenty Rhythm follows Circus Palmer, a forty-year-old Boston-based trumpet player and old-school ladies' man, who lives for his music and refuses to be tied down. Before a 2013 gig in Miami, he learns that the woman who is secretly closest to his heart, the free-spirited drummer Maggie, is pregnant by him. Instead of facing the necessary conversation, Circus flees, setting off a chain of interlocking revelations from the various women in his life.
"Sweet, Soft, Plenty Rhythm was the very first acquisition I made at Pantheon (alongside the incredible editor Deb Garrison)," said Lisa Lucas, Pantheon's publisher who bought the book. "On my very first week of work, I opened my new inbox only to be blown away by the exceptional writing of a black woman speaking frankly, across age brackets and cultures, about the complexities of the emotional, physical and familial entanglements we universally find ourselves in. I laughed. I gasped. I cried."
Here is the striking cover, designed by Linda Huang: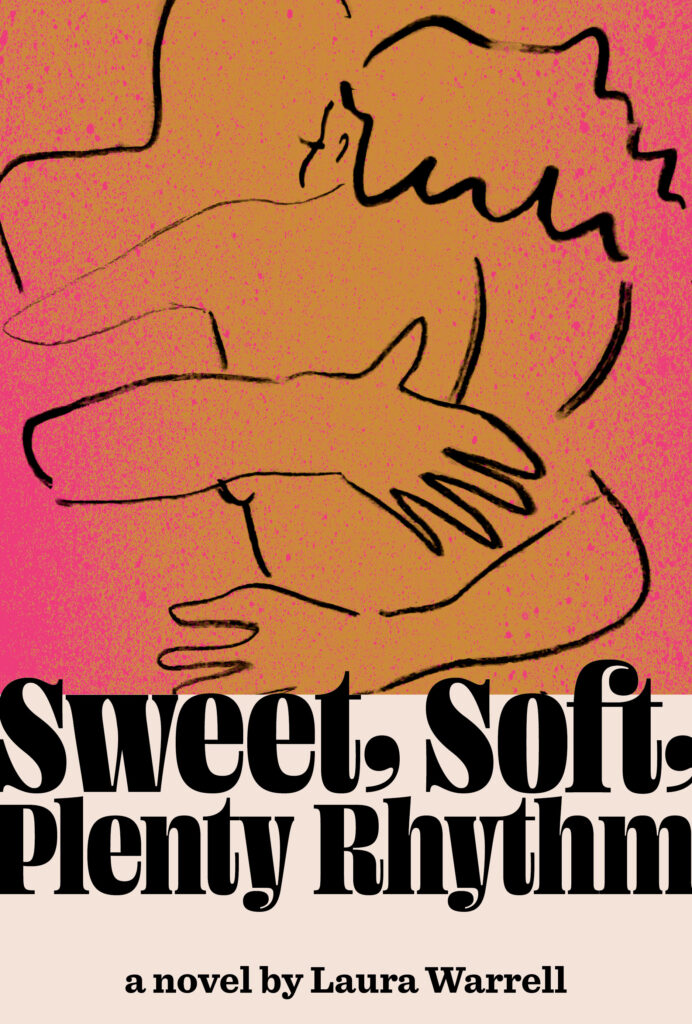 "I was grateful to have received an initial collection of cover inspiration and thoughts from Laura, which mostly comprised the female face or figure in various degrees of abstraction," Huang told Lit Hub. "As I read the manuscript with these images in mind, I felt strongly that the cover needed to ooze sensuality—but how to execute it in a fresh way? The spirited, figurative drawings of Alexandria Coe came to mind. Her work deals with womanhood and vulnerability—themes found in Laura's book. The spontaneous mark-making represents the messy tangle of relationships, and the sensual typeface with its oversized commas evoke jazz music, referencing the male protagonist's profession."
Warrell agrees. "Really, I had no idea what would work until Deb sent me a sketch of this cover," Warrell told Lit Hub. "'We're done,' I thought. 'This is it.' I love the movement in Alexandria Coe's lines and the unexpected blending of hot pink and deep orange. The font, which I don't think I've seen before, gives the cover a retro vibe that also feels timeless. There's rhythm and intensity here, much like what I hope readers will feel in the novel."
Sweet, Soft, Plenty Rhythm by Laura Warrell will be published by Pantheon on September 20, 2022. You can preorder it now.