Lit Hub is pleased to reveal the cover for Kim Fu's debut short story collection, Lesser Known Monsters of the 21st Century, which will be published by Tin House next year.
The publisher describes the book like this:
In the twelve unforgettable tales of Lesser Known Monsters of the 21st Century, the strange is made familiar and the familiar strange, such that a girl growing wings on her legs feels like an ordinary rite of passage, while a bug-infested house becomes an impossible, Kafkaesque nightmare. Each story builds a new world all its own: a group of children steal a haunted doll; a runaway bride encounters a sea monster; a vendor sells toy boxes that seemingly control the passage of time; an insomniac is seduced by the Sandman. These visions of modern life wrestle with themes of death and technological consequence, guilt and sexuality, and unmask the contradictions that exist within all of us.
Mesmerizing, electric, and wholly original, Kim Fu's Lesser Known Monsters of the 21st Century blurs the boundaries of the real and fantastic, offering intricate and surprising insights into human nature.
Here is the gorgeous cover, which was designed by Jaya Miceli, with art direction by Tin House's Diane Chonette: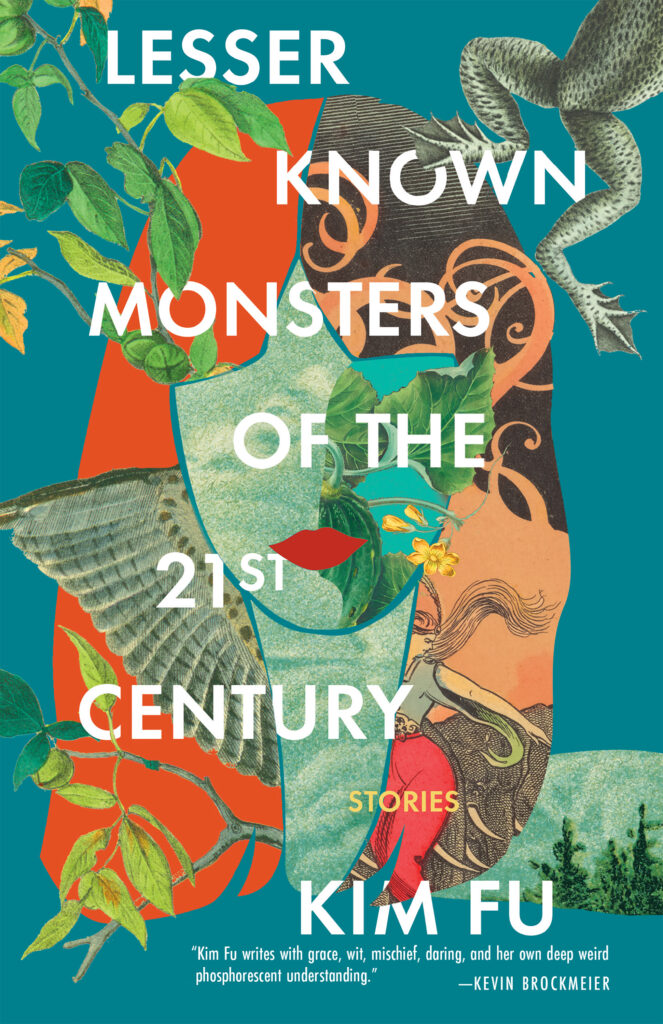 "The first time I saw this cover, my immediate response was 'perfect, print it, no notes,'" Kim Fu told Lit Hub.
I love how interesting and balanced it is, how lush the colors are, how the long title zigzags and the other elements weave through letters. The frog and the wing are pulled the most literally from the stories, but every piece of the collage feels thematically dead-on, and the way they form and deform the silhouette evokes just the right touch of body horror. I could imagine it calling to me from a bookstore shelf just as well as from a tiny thumbnail on my phone screen. My wildest hope for the book is that it feels like it's bursting with stories, like the covers can hardly contain it, which is exactly what Jaya Miceli's design suggested.
Lesser Known Monsters of the 21st Century will be published by Tin House on February 1, 2022.