Karen Joy Fowler has a knack for writing large dysfunctional families (you might remember her novel We Are All Completely Beside Ourselves, which won the PEN/Faulkner Award and was shortlisted for the Man Booker Prize). Her new novel, Booth, is about the Booth family, three members of which remain quite famous (or infamous)—Junius Booth, the father, a preeminent Shakespearean actor; Edwin Booth, the son who most successfully followed his father onto the stage; and John Wilkes Booth, the son who, you know, shot Abraham Lincoln. We're excited to exclusively share the book's cover here: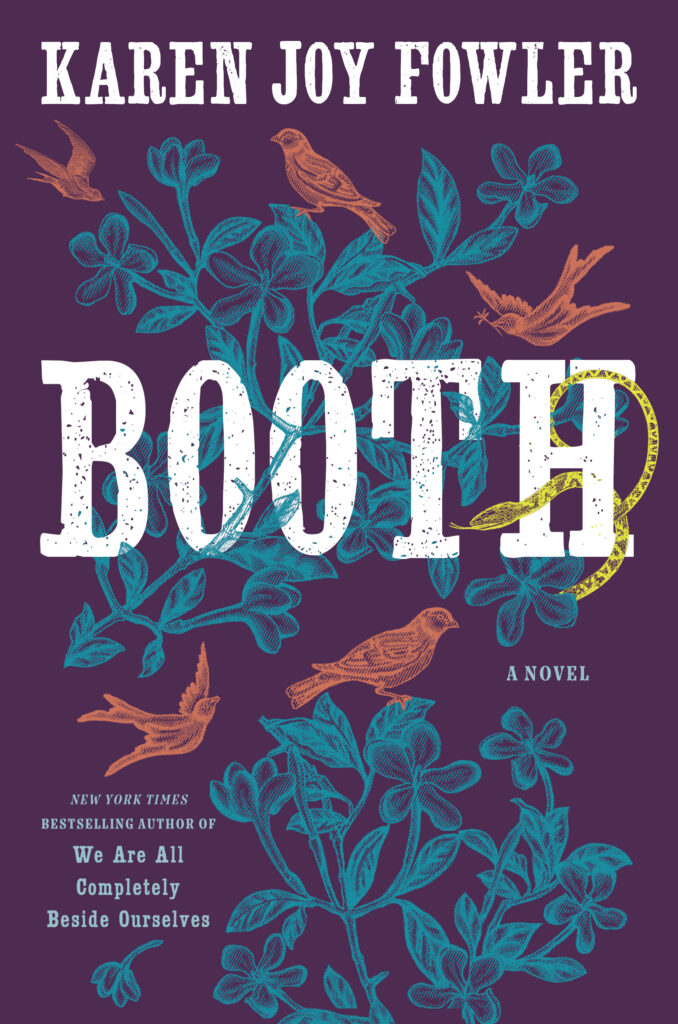 Fowler writes in her "Author's Note,"
I began thinking about this book during one of our horrific spates of mass shootings. Among other things, like other writers before me, I wondered about the families of the shooters—how would such a family deal with their own culpability, all the if-only's? Would it be possible to rejoin the devastated community? What happens to love when the person you love is a monster?" This led her to John Wilkes Booth, and a conundrum. "I did not want to write a book about John Wilkes. This is a man who craved attention and has gotten too much of it; I didn't think he deserved mine. And yet there is no way around the fact that I wouldn't be writing about his family, if he weren't who he was, if he hadn't done what he did. The tension over this issue—how to write the book without centering John Wilkes—is something I grappled with on nearly every page.
And about the cover, she says: "What I love about the cover is how unexpected it is. The book is about family, and it's a big family, so it seems only right that the cover is a bit crowded. It's also a very pretty image, evoking a sort of pastoral calm. Except for the snake. We had some discussions around the issue of how visible the copperhead should be, how quickly it should be noticed. These mirrored in some ways editorial discussions about the text itself. How visible should the menace of John Wilkes be, this adored and frankly favored son?"
Cover designer Tal Goretsy writes, "The book begins in the Booth farm in Maryland—a wild, natural world with notes of magical realism. The author mentioned a cherry tree that was growing outside the door, and comes back to the tree throughout the story. It seemed like a good metaphor for this family, with many brothers and sisters and some ghostly siblings as well. The birds in this engraving represent the five 'good' siblings in the story. The snake is John Wilkes Booth, Lincoln's assassin. Although he has some sympathetic qualities in the book, he does have a blossoming dark side, impending doom hiding in plain sight."
Booth is out from G. P. Putnam's Sons in March 2022.