Lit Hub is pleased to reveal the cover for Iain Reid's new novel, We Spread, which will be published by Scout Press in September.
The I'm Thinking of Ending Things author's latest work is described by the publisher as a "work of philosophical suspense. Penny, an artist, has lived in the same apartment for decades, surrounded by the artifacts and keepsakes of her long life. She is resigned to the mundane rituals of old age, until things start to slip. Before her longtime partner passed away years earlier, provisions were made, unbeknownst to her, for a room in a unique long-term care residence, where Penny finds herself after one too many 'incidents.' Initially, surrounded by peers, conversing, eating, sleeping, looking out at the beautiful woods that surround the house, all is well. She even begins to paint again. But as the days start to blur together, Penny—with a growing sense of unrest and distrust—starts to lose her grip on the passage of time and on her place in the world. Is she succumbing to the subtly destructive effects of aging, or is she an unknowing participant in something more unsettling?"
Here is the striking cover, designed by Chelsea McGuckin: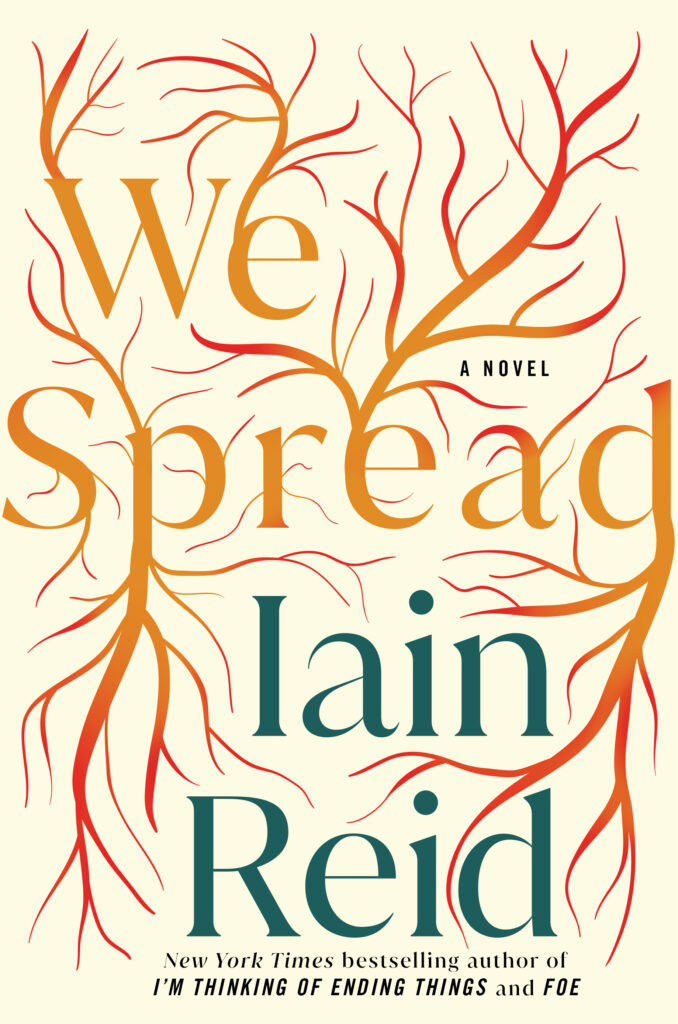 "This book deserved something both beautiful and haunting for its cover, just like Iain's writing," McGuckin told Lit Hub. "I started and finished reading We Spread in one night, and it stayed with me for a long time. It was so incredibly unsettling to experience the main character's dread-filled moments of questioning her own reality. It forced me to reevaluate my perception of the experience of elderly people, including my own grandparents. Our editor emphasized the importance of feeling the words and roots spreading. I wanted someone to pick this up and think, 'Is something nefarious going on, or am I just imagining it?' It needed to toe the line between creepy and elegant, and as the design process went on it became clear that a relatively simple, type-driven cover was the best way to achieve that."
Reid himself was bowled over by the cover: "Whatever hazy possibilities or speculations I had running through my mind were immediately (and willingly) dashed after seeing Chelsea's striking design. There's so much to like and admire about it. It's both specific and still open to interpretation. I don't think there is one correct way to interpret this cover, and I would say that fits the story."
We Spread will be published by Scout Press on September 27, 2022. You can preorder it now.