Literary Hub is pleased to reveal the cover for Elysha Chang's A Quitter's Paradise, the first book on Sarah Jessica Parker's imprint at Zando, forthcoming in June 2023. This debut novel examines the grief of a young woman desperate to detach from the reality of her mother's death and estrangement of her family. The novel examines what it means to be a family, and how, regardless of time and space, families can remain tied to each other, for better or worse.
Some more from the publisher:
Eleanor is doing just fine. Sure, she's hiding things from her husband. True, she quit her PhD program and is now conducting unauthorized research on illegitimately procured mice. And yes, her mother is dead, and Eleanor has yet to return to her house to go through her things. But what else is she supposed to feel, exactly? What shape can grief take when you didn't understand the person you've lost? What do you inherit from a mother who refused to make herself known, even to the people she loved most?
As A Quitter's Paradise follows Eleanor's winding journey to make sense of herself and her grief, her story is interwoven with those of her family members—from her parents' lives in the military villages of Taipei, to their early days as immigrants in New York City, to Eleanor and her sister's childhoods. Somehow, despite deep rifts in time, distance, and perspective, the Lius remain a family. But what does that truly mean? Why is it that what holds a family together can also be what pulls it apart?
Here's the striking cover, illustrated by Dror Cohen: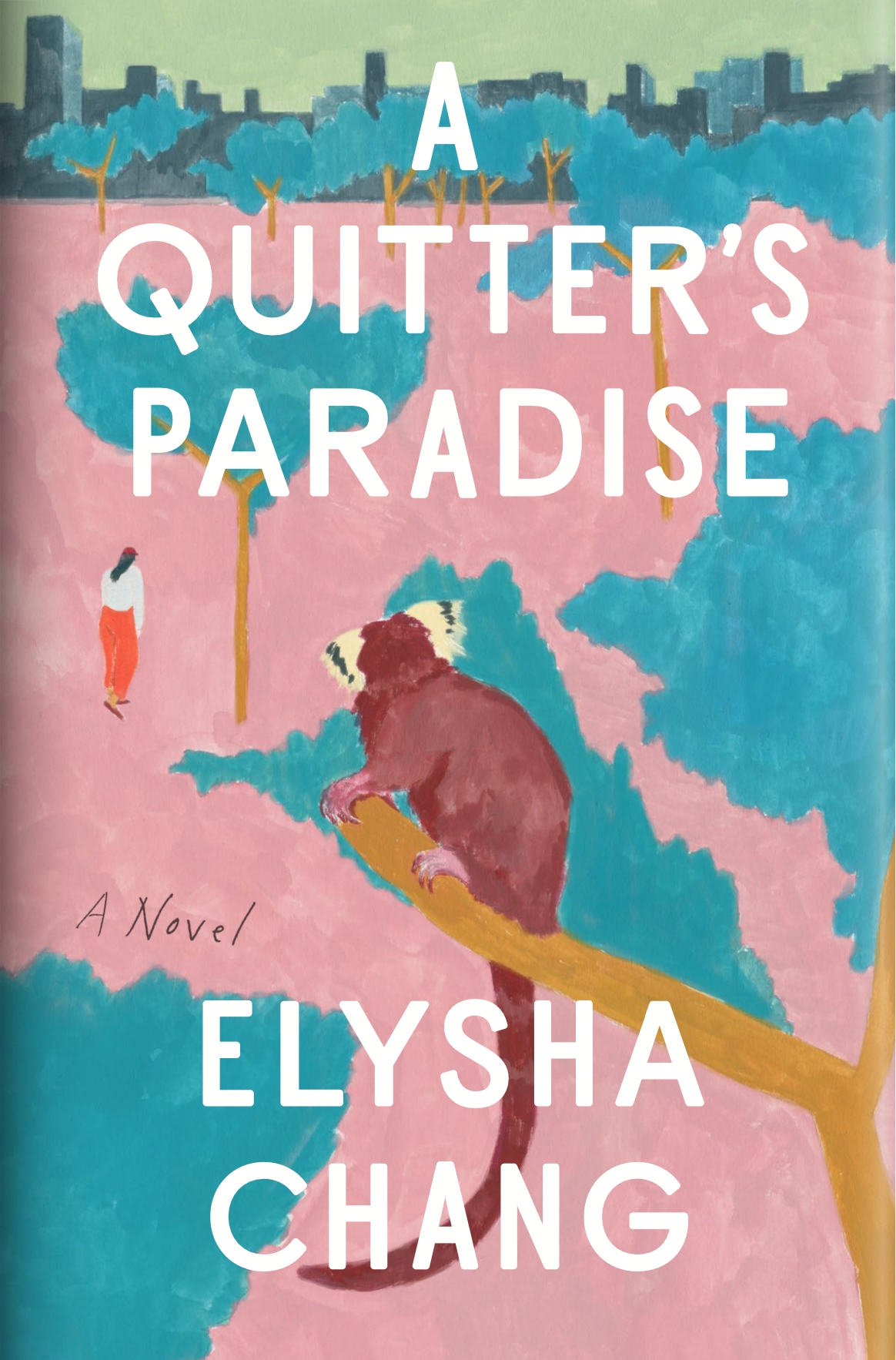 "We focused on the lost marmoset as a leading theme from the story, accentuating the strangeness and untethered feeling of being alone in the city." Cohen, frequent illustrator for the New York Times and The New Yorker, told Lit Hub. "I searched for the right atmosphere—we didn't want a happy marmoset. We were looking for a certain combination of grief, self-search, and otherness, but also some humor. At first, it was just the marmoset, as an avatar for Eleanor, the main character. It was Evan's idea to have Eleanor wander through the park, and make the marmoset into also a viewer, akin to the reader. Now both are on a journey away from home, both have an otherness." 
And author Elysha Chang said:
A Quitter's Paradise is, in many ways, about someone searching for a way to see herself and her life objectively. It's a search that consumes the protagonist, Eleanor, and, I would say, results in a lot of her strange behavior and distorted interpretations of the world. Dror Cohen has so cleverly captured the irony of Eleanor's preoccupation with seeing and thinking 'clearly.' I absolutely love this cover's gesture to all that lies beyond Eleanor's field of vision. How unaware that tiny figure is of what's ahead, behind, and above her. Of course, it is all perfectly visible—just from the marmoset's point of view.
And Sarah Jessica Parker told us, "Dror's stunning and evocative illustration captures Eleanor's feelings of disconnect and seeking, while also speaking to the modern and beguiling prose. So much is evoked in the image of the sweet and nervous marmoset looking upon Eleanor as she tries to make sense of herself, working so hard to see herself with this kind of distance and perspective. It's breathtaking."
A Quitter's Paradise will be published by SJP Lit and Zando on June 6, 2023. You can preorder it here.