Literary Hub is pleased to reveal the cover for Edan Lepucki's Time's Mouth forthcoming from Counterpoint in August 2023. From the  bestselling author of California, comes this "enthralling saga about family secrets that grow more powerful with time, set against the magical, dangerous landscape of California."
Here's some more about Time's Mouth, from the publisher:
Ursa possesses a very special gift. She can travel through memory and revisit her past. After she flees her hometown for the counterculture glory of 1950's California, the intoxicating potential of her unique ability eventually draws a group of women into her orbit and into a ramshackle Victorian mansion in the woods outside Santa Cruz. But Ursa's powers come with a cost. Soon this cultish community of sisterhood takes an ominous turn, prompting her son Ray and his pregnant lover Cherry to flee their home for Los Angeles and reinvent themselves far from Ursa's insidious influence. But escaping their past won't be so easy. A series of mysterious events forces Cherry to abandon their baby, leaving Ray to raise Opal alone.
Now a teenager and still heartbroken over the abandonment of the mother she never knew, Opal must journey into her own past to reveal the generations of secrets that gave rise to the shimmering source of her family's painful legacy.
And here's the vivid cover, designed by Nicole Caputo: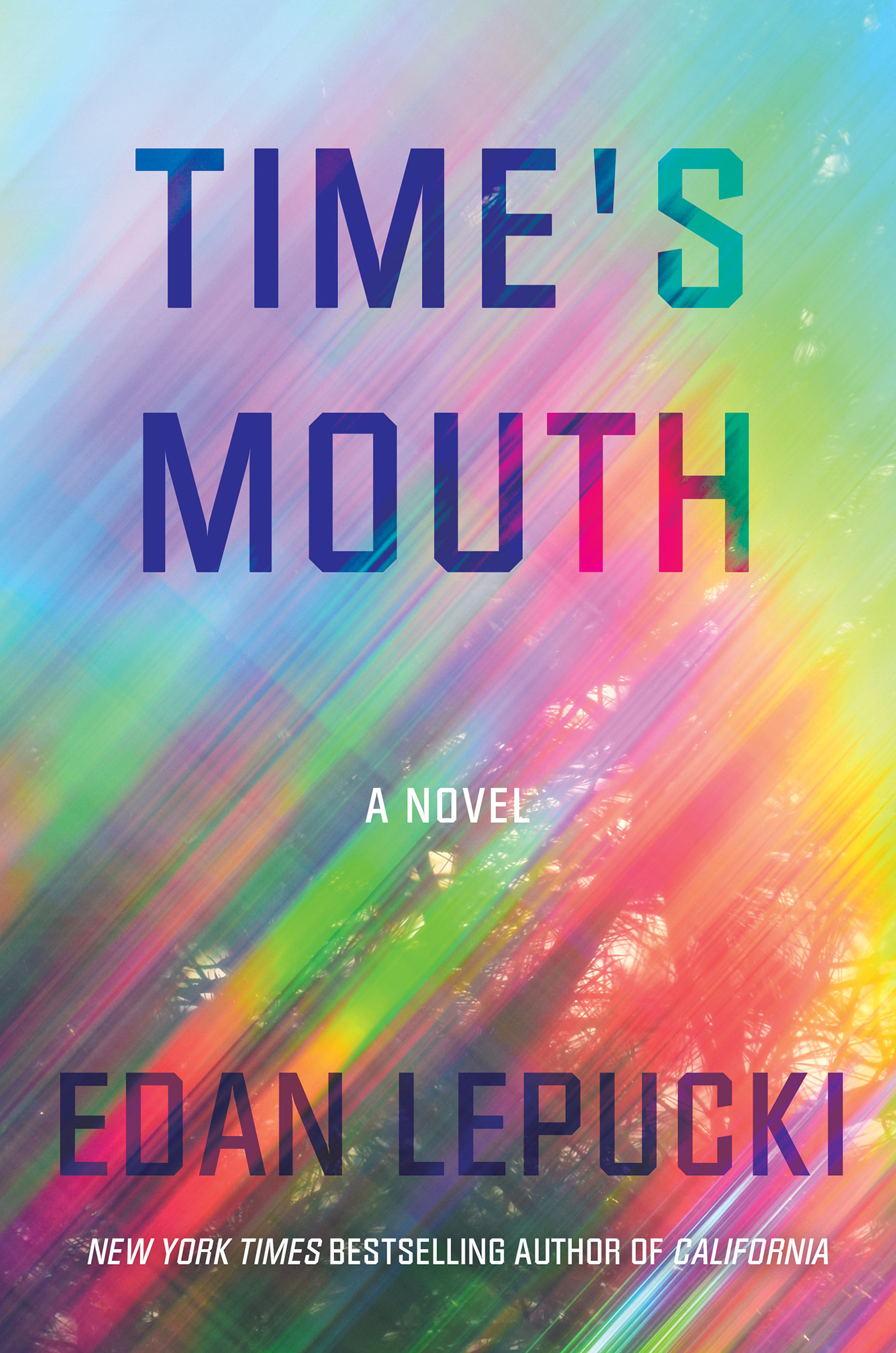 "I love this cover not only because it's beautiful (the rainbow effect! the light! the tree branches in the background!), but also because it so perfectly captures the essence of my novel. In Time's Mouth, certain characters travel back to moments in their own past, to witness and re-experience them. This cover gives me that same feeling of sliding into a plane of mystery, into something that's a little bit special, a little magical." The author, Edan Lepucki, told Literary Hub. "The image also feels just a touch dark—maybe it's the large font, or the whispery bramble of the trees in the background. That feels appropriate, as there are consequences to this gift of time travel. The trees, too, make me think of one particular setting for the book—a hidden house in the forest outside of Santa Cruz, California—and the spooky but seductive danger there. I'm thrilled by this cover."
Nicole Caputo, Creative Director at Counterpoint Press, told Lit Hub about ideation and crafting of this cover:
Key words for this book and the proposed cover were mysterious, compelling, creepy, supernatural and my favorite, dystopian California magical weirdness, and there were some asks for that holographic rainbow element we have all grown to love, but how could we make this new? I was inspired by the repeat mentions of the trees that were longed for (pines, Douglas firs, Redwoods "which could survive fires, go on growing like nothing bad had ever happened to them" and some visual trickery to represent our omniscient narrator who speaks for time, but is not time itself.
Time's Mouth will be published by Counterpoint Press on August 1, 2023.