Literary Hub is pleased to reveal the cover for Erika T. Wurth's literary horror novel White Horse, which will be published by Flatiron Books on November 1. In her big-publishing debut, Wurth, an urban Native writer of Apache/Chickasaw/Cherokee descent, offers a gritty, vibrant, "metal-to-the-end" (Stephen Graham Jones, author of The Only Good Indians) story about an Indigenous woman who must face her past after discovering a bracelet haunted by her mother's spirit.
Here's how Flatiron describes the book:
Heavy metal, ripped jeans, Stephen King novels, and the occasional beer at the White Horse have defined urban Indian Kari James's life so far. But when her cousin Debby finds an old family bracelet that once belonged to Kari's mother, it inadvertently calls up both her mother's ghost and a monstrous entity, and her wilful ignorance about her past is no longer sustainable…
Haunted by visions of her mother and hunted by this mysterious creature, Kari must search for what happened to her mother all those years ago. Her father, permanently disabled from a car crash, can't help her. Her Auntie Squeaker seems to know something but isn't eager to give it all up at once. Debby's anxious to help, but her controlling husband keeps getting in the way. Kari's journey toward a truth long denied by both her family and law enforcement forces her to confront her dysfunctional relationships, thoughts about a friend she lost in childhood, and her desire for the one thing she's always wanted but could never have.
Here is the cover, which was designed by Flatiron Art Director, Keith Hayes: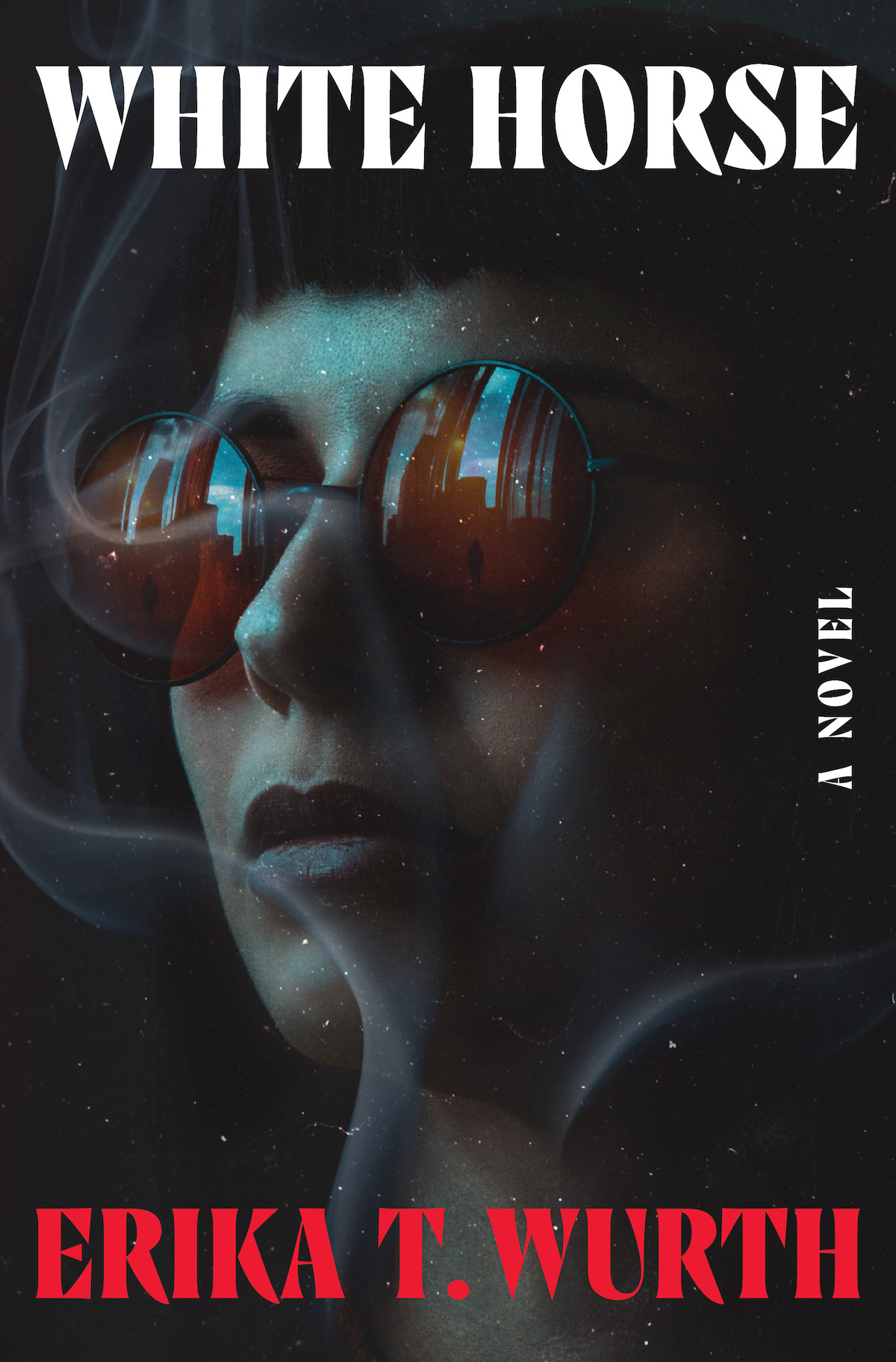 "I'm sitting at The Stanley Hotel's infamous Cascade Bar, where Stephen King most surely sat, inspiring his novel The Shining—and I'm thinking about the cover of my Indigenous literary-horror novel, White Horse," Wurth told Lit Hub. "The cover features an urban, multi-tribal Native; Kari, my heavy-metal, horror-loving protagonist. She also stays at The Stanley, because she has been given a vision; in her dream, the ghost of her mother stands in the hallways of The Stanley waiting for a monster. In her dream, her mother is protecting her the way she couldn't in life. Kari is about to be gifted Geronimo's war club—the thing that will defeat the monster that is preventing her from solving her mother's murder."
Wurth added:
I'm grateful that my editors—Maxine Charles and Zack Wagman—worked with me about making sure that what mattered to me was on the cover, and there were many rounds sent to them, then to me, before we settled on what you see. What mattered to me, was that the cover feature an Indigenous woman who could be Kari, who could be my mother, who could be me. Because let's think, you and I, about how many times we've seen an Indigenous woman featured—sans stereotypical accoutrements—on the cover of a mainstream novel. Mexican Gothic. Black Sun. These are novels—and covers—I adore. But White Horse centers a photo of a real woman—whoever she is—who looks like she could come from a branch of my family.
I also love the mystery the cover implies; the ghostly smoke, the strange figure reflected in her glasses, the ennui and noir-ish-ness—the moodiness of the whole composition. Kari's mean, funny, and sarcastic—but she's also ultimately a tender and vulnerable person who adores her father who suffers from brain damage, and deeply loves her sweet, well-intentioned cousin. And there's something of that in there too.
White Horse goes on sale November 1, but you can pre-order it here.