Literary Hub is pleased to reveal the cover for Christopher Soto's debut poetry collection, Diaries of a Terrorist, which will be published by Copper Canyon Press this spring.
Copper Canyon notes that the collection "demands the abolition of policing and human caging. … These political surrealist poems shift between gut-wrenching vulnerability, laugh-out-loud humor, and unapologetic queer punk raunchiness."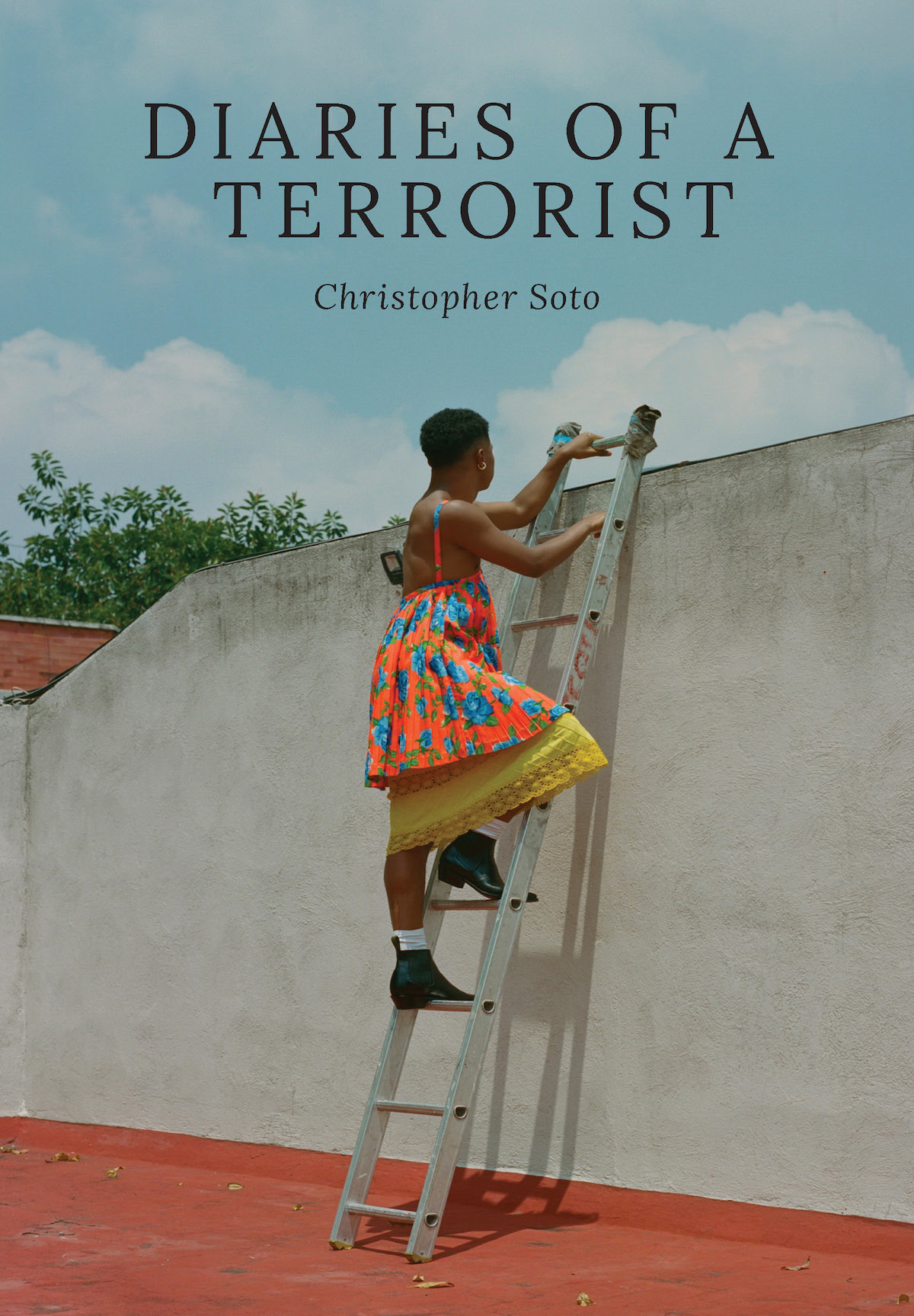 The cover features an image from photographer Fabian Guerrero. Soto reflected on Guerrero's work:
I love this image by Fabian Guerrero because it feels so delicate, in contrast to the roughness of the title. The model appears to be climbing over a wall, or maybe climbing down, or maybe peering over—approaching an obstacle from different vantages. With every verb that I relate to the model, I feel a different emotional connection to the title, "Diaries of a Terrorist." Fabian Guerrero is a queer Mexican American photographer who was living in Los Angeles for a while. As a queer Salvadoran in Los Angeles, it felt important to me to highlight the artwork produced by people living in close enough proximity to my social-emotional experiences. I believe the image was taken in Mexico City. The bright colors of the dress look like a sun, suspended in a muted sky. For me, the model is glowing in this image. Our lives are still glowing, despite the walls we are up against.
I was first introduced to the work of Fabian Guerrero by my friend Alberto Jacinto, another queer latinx who was studying at Columbia while I was at NYU. He wanted to show me a photographer whose art I may like. Then, a year later I moved back home to Los Angeles. I was at the apartment of Joshua Javier Guzmán, a professor in the Gender Studies department at UCLA. He had this book that I was flipping through called "Axis Mundo: Queer Networks in Chicano L.A." and I remember us analyzing the work of Fabian Guerrero together then. The first time that I briefly met Fabian Guerrero was at Human Resources, an art gallery in Los Angeles, where some of his work was showing. Hugo Cervantes, another queer latinx in Los Angeles, who curates at Human Resources had told me about the show. For me, this image was brought to my attention by the community whom I want to hold this book, to feel their lives inside it.
Here's what cover designer Becca Fox had to say about the process:
Working on the cover of Christopher Soto's Diaries of a Terrorist was an exciting challenge. When Christopher suggested using this image, I was immediately drawn to the story of the individual climbing the wall. Where were they in space and time? Were they climbing up or down? What could be inferred about this person's life and culture from the visual story? As a viewer, we can't see their face or what they are seeing—an unanswered question amplified by Christopher's words. The cropping of this image was also crucial. That tiny sliver of the wall on the left-hand side could suggest the feeling of enclosure (or perhaps escape).
Diaries of a Terrorist will be published by Copper Canyon Press on May 3, 2022.