Lit Hub is pleased to reveal the cover for the latest issue of Freeman's, "Animals," which will be published by Grove Press in October.
The issue, which will feature new work from Mieko Kawakami, Martín Espada, Kali Fajardo-Anstine, Arthur Sze, Camonghne Felix, and more, is described by the publisher:
Over a century ago, Rilke went to the Jardin des Plantes in Paris, where he watched a pair of flamingos. A flock of other birds screeched by, and, as he describes in a poem, the great red-pink birds sauntered on, unphased, then "stretched amazed and singly march into the imaginary." This encounter—so strange, so typical of flamingos, with their fabulous posture—is also still typical of how we interact with animals. Even as our actions threaten their very survival, they are still symbolic, captivating and captive, caught in a drama of our framing.
This issue of Freeman's tells the story of that interaction, its costs, its tendernesses, the mythological flex of it. From lovers in a Chiara Barzini story, falling apart as a group of wild boars roams in their Roman neighborhood, to the soppen emergency birth of a cow on a Wales farm, stunningly described by Cynan Jones, no one has the moral high ground here. Nor is this a piece of mourning. There's wonder, humor, rage, and relief, too.
Here is the cover, designed by art director and designer Michael Salu of House of Thought: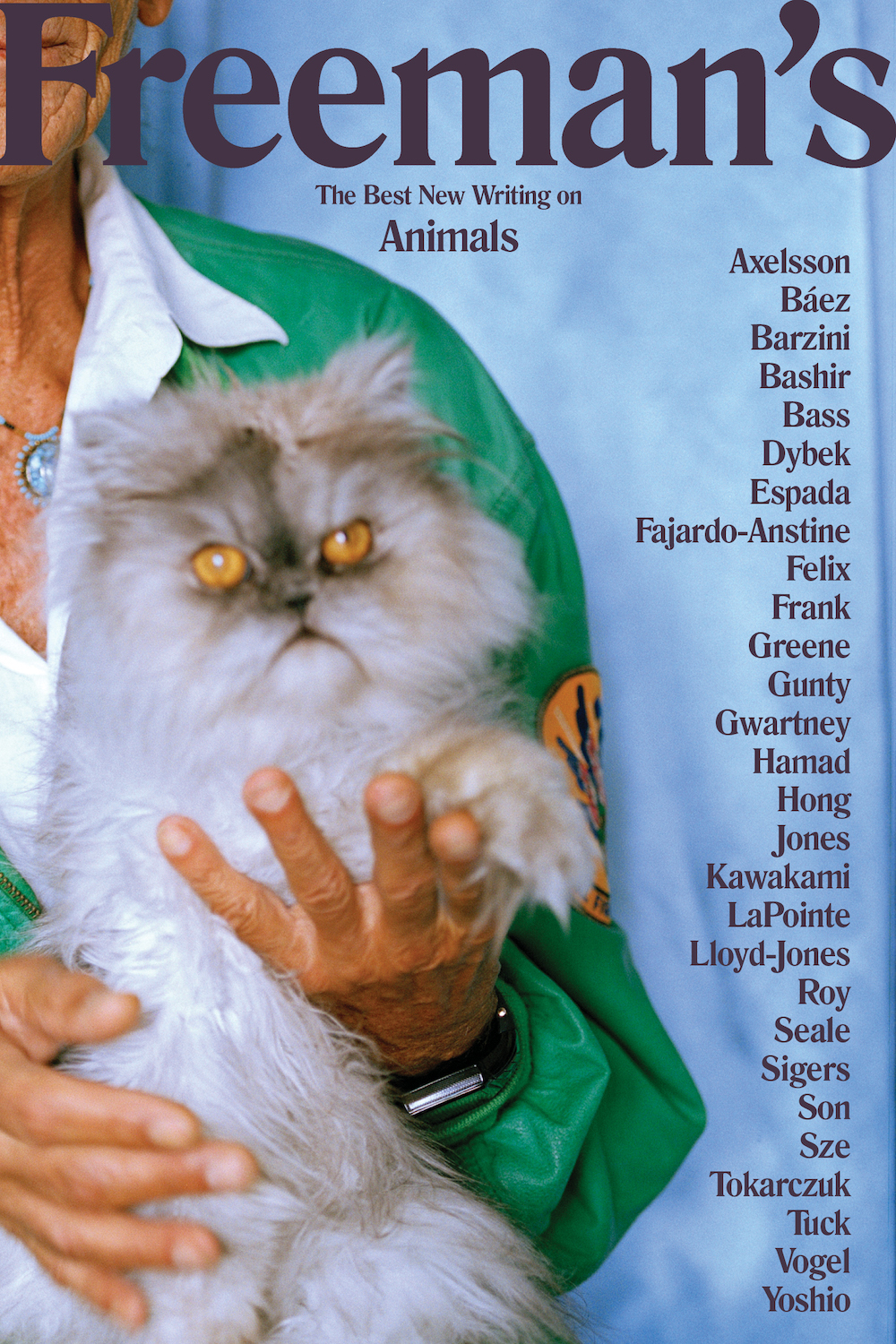 Salu told Lit Hub about the design process:
Since the first edition, the cover approach for the Freeman's series consciously utilizes the accessibly and idiosyncrasies of contemporary photography, as a way of slotting the presentation of the journal into the language of now, and which I think creates an interesting subjective dialogue with the pieces; where each component, text or image aims to speak to whoever encounters the journal rather than [just] sell to them.
Through my sources, I select work from a wide range of photographers, the work goes into offering my take on how to think about the theme each time, sometimes oblique, sometimes sober, sometimes playful. I think the imagery offers more than interpretation, but a response to the them each time; another piece. The image for the Animals issue is an example of this, where the human for once recedes to the background, but at the helm and the ancient creature, bred and rebred to our requirements, is hopefully more than ornament. It's also just a cute photograph in its pulpy hyperreality.