Everybody's Here for Mr. B.B. King in Indianola, Mississippi
Ed Vulliamy Feels the Love for the King of the Blues
B.B. King, Indianola, Mississippi, 2013—The fat red sun settled against the horizon, throwing a last honey-sweet light across the humid evening and over a small crowd on the lawn beside a railroad track that cut through the cotton fields beyond. A quarter-moon was rising and a chorus of cicadas serenaded the imminent twilight, now joined by the sound of the band; the drummer caught the backbeat and the compere announced: "How about an Indianola hometown welcome for the one and only King of the Blues—B.B. King!"
And on he came, to applause from people who knew him well and claim him as their own—last of the blues masters, a few weeks short of his 87th birthday. "Nice evening, isn't it?" he said, and introduced his nephew on sax. Some of his 15 children (all by different mothers) and innumerable grandchildren were in the audience, though one of his daughters had died recently of diabetes, giving added poignancy to the occasion.
"I guess you can look at me," he said, "and tell I'm the old man. My name is B.B. King." Backed now by a lilac glow in the western sky—and looking east towards the village of Itta Bena where he was born—B.B. sat down and started the show. He reached a song called "Key to the Highway," and there it is: that one long, trembling note, hanging there in the wafts of barbecue smoke, like only B.B. King could play it. He rolled his eyes, stared out into the crowd—and there's a collective gasp, a ripple of applause, a mutual bond of affection.
This was a huddle, not a crowd, really. The town had come to hear its famous son: mostly Black people—in families, many with a picnic—plus a few white enthusiasts like me. There were people here like Alfred Knox—one of eleven children with eight of his own (and twenty-one grandchildren)—who left Mississippi for Milwaukee when he was 19 and had now come back with his nephew Gervis to hear B.B.
The usual jocks and suits who wave bottles of Bud and shout in the B.B. King tourist clubs in Memphis and Manhattan were not present for this annual homecoming concert—oddly, but thank God. Nor, indeed, were some of Indianola's good citizens. A girl called Latunya and her friend in the post ofce had earlier explained how "We're real excited B.B.'s coming back. Gee, I'd lo-o-ove to go see him play. But I don't go out Wednesdays, I only go out Fridays." There's no arguing with that logic.
The master who had played to stadia and venues across the world settled on a tatty old chair as if in his own living room, which in a way this was.
This was the 35th homecoming concert, staged in memory of Medgar Evers, civil rights activist and friend of B.B.'s assassinated by the White Citizens' Council, founded in this town as the political wing of the Ku Klux Klan. The maestro's sonority on guitar was inimitably perfect. After another long, clean but poignant note during "The Thrill Is Gone," B.B. King darted a clown stare right into the front rows, as though to say: "How about that!?" But it was his voice on the warm breeze that stopped a heartbeat—that feeling behind and between the words that is the quintessence of the blues.
When B.B. left the stage, the night was just beginning. Not just on the wrong side of those railway tracks—where juke joints and rural slums are hopping to life—but also for B.B. himself. Two hours after bidding farewell in the park, he was due to take the stage again at one of the most historically charged venues in America: Club Ebony, founded in 1907, where as a boy Riley B. King would gaze through a gap in the wall, wide-eyed, at Duke Ellington, Charlie Parker, and the "jitterbugging, snake-hipping," as he'd described it when we talked earlier. The place was owned by B.B.'s first wife's mother.
Sure enough, around 11 pm B.B. King appeared onstage again, in the heat and sweat and exhaled beer of Club Ebony. Much of his audience was one over the eight, but mellow, ready for the experience of a lifetime. The master who had played to stadia and venues across the world settled on a tatty old chair as if in his own living room, which in a way this was.
There's a power problem with the lights and amplification: "Guess I didn't pay my electric bill on time," B.B. chuckled. Then he picked up his guitar "Lucille" and played those notes, impossibly stretched, at moments crashing into some zone Hendrix might have navigated. He greeted his hometown audience and bantered—"Well, sweet ol' Indianola!"—but he was in a world of his own now, less the showman than the musician listening hard to his own alchemy.
Outside in the sauna of night, poor young men gathered to watch those with tickets coming and going; there's a buzz around the big event as well as at it—loose joints for sale, police bundling someone into a van, guards patrolling the visitors' parked cars and lads eyeing up the ones whose owners have not paid the "tip" to have them watched over.
B.B. swung through his all-time greats as the air filled with whiskey fumes and a surprising level of chatter: cusses were exchanged with a redneck family, one of whom was blind drunk, unsteady on his feet, blocking people's views and trying to steal an elderly man's trilby hat. For "Every Day I Have The Blues" B.B.'s voice was an instrument, at once guttural but velvet, Lucille singing back to the singer. He ended with a rendition of "See That My Grave Is Kept Clean"—that blues dirge about the imminence of death that makes the blood run cold: but tonight it had a chunky-rolling feel to it, pierced by the defiance of King's guitar, and the nearest he gets to a field holler this evening. "Not bad for an 86-year-old," he said, signing off the night that has now become early morning in cotton country.
To behold this encounter between music and race—and this feast of music beyond race—was something I had promised myself since my teens, when my father had been working with an architectural firm based in Chicago and befriended a colleague, Jack Turley, as underwhelmed with corporate life as Dad was. Jack was a frequent guest in London during the late 1960s, and I would pump him for information on the insurgencies of '68—and blues music.
Then in 1969, Graham Nash wrote a song that went: "Won't you please come to Chicago . . ." I resolved to save up and by 1971 had the requisite £67 for the fare, plus $35 to spend on blues records. It was my first and formative solo adventure abroad, turning 17 in a sleeping-bag on the floor of a (deconsecrated) church at the junction of Ashland and Lake Streets, where the Quakers were holding a weekend-long "seminar on peace." That was also the night I lost my virginity.
The Turley family gave me rope to explore; Mrs Angela Turley was a Catholic activist in the peace movement, and secured me a job with the (Quaker) American Friends Service Committee's draft-resistance center. I also got to work with Joan Baez's husband David Harris, recently released from jail, in the anti-war campaign. But there was this other, principal, quest in Chicago: the blues.
I spent whole days walking for miles around the city center and the Black South Side, where some had urged caution. Having grown up in Notting Hill I felt nonchalant enough to wander the ghetto, and there was this imperative: seeking out records that I could only find here, by Son House, Bukka White, Elmore James, Otis Spann—and of course the three Kings, Albert, Freddie and the king of Kings, B.B.
B.B. King was last of his generation to call himself the great-grandson of slaves, then make the big time, who started life in a cotton field.
I toured the South Side record shops, with few people blinking an eye at the sight of a white boy with long hair, but was warned twice by people along South State Street that I was not really supposed to feel safe. One was friendly advice from a woman who urged me to "get yo' white ass in a green bus outta Black town."
Another encounter could have gone wrong, after four older boys stopped me on the street to ask if I was "carrying any bread." For reasons that escape me, I steered the discourse round to telling them that I had seen the late Jimi Hendrix just before he died, which caused a consternation of curiosity. One of the lads even called over to another across the street, urging him to "meet this Limey white kid who done seen THE JIMI HENDRIX!" I gave them some, but not all, of my money and walked safely north to the city center Loop.
From that summer on, I assembled the best collection of blues on vinyl of anyone I knew, apart from my best friend from school, the aforementioned Paul Gilroy, who played—and plays—a mean blues guitar. I came to understand why the blues sound the way they do: about the "blue scale"—there's an ordinary major scale with the third and seventh approximately attened (the "blue notes"—possibly an adaptation of European scales to African ones), used for melody, while the major European scale is used for harmony. There's conict between the two, like a subliminal "science," in the way we hear the blues.
Over decades, I heard bluesmen play concerts I'll remember all my life: Otis Rush at Tramps in New York, Albert King at the New York Palladium in 1981, Muddy Waters at the Checkerboard Lounge in Chicago during the same year. Mighty Joe Young in Milwaukee in '86; Buddy Guy in 1996 in London, bringing Clapton out to jam—then in San Diego 20 years later aged 80, and Paris the following year. Taj Mahal: in London 1971, then Paris 2016.
Cross-eyed albino Johnny Winter was my favorite "white bluesman" (he's also B.B. King's); I heard him play his first-ever UK gigs in 1970 in Bath and a year later at London's Albert Hall—and his last: at Frome in 2012 and Shepherds Bush in 2013.
But there was one towering figure I had always, somehow, missed—more important than any: B.B. King. The last of his generation to call himself the great-grandson of slaves, then make the big time, who started life in a cotton field. The man of peace who fought against the race war, and won his own battle to the point of having a day of the year named after him—September 1st is B.B. King Day—in the former slave state, Mississippi, in which he and the blues were born.
__________________________________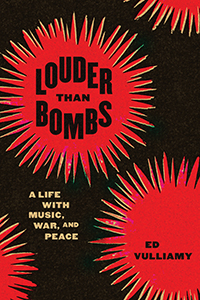 From Louder Than Bombs: A Life with Music, War, and Peace. Used with the permission of the publisher, University of Chicago Press. Copyright © 2020 by Ed Vulliamy.
---