If you're a Millennial like me who can't resist trashy teen dramas as a coping mechanism, you're gleefully hate-watching the Gossip Girl reboot on HBO Max. I'm sorry to say that thus far, the new show hasn't captured the same unapologetically flamboyant, over-the-top, je ne sais quoi of the original. Sure, there's FASHION! And insider pop culture references (for instance: I did LOL when Audrey told Julien that Jameela Jamil was defending her online; the cameo by playwright Jeremy O. Harris; the mention of influencer and YouTuber turned college admissions scandal poster child Olivia Jade), but GG 2.0 is lacking the strong characterization, scene-setting soundtrack selection, and overall fun of its predecessor. Don't get me wrong, there are parts of the reboot that work well. We may not have a main duo as iconic as frenemies Blair Waldorf and Serena van der Woodsen, but I'm intrigued by the ever-evolving relationship between maternal half-sisters Julien Calloway (Jordan Alexander) and Zoya Lott (Whitney Peak). Will they become close confidantes like Elizabeth and Jane Bennet? Or will they develop a rivalry as intense and deadly as Queen Elizabeth and Mary, Queen of Scots?
Of course, GG 2.0 has some nods to the original, namely the character of Audrey Hope (Emily Alyn Lind). It's obvious that Audrey is modeled after Blair, from her perfectionism, her fashion designer mother, her flailing relationship with her boyfriend Aki Menzies (Evan Mock) and dalliance with bad boy Max Wolfe (Thomas Doherty), and her namesake, which is a reference to Audrey Hepburn, Blair's Old Hollywood idol.
Audrey is also a bookworm and is often seen reading or carrying a book. And in keeping with her overachiever image and Blair's high-brow preferences, Audrey's tastes are noticeably literary rather than mass market trendy.
Here are the titles (so far) that Audrey has been spotted reading. So, grab a few (or all) and claim your spot on the steps of the Met!
*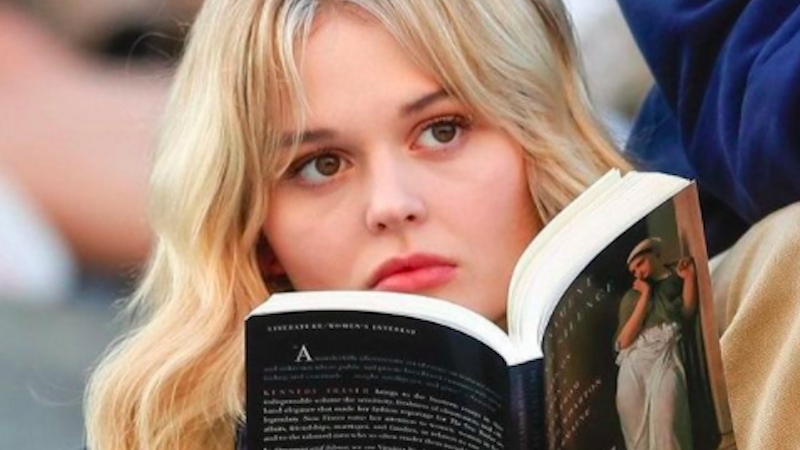 Kennedy Fraser, Ornament and Silence: Essays on Women's Lives from Edith Wharton to Germaine Greer
Fraser's book contains 14 essays centered on "women in love affairs, friendships, marriages, and families; in relation to one another and to the talented men who so often rendered them invisible." Is this a hint as to what's to come in Audrey's developing storyline?
Carmen Maria Machado, Her Body and Other Parties
This 2017 National Book Award finalist is a short story collection that blends psychological realism and science fiction, comedy and horror, fantasy and fabulism. Perhaps Audrey can relate, in a way, to Machado's examination of desire, bodily autonomy, and the demands of womanhood.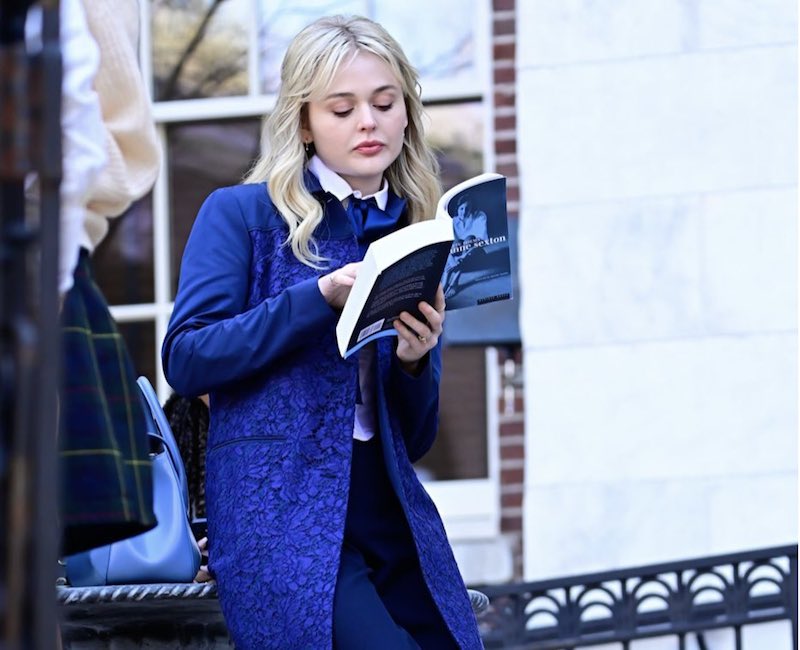 Anne Sexton, The Complete Poems
This collection features Sexton's ten volumes of verse, including the Pulitzer Prize-winner "Live or Die," as well as seven poems from her last years. I thought Audrey would be more of a Plath fan, but Sexton is on-brand, too.
Eve Babitz, Black Swans
Babitz's collection of nine autobiographical, linked short stories captures the decadent highs and subterranean lows of the late 1970s and 80s. Audrey definitely would be interested in pulling back the curtain of the glamourous Hollywood life.
Elena Ferrante, The Days of Abandonment
Ferrante's novel chronicles the life of an Italian woman after her husband suddenly decides to end their 15-year marriage. Hmm . . . I'm starting to sense a pattern with Audrey's reading habits. Jilted lovers, affairs, and cheating scandals seem to be of great interest to this Upper East Sider.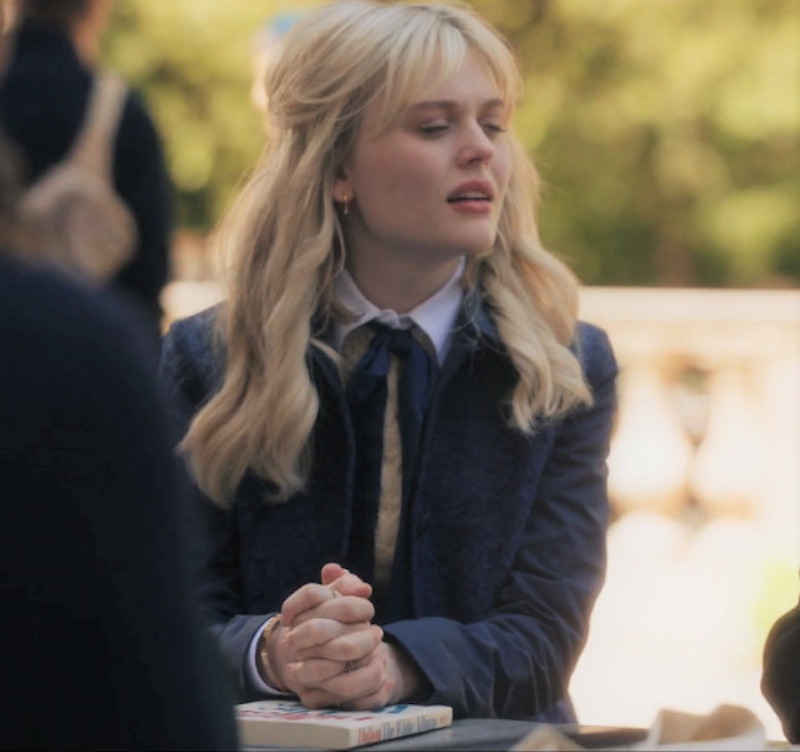 Joan Didion, The White Album
Didion's classic work examines key events and figures of the 1960s, including Charles Manson and the Black Panthers. I can't see Audrey wanting to dive into Manson's horrific legacy, but I think she'd appreciate Didion's mastery of language.