Eudora Welty: How My Parents Built a Childhood of Books
"I live in gratitude."
I learned from the age of two or three that any room in our house, at any time of day, was there to read in, or to be read to. My mother read to me. She'd read to me in the big bedroom in the mornings, when we were in her rocker together, which ticked in rhythm as we rocked, as though we had a cricket accompanying the story. She'd read to me in the diningroom on winter afternoons in front of the coal fire, with our cuckoo clock ending the story with "Cuckoo," and at night when I'd got in my own bed. I must have given her no peace. Sometimes she read to me in the kitchen while she sat churning, and the churning sobbed along with any story. It was my ambition to have her read to me while I churned; once she granted my wish, but she read off my story before I brought her butter. She was an expressive reader. When she was reading "Puss in Boots," for instance, it was impossible not to know that she distrusted all cats.
It had been startling and disappointing to me to find out that story books had been written by people, that books were not natural wonders, coming up of themselves like grass. Yet regardless of where they came from, I cannot remember a time when I was not in love with them—with the books themselves, cover and binding and the paper they were printed on, with their smell and their weight and with their possession in my arms, captured and carried off to myself. Still illiterate, I was ready for them, committed to all the reading I could give them.
Neither of my parents had come from homes that could afford to buy many books, but though it must have been something of a strain on his salary, as the youngest officer in a young insurance company, my father was all the while carefully selecting and ordering away for what he and Mother thought we children should grow up with. They bought first for the future.
Besides the bookcase in the living room, which was always called "the library," there were the encyclopedia tables and dictionary stand under windows in our dining room. Here to help us grow up arguing around the dining room table were the Unabridged Webster, the Columbia Encyclopedia, Compton's Pictured Encyclopedia, the Lincoln Library of Information, and later the Book of Knowledge. And the year we moved into our new house, there was room to celebrate it with the new 1925 edition of the Britannica, which my father, his face always deliberately turned toward the future, was of course disposed to think better than any previous edition.
In "the library," inside the mission-style bookcase with its three diamond-latticed glass doors, with my father's Morris chair and the glass-shaded lamp on its table beside it, were books I could soon begin on—and I did, reading them all alike and as they came, straight down their rows, top shelf to bottom. There was the set of Stoddard's Lectures, in all its late nineteenth-century vocabulary and vignettes of peasant life and quaint beliefs and customs, with matching halftone illustrations: Vesuvius erupting, Venice by moonlight, gypsies glimpsed by their campfires. I didn't know then the clue they were to my father's longing to see the rest of the world. I read straight through his other love-from-afar: the Victrola Book of the Opera, with opera after opera in synopsis, with portraits in costume of Melba, Caruso, Galli-Curci, and Geraldine Farrar, some of whose voices we could listen to on our Red Seal records.
I live in gratitude to my parents for initiating me—and as early as I begged for it, without keeping me waiting—into knowledge of the word.
My mother read secondarily for information; she sank as a hedonist into novels. She read Dickens in the spirit in which she would have eloped with him. The novels of her girlhood that had stayed on in her imagination, besides those of Dickens and Scott and Robert Louis Stevenson, were Jane Eyre, Trilby, The Woman in White, Green Mansions, King Solomon's Mines. Marie Corelli's name would crop up but I understood she had gone out of favor with my mother, who had only kept Ardath out of loyalty. In time she absorbed herself in Galsworthy, Edith Wharton, above all in Thomas Mann of the Joseph volumes.
St. Elmo was not in our house; I saw it often in other houses. This wildly popular Southern novel is where all the Edna Earles in our population started coming from. They're all named for the heroine, who succeeded in bringing a dissolute, sinning roué and atheist of a lover (St. Elmo) to his knees. My mother was able to forgo it. But she remembered the classic advice given to rose growers on how to water their bushes long enough: "Take a chair and St. Elmo."
To both my parents I owe my early acquaintance with a beloved Mark Twain. There was a full set of Mark Twain and a short set of Ring Lardner in our bookcase, and those were the volumes that in time united us all, parents and children.
Reading everything that stood before me was how I came upon a worn old book without a back that had belonged to my father as a child. It was called Sanford and Merton. Is there anyone left who recognizes it, I wonder? It is the famous moral tale written by Thomas Day in the 1780s, but of him no mention is made on the title page of this book; here it is Sanford and Merton in Words of One Syllable by Mary Godolphin. Here are the rich boy and the poor boy and Mr. Barlow, their teacher and interlocutor, in long discourses alternating with dramatic scenes—danger and rescue allotted to the rich and the poor respectively. It may have only words of one syllable, but one of them is "quoth." It ends with not one but two morals, both engraved on rings: "Do what you ought, come what may," and "If we would be great, we must first learn to be good."
This book was lacking its front cover, the back held on by strips of pasted paper, now turned golden, in several layers, and the pages stained, flecked, and tattered around the edges; its garish illustrations had come unattached but were preserved, laid in. I had the feeling even in my heedless childhood that this was the only book my father as a little boy had had of his own. He had held onto it, and might have gone to sleep on its coverless face: he had lost his mother when he was seven. My father had never made any mention to his own children of the book, but he had brought it along with him from Ohio to our house and shelved it in our bookcase.
My mother had brought from West Virginia that set of Dickens; those books looked sad, too—they had been through fire and water before I was born, she told me, and there they were, lined up—as I later realized, waiting for me.
I believe the alphabet is no longer considered an essential piece of equipment for traveling through life. In my day it was the keystone to knowledge.
I was presented, from as early as I can remember, with books of my own, which appeared on my birthday and Christmas morning. Indeed, my parents could not give me books enough. They must have sacrificed to give me on my sixth or seventh birthday—it was after I became a reader for myself—the ten-volume set of Our Wonder World. These were beautifully made, heavy books I would lie down with on the floor in front of the dining room hearth, and more often than the rest volume 5, Every Child's Story Book, was under my eyes. There were the fairy tales—Grimm, Andersen, the English, the French, "Ali Baba and the Forty Thieves"; and there was Aesop and Reynard the Fox; there were the myths and legends, Robin Hood, King Arthur, and St. George and the Dragon, even the history of Joan of Arc; a whack of Pilgrim's Progress and a long piece of Gulliver. They all carried their classic illustrations. I located myself in these pages and could go straight to the stories and pictures I loved; very often "The Yellow Dwarf " was first choice, with Walter Crane's Yellow Dwarf in full color making his terrifying appearance flanked by turkeys. Now that volume is as worn and backless and hanging apart as my father's poor Sanford and Merton. The precious page with Edward Lear's "Jumblies" on it has been in danger of slipping out for all these years. One measure of my love for Our Wonder World was that for a long time I wondered if I would go through fire and water for it as my mother had done for Charles Dickens; and the only comfort was to think I could ask my mother to do it for me.
I believe I'm the only child I know of who grew up with this treasure in the house. I used to ask others, "Did you have Our Wonder World?" I'd have to tell them The Book of Knowledge could not hold a candle to it.
I live in gratitude to my parents for initiating me—and as early as I begged for it, without keeping me waiting—into knowledge of the word, into reading and spelling, by way of the alphabet. They taught it to me at home in time for me to begin to read before starting to school. I believe the alphabet is no longer considered an essential piece of equipment for traveling through life. In my day it was the keystone to knowledge. You learned the alphabet as you learned to count to ten, as you learned "Now I lay me" and the Lord's Prayer and your father's and mother's name and address and telephone number, all in case you were lost.
My love for the alphabet, which endures, grew out of reciting it but, before that, out of seeing the letters on the page. In my own story books, before I could read them for myself, I fell in love with various winding, enchanted-looking initials drawn by Walter Crane at the heads of fairy tales. In "Once upon a time," an "O" had a rabbit running it as a treadmill, his feet upon flowers. When the day came, years later, for me to see the Book of Kells, all the wizardry of letter, initial, and word swept over me a thousand times over, and the illumination, the gold, seemed a part of the word's beauty and holiness that had been there from the start.
__________________________________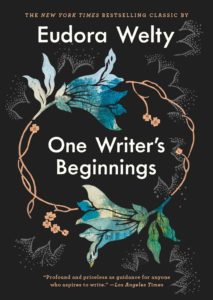 Excerpted from One Writer's Beginnings by Eudora Welty. Copyright © 1983, 1984 by Eudora Welty. Copyright renewed 2020 by Eudora Welty LLC. Introduction copyright © 2020 by Natasha Trethewey. Reprinted with permission of Scribner, a Division of Simon & Schuster, Inc.
---