Esmé Weijun Wang Finds Her Way Back to a Beloved Childhood Dish
How Illness Took Me Away from the Foods of My Youth
Something changes on the plane ride from San Francisco to Taipei. Inside the plane you are already molting into something else; the aluminum tube that holds you is an in-between space. The flight attendants who ask what kind of breakfast you want inquire by asking, "East or West? East or West?" They do not ask what kind of food you want. It is not a matter of congee or a gelatinous omelet. They want to know who you are and who you want to be. I always say "East," even though I belong to the West.
Food goes into the gullet, is digested, becomes blood.
*
The idea of "gluten" is foreign to my Taiwanese relatives. Even the doctors among them don't recognize what it means to be gluten allergic, gluten sensitive, or gluten intolerant—which is what I became three years ago, when my immune system began to attack my body willy-nilly and with great force. I was infected with late-stage Lyme disease; in response to the proliferating bacteria, my body took on a host of symptoms: moderate-to-severe bodily weakness, chronic fatigue, frequent fevers, joint and muscular pain, Raynaud's syndrome, peripheral neuropathy, cognitive dysfunction, and more, many of which were impacted by systemic inflammation. Any bite of food containing gluten, or even contaminated by gluten, now caused severe, full-body pain.
In Taiwan, spilling from my mother's mouth to restaurateurs and street-stall owners while I stand by: the attempt to explain what I can and cannot eat so that they might be able to point to which of their dishes I can eat, or to adjust their dishes to be gluten free. Things with wheat . . . Yes, bread. Also things with soy sauce. And fish balls. Noodles. Rice noodles are okay . . .
Her explanation hacks away at the foods formed from the hands of my grandmother, and from her hands, and from the hands of Taiwanese people at street stalls. The first time I returned to Taiwan after getting sick, I subsisted on protein bars and hard-boiled eggs for weeks. My mouth watered at the thought of oyster noodle soup brought home in metal pails. I once said that I'd eat Shanghai soup dumplings as my last meal—because I loved them so and because they tasted like joy. I was known in my family as the one most passionate about xiao long bao; we ordered them in restaurants as my own private dish. Five soup dumplings would come to the table in a bamboo basket; I tucked them one at a time into a deep soup spoon, bit a piece of the thin skin to let out the hot soup inside, and felt the steam rise against my face as I ate the rest.
I was born in America, but I was raised with my mother's Taiwanese cooking. Pork and eggs stewed in soy sauce. Fish from the Chinese supermarket, steamed with ginger and green onions. Pork chops with chopped mustard greens. I can still eat these things, but not from Taiwan, cooks who serve food to Taiwanese first- and second-generation immigrants in Cupertino, or hip, Taiwanese Brooklyn eateries. Only my mother, who taught me to love these foods in the first place, knows which ingredients to use and which to lovingly replace. If I want to experience these gustatory experiences, they must once again occur in the home.
*
Two years after my last trip to Taiwan, my brother and sister-in-law had a daughter: my first chance to be an aunt. For my niece's 100-day celebration, a Hong Kong tradition celebrated by my sister-in-law's family, I ate almost everything but that which seemed obviously gluten filled. I avoided noodles, but devoured foods that likely had soy sauce—which does contain wheat—in them: chicken with crisp skin, gelatinous crab on greens. I wanted it all so badly that I descended into recklessness. I assumed that I'd know if I'd eaten something improper within five or ten minutes.
"It's been years since I had anything like this," I said to my husband.
He asked if I was okay. I told him that I'd waited for a reaction and hadn't had one. I ate until I was stuffed full of memories.
But at night in my bed, everything hurt. My stomach ached; my hips were shot through with pain like fire; wandering pain lit up my muscles and made my hands twitch. I lay in bed, trying to find an inch of skin that didn't hurt. Eventually, I took an emergency painkiller.
The next morning, I still hurt. I drank coffee and wrote prayers in my journal while nerves lit up throughout my body, reminding me of my transgressions. For that day and the next, I lay in bed, unable to decide whether I regretted what I'd done—yet the memory of that terrible pain has kept me from attempting similar culinary experiments, as much as I yearn for them.
*
A few months after the 100-day debacle, and knowing how much I missed the food of my childhood, my husband made Taiwanese beef noodle soup with gluten-free noodles and gluten-free soy sauce. I was feeling unwell, and so he prepared the soup until our house smelled of the cramped, raucous noodle joints of my youth while I lay in bed, occasionally coming out to see what he was doing based on The Food of Taiwan: Recipes from the Beautiful Island by Cathy Erway. For the first time, I learned what actually went into the dish that I'd eaten almost all of my life: five-spice and star anise, stew beef, black-bean paste. Once the soup had simmered for a good, long while, I took a sip of the liquid from a wooden spoon and found that it tasted correct—it was not so much about the actual taste-on-tongue, but about the aromatics settling into the nostrils, filling one's head with properly scented steam; it was correct in my heart, filling the emptiness that had formed over the years through degeneration, creating the yawning spaces where my sense of home once lay. Before eating, I took photographs to seal the meal in my memory—this was the day my husband took the time to make me beef noodle soup, and the day I was able to eat beef noodle soup without pain.
We settled in for a reunion, the bowl and I. I gulped it down gladly, drank all the soup, and I smiled at him: happy, home.
__________________________________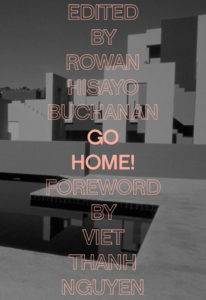 From Go Home!, ed. Rowan Hisayo Buchanan. Used with permission of the Feminist Press. Copyright © 2018 by Esmé Weijun Wang.
---