Welcome to the Book Marks Questionnaire, where we ask authors questions about the books that have shaped them.
This week, we spoke to The Night Circus and The Starless Sea author Erin Morgenstern
*
Book Marks: What book do you think your book is most in conversation with?
Erin Morgenstern: The Ten Thousand Doors of January by Alix E. Harrow though I didn't even read it until after The Starless Sea was finished. Alix and I somehow managed to write harmonious books at the same time completely separately. I suspect we are book witches.
BM: A book that blew your mind?
EM: Einstein's Dreams by Alan Lightman. I read it in college and it broke my imagination open. It had a lasting, vignette-shaped effect on my own writing. (It's also the reason I stopped wearing a watch but now I have multiple devices that insist on constantly displaying the time, alas.)
BM: What book from the past year would you like to give a shout-out to?
EM: I have raved about The Unwilling by Kelly Braffet before and I will rave again and again. It is deep and dark and gorgeous, character-driven fantasy that is heartfelt and heartbreaking and I am patiently waiting for its continuation.

BM: What's one book you wish you had read during your teenage years?

EM: Assassin's Apprentice by Robin Hobb. I didn't read much fiction as a teenager because I was a drama kid reading plays when I had time for non-school reading and I think having a big epic fantasy world to get lost in would have been good for me. (I did have a giant beautiful edition of The Lord of the Rings but it remained unread and used as a doorstop.)
BM: Favorite book to give as a gift?
EM: Anything by Shaun Tan, particularly The Arrival or The Singing Bones or Tales from Outer Suburbia.
BM: Classic book on your To Be Read pile?
EM: Jamaica Inn by Daphne du Maurier. Rebecca is one of my all-time favorites but it's the only du Maurier I've read.

BM: Favorite book no one has heard of?
EM: Salamander by Thomas Wharton. I picked it up purely because of its beautiful cover when it came out circa 2002 and it became one of those books that took up permanent residence in my brain. It includes some of my very favorite imaginary architecture.

BM: Favorite book you were assigned in high school?
EM: I rather liked a lot of things I was assigned in high school (The Catcher in the Rye, The Great Gatsby, both Hamlet and Rosencrantz and Guildenstern Are Dead) but my favorite at the time was probably Watership Down by Richard Adams. I drew charcoal portraits of the rabbits as part of my homework.
BM: Favorite children's book? 
EM: Gyo Fujikawa's Oh, What A Busy Day!. My mom found my old copy recently and I remembered every page as if it was a place I used to visit and not just a book filled with beautiful pictures.

BM: Book you wish would be adapted for a film/tv show?
EM: I thought I didn't have an answer for this question because more often than not I am disappointed by adaptations and then I realized that I would actually be very into a long-form, R-rated, animated adaptation of Angela Carter's The Bloody Chamber.
*
Erin Morgenstern is the author of The Night Circus, a number-one national bestseller that has been sold around the world and translated into thirty-seven languages. She has a degree in theater from Smith College and lives in Massachusetts.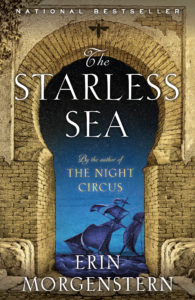 Erin Morgenstern's The Starless Sea is out now in paperback from Anchor
*