Eric Nguyen on How to Capture a Place in Writing
"I needed to know New Orleans' people."
This first appeared in Lit Hub's Craft of Writing newsletter—sign up here.
A semester into my MFA program in Lake Charles, Louisiana, I had a problem.
As I began writing what would become Things We Lost to the Water, I decided to set the story in New Orleans. Living three hours away from New Orleans, it made sense, and I took as many chances as I could to visit the city.
But the notes I took made the story sound more like a travel guide than a novel. Written in my notebook were small details—the name of streets, where stores were located, the type of plants native to the area—that eventually made their way into my first drafts. But as accurate as it was to know that Canal Street runs along the edge of the French Quarter, it didn't pay respect to the city and its people; it didn't make the place feel alive. If I wanted to get this right, I needed to know New Orleans' people and the way they lived their lives.
At first, I began making small talk: first with a Vietnamese waitress in the French Quarter, then some of the Vietnamese who worked at Café Du Monde, then at a small grocery store that sold all the foods of my childhood—haw flakes and egg roll cookies that I would eat alone in a Motel 6 in Slidell—where I spoke in Vietnamese in an American accent. Still, it got the job done. I was on to something!
But if the key to writing about New Orleans was getting to know it at the ground level, then I hit a roadblock when I graduated and moved away. It was then that I returned to books to learn more about the city. Sure, John Kennedy Toole's A Confederacy of Dunces can give you the energy of the French Quarter, but there's more to New Orleans than that famed tourist attraction. New Orleans, Mon Amour by Andrei Codrescu gave me the heartbeat of the city from an immigrant's perspective, while The Yellow House by Sarah Broom remains one of the few books about New Orleans East.
Beyond books about New Orleans, I also read nonfiction by writers venturing into places where they were outsiders: for John McPhee's Coming into the Country, it was Alaska, whereas Mike Tidwell's Bayou Farewell brought him to the Louisiana Gulf Coast. Those two books in particular do well in not only describing a place, but placing readers into it—the way people talk, how they view their homes, and the history and politics of the place.
What the process of writing has taught me is that research matters even when writing fiction. I'm aware that, while coming to a place to learn about it might be the only way to immerse yourself in its culture and people, sometimes you can't do that. But books—the thing that transported me as a child in a suburban library to places around the world—can still take me wherever I want to be. Never underestimate a good book.
*
Read more on the art of writing place:
Isobel Wohl on retaining a sense of place in the 21st century.
Tobias Carroll on the authors that bring a setting to life.
Kerri ní Dochartaigh and Katie Holten on paying attention to the landscape.
Megan Fernandes on the elemental life of a city.
*
5 Books that Bring a Setting to Life
RECOMMENDED BY ERIC NGUYEN
John Kennedy Toole, A Confederacy of Dunces
Andrei Codrescu, New Orleans, Mon Amour
Sarah Broom, The Yellow House
John McPhee, Coming into the Country
Mike Tidwell, Bayou Farewell
__________________________________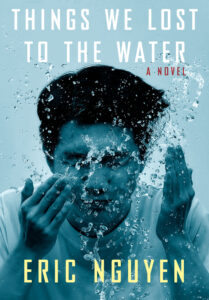 Things We Lost to the Water by Eric Nguyen is available via Knopf.
---