Enough "How-To" Books: It's Time For More "How-Come"
Jessica Elefante on Books for Understanding Contemporary Life
When I was writing my book Raising Hell, Living Well I would repeatedly state to anyone who would listen that this was not a how-to or self-help book. Nothing against self-help books. I've been a reader of them my entire life, having found everything from answers to inspiration to backbone within their pages. They line my shelves like memories of old selves and old lives that were shed because of them. Their bindings are something I look back upon with pleasure, pride and sometimes—pain. The writers who share their talents, wisdom, philosophies, and intellect to make the world a better place to inhabit are my icons, idols, and a handful of times, saviors.
I found my way into writing through how-to books, whether it be the tattered and worn Making a Living Without a Job by Barbara Winter (which I haven't let go of since I bought it at the age of 18), Julia Cameron's The Artist's Way, Susan Shapiro's The Byline Bible, or the essential Bird by Bird by Anne Lamott. I found my way towards an ownable and personal stance on religion and spirituality thanks to Eckhart Tolle's The Power of Now and Sam Harris' Waking Up. I found my way through my career with the help of Cal Newport's Deep Work, Tim Ferriss' 4-Hour Work Week and Dale Carnegie's How to Win Friends and Influence People. I found an escape from unhealthy or unhappy relationships thanks to The Seven Principles for Making Marriage Work by John Gottman or the Art of Letting Go by Damon Zahariades. And I found myself in the books that brought me back to center like Jonathan Fields' How to Live a Good Life, Brené Browns' Daring Greatly, Paulo Coelho's the Alchemist, or Quiet by Susan Cain. Whether it was love, guts, money, purpose, career, or kids I knew there was always someone smarter that I could turn to in the self-help or how-to section of my bookstore.
But if the whole thesis of my book is that by opening readers eyes to the culture of influence, they can hope to escape it, having it be a practical how-to felt contrary to its core. My subtitle literally says: Freedom from Influence in a World Where Everyone Wants Something from You (including me). If I wanted my readers to think, discover, and explore on their own so they could fully embrace their autonomy and freedom, I didn't want to tell them how to do anything, especially how to live.
Instead, I set out to make a book that was a how-come, opening their eyes to the programming of cultural, economic, geographical, historical, biological, educational, psychological, political and sociological influence to which we are all subject. Because in a world that had become much more unwell, unhappy, and unhinged despite all the how-to books, I saw a glaring hole in the market for understanding why we are the way we are. Maybe I could show that it wasn't us that was the problem but rather something below the surface, below the mountains of influence throughout all of time and space culminating in this very moment. A root cause. My hypothesis was that all the productivity hacking, wellness seeking, and minimalism detoxes in the world cannot fix what's ailing us if in fact, it is not us who are actually sick.
At different points in my life, I've sought out further understanding on topics that range from politics to persuasion to motherhood and culture. I have gone deep down the research rabbit hole to understand things like "what the Internet is doing to our brains?" or "why women make less money than men?" or "what's the makeup of resilient people?" or "why do some people have all the luck?". I like to ask big picture questions but also, I like to question why those answers are what they are. Along the way to writing Raising Hell, Living Well there were key books that answered some of these questions, creating the foundation of how I now think and view the world. While some might be shelved as how-to's, they ultimately helped me understand how-come.
*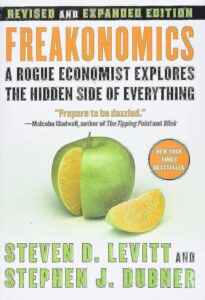 Freakonomics by Steven Levitt & Stephen J. Dubner
I can't begin this list without starting with the very first book that opened my eyes in understanding that there is so much more hidden below the surface than we ever were taught in school or around our kitchen table. Or as the authors of Freakonomics say, that there is a "Hidden Side of Everything". My first introduction to behavioral economics thanks to Steven Levitt and Stephen J. Dubner lit a new curiosity for the world in me, through the lens of their quirky analyses of why things are the way they are. This book implanted a "question everything" mentality in me in my formative years.
The Laws of Human Nature by Robert Greene
If it's not the luck of height, right birth month, family, or zipcode that propels some forward and not others, it's the ability to understand human nature and instincts. As Robert Greene, the author of The Laws of Human Nature says, knowing why people do what they do is the most important tool we can possess. Understanding how-come someone might seek money, status, power, or fame allows you insights on their motivations and you can adapt yourself accordingly. This book beautifully draws on ancient stories and philosophies that are brought to life through the modern lens. My perceptions of others as well as myself changed drastically after reading this book.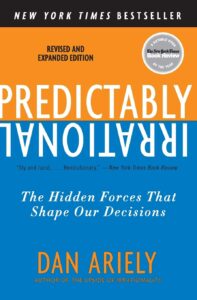 Predictably Irrational by Dan Ariely
And if you're not able to understand why someone is the way they are, the book Predictably Irrational shows us what happens below the surface. Author Dan Ariely picks apart how-come we are not to trust our assumptions, because even experts can be irrational. He reveals our cognitive biases and the tricks at play but delivers his experiments and research in a light-hearted manner, making our past mistakes more palatable. Most importantly, he shows us how-come we repeat mistakes time and time again, arguing that the irrationality is so patterned that it's predictable. By knowing these patterns, it's possible to stop falling into the traps our brain makes.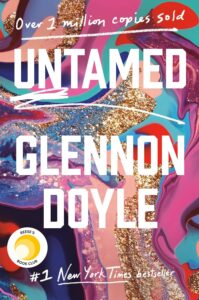 Untamed by Glennon Doyle
Speaking of mistakes I'd be remiss to not mention a book by Glennon Doyle that I still can't shake out of my brain. Her book Untamed shines a spotlight on the repeated mistakes that are so commonplace we accept them as fact. I was already a feminist, but this book showed me how-come I was the way I was despite all my best attempts to not be boxed in. I was a product of the culture that surrounded me, and the cages it produced for me as a woman. I spent much of my twenties and thirties operating as a man would in a system built by men that prioritized men. I was so under the influence of this culture that I didn't even know I was reinforcing the cage I was attempting to escape.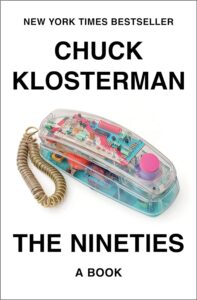 The Nineties by Chuck Klosterman
No book helped me appreciate that we are a product of the influences of our generation's zeitgeist more than Chuck Klosterman's The Nineties. How-come I was so obsessed with digital culture and nostalgia in my later life was because my formative years happened at the nexus of pre-internet/post-internet. The nineties were when I consumed my core intakes of the world around me and boy did it influence who I would become! Looking back on that time period and my place within it, allowed me to see myself with new eyes.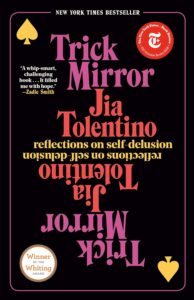 Trick Mirror by Jia Tolentino
My fascination with the current era only grew as I consumed books about the digital revolution, the digital divide, the algorithms, technology innovation and regulation, social media and loneliness, connection and neurology. But it wasn't until I read Jia Tolentino's Trick Mirror that someone was zooming out on the entirety of the modern world to pick at scabs below the surface of our self-delusions that affected everything from how we see ourselves to how we see others. Jia's work wasn't just a reportage on all that ails us, and it wasn't the first how-come that tied together personal narratives with philosophy and criticism of the modern world. But it was the first one I had read from a woman who came from almost the same generation as me, and it gave me a different perspective from those written by older PhDs, from the male dominated world of theory, criticism, and technology.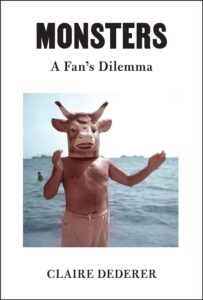 Monsters by Claire Dederer
When I picked up Claire Dederer's Monsters on a whim (I loved the cover) I had to buy it. But it was the first page that had me immediately tucking myself away like ten-year-old Bastian in the Never-Ending Story. Just me, my book, an apple and a blanket while I journeyed through a world I had never known before. The writer's entire book was a question: can we separate the art from the human? In fact, the book continued to pose many questions. Is using the word "we" a cop out in criticism? Why are specific individuals considered geniuses? Who crowned them so? And why? Or how-come? As with Trick Mirror, reading a female perspective in a genre often dominated by men shifted everything. Dederer resisted tying up her book with authoritative statements, telling us if we should or should not ban Picasso for his actions or if we can still dance to R. Kelly. Her book didn't tell us how-to think about it. She lead the reader through her exploration on how-come we think, believe, and act certain ways based on culture and allowed them to decide for themselves.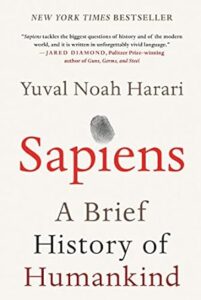 Sapiens by Yuval Noah Harari
When I began putting this list together I started with my own mind, moved through others' minds, and zoomed out into social structures, accepted norms, technological systems and culture. But no book zooms out like Yuval Noah Harari's Sapiens. This is the final book in my list because his work is the ultimate how-come book. Tackling everything from our revolutions (industrial, cognitive, scientific, agricultural, etc.) through to huge events like the invention of language, his book threads needles to tie momentous moments in history to issues like happiness, poverty, and sexuality. It's hard to understand how-come if we don't fully see the whole.
 __________________________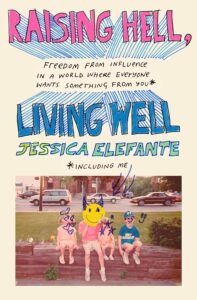 Jessica Elefante's Raising Hell, Living Well: Freedom from Influence in a World Where Everyone Wants Something from You (including me) is available from Ballantine Books.
---