Encountering One of the Most Toxic Trees in the World
Meg Lowman on Australia's Giant Stinging Tree
My first exposure to this gorgeous, fuzzy, and soft-looking leaf came during a solo exploration of Australia's subtropical jungles. When I first touched its brilliant emerald foliage, I had the sense of either grabbing a hot coal or having thirty wasps sting all at once. Toxic hairs lodged under my skin, and the pain lasted for days. I was even more surprised to experience the same excruciating burn when I picked up a dead leaf on the forest floor. Not fun! Even a one-hundred-year-old herbarium specimen can gave a noxious sting to an innocent botanist who handles it without gloves. One fellow student claimed touching the even more toxic Queensland Gympie-Gympie was "like burning yourself with hot acid and getting electrocuted at the same time."
Not much information exists about the ecology of these noxious giants, probably for the logical reason that they repel humans (as well as most other animals) from getting too close. In Australia, the family Urticaceae has one genus and seven species. Native to the Asian tropics where Urticaceae includes 2,625 species among 53 genera, many species feature toxic leaves and stems. An early Australian chemist named J.M. Petrie analyzed the chemicals of the Urticaceae in 1906 and confirmed that stinging trees were 39 times more toxic than the small, shrubby nettles growing in temperate pastures of Europe and North America.
Numerous chemical and physical stinging hairs cover the blades and petiolar surfaces, suggesting the evolution of morphological plant defenses against mammalian predators. Using scanning electron microscopy, I counted hair density in different ages of foliage and found highest density in young leaves before they expand. So I became extra cautious to avoid touching young leaves. Because the Urticaceae family predominates in the Asian tropics, toxic hairs may have evolved to protect trees from monkeys and other mammal predators, although they do not prove such a good defense against a few resilient insects.
"Like burning yourself with hot acid and getting electrocuted at the same time."
Australia's giant stinger, D. excelsa, with its status as an emergent, exhibited leafing for eleven months of the year, but over 60 percent of new leaves expanding during summer (January to March). This provided a reliable feast for one host-specific insect, called the stinging tree beetle (Hoplostines viridipenis), which developed a unique ability to digest the toxins and navigate its spiny surfaces. A toxic surface also gave the beetle protection from bird predation, so it fed brazenly on the upper leaf during daylight. No fear! Because stingers grow fast and tall as opportunists in light gaps, they are relatively short-lived with soft wood, reflecting a minimal investment in longevity or toughness but a strategy of fast growth to compete for a canopy spot.
Of my five research species, stingers had the shortest lifespan, only seven months, and each branch put out a generous flush of 8.3 leaves annually. During that brief lifespan, beetles ate approximately 32 percent per leaf, and when calculated over a 12-month time frame, totaled 42 percent annual crown loss. Holy cow! Leaf fall occurred all year long, and leaves decayed within four months, the fastest rate of any species measured. I saw that an underlying strategy of giant stingers was to grow fast, grow cheap, get eaten, and turn over quickly. When a light gap opened on the forest floor after treefall, their seeds, which were abundant in the soil, germinated quickly, continuing their strategy to achieve a prominent yet short-lived spot at the top. In this fashion, they grew fast but ultimately lost out to slower-growing species whose wood was stronger and more long-lasting.
In addition to a resilient, host-specific beetle, giant stinging trees housed gazillions of sap-sucking aphids (Sensoriaphis furcifera). At times, up to one hundred aphids per leaf created almost wall-to-wall bug sucking events, after which the remaining tissue dried up and died! On rare occasions, also observed was munching by the spur-legged phasmid (Didymuria violescens), a relatively large walking stick whose digestive system was tough enough to tolerate the toxins. Flying foxes sometimes roost in the branches, but relatively little other biodiversity. Some animals managed to eat the fruits, including an occasional possum, bird, snail, frog, or lizard.
Two notorious northern relatives of the giant stingers are the shiny-leaf stinging tree (D. photinophylla) and the Gympie-Gympie bush (D. moroides), named by 19th-century gold miners working in the region of Gympie, Queensland. The latter was even more toxic than excelsa, and a shimmering green-black beetle (Prasyptera mastersi) exclusively ate this species in a lacey feeding pattern similar to the giant stinging tree beetle. Red-legged padymelons (Thylogale stigmatica) also ate that fiery foliage, sometimes devouring an entire bush, which defies explanation. This close relative of kangaroos and wallabies somehow digested the toxic greenery, and no other animals competed for its diet. Out of thousands of rain forest plants, it seemed extraordinary that so few species evolved stinging hairs, suggesting that factors other than physical defenses may be more important in a tree's competitive world.
_____________________________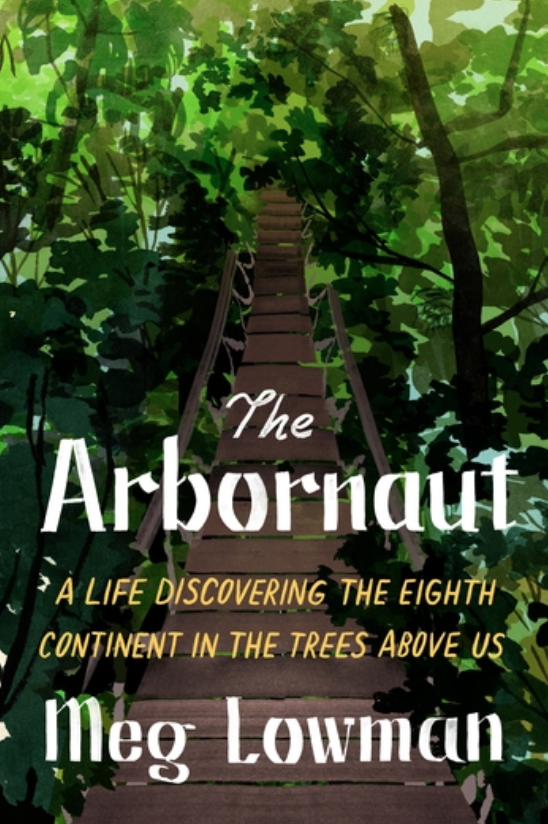 From The Arbornaut, by Meg Lowman, courtesy FSG. Copyright Meg Lowman, 2021.
---