Empathizing with the Mother Figures of Peter Pan
Liz Michalski on the Particular Sadness of Watching Your Children Fly Away
Is an adventure an adventure if there's no one waiting at home at home to hear about it?
I've pondered this off and on ever since rereading Peter Pan. As a child, I loved Peter, the Lost Boys, and their escapades in Neverland, but the book's female characters barely registered, aside from Tink, who I found sassy and spirited, although I couldn't understand why she still had feelings for Peter after how he treated her. Now an adult and a mother myself, I recognize how often those Lost Boy adventures were framed by the patient waiting—always waiting—of the women in J.M. Barrie's story, who give the Lost Boys a safe, loving place to return to.
Barrie's book may ostensibly be about the boys' eternal childhood, but it's the mother figures who are the scaffolding upon which his story rests. And it's those figures, not Peter Pan, who are frozen in time, their worth and value defined solely by their talents as caretakers.
As the parent of teenagers, this hits home. My novel, Darling Girl, is billed as a story about Peter Pan, but it's also about motherhood and navigating that impossible space where you are no longer "mother" in the hands-on sense. While you might be freed from the physical responsibilities that come with younger children, you are perpetually bound through love and worry to the young adults escaping into the world.
Mrs. Darling, the primary mother in Peter Pan, could surely relate. She was, by Barrie's account, "a lovely lady, with a romantic mind and such a sweet mocking mouth. Her romantic mind was like the tiny boxes, one within the other, that come from the puzzling East, however many you discover there is always one more."
The secret inner life of Mrs. Darling, no matter how fascinating I find it, is of no further interest to Barrie. Nor, apparently, to Mrs. Darling, who spends the rest of the book either rummaging through her children's minds to put them in order, or mourning their absence. And at the end of their adventures—to which she's never invited—she's still patiently there, waiting to welcome them home. Unlike Peter's mother, who has barred the windows against him and is occupied with a new child.
Mrs. Darling's waiting is what makes their trip an adventure, not an exile.
The novel's other women, too, are defined by the boys for whom they care.
Barrie's book may ostensibly be about the boys' eternal childhood, but it's the mother figures who are the scaffolding upon which his story rests.
Wendy functions as a mother-in-training, who accompanies the boys for the sole purpose of being their soft landing in the new world, a place of wonder where somehow clothes must still be washed, food cooked, medicine taken, bedtimes enforced. And when she returns to the real world, she's useful only as long as she can be of service to Peter. Once she grows up and has her own family to care for, she's barred from Neverland forever.
Tink, too, for all her spirited ways, is little more than a caretaker at the end, willing to throw herself between Peter and death for a boy who barely remembers her a year later. In a sense, she's a mirror, miniature image of Peter and can be sacrificed without thought. In a world where mothers are defined by their parenting role in a way that fathers never are, it makes sense that her identity is so closely linked to the "child" she guards.
For Barrie, of course, there was no soft landing, no welcoming woman waiting at home. He lost his own mother at age six to the world of grief. His older brother died in a freak accident, rendering Barrie's mother physically present but unable to care for her younger son. On at least one occasion, he recalls dressing up in his dead brother's clothes and entering his mother's bedroom, whistling and standing in the same manner as his brother had, desperate to get a reaction from her.
It's no surprise to learn that the original working title for Peter Pan was "The Boy Who Hated Mothers."
If Peter Pan is about the grief of growing up, there's a companion sorrow tucked away in one of Mrs. Darling's boxes. It's that of being a spectator, of watching your child age and being powerless to stop it. Of being their first love. Of their forgetting the joy and delight your very presence once inspired, while you are doomed to remember. I've often thought that love is what Peter carries off with him in the form of Mrs. Darling's secret kiss at the end of the book. The love he needs and desperately wants, but is too proud to admit.
I think of this as my children embark on their own adventures, their trips out into the world, where I am neither invited nor wanted nor—if I'm honest with myself—necessary. They're swooping through time, dipping into the places and friendships that will create the landscape of the rest of their lives, mysterious archipelagos from which I am barred, and can only hear about secondhand when they return to tell me about them.
By contrast, some days it feels as if my own awfully big adventure drew to a close when they grew up. I'm grateful to have time to myself at last, but I mourn their absence, keeping one ear eternally cocked toward their voices, however they choose to reach across the space that separates us—the random text, the occasional late-night video call. I've become the ballast to their flight, the reminder of where they've come from that allows them to fly ever higher. The one waiting, windows wide, for them to return and tell their stories.
____________________________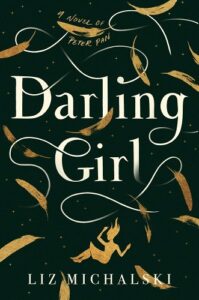 Liz Michalski's Darling Girl is available now from Dutton.
---