Welcome to the Book Marks Questionnaire, where we ask authors questions about the books that have shaped them.
This week, we spoke to Emma Cline, author of The Girls and Daddy.
*
Book Marks: What book do you think your book is most in conversation with?
Emma Cline: I love the stories of Deborah Eisenberg and Joy Williams—stories that operate on a kind of dream logic. John Cheever's journals. Also maybe throw in Journeys Into the Bright World—a nonfiction book about an astrologist and anesthesiologist doing a lot of ketamine in the 1970's.
BM: A book that blew your mind?
EC: Into That Darkness by Gitta Sereny. She interviews Franz Stangl, a Nazi commandant, at length. His ability to justify his actions, to pity himself—it's just an incredible, humane exploration of how humans do evil things. It's a lot easier to think of people as monsters, and a lot more disturbing to drop into their consciousness, confront the reality that they might think, fundamentally, that they are a good person.
BM: Last book you read?  
EC: Ninth Street Women by Mary Gabriel—Lee Krasner, Elaine De Kooning, Grace Hartigan, Joan Mitchell and Helen Frankenthaler in New York. A pure pleasure to immerse myself in a time period far removed from this one. There's something very moving about the hindsight offered in a book like this, watching individual lives play out against larger historical contexts. It's comforting. I definitely have been reading more biography and memoir the last few months, maybe for that reason—when life feels shapeless, it's nice to read a life proscribed between two covers, even though the tidiness is an obvious illusion.
I also just finished Shoes Outside the Door about the San Francisco Zen Center, which fulfilled my Northern California itch.
BM: A book that made you cry? 
EC: The Friend by Sigrid Nunez.
The Sarah Book by Scott McClanahan.
John Cheever's journals, always.
Rachel Kushner's The Mars Room was a gut punch.
BM: What book from the past year would you like to give a shout-out to?
EC: Jenny Zhang's book of poetry, My Baby First Birthday, and A Children's Bible by Lydia Millet. Both bananas good.
BM: A book that actually made you laugh out loud?
EC: Any story by Sam Lipsyte. The Adrian Mole Diaries by Sue Townsend is so fucking funny. Erasure by Percival Everett. Private Citizens by Tony Tulathimuttte. Ottessa is hilarious. Nicholson Baker forever. Any Geoff Dyer.
BM: Favorite book to give as a gift?
EC: A Pattern Language by Christopher Alexander. It's an architectural theory book but it's so beautifully organized and considered. Or The Spiritual Dimension of the Enneagram—I like to give this book to writers. It's weirdly so subtle about character and motivation and can be a really useful tool for conceptualizing motivation.
BM: What's a book with a really great sex scene?
EC: Anaïs Nin's erotic fiction is so great, I think because she understands that 90 percent of eroticism is psychological. There's a virtuosic sex scene in Scott Spencer's book Endless Love. Maybe twenty pages long. It's so mind bogglingly good. And maybe the only period sex I've ever read in a novel?
Pamela Des Barres' memoir I'm With the Band for joyful, unapologetic sex.
BM: Favorite book no one has heard of?
EC: I think lots of people have heard of John Berger, especially his nonfiction, but his Into Their Labours trilogy is so great. And his book of poetry, Our Faces, My Heart, Brief as Photos.
Jade Sharma's book Problems is excellent.
I'm sure people know this book too, but I didn't until this year: A Little Lumpen Novelita by Roberto Bolaño. A perfect little jewel of a novella.
BM: Book(s) you're reading right now?                                                        
EC: I'm reading a DeKooning biography—I wanted to linger a little bit longer in that world, the Cedar Bar and Long Island light. And a book on Gestalt therapy. The Fountain Overflows by Rebecca West is in the stack, too.
BM: Book you wish would be adapted for a film/tv show?  
EC: The Terranauts by TC Boyle. All of his books are so cinematic, actually. A Children's Bible would be great, too.
*
Emma Cline is the author of The Girls, which was shortlisted for the Center for Fiction's First Novel Prize and the John Leonard Award from the National Book Critics Circle. She received the Plimpton Prize from The Paris Review and was chosen as one of Granta's Best Young American Novelists. She is from Northern California.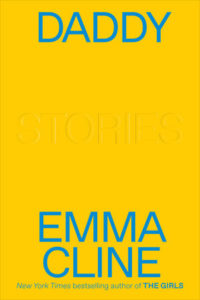 Emma Cline's Daddy is out tomorrow from Random House
*