Emily Nemens on Writing a Baseball Novel Without Much Baseball
The Cactus League Author
on So Many Damn Books
Emily Nemens, author of The Cactus League and editor of The Paris Review, stops by The Damn Library and everyone gets to talk about all things baseball, including Emily's story of a harrowingly long game. Christopher makes a bonkers cocktail and gives a slight history lesson with his recipe. Plus, Emily goes into some of the best things involved with writing about/watching baseball, as well as cutting out 25,000 words in a single edit. Then (CW: suicide) we get into Anelise Chen's So Many Olympic Exertions, and we all talk about things that felt good to quit.
On home base and home life in The Cactus League:
Emily: When I realized that the sort-of inciting incident of the book would be this new stadium and this new home base for the team, I wanted to think about other manifestations of home. I think, particularly for transient workers whether they're athletes or concession workers, these people who are moving around all year have a fraught and complicated relationship to what home might be. And to set it in 2011, when the recession had guttered the housing market in Phoenix and a lot of other places, that complicated home one more time. So I don't know that I had a sort of thesis on it, but I wanted to sort of bring up all of those elements of domestic architecture. Both residences and the idea of the home field—to see how they play together.
*
A scene that didn't make it into the novel:
Drew: Were there any—and if this is the sort of thing that somebody can only see long after you've passed away, in your letters or something, that's fine, we can keep it a secret—but was there a story that you wanted to get into the book and weren't able to find a way to do it?
Article continues after advertisement
Emily: I had a chapter about a strip club called the Desert Oasis and Jason shows up and… I really liked the characters, I really liked the women who worked there, they were smart and actualized and empowered (with caveats), but at that point Jason had sort of a general and undefined character flaw. Once I figured out what his real bag was, which is not ladies but another vice, I realized it wasn't working in the set.
*
A baseball novel without much baseball:
Christopher: There's very little actual baseball played.
Emily: No, there's like five innings. Total.
Christopher: Was that on purpose? Was that something you wanted to step away from?
Emily: Yeah. I love good baseball writing but I was thinking about what exists in baseball literature, and so much of it is hooked onto the World Series or the ninth inning, innings that really count, and it just didn't feel necessary to write so much baseball into spring training because these are meaningless innings on a certain level. So yeah, I didn't try to write too much and when I was done and realized there wasn't that much, I didn't feel compelled to add more in.
*
This Episode's Recommendations:
Emily's pick: "The Unnatural" (The X-Files S06E19) // True Story by Kate Reed Petty
Drew's picks: The Universal Baseball Association Inc., J. Robert Waugh, Prop. by Robert Coover // We Ride Upon Sticks by Quan Barry
Christopher's picks: If I Never Get Back by Darryl Brock // "Rat Poison and Brandy" by Jon Bois

*
This week's themed cocktail: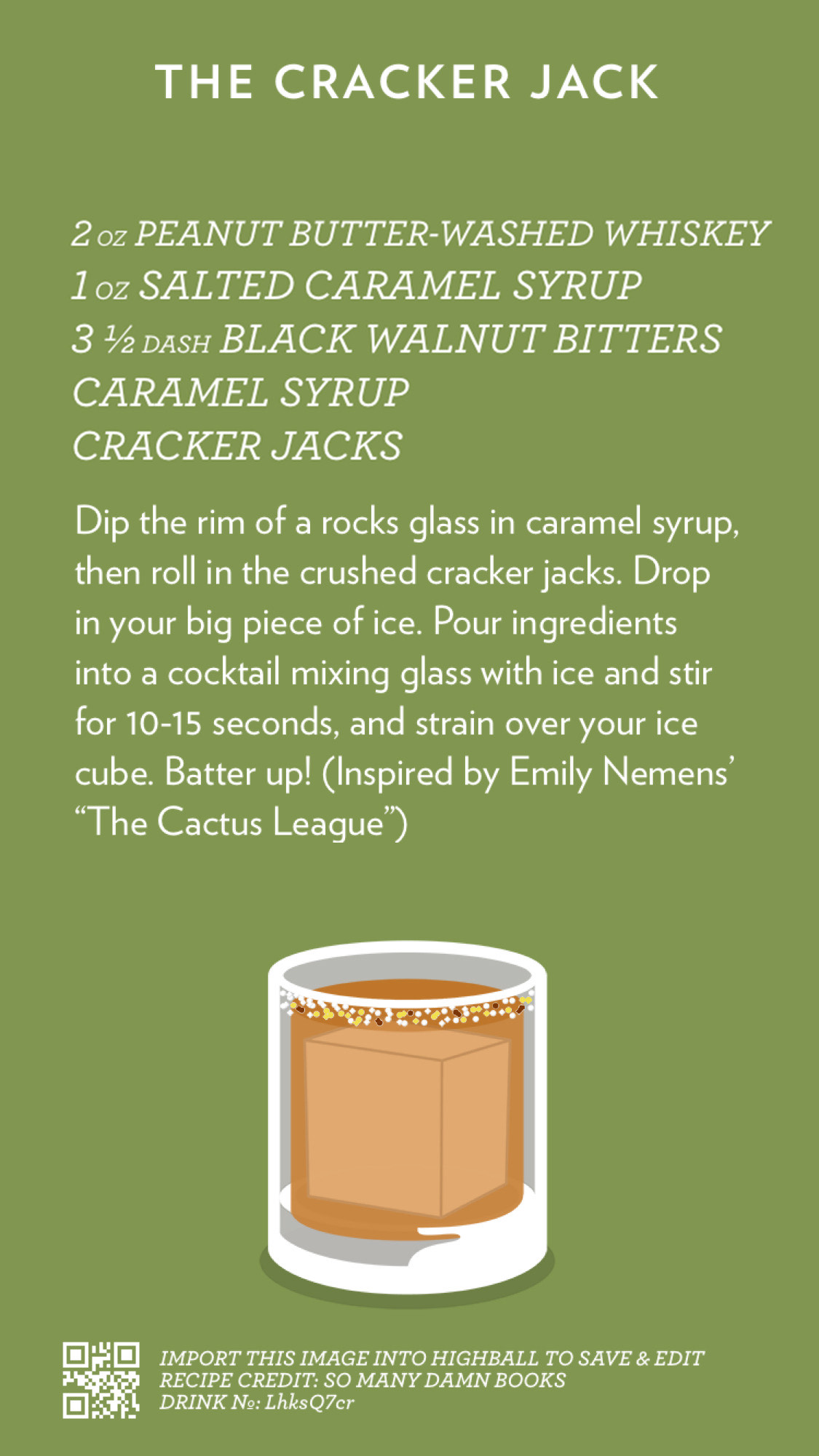 ---