Emerson Whitney on Heaven and Rewriting a Body
In Conversation with CAConrad
Emerson Whitney's Heaven treats reparative work as sacred, much like the Kintsugi artists in Japan who repair broken pottery with gold. Whitney, also the author of Ghost Box, teaches in the BFA creative writing program at Goddard College and is a postdoctoral fellow in gender studies at the University of Southern California. CAConrad interviewed them via email as they quarantined from the novel coronavirus with their little dog Bowie in the state of Maine.
CAConrad received a 2019 Creative Capital grant as well as a Pew Fellowship, the Believer Magazine Book Award, and the Gil Ott Book Award. The author of nine books of poetry and essays, While Standing in Line for Death (Wave Books), won the 2018 Lambda Book Award. They teach at Columbia University in New York City, and Sandberg Art Institute in Amsterdam. Please view their books and their new essay on AIDS and poetry from The Poetry Foundation online here.
*
CAConrad: I love this book, Emerson! At one point, you write about being transgender and your top surgery. It was beautiful the way you called this an editing of your body. Did your years of hard work as a poet teach you also to edit so masterfully as a prose writer, and where has rewriting your body and your words crossed paths?
Emerson Whitney: CA! Thanks for loving this book, and to your question: well, damn. I was afraid to write about surgical anything actually because it's so much a dominant cultural concern, and I hate tripping into the stickiness of stereotype and the cis gaze that way. Still, this idea of a body edit is interesting to me. And I wrote about it because I wanted to write about its failure to do the rewriting I imagined. I guess I was surprised by how I've been "read" post any physiological changes: little boy/breast cancer survivor/woman still/etc… and it became very clear to me that the body plus anyone's perception of it is almost always slipping out of control.
Article continues after advertisement
Like there's an ideal man chest and an ideal woman chest (particularly in Western/US culture, I can picture this contemporary ideal: European-descended, hairless, meaty pecs, full breasts) that are metonyms (that stand in) for a "successful" version of masculinity and femininity, and actually so few people meet this ideal and don't really "fit." I'm not alone in the misfire here, but I internalize it as my own. This internalization is violent. Who does this serve? Maybe any ideal gender/set of genitals is out of reach. Isn't this set of ideals then oppressive to most everyone? I dunno.
Anyway. Writing is just everything. So, I guess to answer your question about how they connect: my body's always writing.
CA: One of the many strengths of your writing is how you endeavor to be honest, no matter the starkness of the truth. It feels like you risked relationships to write it. What kind of emotional cost, or gains resulted from this book? By the way, I intend to buy copies for many friends, and they are going to love it!
EW: Aw. Thanks for wanting to share it with your people! It's a really personal text. Truly, I don't know how to honor autobiographical writing without stepping onto a ledge. This is probably the hardest book I could ever have conceived making, and at the same time, I hope it's deeply kind. My family is all in here and at the end, I offered them each a red pen—another side of the same risk!—like, tell me what you need. The consensus seemed to be, we all knew you were going to do this, and without even really worrying about it, they were like, do whatever. I spent my entire childhood taking notes, so yeah, I guess this was no surprise.
CA: Thank you so much for sharing this with us. Being free to use the full authority of your tools as a writer without censoring yourself for others, did this condition produce unexpected challenges, and where did you maybe find the situation helpful in unforeseen ways?
EW: When I was twenty-one, I got to work for the New York Observer and they'd sometimes let me work on this column that was meant to be cheeky and sort of inflammatory and gossipy and the whole thing used the royal "we" as a way to distance (I guess) the writer from the subject and I learned to do that.
When I was first writing Heaven, each time I set out to write, I asked every editor that lives in my mind (all the doubts/fears/anxieties and the people or communities attached to those anxieties) to leave the room. I practiced it so much that at a certain point, I realized I'd done the thing I'd always wanted to do: to walk myself into risk with serious kindness and a real joyousness. But, yeah, this took years.
CA: This interview is my first time talking with a writer with a brand-new book, so I am trying not to ask questions that reveal too much of the story. Let me say to everyone reading this, that the book is a page-turner. Poetry is how I came to know your writing, Emerson. Heaven feels like a deeper breath of your poems. I do like saying, "Heaven feels like—" What was the bridge from poetry to prose for you? Are you now comfortable writing both?
EW: I love this idea of a deeper breath and Heaven feels like _____________. I think of you a lot when I think of this question. I love how in A Beautiful Marsupial Afternoon you alternate between verse and these prose chunk components of your somatics. A first draft of Heaven is actually in Troubling the Line as verse. I did that with my first book, Ghost Box, this alternating thing. I was obsessed with Bhanu Kapil's Humanimal, which does that too. Books like that make me bonkers because they're so good. To me, Heaven is poetry. I didn't think anybody would publish it because it's not straight narrative and it does experiment with form, but McSweeney's took a chance on me and I'm grateful. I love the challenge of prose, of making lines that are just as impactful as I would if there were fewer of them. This playing with words is honestly my favorite thing, to make lines super juicy, with each word working at the image in a specific way. My hope is that Heaven makes room for new ways of playing with autobiography, genre in general, and with prose. I love what Hélène Cixous says (I'm paraphrasing), that we have to keep changing the forms of writing all the time so they're not worn out by use.
CA: The economy of your poet-language keeps everything that is important encapsulated in the imagination while reading. One of the main reasons I dislike most novels is their verbosity. But in this form of economy, you also keep your characters lucid, no matter what they are doing. And I do not know enough about memoir or autobiography to say what ground is being broken, but it would not surprise me if your book does just that! What can you tell us about language and its impact?
EW: I remember once Maggie Nelson saying she likes her language "washed." I feel really similarly. I like to go in and cut until each word is essential. When he first read this book, my agent was like, every single scene is like a jewel thing—important on its own and shiny. I think about traveling: I always pack my suitcase and then take out a bunch of shit and leave it pretty empty. I like to empty out my prose as if it were translation and leave purposeful gaps.
CA: A jewel thing! What about that title! Such a loaded word, "heaven," but maybe that is exactly what you were aiming everything at, that place where everyone has an automatic physical, emotional, and spiritual response?
EW: I'd be delighted if folks responded physically, emotionally, and spiritually for sure.
CA: Can you please close this out for us, Emerson, by telling us where you and your little dog Bowie are waiting out the coronavirus plague, and how the new writing is going?
EW: We're in a shed, it's 5×10, no plumbing, but I'm grateful for it and am right now looking out at this field of trees without buds on them that somebody has hung a wind chime from. I'm bouncing back and forth between writing with you and playing with my new book about storm chasing. Still, I'm awash in feeling. As somebody who lives with a disability, this is the first time in my life where I don't feel like I'm missing out because I can't go anywhere. And at the same time, I'm unbelievably concerned for my friends and loved ones who are suffering—particularly the most marginalized members of all our communities. I encourage people to check out local mutual aid projects and start some if you can. Read Care Work and other writing that comes from disability justice movements (particularly sick/disabled BIPOC communities) who have been working with sickness and disability and resilience for a long ass time and have a lot to teach and a giant toolkit to share with "temporarily abled" people (as Leah Lakshmi Piepzna-Samarasinha says).
__________________________________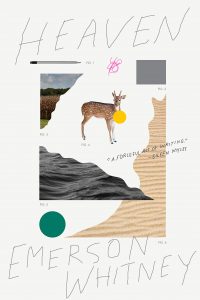 Heaven by Emerson Whitney is available now from McSweeney's. 
---