Ellen Meeropol on Writing Into the Gaps Left by Untold Family Stories
"When more isn't there, or the story is hidden, my imagination fills in the blanks left by small snippets of family history."
I grew up in a family reluctant to tell stories.
Like about Elizabeth, my grandmother who left Russia and immigrated to Brooklyn. Did she really participate in the 1905 Menshevik revolution as a young woman, as my mother claimed? Was she really exiled to Siberia and her husband (or brother or uncle) helped her escape to the US? I heard fragments of that story, but the scraps were inconsistent and few. Probably it didn't happen, my father said. My grandmother, who lived with us for the last years of her life, refused to speak about Russia at all.
And what about the family argument between Elizabeth and her brother? There was something about a family business and Elizabeth not being allowed to take over after her husband died because she was female. I never heard that story until I wrote a blog post about my Brooklyn roots, and my cousin Patricia contacted me from the other side of that rift. Before that, I hadn't known there was a Patricia, or a feud, or an "other side." My parents never mentioned it, although the split lasted three generations.
And did my mother really throw her baby brother out the second-floor window in a fit of sibling jealousy? She told me the story when I was a child, but when I asked for details as an adult, she denied it. "I never said that," she insisted.
The loose threads of family stories fascinate me, and I want more.
As a child yearning for family stories, I created my own. I spent hours sitting cross-legged on my bedroom floor arranging the blank backsides of discarded chemistry handouts from my mother's work into streets and cul-de-sacs. Those 8 ½ x 11-inch pages were the houses; the inhabitants were figures cut out of discarded Montgomery Ward and J.C. Penney catalogs. Imagination was required since sometimes the babies were bigger than the grandmothers and often an arm or leg was amputated by the edge of the catalog page.
My sister often joined me in the Neighborhood Game. She preferred store-bought paper dolls with their irritating tabbed outfits, but I was older and bossier and insisted on our homemade families. I conjured up stories of school trips and sleepovers, of immigrant grandmothers and broken families and reconciliations, of dramatic domestic calamities for our mismatched and deliciously imperfect characters.
Maybe that's why I'm a fiction writer: The loose threads of family stories fascinate me, and I want more. When more isn't there, or the story is hidden, my imagination fills in the blanks left by small snippets of family history. My grandmother's activism—real or not—and her exile and escape from Siberia became backstory for a novel. My mother tossing her brother out of the window was the hook for an essay.
Writing fiction is my adult version of the Neighborhood Game. I replaced the cut-outs from my childhood with a large piece of butcher paper. It hangs on the wall over my computer and shows the interconnected family trees of five generations of my characters. The oldest members escaped from the shtetls of eastern Europe in the early years of the twentieth century and immigrated to Maine, where they settled in a cluster of homes and farms on a rocky peninsula on an island in Penobscot Bay.
Imaginary characters as close as neighbors can connect us to each other by propinquity and geography, by empathy and kindness, by imagination and utter necessity.
Some of the offspring of the original immigrants left to find work and adventure, but my novels and stories are still populated by these inhabitants and their island. Like the catalog paper dolls from my childhood, these characters are more interesting because of their imperfections. One is missing a sense of humor, another's compassion is atrophied, and a third has never forgiven her sister for something she said at Aunt Sophie's seder in 1956. There's something compelling and dear to me about both their flaws and their connections.
My fifth novel, The Lost Women of Azalea Court, is an homage to neighborhood. The characters, damaged and lonely, live in six bungalows on a small cul-de-sac on the grounds of a torn-down state mental hospital. When an elderly woman goes missing, her psychiatrist husband's childhood trauma and unethical behavior is exposed. His secrecy about his past reminds me of my grandmother's, and I wonder if her silence was shame or guilt. The missing woman's daughter, the detective assigned to the case, a homeless woman, and the Azalea Court neighbors, each reluctant to share their own difficult pasts, come together to search for her. Like a Greek chorus, they tell her story and their own, as their common purpose bridges their histories and their differences to build something new.
Despite the pleasure of having a chorus of characters to tell the story, keeping track of the movement of fifteen narrators over the three days of the novel was challenging. So, I returned to my childhood method, arranging six pieces of blank paper in a circle on the floor to represent the six bungalows. As I revised, I moved cardboard cutouts representing the characters from house to house. Hands-on scene building both grounded me physically on Azalea Court and sparked new character movements and interactions before the narrative returned to my computer.
I weave stories from my family's reluctance. I imagine generations of characters who are as abundant as the oceans, as familiar as kin. In our separate rooms of writing and reading, imaginary characters as close as neighbors can connect us to each other by propinquity and geography, by empathy and kindness, by imagination and utter necessity.
__________________________________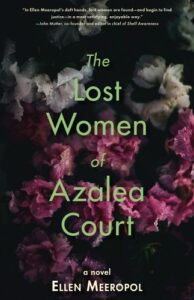 The Lost Women of Azalea Court by Ellen Meeropol is available from Red Hen Press.
---