Elizabeth McCracken on Anna Karenina, Yiyun Li, and Hating The Velveteen Rabbit
Rapid-fire Book Recs from the Author of The Souvenir Museum

Welcome to the Book Marks Questionnaire, where we ask authors questions about the books that have shaped them.
This week, we spoke to the author of The Souvenir Museum, Elizabeth McCracken.
*
Book Marks: Favorite re-read?
Elizabeth McCracken: All Aunt Hagar's Children by Edward P. Jones. Also The Stone Diaries by Carol Shields. I don't reread books simply because I love them. Indeed, there are some reading experiences so profound I don't want to reread because I'm afraid of disturbing the perfection of the first time. (Veronica by Mary Gaitskill is one of these.) The books I go back to are the ones that somehow speak to my writerly subconscious, and remind me in ways I cannot map the pleasures of writing.
BM: What book from the past year would you like to give a shout-out to?
EMC: Every time I think of a book from last year, I think of another, one after another, books I loved by people I love, and I can't choose. So I'm going to cheat and choose a book from year-before-last because I can't remember what books came out then, and because I read it in 2021 and haven't stopped thinking about: Golem Girl by Riva Lehrer, a gorgeously written memoir by an astonishingly interesting person.
BM: A book that actually made you laugh out loud?
EMC: Mona in the Promised Land by Gish Jen. Also Mr. and Mrs. Doctor by Julie Iromuanya. Anything by Allan Gurganus. Most books that I love have made me laugh out loud—there's a passage in "A Rich Man," a wrenching and grim Edward P. Jones story—that makes me laugh every time. It's one of the highest aims of literature. Nothing means more than a book that can makes me laugh and socks me in the stomach.
BM: Favorite book to give as a gift?
EMC: Where Reasons End by Yiyun Li, one of the most beautiful books I know, a book I give to the grieving.
BM: Classic book you hate?
EMC: I have gone on the record concerning my hatred for Ethan Frome by Edith Wharton. I'll throw in The Velveteen Rabbit. I hate most children's books featuring rabbits.
BM: Classic book on your To Be Read pile?
EMC: Watership Down. Many people I know love it, including my beloved ball-&-chain, Edward Carey. One of these days I'll read it, though I hear it's wall-to-wall rabbits. (Though it's not a children's book.)
BM: What's a book with a really great sex scene?
EMC: Paul Takes the Form of a Mortal Girl by Andrea Lawlor has more than one. It's a marvel of a book from start to finish.
BM: Favorite book no one has heard of?
EMC: The Speaking Stone: Stories that Cemeteries Tell by Michael Griffith. (Perhaps another cheat: it came out last year.) A brilliant, digressive, funny strange book that is about death, life, history, and the writerly imagination.
BM: Favorite book you were assigned in high school?
EMC: I was a lazy, terrible student in high school, though I liked plenty of my teachers and always intended to be better. In 11th grade Mr. Outerbridge assigned us Anna Karenina. I left it very late, and picked it up to start skimming the day before it was due, and discovered I could not skim. I sat and read for about sixteen hours and was one of only two (as I remember it) students who finished it one time. I loved every sentence of it.
BM: Favorite children's book?
EMC: Orlando the Marmalade Cat Keeps a Dog by Kathleen Hale. I have no idea why the English writer and illustrator Kathleen Hale doesn't have the reputation she deserves—she (like Riva Lehrer) is a genius as both a writer and a visual artist; I have a weakness for such people—but she is extraordinary, and this is my favorite of her books. Perhaps she's never been published in the US. I wish she would be.
BM: Book you wish would be adapted for a film/tv show?
EMC: A book I wished was a film/tv show is a book I don't like as a book, is my guess. Therefore: anything I've written. I won't watch the result, but I will use the proceeds to retire to the seaside.
*
Elizabeth McCracken is the author of seven books, including The Souvenir Museum, Bowlaway, Thunderstruck & Other Stories (winner of the 2014 Story Prize and long-listed for the National Book Award), and The Giant's House (a National Book Award finalist). Her stories have appeared in Best American Short Stories, won three Pushcart Prizes, a National Magazine Award, and an O. Henry Prize. She has served on the faculty at the Iowa Writers' Workshop and currently holds the James Michener Chair for Fiction at the University of Texas at Austin.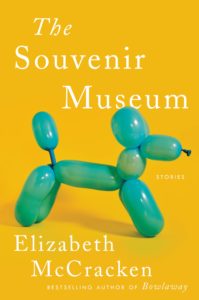 Elizabeth McCracken's The Souvenir Museum is out in paperback on Feb 1 from Ecco
*
---