In 1977, Dracula came back to Broadway.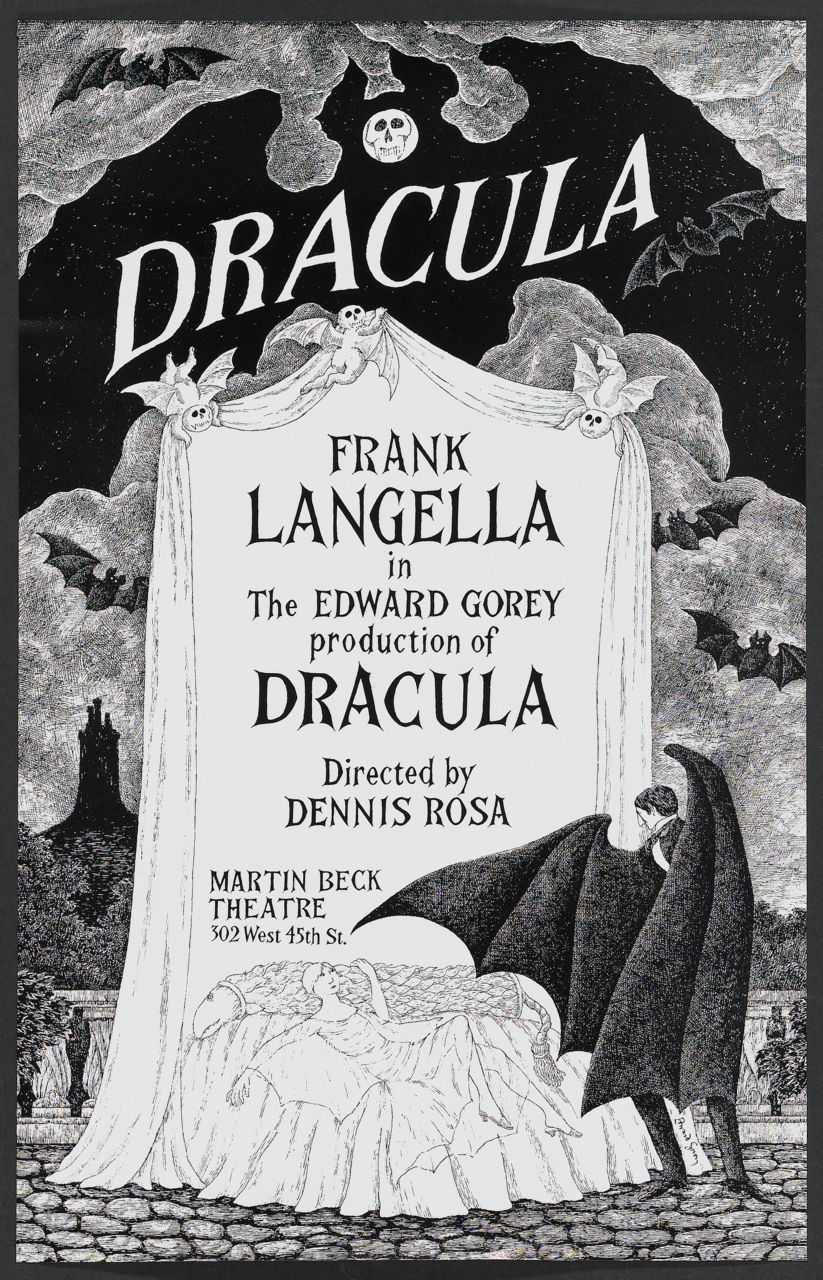 Frank Langella played the lead in this production of the play by Hamilton Deane and John Balderston. The last time this show had been brought to Broadway, the lead had been Bela Lugosi.
This Dracula play is the originator of our most popularly circulated version of the Dracula story. Florence Stoker had commissioned a theatrical adaptation of her deceased husband's 1897 novel as part of her copyright crusade against F.W. Murnau's illegally-adapted Nosferatu film, as notes the historian David J. Skal. This theatrical version was written by the playwright Hamilton Deane, and premiered in Derby, England, in 1924, before making its way to London in 1927, and shortly thereafter, premiering on the West End. Then, the producer Horace Liverwright began preparations to put on the show in America, hiring a playwright named John Balderston to revise it. It premiered at Broadway's Fulton Theater in 1927, starring the then-obscure Hungarian actor Lugosi. This production would be adapted, in turn, by the director Tod Browning into the famous 1931 Dracula film, produced by Universal Studios to immortal acclaim.
No efforts had been made to revive the play in America until 1973, when the producer John Wulp decided to produce a version of the play with the Nantucket Stage Company. He reached out to the artist Edward Gorey, who had never worked in the theater before, and asked if he'd be interested designing costumes and sets for the production. Gorey agreed, and the production, directed by Dennis Rosa and starring Lloyd Battista as the Count, premiered to positive reviews. in 1976, the producer Eugene Wolsk decided to bring the Gorey-designed production to Broadway. In the fall of 1977, the production opened for a limited engagement at the Wilbur Theater in Boston, where Langella took over the leading role. It premiered on Broadway at the Martin Beck Theater on October 20th, 1977, just in time for Halloween.
The production was a smash; Langella was a sensation, and the production picked up a Tony award for Most Innovative Production of a Revival. But Gorey, whose designs (which now extended from sets and costumes to posters, playbills, and merchandise) were the show's other most central feature, won a Tony Award, himself, for costume design. The production ran three years on Broadway, with Raul Julia taking over as Dracula after Langella left. Just as Lugosi had, Langella would reprise this role in a film adaptation of the play, made in 1979. Touring productions in the United States starred Jeremy Brett and Jean LeClerc, and a West End production starred Terence Stamp.
Gorey's gorgeous set designs for the show, which found themselves all across America and in London, are three giant tableaux, in his familiar inky, meticulous style. The overall aesthetic for the production matches the period of the original Broadway run, the 1920s, with our heroine a pale (as it is) flapper.
These designs have fortunately lived on (sometimes, in iterations you might not expect). We've showcased them here, for your viewing pleasure. And, if you're like me, you can also grab yourself a miniature set model containing Gorey's three original set backdrops and costume designs. It's your call. (I mean, I really don't know why you wouldn't, but it's your call. This is not an ad. You should buy it.) Happy Halloween!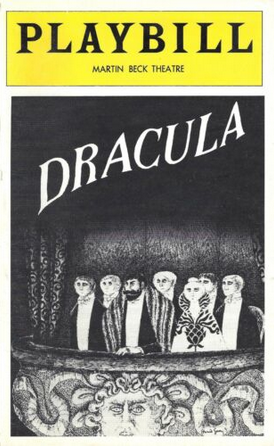 Act I: The Library at Dr. Seward's Sanitorium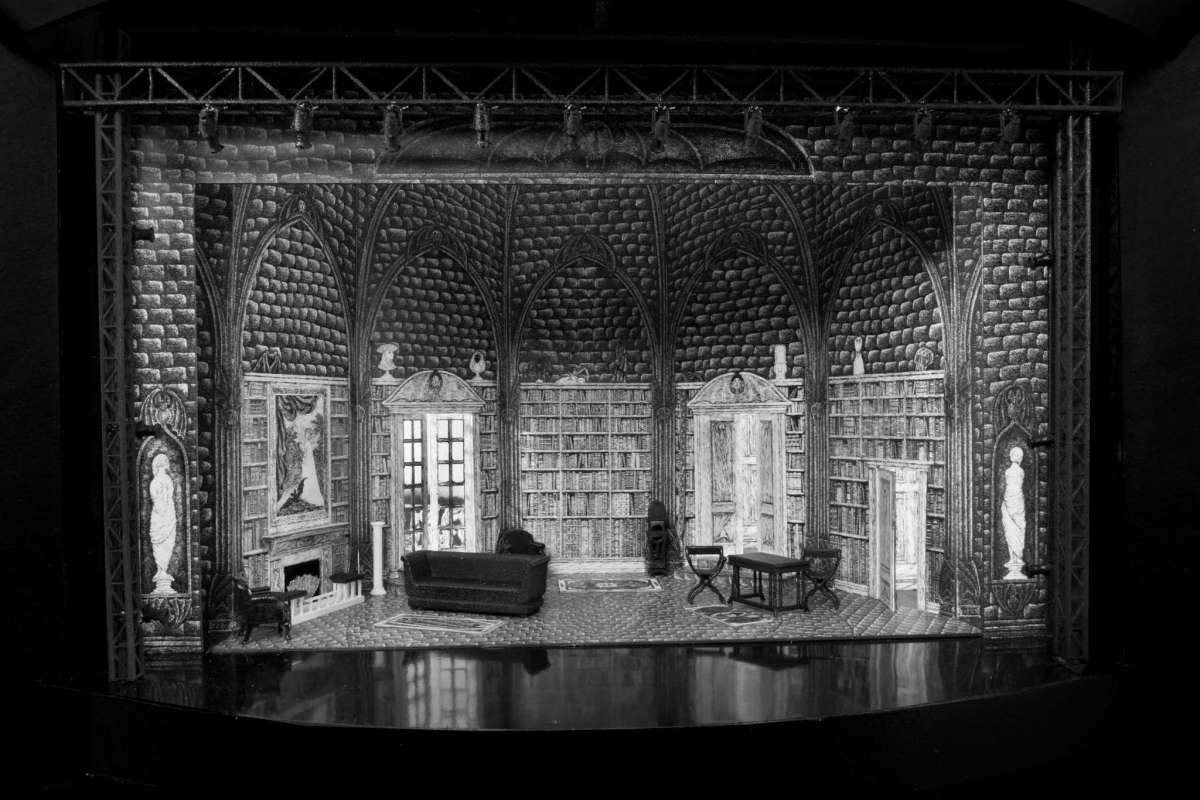 Photo from the Houston Chronicle's coverage of a production of Dracula at the Alley Theatre at Wortham Theatre, University of Houston, October 2014.)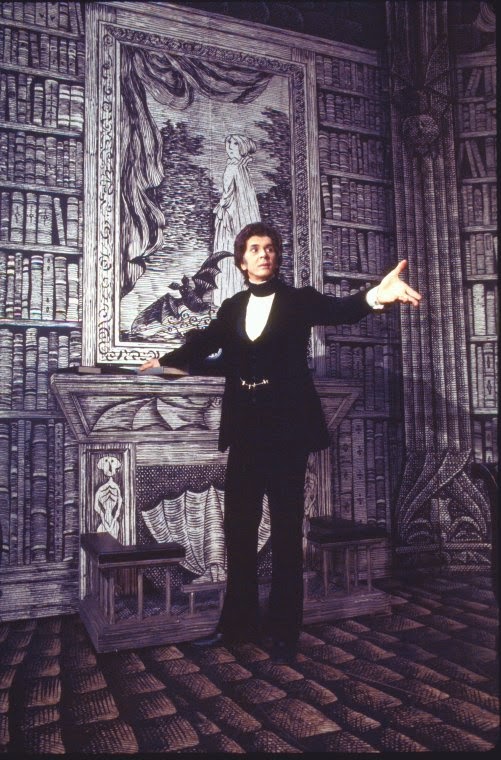 Frank Langella as Dracula
Act II: The Boudoir of Lucy Seward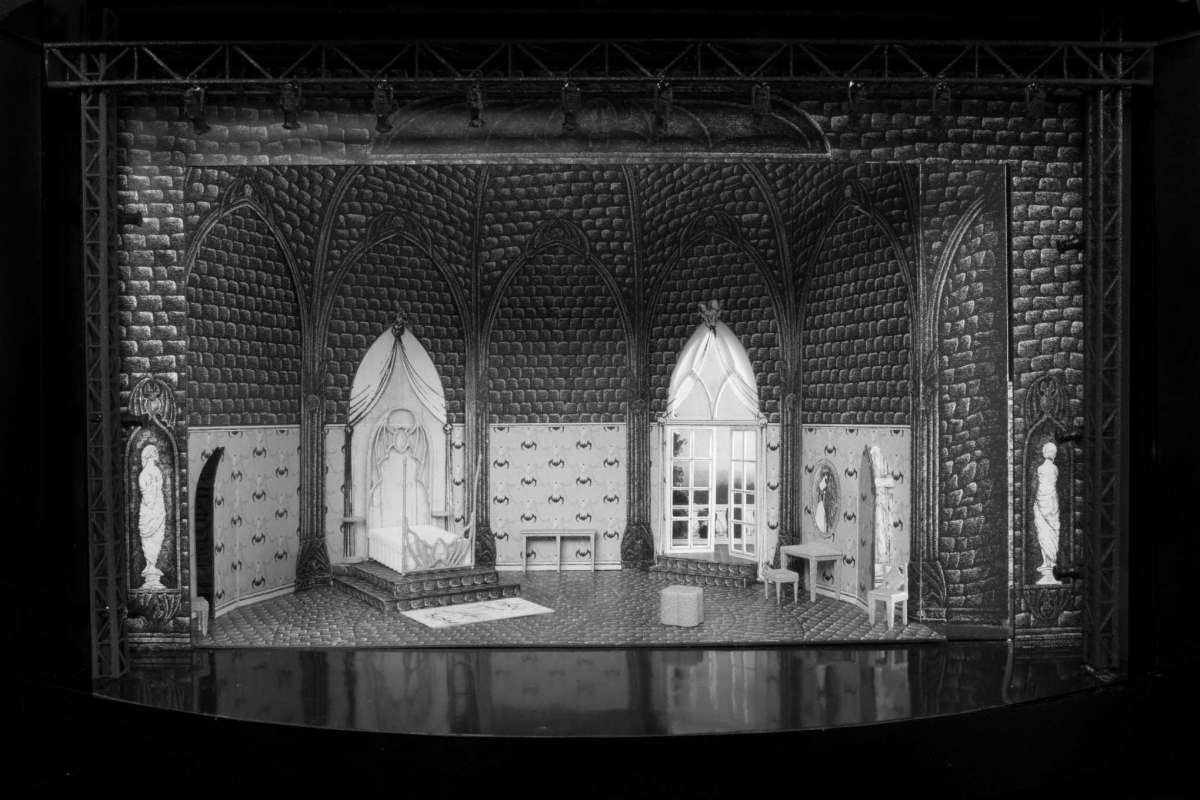 Photo from the Houston Chronicle's coverage of a production of Dracula at the Alley Theatre at Wortham Theatre, University of Houston, October 2014.)
Act III: A Vault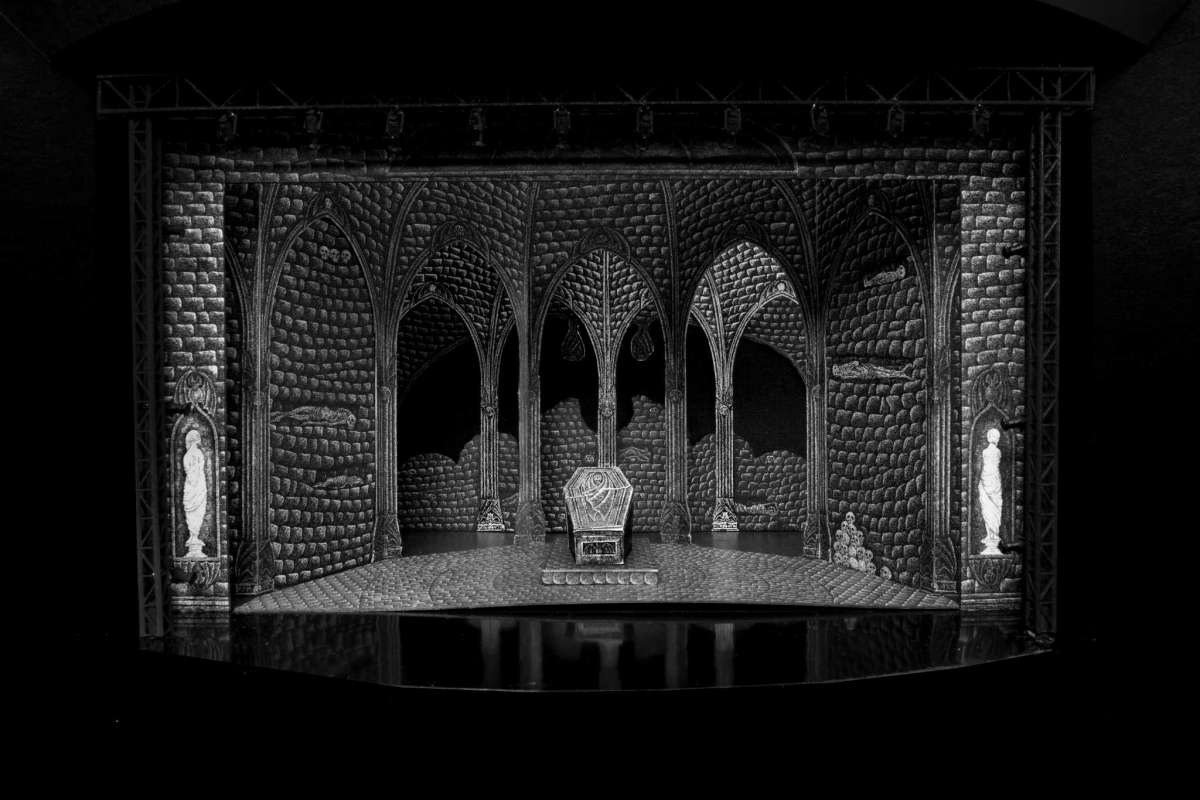 Photo from the Houston Chronicle's coverage of a production of Dracula at the Alley Theatre at Wortham Theatre, University of Houston, October 2014.)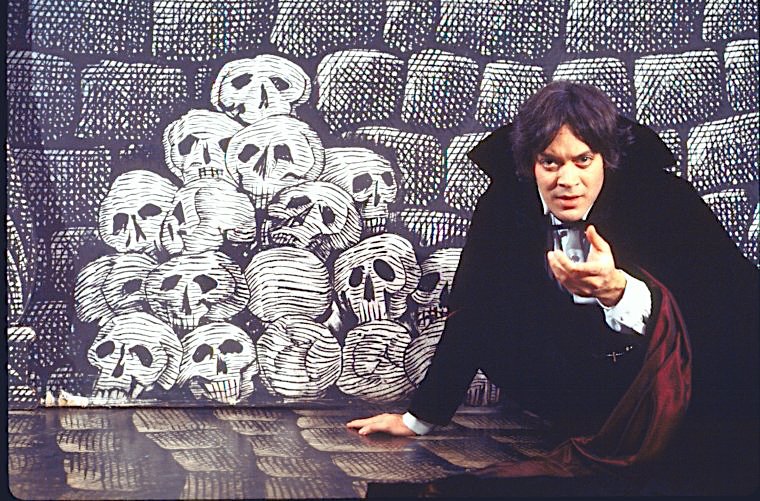 Raul Julia as Dracula