Douglas Stuart on the Defiant Spirit of Glasgow's Doocots, Private Pigeon Lofts on Public Land
Seeking Unclaimed Space on the Edges of the City's Council Housing
I couldn't help myself, I was fascinated by them. In the mornings, I took a meandering route to school just to see the shanty-like doocots that sat on the periphery of our housing scheme. I was transfixed by these strange, windowless towers. My imagination ran wild, dreaming of the wonders or the horrors that they might contain.
The structures looked ominous on the stretches of flat waste ground. They begged to be left alone, looming like a wizard's tower in a fairy tale. My mother warned me to stay away from the solitary men who had built these doocots; she didn't like how they crept about at unsociable hours. My brother told me wild stories of how the doo men would wield claw hammers and batter any boy who came too close.
I grew up in the east end of Glasgow and most working-class Glaswegians have seen a doocot. My family moved often, and we lived in a variety of council housing: from the modernist, brutalist, high-rise towers of Sighthill, to the pre-sandblasted, soot-soaked tenements. No matter what housing scheme we lived on, if you walked to its edges, you would usually find a doocot built on the fringe.
Doocot or dookit is the Scottish term for a dovecote or columbarium; a structure built to nest and breed domesticated pigeons. Some doo men keep their champion pigeons in doocots cut into attic spaces or adapted garden sheds, but on the schemes I lived on, we had neither attics nor gardens, and so the men who wanted to keep pigeons built their lofts out on any piece of unclaimed ground. Aesthetically they have little in common with the traditional stone dovecotes you might find on the grounds of a manor house. The doocots I remember were monolithic towers, twenty feet tall, and they were built from salvaged materials: old Formica tabletops, screwed to corrugated iron and offcuts of MDF. It gave most doocots a rickety charm, which the men tried to disguise by painting the whole thing a uniform colour.
Yet the structures were far from tumbledown. The pigeon lofts were fortified and built to be unassailable. They had a heavily padlocked door at ground level and on the slanted roof they had a small hatch for releasing birds into the sky. They were designed like siege towers, to keep the local neds out, and to keep the birds safe when the doo men were not around. The doo men often chose hidden, out of the way spots for their doocots, places far from foot traffic, nestled against railway embankments, or tucked behind a copse of trees. These were the type of forgotten place where dog walkers stumble across dead bodies, which goes part of the way to explaining why they fascinated me.
*
I was raised in some of the most socialist corners of the city, and I am proud of that. Being part of such a tight knit community came with certain understandings. We were raised to respect a code of solidarity, of equality, of fairness. All the council houses I ever lived in were uniformly designed to reinforce this sense of fairness. No one got more, or "better" than their neighbour. Outdoors, in the wider community, no one took more than their share of the back green; no mother should use a longer span of washing line than was hers to enjoy. Other than the suffocating nearness of our neighbours, the thing that united all the different types of council housing was that they rarely had a private garden, or rather, they never had a green space that was theirs alone. Everything was communal. Everything was shared.
So there was something defiant about doocots, something transgressive about these private pigeon lofts that men built for themselves on open council land. My mother thought it was a barefaced cheek. And yet they also seemed so natural, such a part of the topography of the city, and something that could only have sprung from the minds of the men of central Scotland. After all, it was an innovative way of using the post-industrial landscape for our own purposes, a coping behaviour, where we made the most of the mass unemployment and the ugliness, and the failed urban planning that the government had left us with.
*
Much of Glasgow had been reorganized after World War II. The "Slum Clearances" saw many of the city's historic, overcrowded tenements torn down, and families relocated into modern schemes. By the end of the twentieth century the sandstone city was divided by a futuristic motorway and scarred by the brutalist housing that erupted out of the ruins. So many of these schemes were built without leisure centres, without libraries or football pitches, youth clubs, cinemas or parks. Glasgow is rich in green spaces and yet when the planners were dividing and designing a futuristic working-class city, they often neglected to incorporate any of those green spaces into our communities. These middle-class planners misjudged what working communities needed. They didn't consider that lower incomes lead to decreased mobility, or that our estates might be the only worlds we knew. They built these schemes without amenities, and without hearts. People went from being part of a community to feeling like they were stuck and living in storage boxes.
There was something defiant about doocots, something transgressive about these private pigeon lofts that men built for themselves on open council land.
As a boy growing up on these schemes there were few places for us to play. The weather is unreliable on the west coast of Scotland—or, if you prefer, it is reliably wet. On dreich days, our mothers tired of having us underfoot. If we hung about a friend's house, there was always a mother at her wits' end: with the smell, with the mess, with the bottomless pits of our bellies. They grew annoyed at the front door opening and closing all day—we were always letting the heat in, or letting the heat out—as a kid you could never win.
We were too much to contain indoors, yet we were not encouraged to congregate outdoors. As youths we were not allowed to linger in the community spaces because we made women nervous. We were shooed away from the lifts, from tenement closes, from bus shelters, from hanging around outside the chip shop. We seemed to always be in the wrong place.
All the same, Mother's didn't fret if you roamed far and wide: it seemed that there was always too much hoovering to be done. They didn't ask where you had been if you returned home, filthy, sunburned or bloodied. The de-industrialization of the Thatcher era meant there were always abandoned slag bings and coal faces to play upon. I spent my days exploring empty factories or playing by the "Stinky Ocean," the sulphurous shipping canal that had been polluted by chemical effluent.
We sought anywhere that was unclaimed and then we would try to carve out a little space of our own by making dens or little huts. Nothing could make a summer holiday fly by faster than dragging bits of discarded wood and furniture through the long grass to some hidden spot and then using it to construct our little homes.
Dens were sometimes built alone, but there was a greater joy in teamwork, in building these structures with other boys. There was the creativity in engineering and scavenging; in some ways it felt like Lego for working-class lads. There was a thrill when we would go off to find building materials. An anticipation when we would agree to meet later and see what off-cuts each boy had salvaged. If someone had found a door or an actual glazed window it felt like we had hit the jackpot.
Building dens made us feel like men. The collaboration created a society, and leaders emerged. Territories needed defending, and armies waged wars over them. Dens created the only private place available for us filthy little self-abusers. A place to bond and share secrets, a place to neck our first alcoholic bevvy and slaver at fleshy porno mags.
The first time I saw a doocot I naturally assumed it was just an oversized den. But unlike our childish dens, these structures lasted. The seasons and the city changed around them.
*
I used to pass a doocot that was built on a patch of scabrous grass that was near my girlfriend's flat. At fourteen I was still performing my masculinity and was desperate to fit in with the local Protestant boys. I spent hours French-kissing this one girl, and lovely as her crisp perm and sugary lip-gloss was, I was using her, hoping that if I just kissed her enough, I might develop a taste for heterosexuality. Why not? Exposure therapy had worked for me, with Pink Floyd and Liquorice Allsorts.
This doocot sat on a strip of weedy grass that was neither tended by the housing association who owned our tenements, nor by the roads department who owned the motorway that ran alongside it. It was a worthless piece of land, irregular as an offcut of cloth. I passed this doocot a dozen times before I saw the small roof hatch open and a man pop out of it, like the captain of a beached submarine.
Doo men never liked to draw attention to themselves. They didn't want to draw crowds of sticky-faced kids who would beg to hold the pigeons, or crowds of local neds who would want to scope out the interior of the doocot and see if it was worth robbing. As such they kept anti-social hours. Sensing my good luck to see a doocot in operation, I waited and watched as the doo man tossed his bird into the sky.
The bird was a like a dot of pale sunlight against the fleecy clouds. And I was surprised to see it was not a pigeon after all, but a dirty-looking dove. I assumed it must be a dove, because the bird he had released was the colour of condensed milk. I had never seen a pigeon be anything other than mottled grey.
But these doocots don't hold doves, or the messenger pigeons you would find in the dovecote of a manor house. They contained luring birds, known as champion pouters or doos. Doo men go to extraordinary lengths to make their pouters seductive. They bleach their feathers with peroxide until the birds become a pale biscuity colour, more like the colour of cauliflower soup than the carefree Californian blonde the box of hair dye promised.
A doo man keeps a doo and a hen in separate cages. He put birds together and then pulls them apart in order to manipulate their reproductive urges. It works the pigeons into a state of sexual frustration. When a bird is aroused, the doo man will release it into the sky, a lusty ball of feathers and need. All this is done in the hopes the pigeon will attract another man's champion and lure it back to their doocot with the promise of a quick fuck.
When the doo man releases his lure into the sky, and his pouter attracts another pigeon, the man will then hide out of sight and call out to the birds. He chirps an imitation of their call, the sound the birds make when they are contented. It's a tongue vibrating, warbling that sounds like the peep of a pressure cooker, proup, brooup, prooup. In an airborne tug of war, he uses the pigeon's call to entice the lovers back to his doocot, while the other doo man (whose doocot might be on the other side of the houses, or on another scheme altogether) tries the same. In a way it is not unlike Pokémon.
When the birds land on the doocot roof, the doo man waits for them to begin nebbing, sharing their first kiss. Then, from his hidden spot, he yanks a thin rope, and the wire trap on the doocot roof snaps shut and the lovers are caught. Startled, they flutter for a moment, before they settle, and the doo man returns to his tower, climbs the ladder and retrieves his prize.
I watched the doo man from a distance that first afternoon. I waited as he lay in the damp grass, the rope in his hand. He called out for his pouter, proup, brooup, prooup, but by the time I walked on, the bird had not returned.
Doo fleein' is an indigenous sport in Scotland. It's been part of working-class communities since Victorian times. It was once a method in which to lure and trap pigeons for the stew pot, but nowadays it is simply a pastime, and for the doo men, it offers a community and a way of life. There are organized meet-ups and pigeon fancier associations all across the central belt.
There is hardly any money in doo fleein', but a doo man can make a small profit by capturing another man's champion and selling it on to a different collector. More important than any money is the respect and the reputation. Doo men were often retired or unemployed and so they spent most of their time caring for their birds. Doo fleein' gave the men some status. The loss of a prize bird would be felt keenly.
*
I live in New York now, and have done so for nearly half my life. When I first moved to Williamsburg it was still a run-down industrial area, one that was not yet spoiled by gentrification or the huge glass-fronted apartment buildings.
My first apartment was on the top floor of an old factory building, where the putty in the window frames had rotted and the glass sweated in the winter. I had not thought about doocots in years, not until I noticed the warehouse across from us had pigeon lofts on its roof. They didn't seem to belong there, but in the Glaswegian spirit of things, someone had noticed that the warehouse below lay empty, and thought the wide flat roof was going to waste. Early each morning, I would watch as the birdman would release his kit into the sky.
New Yorkers are not especially fond of pigeons, and there are few things that would stop a New Yorker in their stride. Yet when these birds took to the sky, they would create great swirling clouds that moved quickly, and people would stop in the street just to watch them. I loved to watch them birl. I would take my coffee up to our tarpapered roof and call to the birds, proup, brooup, prooup.  But they never flocked to me. Maybe it was my accent.
_________________________________________________________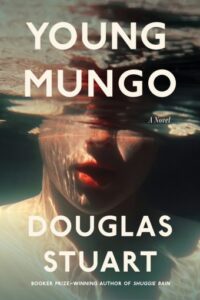 Douglas Stuart's Young Mungo is available now via Grove Press.
---