Dorothy Allison on the Necessity of Making Readers Uncomfortable
"You have to give up wanting to please."
Dorothy Allison calls herself "trashy" with a chuckle, but she stops laughing when asked what Southern women have in common: "Oh, God. We can survive what seems unsurvivable." Though she now calls Guerneville, California, home, it was Greenville, South Carolina, where Allison survived the childhood she later drew upon to write her debut novel, Bastard Out of Carolina. Depicting the brutal physical abuse and emotional suffering of a young girl, the book was named a National Book Award finalist even as it was banned in countless schools across America. While it rose to the status of a classic, Allison followed Bastard with works that include another best-selling novel, a memoir, and a collection of feminist essays.
Why did you begin telling stories?
My mama worked. My aunts worked. I was probably 10 or 11, and I was left with the care of my dumb cousins, some of whom were older than me. To keep them from killing each other, I'd tell them scary stories. If I got their mouths to drop open, they'd stop hitting each other for a few minutes.
When you started writing, did your family know?
My mother did. She adored country western and gospel music. That can lead to a lot of really bad poetry in an adolescent girl. But every time I'd write a poem, she collected it. That helps a lot when you're a little baby writer, having someone who adores everything that you utter or write.
Have you always written with an audience in mind?
Of course. When I began, my audience was my mother and sisters. But at the same time, there was this overwhelming sense that the world did not understand or approve of us, and that became an audience. You can write against that. You can write to say to that audience, "You don't know who we are." That's one of the great beginnings for any story: "You don't know what it was like. Let me tell you." That audience doesn't have to be approving and friendly. It can be very adversarial, and that's strong.
"There is a certain impulse in all writers to want to please. You have to give up wanting to please."
So you're trying to show people what they got wrong?
To tell you the truth, what I'm reaching for is glory.
What do you mean?
Glory is language on the page that doesn't just resonate but evokes an immediate, emotionally tinged response in the listener or the reader. Glory does not require approval. Glory is like the angels take over and you're flying.
Article continues after advertisement
You've been a guest professor at several colleges and universities . What's the biggest obstacle you try to help students overcome?
They've been conditioned—especially young Southern writers—to write in a voice that is not their own. I try to get them to take a breath and let that go. By that I mean you have to allow yourself to use a voice that is unique and your own, that is not what you've read before. There is a certain impulse in all writers to want to please. You have to give up wanting to please.
That's hard to do when you're young.
When I was young, the majority of books that I could find were all written in the Northeast, and they were written by middle- or upper-class people. That did not say anything about the world that I inhabited, and in fact when they mentioned the world that I inhabited, it was always with great contempt.
And that motivated you?
What I wanted was to have us—which is to say the people I loved and feared and was also in an embattled relationship with—I wanted us to at least be real. To make us real meant to write in a language that could not only speak beautifully about the people I love but also make the reader uncomfortable.
"In the kind of writing I love, the language is encouraging and comforting while the content is profoundly disturbing."
Do you ever feel completely comfortable and accepted, or do you always feel a little different?
Both things are true. I always say I'm a visitor from another planet! I take a certain joy and power out of being that survivor growing up poor, that embattled female, that lesbian feminist, that Southern accent. It's a kind of reverse authority. The resistance to contempt really is very powerful.
You wrote once that Bastard Out of Carolina "disturbed the peace." Is that part of the purpose of literature and music?
Yes. That never changes. And let's be clear about what the peace is. The peace is a kind of silence about the very issues that writers exist to call attention to. It's so easy to disturb the peace. All you really have to do is tell the truth, and it will disturb and upset people. In the kind of writing I love, the language is encouraging and comforting while the content is profoundly disturbing.
That's an effective combination.
It's one of the things I love about a lot of Southern literature. We do it better than anyone. We can make you laugh and cry at the same time, which is my favorite thing. I work hard to do a kind of seduction in which you read sections that are very funny and charming, and then, two paragraphs later, it ain't charming. It ain't funny. It's horrible. And to have both of those things happen at the same time, that's life.
______________________________________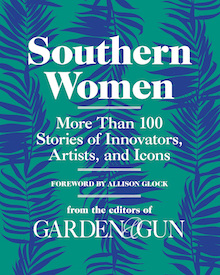 From Southern Women by the editors of Garden & Gun. Used with the permission of the publisher, HarperCollins Publishers. Copyright © 2019 by Garden & Gun LLC. All rights reserved. Photo by Paige Green.
---